Cura: All You Need to Know Before Getting Started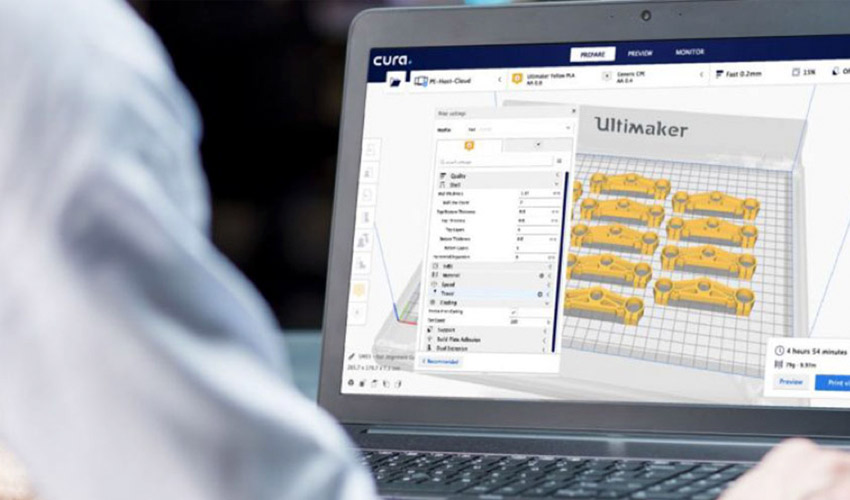 As many of you will know, in order to get a piece 3D printed,  you need a slicing software, more commonly known as a slicer. The slicer converts the 3D model into a G-code file that will provide the 3D printer with all the necessary instructions for printing. Cura is a slicing software developed by David Braam in 2014 for this purpose – it was later acquired by Ultimaker. It is an open-source software, probably the most widely used in the global additive manufacturing market. In 2019, Cura had 600,000 users and is estimated to be used for more than 2 million printing jobs every week. But what makes Cura so popular?
One of the main benefits of Cura is its ease of use, support for different file formats, and compatibility with many 3D printers. Supported file formats are STL, OBJ, X3D, and 3MF. Although Cura is part of the Ultimaker ecosystem, printers from other manufacturers can also use it. The software is not only 100% free of charge but is also available in 15 languages so that users worldwide can use it as easily as possible. Another feature that contributes to its popularity is the fact that it is compatible with the most common operating systems, Windows, Mac, and Linux. Note that Cura has been certified for Windows and macOS platforms, guaranteeing significant additional security.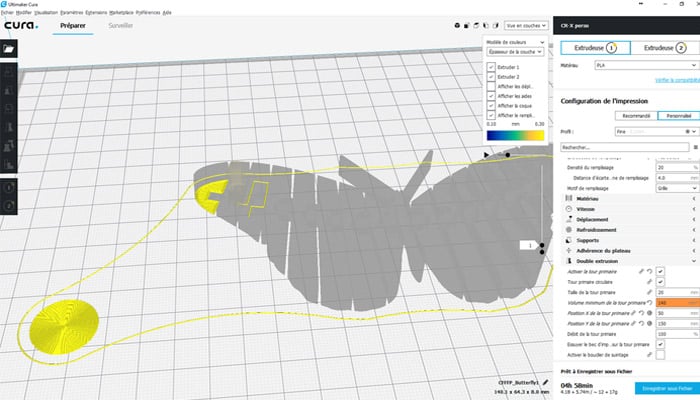 How Does the Software Work?
Cura has a simple interface that allows you to choose between two settings right from the start: the recommended mode and custom mode. The recommended setting is particularly suitable for achieving the best result in a few clicks – there is no need to make manual changes to the settings. However, the software is able to choose the optimal orientation of the part to save time for the user, but also the filling rate, the generation of optimized supports to minimize post-processing, layer thickness, etc. A good option when you're just getting started!
The custom setting allows the user to choose from more than 400 different setting options. In addition to the basic parameters such as the addition of support structures or the amount of filling required, other options can easily be added. Users can also get an idea of ​​how Cura will cut out the model using the preview mode. Ergonomic, it improves the user experience.
It is also possible to select the filament used as a profile before printing so that the parameters are automatically changed accordingly. In its latest version, for example, Cura updated the profile for PETG.  You can get an idea of the profiles and some of the setting options in this video:
Cura Goes Beyond Slicing
Being open-source and widely used around the world, Cura is constantly evolving. Users can access Cura's cloud which allows them to send printing instructions directly to printers without having to use traditional storage media such as a USB stick. Users can also access their projects anywhere, all they need is a free account. Note that "Professional" and "Excellence" profiles are also available, allowing access to additional features. For example, via these two profiles, the user can now import their CAD files into Cura, simplifying the work of preparing the model.
Via Cura Connect, printing can be sent to several printers at the same time, which then work simultaneously. The tool allows you to plan and manage different print jobs on several Ultimaker 3D printers also. The interface offers a follow-up of the current print jobs, possible maintenance operations, etc.
The Cura Cloud will also give you access to a number of plug-ins. The most widely used is probably the one that allows you to push CAD data directly into the slicer from software such as SOLIDWORKS, AutoCAD, or Siemens NX. No need to change the formats, everything is integrated with a single tool.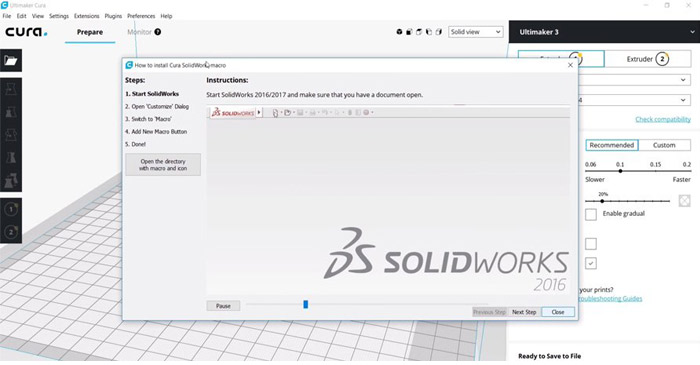 You should also know that Cura integrates different 3D printing profiles depending on the material chosen thanks to the Material Alliance Program launched in April 2018: Ultimaker is currently working with more than 80 filament manufacturers worldwide, has tested their materials, and offers pre-set profiles accordingly (more than 100 today). Among its partners, we can cite the French manufacturer Kimya: if you want to 3D print a part with its ABS-ESD, Cura will offer you optimal settings. You are of course free to modify them if you wish. Finally, note that a large community of active users exists today, which makes it possible to share best practices and recommendations regarding the use of Cura. The forum is enriched every day which can greatly improve your experience.
Are you using Cura? Do you have more questions about using Cura for 3D printing? Let us know in a comment below or on our Facebook and Twitter pages what you think! Don't forget to sign up for our free weekly Newsletter, with all the latest news in 3D printing delivered straight to your inbox!