Arkad, Multi-Density 3D Printing for Orthopedic Insoles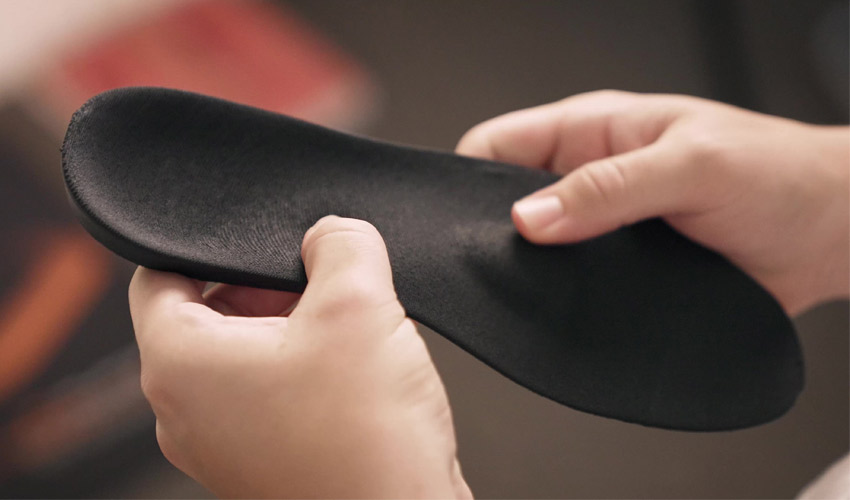 Rodin4D, the world leader in computer-aided design and manufacturing (CAD/CAM) in the orthopedic sector, has launched a new solution dedicated to orthopedic insoles. Called Arkad, it is based on a 3-step process: data acquisition from a 3D scan, insole design using dedicated software, and finally manufacturing using 3D printing. Intended for orthopedic professionals, this digital flow allows the creation of personalized insoles in a few hours directly from the practitioner's office. Rodin4D wanted to offer a turnkey solution that is accessible and adapted to the needs of the profession.
For two years, the French company listened to and identified the expectations and needs of various specialists. These exchanges led to the development of the Arkad solution, which addresses the problems encountered daily by practitioners, such as at-home production or the impossibility of including several densities in an insole.
Arkad, a tailor-made solution for every practitioner
It all starts with the acquisition step, Rodin4D wanted to offer a 3D scanning solution without constraints for the user by leaving them free to choose their preferred method to take an imprint. In concrete terms, thanks to this new 3D solution, the practitioner can take different scans, whether in full-weight, weight-bearing or semi-weight bearing or non-weight bearing mode. Arkad Scan is an application available on iPad and iPhone: a professional can easily scan the feet of his patients in order to design precise and adapted insoles.
Once this data capture step is complete, the practitioner will model the soles on the Arkad Soft software. The French company has designed it to able to be used with existing traditional methods such as thermoforming or manufacturing by each element. The software offers different business tools and is compatible with various manufacturing processes such as 3D printing or milling.
Arkad Soft is an ergonomic platform, and customizable both in terms of elements and templates. Moreover, Rodin4D claims that the process of scanning and designing the sole, once mastered, does not require more than 10 minutes of work. This time can be considerably reduced when recreating the soles of a patient or working on identical pathologies. Indeed, the practitioner can find the work history from one year to another and adapt it quickly.
Finally, after digitization and design, comes the time for manufacturing. Rodin4D offers Arkad Printer, a multi-density 3D printer. This new technology uses filament spools, more precisely TPU, to design custom orthopedic insoles. The solution offers continuous printing – up to 100 pairs of insoles can be made without human intervention. Rodin4D explains that it is possible to print 10 pairs per day.
Arkad Printer's innovation is based on multi-density 3D printing. The practitioner can choose from a panel of 17 densities from the Arkad Soft software and thus obtain a sole with more or less dense areas.
An adapted digital chain that facilitates the manufacturing of orthopedic insoles
With Arkad, Rodin4D responds to several constraints of professionals in the orthopaedic sector. First and foremost, by imagining a global solution that could be integrated directly into a practice, whether it be the digitization part, the software or the manufacturing stage. This flow had to be as fluid as possible; Arkad's three pillars are therefore simple to use and ergonomic. The goal is to gain in precision and productivity. Finally, it was necessary to offer a solution that was affordable in terms of cost.
If we look at the question of cost, Rodin4D claims that a pair of soles costs 15 euros (on average), including 7 euros of raw material and an amortization of the solution over 5 years. Moreover, the practitioner is not obliged to invest in the 3D printer: he can subcontract the manufacturing part.
The solution has already been integrated into the practices of practitioners in France and abroad. A podiatrist from Bordeaux told us: "Thanks to digital technology, I no longer have to start from scratch when renewing my orthopedic insoles. Taking care of my patients is made easier and the 3D technology is much appreciated." Do not hesitate to contact the Rodin4D teams to learn more about Arkad!
What do you think of Arkad? Let us know in a comment below or on our Linkedin, Facebook, and Twitter pages! Don't forget to sign up for our free weekly Newsletter here, the latest 3D printing news straight to your inbox! You can also find all our videos on our YouTube channel.