The Complete Guide to Silicone 3D Printing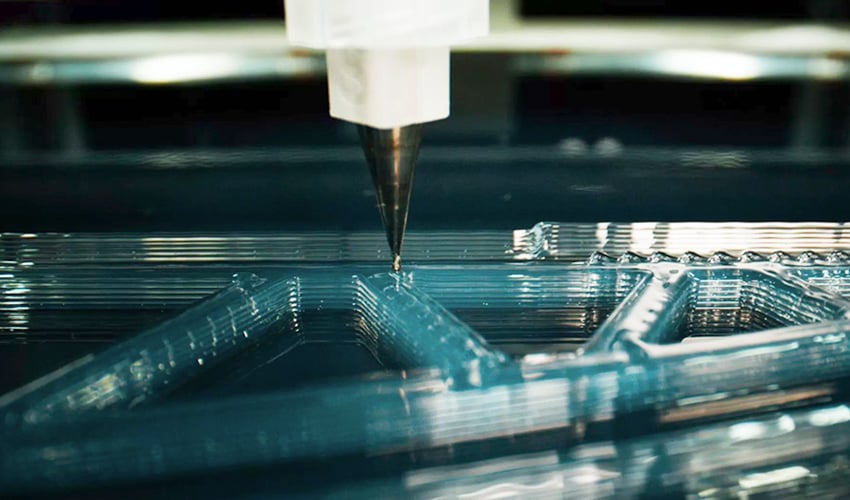 A major breakthrough has been made in the field of additive manufacturing with the introduction of an innovative technology that enables 3D printing of silicone parts. This new technique has attracted a great deal of interest in the 3D printing industry, as previously it was not possible to melt silicone with heat and deposit it layer by layer, as is the case with polymers or metals. These new developments, especially in the medical and medical biomaterial fields, are helping to improve the outcomes of existing treatments for patients. In addition, with the steady advancement and maturity of 3D printing technology, new possibilities and opportunities are opening up that were previously unthinkable.
Silicone 3D printing is expected to have a significant impact on the industry and represents an important milestone in the development of 3D technology. According to a study by Precision Business Insight, the silicone 3D printing market is estimated to reach $1,590.3 million in 2021 and is expected to grow at a compound annual growth rate of 19.9% through 2028. This growth will also be driven by 3D printing companies offering new silicone-compatible solutions. In this guide, we will take a closer look at silicone and how the material is being used in additive manufacturing.
Silicone: What Is It and How Is It Made?
Polysiloxane, commonly known as silicone, is an inorganic polymer obtained by the polymerization of siloxanes (molecules composed of silicon and oxygen atoms). In the context of polysiloxanes, polymerization occurs through a condensation reaction of the siloxanes. This transformation takes place in the presence of a catalyst, which may be an acid or a base, and whose function is to promote the formation of bonds between the functional groups of the siloxanes. The polymer chains thus exhibit remarkable mobility thanks to the bonds formed between the oxygen and silicon atoms. This category of polymers is characterized mainly by its chemical resistance and its physical and mechanical properties. Polysiloxane and silicone are terms that refer to the same material. While the former is the technical term, the latter is more commonly used in commercial and everyday environments.
Silicone occurs in various states, depending on the macromolecular structure, size and distribution of the chains of its components. It is found in the form of silicone oils and rubbers (used as additives, lubricants or hydraulic fluids), as silicone gels (used in breast prostheses or bicycle saddles) and finally as elastomers. The latter is the most common type of silicone used today.
Silicone 3D Printing
The first company to develop a 3D printing system for printing silicone was ACEO, a division of German chemical giant Wacker Chemie AG. In 2016, the company introduced a process similar to inkjet printing. In this case, silicone droplets were applied as a layer and then cured with a UV light source; the process was repeated layer by layer until the final part was created. Moreover, the company claimed that its technology produced parts with isotropic (i.e., uniform in all directions) mechanical properties comparable to those of injection molding. ACEO ceased to exist in 2021, but the early player's approaches to 3D silicone printing are still in demand in a variety of sectors, including industrial goods, chemicals, medicine and dentistry.
As mentioned earlier, one of the 3D printing technologies compatible with silicones is photopolymerization. However, there are other additive manufacturing technologies that can work with this type of material. In the case of extrusion technology, silicone requires specific hardware properties. First, the material must be packaged in connectable syringes with a plunger. The pressure heads are usually equipped with volumetric metering pumps that ensure high dispensing and metering accuracy. These pumps are supplied with the raw material via pressure syringes and convey and meter the amount of material to be printed. The material is applied via a precision nozzle connected to the pump outlet.
In this way, the additive manufacturing process described is similar to extrusion technology (FFF / FDM). However, the applied material is not fixed when it comes out of the nozzle, but the printed fluid is formulated to have a certain viscosity so that it can overlay itself. The crosslinking reaction (in which the polymers join together to form chains and form a kind of network) takes place during and after the printing process and hardens the already formed material. After crosslinking, the part acquires its final physical and chemical properties.
Advantages and Limitations of Silicone 3D Printing
Now let's consider some advantages and limitations of this manufacturing technology. One of the main advantages is that silicone enables the creation of 3D models with high flexibility and durability. This, in turn, means that it can withstand higher loads and pressures than other materials, while saving space due to its flexibility – all without compromising its mechanical properties. Silicone is also resistant to extreme temperature and radiation fluctuations, making parts less susceptible to such impacts than glass or similar materials. When glass is considered too fragile, professionals often opt for silicone. This is also due to its high transparency, which makes it ideal for models that need to be visually inspected. Finally, the combination of conductive, insulating and biocompatible properties makes silicone attractive for a variety of 3D printing applications, as we will see below.
Among the disadvantages of silicone 3D printing is the accessibility in terms of hardware and materials. Although more and more companies are developing technological solutions for silicone 3D printing, there are still few manufacturers offering machines of this type. As a result, costs are high and material options are limited. In addition, current 3D printers have relatively low print volumes, and although multiple parts can be produced simultaneously, they are not quite ready for mass production of high volumes. Many of the devices use a single print head, so they create simple, flat models without support structures for complex models. However, this has changed in recent years and more dual-head IDEX solutions are available that can also produce support structures. Finally, the post-treatment of parts has other limitations of this technology. Silicones generally require a longer curing process, which increases the overall production time.
Applications and Manufacturers
Silicone 3D printing is ideal for small and medium batch production, prototyping and the creation of unique shapes that would be inconceivable using conventional methods. One of the sectors that benefits most from this technology is the medical sector. In this sector, silicone 3D printing is used to produce implants, prostheses and medical models that are custom-made for each patient. Silicone feels like human tissue, which makes it ideal for surgical procedures. Biomedical research is also taking advantage of this 3D printed silicone, using it as a scaffold for tissue engineering to create structures for growing cells for studies and experiments.
Soft robotics is another application of this form of additive manufacturing with silicone. The material is particularly suitable for the production of soft robotic components, such as grippers, which are able to grip and handle delicate objects. Thanks to its properties, 3D-printed silicone is also being explored as a viable material for flexible and elastic electronics. Another industry where 3D-printed silicone is used is consumer goods. There it is mainly used for the production of flexible and elastic models for clothing as well as for prototyping wearables, such as smartwatches.
For example, among the best-known players in the market is Elkem Silicones, a company dedicated to the development of silicones for advanced manufacturing. In addition, there are manufacturers in the 3D printing sector that have machines suitable for working with these materials. These include ACEO, of course, but also Deltatower, innovatiQ, Lynxter, Spectroplast or San Draw, to name a few. For more information about silicone 3D printers, see our related article.
What's been your experience with silicone 3D printing? Let us know in a comment below or on our LinkedIn, Facebook, and Twitter pages! Don't forget to sign up for our free weekly Newsletter here, the latest 3D printing news straight to your inbox! You can also find all our videos on our YouTube channel.
*Cover Photo Credits: innovatiQ