What Are the Silicone 3D Printers on the Market?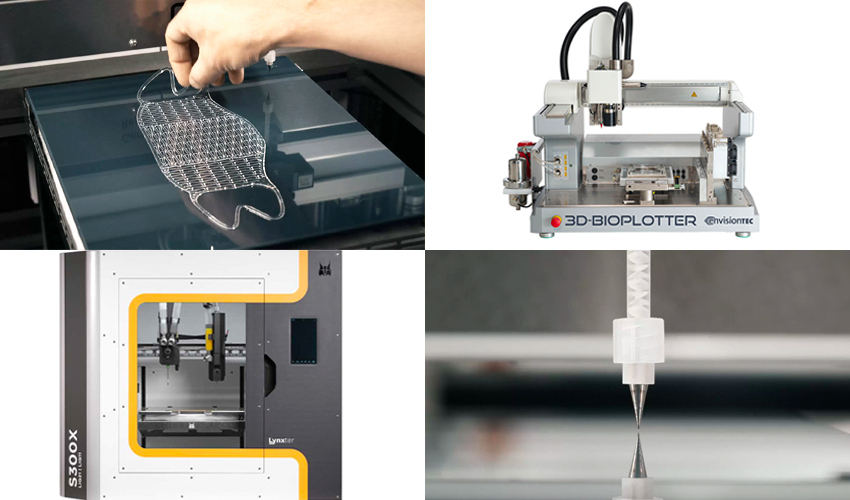 Silicone is a material that is becoming increasingly popular in additive manufacturing due to its properties: good thermal and chemical resistance, biocompatibility and flame retardancy. Generally, the material is used in traditional manufacturing processes such as injection molding. However, it is difficult to 3D print due to its high viscosity and temperature resistance. Moreover, its liquid form entails some constraints, including a curing step. However, the developments around silicone 3D printing are more and more numerous and some actors are dedicated to the design of specific 3D printers. Several processes exist today to create silicone parts: material deposition, photopolymerization or even methods similar to injection molding. We took a closer look at the main silicone 3D printers on the market, listed below in no particular order, to get a clearer picture!
The Silimac P250 Silicone 3D Printer From Prayasta is Perfect for 3D Printed Prostheses
Prayasta is an Indian startup that is developing soft tissue implant prosthesis for next generation breast cancer treatment. They hope to create implants and prostheses that are rupture resistant and fully personalized in shape, size, weight, touch and feel. And silicone is a key part of their development. As such, the startup has developed its own technology, Implant-grade Elastomer Additive Manufacturing (iEAM) which is designed for implant grade silicone. Moreover, they even sell their own solution, the Silimac P250. Put forth by the startup as the future of 'implant-grade' elastomers and 3D printing, Silimac P250 uses this entirely new method devised by Prayasta as a way to more effectively print silicone using a mixture of syringe extrusion and real-time curing. The printer can hold up to 14,000 ml material in a single refill, making it suitable for production and boasts built-in UV sterilization for the print chamber, making it especially suitable for medical applications. It is precise and fast and has a build platform volume of 250 x 250 x 250 mm and a print resolution of 50 microns.
SAM From Spectroplast
Spectroplast is a 3D printing company based in Zurich, Switzerland. It provides solutions in the field of silicone additive manufacturing with its SAM printer for the industrial and healthcare market. SAM (Silicone Additive Manufacturing) is a silicone 3D printer that uses the technology of the same name (Silicon Additive Manufacturing) and uses a DLP (Digital Light Processing) projector. It has dimensions of 430x510x820 mm, a print volume of 75x134x100 mm and its patented technology allows it to directly manufacture pure silicone without the need for molds, which is ideal for industrial and medical end-use products complementary to injection molding. It is fast, ecofriendly and cost-effective, with total design freedom and high quality prints.
The S300X Industrial and Medical IDEX Silicone 3D Printer From Lynxter
Lynxter is a French 3D printer manufacturer. With the S300X, the company aimed to create a 3D printer that is not only accurate, efficient, robust, but also compact. Furthermore, it is capable of printing with a number of difficult materials: polyurethane, and especially silicone. According to Lynxter, the S300X is ideal for sectors such as medical for the production of prostheses and orthoses. In terms of the machine's features, the 3D printer uses IDEX technology. This allows the 3D printing solution to use a dual extrusion head. Overall, the S300X offers a print volume of 300 x 250 x 200 mm for a material size of 1000 x 629 x 887 mm. The 3D printer also has some additional features, such as the heated print plate that can reach 160°, while the machine's enclosure can go up to 40°. In addition, it has a standalone touch screen with a web interface. Finally, the S300X is capable of printing 800 mm/s with 12.5 micron meters of resolution on the X-Y axis, and 50 mm/s with 1 micron meter for the Z axis.
The LiQ 320 Silicone 3D Printer From innovatiQ
The LiQ 320 3D printer from innovatiQ makes it easy to use liquid silicone for additive manufacturing of detailed prototypes and final parts. With a print area of 250 x 320 x 150 mm, the system offers a print speed of 10-150 mm/s. The weight is approximately 390 kg and the technology used is Liquid Additive Manufacturing (LAM). In terms of compatible materials, SILASTIC™ 3D 3335 Liquid Silicone Rubber (LSR) is worth mentioning. The characteristics of the material can be customized, so users can decide whether they want a soft, flexible or hard product. In addition, the printing process involves a high-temperature halogen lamp, which is used to cure the material. As a result, overall production time can be reduced. It also eliminates the need for post-processing, as the manufactured parts are immediately usable thanks to the integrated material cross-linking.
The Delta Tower Fluid MT 3D Printer
The Delta Tower Fluid MT is a 3D printer developed by Swiss manufacturer Deltatower. It is a delta kinematic FDM machine, so its printing tray is circular and has a maximum working area of 420 mm x 400 mm. In addition to being able to work with several materials at the same time, the Delta Tower Fluid MT is equipped with high-precision volumetric dosing systems. With this method, models can be manufactured with low to high viscosity fluids and pastes, such as silicones, LSR, resins, PU or ceramics, among others. It also has a multi-tool system that allows the printing of support structures, various materials with different hardnesses and properties, or the acceleration of ultraviolet curing. Finally, an interesting aspect to highlight of this 3D printer is the possibility of extruding "backwards" by retracting the material, favoring the controlled tearing of the material without dripping.
S053 Silicone 3D Printer From San Draw
San Draw is a 3D printing company founded in Silicon Valley and based in Taiwan. They have developed their own silicone 3D printing technology called FAM (Fluid Additive Manufacturing). FAM is designed for printing most types of silicones and all San Draw printers work with this technology. The S053 printer is their latest model, which has dimensions of 490x470x630 mm, a print volume of 200x150x100 mm. It is capable of printing with silicones which are completely biocompatible as such its use is generally intended for the medical applications.
Silprin's Silicone 3D Printer
Siliprin's silicone 3D printer is a desktop 3D printing solution. The machine features a print volume of 400 mm x 400 mm x 250 mm, a 7-inch touch screen, and an open source control system. As for the material, it has a 600 ml capacity, the cartridges are replaceable, and the extrusion capacity is up to 2k Newtons for viscous materials, with a print life of up to 18h. The company's recommended material is Dragon Skin 10A – VF, but the user has the option of testing new materials. The solution is designed for applications in soft robotics and for creating tubes and channels.
The 3D-Bioplotter From Desktop Health
3D-Bioplotter is the series of 3D printing solutions designed by EnvisionTEC and released now under the Desktop Health brand, mainly used in tissue engineering research. These machines are capable of processing a wide range of biomaterials for computer-assisted tissue engineering (CATE). The process involves 3D printing of scaffolds from 3D CAD models or data obtained from CT images of the patient. Materials can be extruded through a needle in the form of liquid, paste, or gel, and solidify through a chemical reaction, giving rise to the 3D part. The machine is equipped with temperature control and five cartridge slots so that multiple materials can be printed together in one process. Among the materials that can be used are different types of silicones that can be used to create soft tissue, in research, or as a support material for other medical or technical applications.
3Deus Dynamics and its Innovative Silicone 3D Printing Method
This next solution is a little different as it  was developed by 3Deus Dyanmics and in the short term is being used for on-demand productio. However in the medium-term the company is expecting to offer the solution as a manufacturing platform dedicated to medical applications. The technology used for this solution is called Dynamic Molding and according to 3Deus Dynamics could be considered a radical concept of Additive Manufacturing Deposition (AMD). Essentially, the process works by depositing fluid in a micro-doser which is immersed in a granular medium to form a dynamic mold to support the material during printing. The physical powder is able to support the 3D object during manufacturing, making it possible to avoid the collapse of the print, which often does happen for flexible materials. It is compatible with all silicone (medical grade) with a wide range of stiffness (0-90 Shore A). You can see how the technology works in the video from Elkem Silicones below:
The Nucleus Pneumatic Extruder from French Manufacturer Tobeca
It is not a 3D silicone printer per se, but we had to introduce you to the extruder developed by Tobeca, a French manufacturer of custom machines. It is an independent system that can be connected to any existing FFF machine. The extruder is a plastic syringe, available in several sizes – from 5cc to 50cc. It offers an output pressure of 0 to 8 bar and is easily cleaned. Silicone is a tried and tested material by the manufacturer on this extruder.
SiO-Shaping Technology 1601
Sterne Elastomere is a manufacturer of silicone materials for sectors such as medical, food and nuclear. In addition, it has released the SiO- Shaping 1601, a 3D printer developed for prototyping. Unveiled in 2016, it was made to print 100% UV-curable silicones. The machine is capable of designing 205 x 200 x 100 mm parts, with a minimum print layer of 0.1 mm. According to the manufacturer, it allows the realization of parts with fine and precise finishes, with a panel of available colors. In 2022, a new version, the SiO-Shaping 2201 was born. This one allows to manufacture larger parts of 500 x 500 x 500 mm. In addition, the 3D printer offers the possibility to use different types of silicone, namely standard (cross-linking) and fluorinated silicone, a material resistant to oils and hydrocarbons.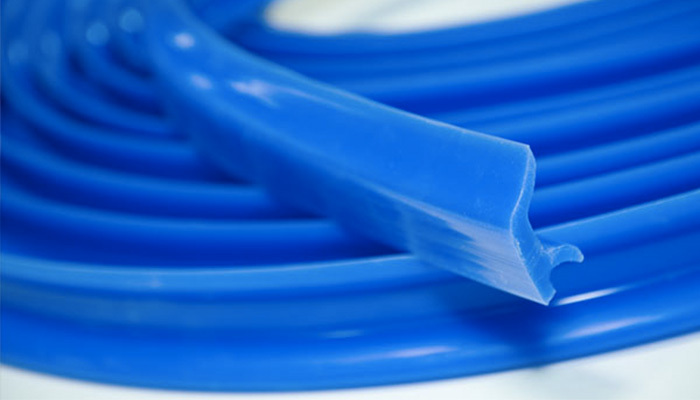 What do you think of these silicone 3D printers? Which one would you use? Let us know in a comment below or on our LinkedIn, Facebook, and Twitter pages! Don't forget to sign up for our free weekly Newsletter here, the latest 3D printing news straight to your inbox! You can also find all our videos on our YouTube channel.