TOP 11 Dual Extruder 3D Printers (2019 Update)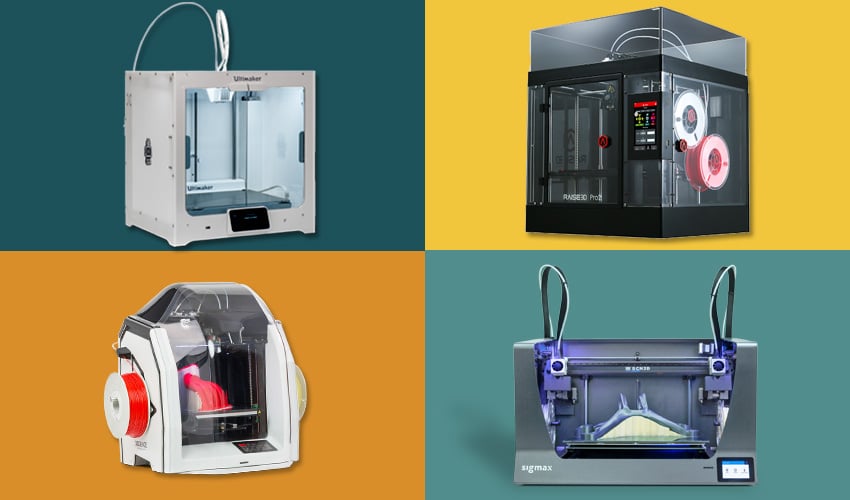 FDM 3D printers generally have a single extrusion head, also called an extruder, which deposits the molten filament on the printing plate. However, some machines are equipped with two extruders (and sometimes even more) offering the possibility of printing with two materials or two colours. Manufacturers are now looking to offer this type of machine or a double extrusion option to expand printing possibilities. That's why we have put together a list dual extruder 3D printers, sorted by price, to give you a better understanding of their characteristics and help you make the right choice! You can find more of our rankings HERE.
1 – Geeetech A10M, a 3D printer for makers
The Geeetech A10M is a 3D printer from Shenzhen Getech Technology Co., Ltd.,  a Chinese company specialising in the development of open source 3D printers. This 3D printer is the newest release from the manufacturer, and an upgraded version of the A20. What has made it especially popular is its ability to print in different colours, using the Color Mixer software, developed by the brand. This 3D printer has a printing volume of 220 x 220 x 260 mm and a structure very similar to the Creality R10. You will be able to print with multiple materials and the add the second extruder for only $299 (200€), hence why it has become very popular in the maker community.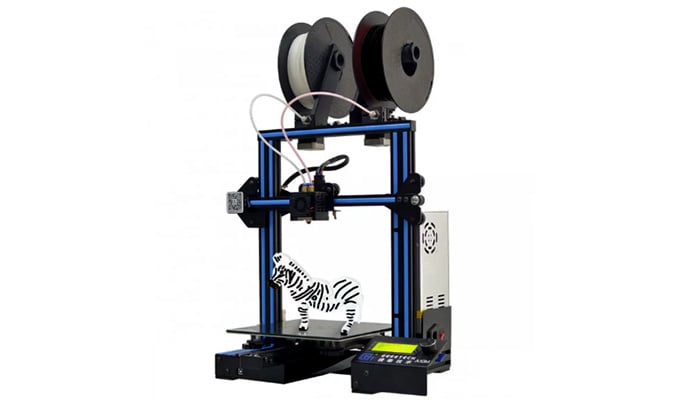 2 – Da Vinci 2.0A Duo from XYZPrinting
The Chinese printer manufacturer XYZPrinting not only offers the Da Vinci Color 3D printer, which combines FDM and inkjet technology, but also the Da Vinci 2.0A Duo, a dual extruder 3D printer. The latter Plug & Play printer also has a pressure-sensing device and an automatic nozzle cleaning, so maintenance is fairly simple. This FDM printer also has a small 2.6 inch display and can be controlled with a USB 2.0 port. With the Da Vinci 2.0A Duo, you print objects in countless colours, in ABS or PLA. The printer offers a production volume of 150 x 200 x 200 mm. You can print your ideas with the Cloud library, where you can download hundreds of models. This model is available starting at $630 (560€).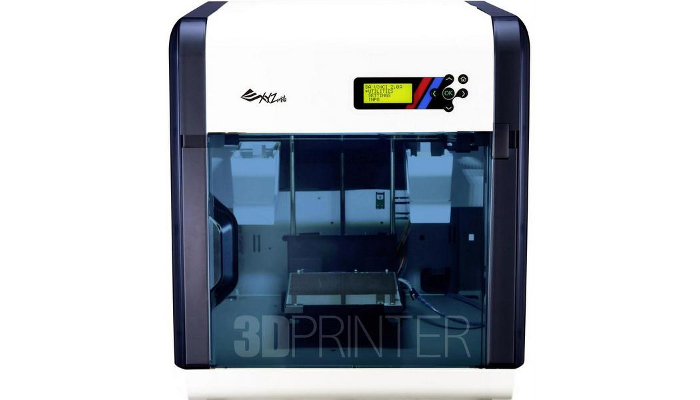 3 – Creator Pro from FlashForge
The Creator Pro by Chinese company FlashForge features a metal frame instead of the wooden one on the original Creator. This precise printer has a precision of up to 11 microns, and has a build volume of 227 x 148 x 150 mm. The Creator Pro runs on all modern operating systems, and has a total weight of around 17kg. In addition, the Creator Pro has a 6.3mm heated aluminium build plate for high-quality printing. With a closable door and removable top cover, the Creator Pro is optimised to keep out dust and other particles and help stabilise print temperature.  This allows for more accurate ABS prints, and less warping. This printer can be bought for around $1,000 (899€).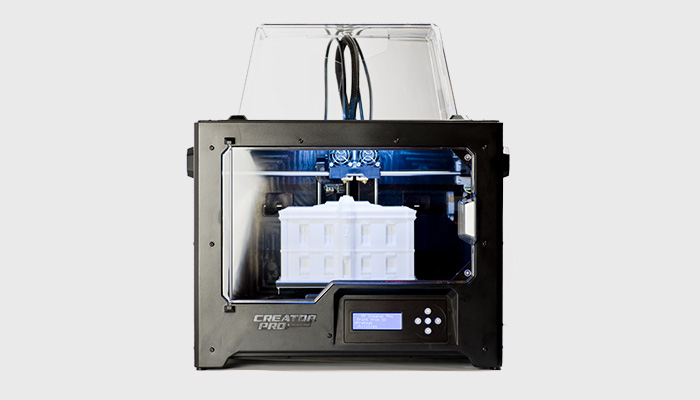 4 – ZMorph VX from ZMorph
ZMorph is a Polish manufacturer that produces an all-in-one 3D printing solution with the ZMorph VX set. In addition to the double extruder, the multi-material printer also includes a CNC milling machine and a laser engraver. In addition to all these useful tools, it is possible to print with a variety of materials, including plastics and thick pastes such as chocolate, dough or ceramics. In addition, the ZMorph VX has a heated printing bed that can be heated up to 100°C and a closed loop system that monitors the printer and its precision. Currently you can buy the ZMorph VX at a price of about $2,800 (2500€).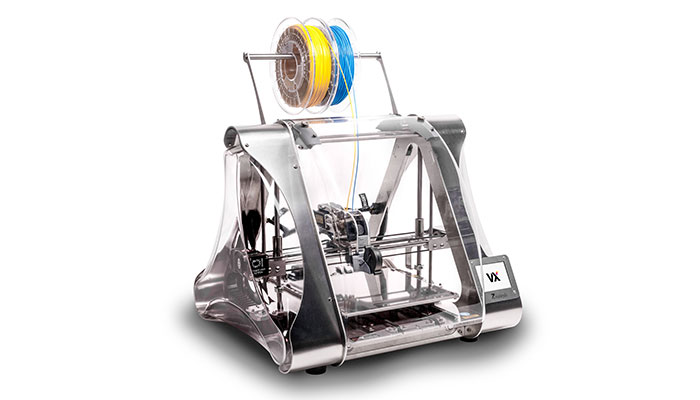 5 – DOUBLE P255 from 3DGence
The DOUBLE P255 from Polish manufacturer 3DGence, is a professional desktop FDM 3D printer meant for professionals. The P255 is an upgraded version of the DOUBLE printer, it features an enclosure to ensure optimal 3D printing. Additionally, the manufacturer has integrated new hot-ends and an optimised cooling system. Its dual extrusion system enables users to print complex parts with water-soluble support material. The nozzles can reach up to 270°C in temperature and the heated print bed 160°C. Also allowing to print with two different colours and materials. The build size is of 190 x 255 x 195 mm. Finally some additional features include an end-filament sensor, automatic calibration when sensing surface irregularities and automatic print bed levelling. The DOUBLE P255 3D printer is priced around 3,000€.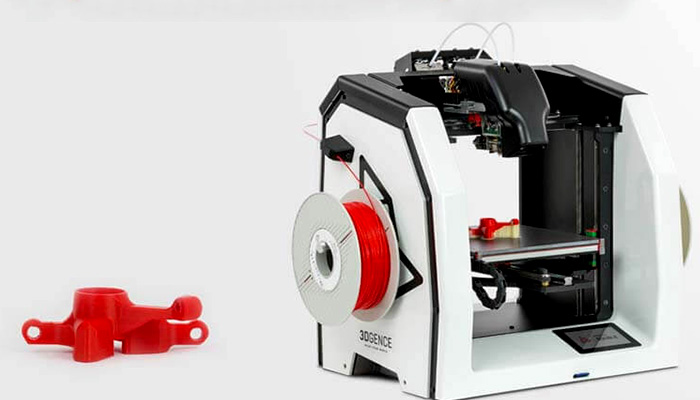 6 – 3DWOX 2X from Sindoh, 3D printer with voice guidance system
The 3DWOX 2X is the dual-extrusion 3D printer from South Korean manufacturer Sindoh. It offers a maximum production volume of 228 x 200 x 300 mm with a layer thickness between 0.04 and 0.05 mm and includes a system of two interdependent extruders to combine several materials or colours simultaneously. Currently, PLA, ABS, Flexible and PVA filaments can be used for printing and the manufacturer is planning to include more. The 3DWOX 2X 3D printer also has several interesting features such as email notifications or a voice guidance system that tells you how to solve problems. Sindoh also advertises with a low operating volume of only 40 decibels on a powerful and robust machine. Currently you can buy the 3D Wox 2X at a price of about $3,368 (3000€).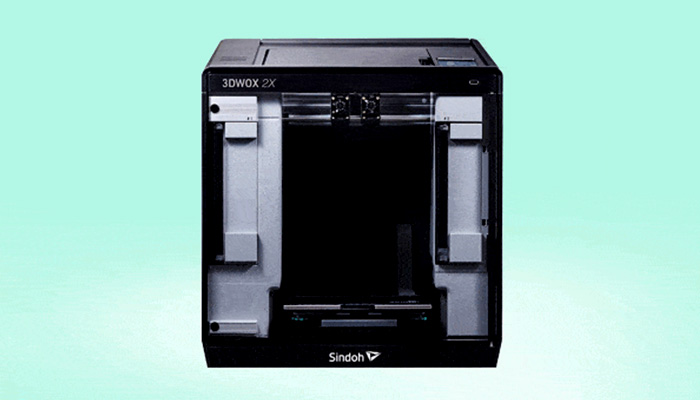 7 – Sigmax R19 from BCN3D Technologies
The Sigmax R19, manufactured by BCN3D Technologies based in Barcelona is a professional large volume FDM 3D printer. The Spanish manufacturer is praised for manufacturing high-quality, open-source desktop 3D printers. The Sigmax R19 is their newest dual extruder to follow up the last model, the Sigmax. The updated version will include the BCN3D Cura slicing software, improved user interface via its touchscreen and improvements in the extruder and nozzle. The printer has an independent dual extruder feature that enables printing of two objects at the same time as well as with two different materials. There are six available nozzle diameters, from 0.3 to 1.0 mm and they can reach temperatures of up to 280°C. The maximum build size is 420 x 297 x 210 mm, starting at a price of 3695€ in Europe or $4,299 in the USA.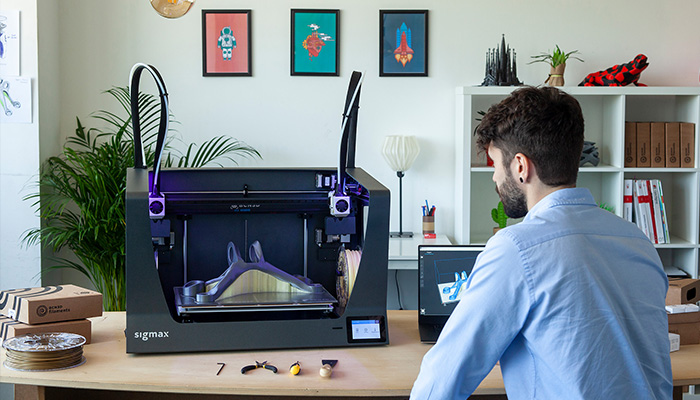 8 – Stream 30 Dual MK2 from Volumic
The Stream 30 Dual MK2 dual extruder 3D printer manufactured by the French company Volumic, is the evolution of the Volumic Stream 20 Dual MK2. With its aluminium chassis, it offers a printing volume of 260 x 200 x 300mm, a heating plate that can reach up to 300°C and a closed chamber. When looking at its performance, it offers an accuracy of up to 6 microns. The Stream 30 Dual  is capable of printing with up to 40 different materials and is compatible with all CAD software on the market, in addition to having a two-year warranty. It is available at a price of about $4370 (3890€).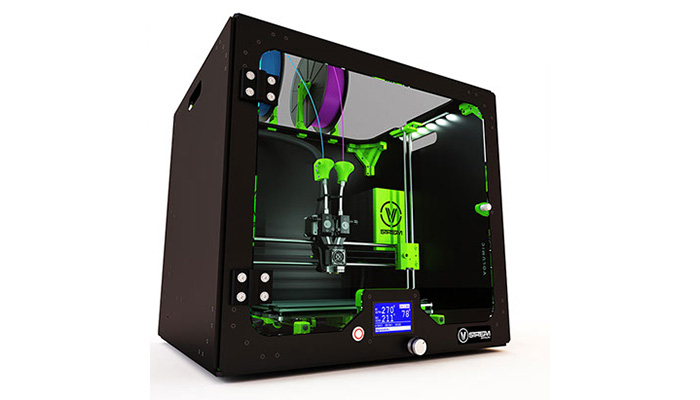 9 – Pro2 from Raise3D
The Raise3D Pro2, from the American manufacturer is a professional, industrial-grade FDM 3D printer. The printer features a dual extruder that allows for multi-material 3D printing with electronic-driven lifting and four times higher torque performance. The nozzles come in a range of sizes, from 0.2 to 0.8 mm. The large volume 3D printers is designed to be continuously and with high reliability. It is also compatible with a wide array of materials thanks to its high temperature extruder. It can go up to 300°C and the magnetic print bed up to 110°C. Also, it provides a large build volume of 305 x 305 x 300 mm. Additionally, it is able to achieve a minimum layer thickness of 0.01mm. Some last features include a built-in camera, touchscreen with WI-FI connectivity, filament run-out sensor and air filtering (making it eco-friendly). Its starting price is of $3,999.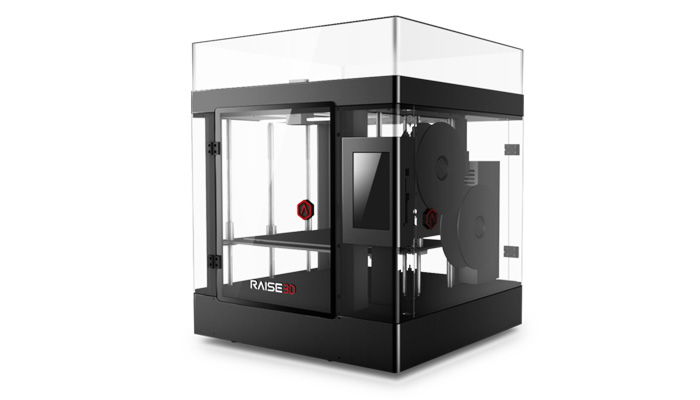 10 – Ultimaker S5 from Ultimaker
The Ultimaker S5 is the latest launch of the Dutch brand, with it reaffirms its commitment to 3D printing in the industry without leaving aside the dual extruder. It offers a print volume of 330 x 240 x 300 mm and a print speed of up to 24 mm³/s. It is compatible with most types of filaments such as PLA, Nylon, AB, etc. and different soluble materials. For the first time, the 3D printer has a colour touch screen and a mobile application. It keeps its self-calibrating glass tray. This is the first time the brand has added a closed printing chamber to the machine.. It is available on the brand's website at a price of around $7,402 (6594€).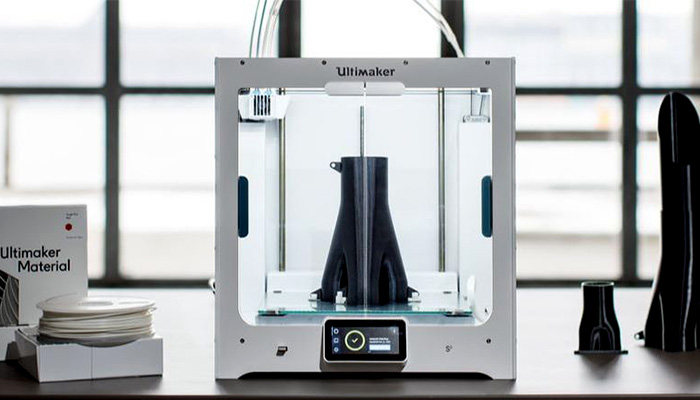 11 – EVO Twin from dddrop
The EVO Twin from the Netherlands-based manufacturer dddrop, is a professional dual extruder 3D printer that offers high-volume and high-accuracy 3D printing. The maximum build volume is 330 x 310 x 305 mm and the print speed can reach of up to 150 mm/s. The dual printhead can heat up to 300°C and print with high-grade materials (PA-12 Carbon, PET-G Carbon, etc.). Also, the build plate on this 3D printer is swappable, so you can switch platform for different jobs and materials. It comes with a closed chamber with temperature control and is low-noise. In terms of use, it comes with a 7-inch full colour touchscreen and the upgraded printer control together with the next generation computer processor unit makes the printer easy to operate. The price for this 3D printer is 7995€ ($8910) and you can find it HERE.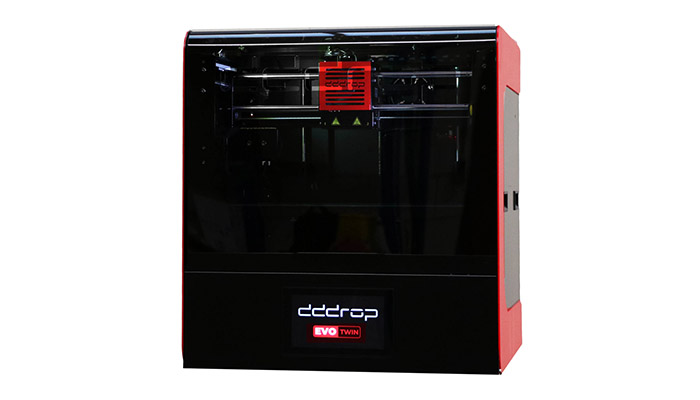 Was this ranking useful? Let us know in a comment below or on our Facebook and Twitter pages! Sign up for our free weekly Newsletter here, the latest 3D printing news straight to your inbox!