TOP 10 Dual Extruder 3D Printers
Posted On October 17, 2017
---
Dual extrusion is when you print with multiple filaments or materials. With a print head that has two extruders, you can mix colours. The printer can then alternate between these filaments. We found the 10 best dual extruder 3D printers, and listed them from cheapest to most expensive. If you enjoy our Top 10 lists, view all our rankings here, as well as our Top 10 Resin 3D printers, Top 14 Cheap 3D printers, and Top 14 DIY 3D printers here.
1. Da Vinci 2.0A Duo
The Chinese printer manufacturer XYZPrinting not only offers the Da Vinci Color printer, which combines FDM and inkjet technology, but also the Da Vinci 2.0A Duo twin-printer printer. The latter Plug & Play printer has a pressure-sensing device and an automatic nozzle cleaning, so maintenance is fairly simple. This FDM printer also has a small 2.6 inch display and can be controlled with a USB 2.0 port.
With the Da Vinci 2.0A Duo, you print objects in countless colors, in ABS or PLA. The printer offers a production volume of 15x20x20mm. You can print your ideas with the Cloud library, where you can download hundreds of models. The model is already available starting at €560. You can compare the Da Vinci's specs in our Comparator here.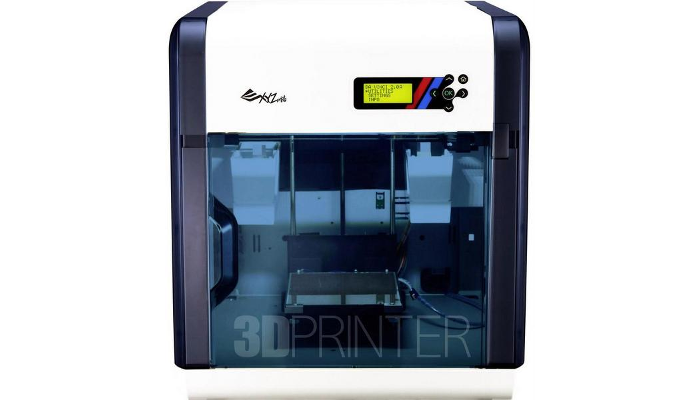 2. FlashForge Creator Pro
The Creator Pro by Chinese company Flashforge features a metal frame instead of the wooden one on the original Creator. It has a metal support and 10mm Z-axis guide rods work to increase precision of vertical movement. This precise printer has a positioning precision of up to 11 microns, and has a build volume of 227 x 148 x 150 mm. The Creator Pro runs on all modern operating systems, and has a total weight of around 17kg.
In addition, the Creator Pro has a 6.3mm heated aluminium build plate, which the company say enables the printer to print at a very high-quality. This is the same grade aluminium used in the aerospace industry. With a closable door and removable top cover, the Creator Pro is optimised to keep out dust and other particles. This also helps limit interference in temperature from the outside environment, stabilising print temperature. This allows for more accurate ABS prints, and less warping. This printer can be bought for €899. Compare the Creator Pro's specs in our Comparator here.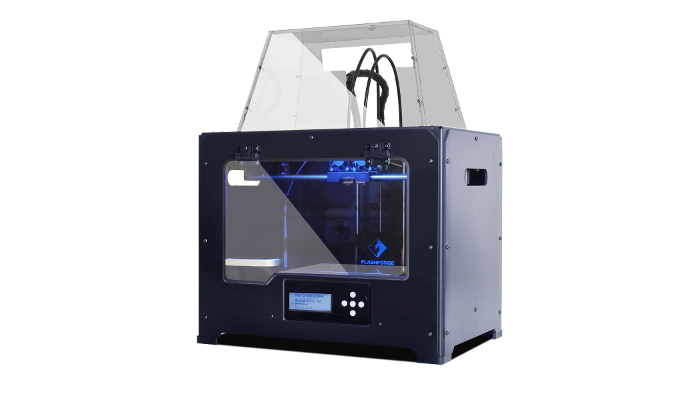 3. Makerbot Replicator 2X  
The dual version of the replicator 2 of the famous American manufacturer Makerbot, the Replicator 2X, is one of the first 3D printers with double extruders marketed on the market. Although it is no longer manufactured today, some sellers still have some models in stock, available from €2490. As for its performance, it offers a layer thickness of 100 μm and a positioning accuracy of 11 μm for the X and Y axes, and 2.5 μm for the Z axis. It has a print volume of 246 x 152 x 155 mm. Finally, its touch screen control allows all the insiders of this technology to easily manage each impression. Compare the Replicator 2X's specs in our Comparator here.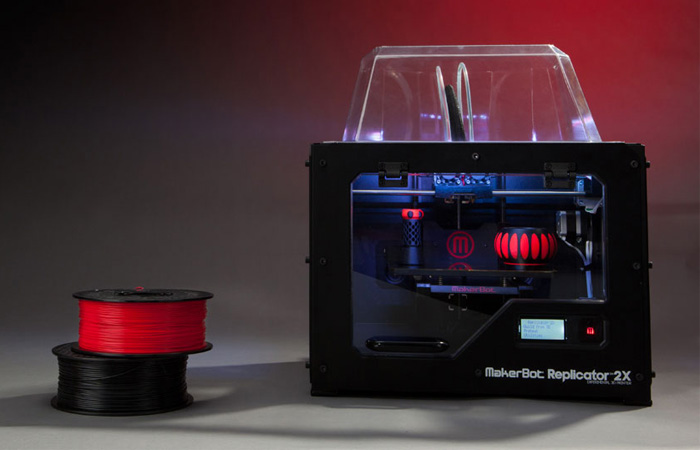 4. BCN3D Sigmax
The 3D printer from Spanish manufacturer BCN3D has two independent extruders to successfully achieve detailed multimaterial or multi-color models, as well as its ability to add soluble materials to produce designs with more geometric complexities. It has a print tray equivalent to a DIN-A4 that can reach a temperature up to 110ºC. Sigmax was launched a few weeks ago during the TCT Show, Sigma Evolution. The difference between this and her little sister is the inclusion of new modes of printing; Duplication mode, to print multiple of the same models in the same print, and Mirror Mode, which gives users the option of printing a piece in 3D and its symmetrical counterpart. In addition to adding a larger manufacturing volume of 420 x 297 x 210 mm. The printer retails for €4.470 on their website. Compare the Sigmax's specs in our Comparator here.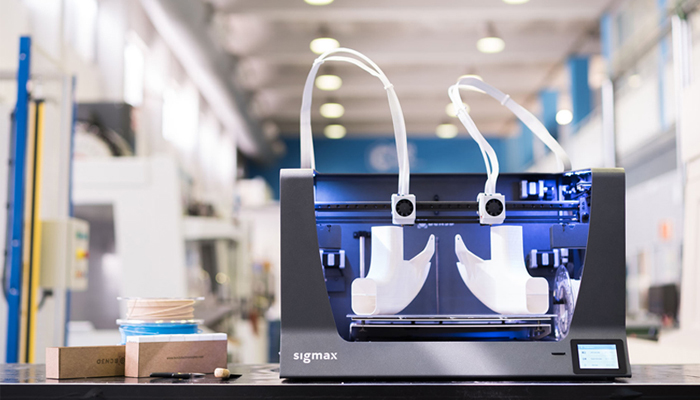 5. Raise3D N2 Dual
The Raise3d N2 Dual printer from American manufacturer Raise3D is a 3D Plug & Play printer that can print layers up to 10 microns. With its heated tray and its two extruders, it allows you to print two filaments at the same time in many materials like PLA, ABS or other exotic filaments like wood and metal. In addition, it offers a very large print volume of 305x305x305 mm.
The N2 Dual is also equipped with a number of interesting options such as a closed enclosure, touchscreen, auto tray calibration, Wi-Fi connection, or Smart Start and Stop system to pause and resume printing to continue later. The printer uses ideaMaker and Simplify3D softwares, and operates on all modern operating systems. Noteworthy is also its weight, at 40kg. The printer retails for €3400. Compare the N2's specs in our Comparator here.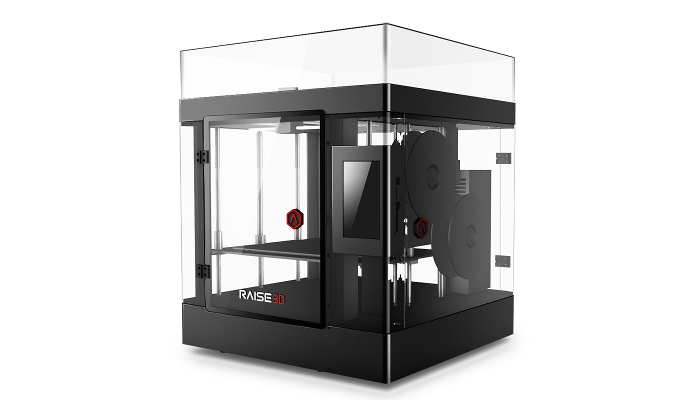 6. Ultimaker 3  
The Ultimaker 3 is the third generation FDM 3D printer manufactured by the Dutchcompany. Unlike its big sisters, is equipped with a double extruder. It also has a self-levelling tray. The Ultimaker 3 offers a volume of 215x215x200 mm, print speed of up to 300 mm/s and accuracy of 20μm. It is compatible with all types of filaments and can meet professional needs. The 3D printer is available from €3,594. For those who see things in large, an Extended version is available for €4,434. It offers a larger print volume (215 x 215 x 300 mm). Compare the Ultimaker 3's specs in our Comparator here.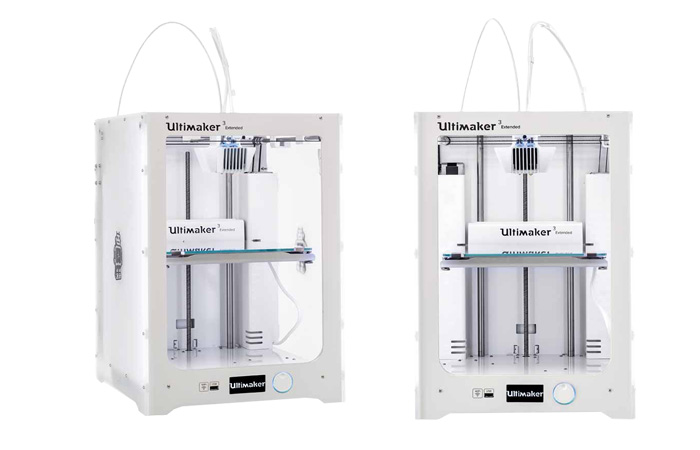 7. ZMorph 2.0 Sx 
Zmorph is a Polish brand and a big name in the printer world. Its Zmorph 2.0 SX is one of the all-in-one tools, since in addition to its double extruder it has CNC milling machine and a laser cutter/engraver. In addition to all these useful tools to create, the 3D printer accepts multiple varieties of materials, is self-calibrated and has a printing tray that heats up to 100°C. It can currently be purchased for €3,799 for the complete set with all the interchangeable heads to get the most out of the machine. Compare the ZMorph's specs in our Comparator here.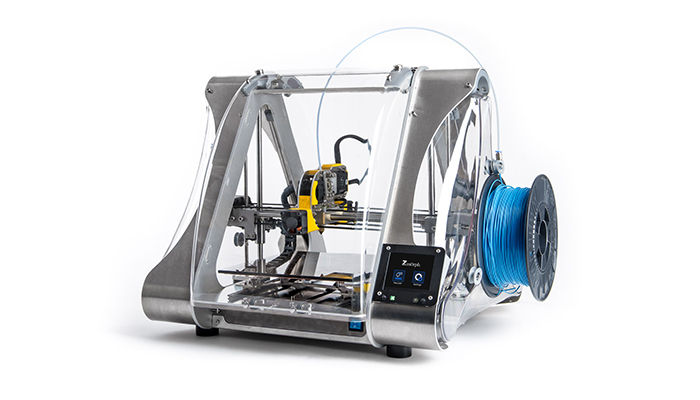 8. Volumic Stream 20 Dual
Made by French manufacturer Volumic, this printer is the dual version of its Stream 20 model. With its aluminium frame, it offers a building platform of 180x200x240mm, a heated bed capable of reaching 300°C, and a protection door. Regarding its performances, it proposes a positioning precision of 60µm in X/Y and 6µm in Z with a maximum printing speed of 300mm/s.
With its noteworthy green 3D printed components, the Stream 20 Dual gathers all the necessary features like a semi-automatic plate levelling, automatic end of filament detection, panic/reset button, LCD screen and uses a SD card connection. The 3D printer is available for a price of €3820. Compare the 3D printer's specs in our Comparator here.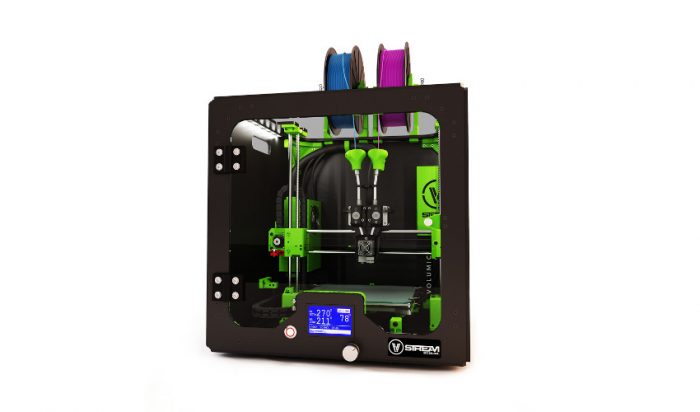 9. Leapfrog Bolt Pro
With its dimensions of 72x83x80 cm and a weight of 64kg, the Bolt Pro is the giant of our selection. This massive 3D printer offers a wide 7'' touchscreen, a system of independent dual extruders capable of printing objects as big as 30x32x20.5 cm, a swappable and heated print bed or a built-in camera.
This printer made by well-known Dutch manufacturer Leapfrog offers a minimum layer thickness of 50µm, a maximum travel speed at 250mm/s, a nozzle temperature of 265°C (optional 360°C) and is compatible with a wide proprietary range of filaments. Delivered with slicer software Simplify3D and 3DLac bed adhesion, the Bolt Pro is sold for a price of €7,864. Compare the Bolt Pro's specs in our Comparator here.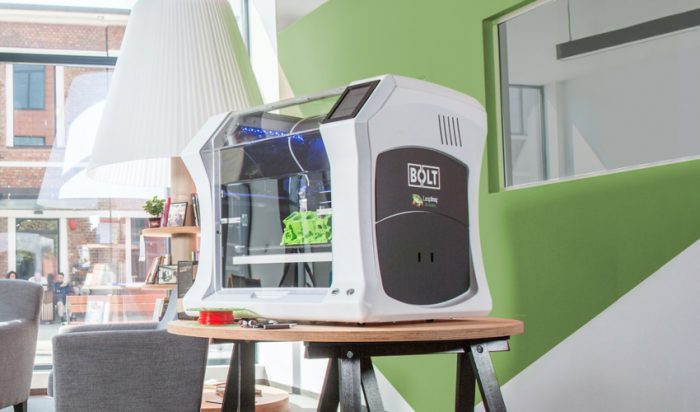 10. 3DGence Industry
The Polish manufacturer has been on the market since 2014, with its ONE, MEDICAL and INDUSTRY models. The latter is particularly suitable for rapid prototyping and small series production. With some special features, such as the Quick Hotend Change System.
The integrated NFC reader automatically detects the filament and adjusts the parameters optimally and a heated material chamber provides the best possible humidity conditions. With its production volume of 260x340x340mm it offers about 2.5 times the volume compared to its small brother ONE. In addition, its heated chamber, automatic calibration and dedicated software make it easy to operate. The printer retails at around €19,000. Compare the 3DGence Industry in our Comparator here.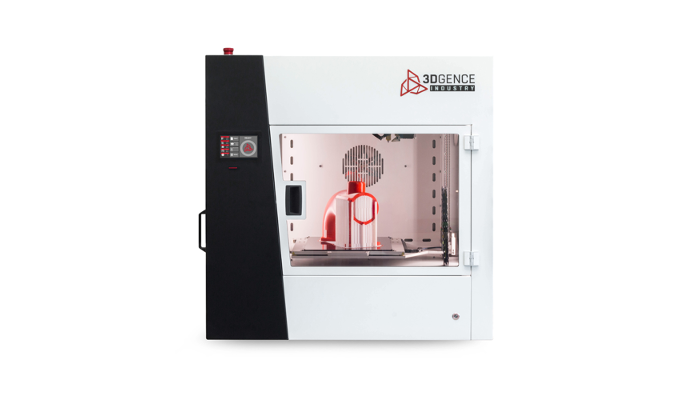 What do you think about this? Let us know in a comment below or on our Facebook and Twitter pages! Sign up for our free weekly Newsletter here, the latest 3D printing news straight to your inbox!
---
You may also like