The Top Dual Extruder 3D Printers on the Market
Published on September 17, 2022 by
Jamie D.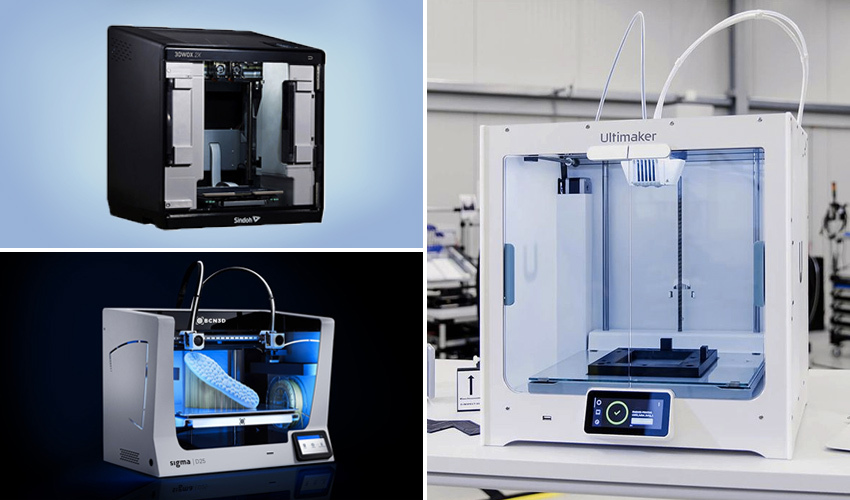 Often FDM 3D printers are associated with a single extrusion head, also called an extruder, which melts and then deposits the filament on the printing plate layer-by-layer. However, increasingly, it is possible to find FDM machines that come equipped with two extruders (or sometimes even more). This allows users the possibility to print with more than one material (especially important for those that wish to use support materials) or multiple colours. But how do you know which dual extruder FDM machine is right for you? For 2021, we have decided to update our list of some of the top dual extruder, desktop FDM 3D printers, sorted by price, to give you a better understanding of their characteristics and features.
Geeetech A10M, a 3D Printer for Makers
The Geeetech A10M is a 3D printer from Shenzhen Getech Technology Co., Ltd.,  a Chinese company specialising in the development of open source 3D printers. This 3D printer is the newest release from the manufacturer, and an upgraded version of the A20. What has made it especially popular is its ability to print in different colours, using the Color Mixer software, developed by the brand. This 3D printer has a printing volume of 220 x 220 x 260 mm and a structure very similar to the Creality R10. You will be able to print with multiple materials and the add the second extruder for only $299 (200€), hence why it has become very popular in the maker community.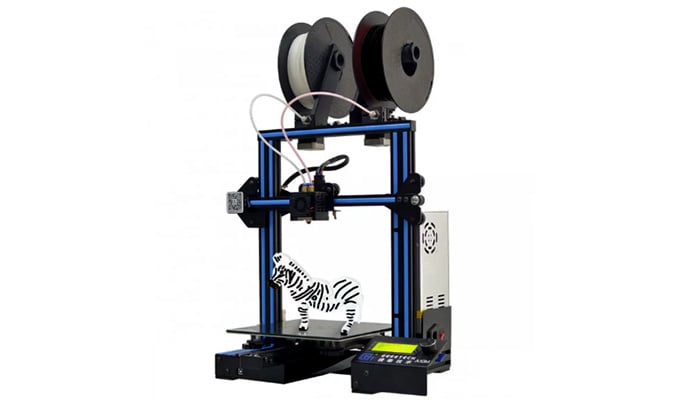 Bibo Dual Extruder 3D Printer
Bibo Automatic Equipment Co., Ltd is another leading 3D printer manufacturer from China offering an affordable option to our list of dual extruder 3D printers. Though the company currently only has two machines, both are regularly considered on lists of top dual extrusion 3D printers. The cheaper option, starting at $499.00 USD (a $300 discount from the original price of $799.00), is the Bibo 2 Maker E Dual Extruder 3D printer. The company notes a number of features, for example that the dual extruders on the machine are capable of printing two of the same object at the same time, allowing users to cut their printing time in half as well as color printing and support material. Though a little smaller than other offerings on our list at 8.4×7.3×6.3 in (214*186*160 mm), the machine has a number of features such as a removable glass heated bed, 2 nozzle fans and a removable enclosed cover for better ABS printing. For those willing to spend a little more, $649 USD down from the original $999 USD, the BIBO 2 Touch Dual Extruders 3D Printer also features filament run-out detection, wifi control and more.

Disc Ultimate from Dagoma
Dagoma's popular 3D printer, the Disco Ultimate, is also available in a dual extruder version. it incorporates a single nozzle and a dual extruder that allow it to 3D print two colors at the same time. This kit machine offers a printing volume of 200 x 200 x 200 mm and a layer thickness of 100 microns. The Disco Ultimate bi-color is compatible with a wide variety of materials (PLA, PETG, Nylon, ASA, etc.) and incorporates an automatic filament insertion and ejection system, as well as end-of-filament detection. The bi-color printer is available from 499€ but you can also buy the bi-extruder add-on as an accessory for 169€. 21 days of training are included with any purchase of the machine!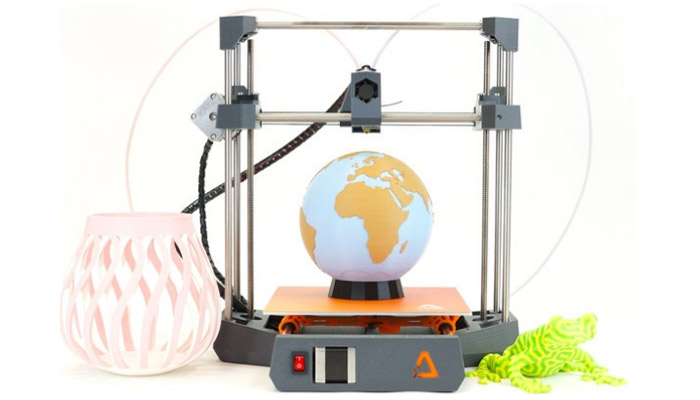 X-Pro from Qidi Technology
Based in China, Qidi Technology has a wide range of products for the additive manufacturing sector. One of its most advanced solutions is the X-Pro, a dual extruder 3D printer that allows users to create parts with two different materials at the same time, including the support material. Launched in 2018, the machine has a limited maximum print volume, namely 230 x 150 x 150 mm. The layer thickness is 0.05 mm and it boasts an axis accuracy of 0.011mm. As expected, the printer is compatible with standard thermoplastics, such as PLA or ABS. It is very popular in the market thanks to its low cost.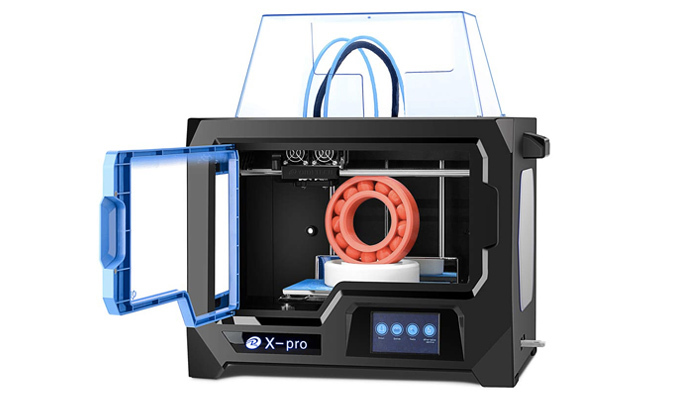 Da Vinci 2.0A Duo from XYZPrinting
The Chinese printer manufacturer XYZPrinting not only offers the Da Vinci Color 3D printer, which combines FDM and inkjet technology, but also the Da Vinci 2.0A Duo, a dual extruder 3D printer. The latter Plug & Play printer also has a pressure-sensing device and an automatic nozzle cleaning, so maintenance is fairly simple. This FDM printer also has a small 2.6 inch display and can be controlled with a USB 2.0 port. With the Da Vinci 2.0A Duo, you print objects in countless colours, in ABS or PLA. The printer offers a production volume of 150 x 200 x 200 mm. You can print your ideas with the Cloud library, where you can download hundreds of models. This model is available starting at $630 (560€).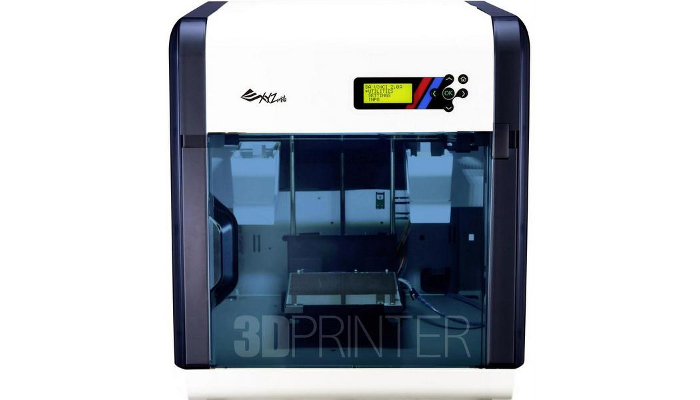 Creator Pro 2 from FlashForge
To increase productivity, FlashForge has decided to add a second extruder to the original Creator Pro with the Creator Pro 2. These two extruders can operate independently of each other, with the FDM printer incorporating what is known as anti-scrape design during printing. This means that the extruders alternate in the printing process. This prevents oozing and optimizes printing results. The Creator Pro 2 has a closed installation space of 200 x 148 x 150 mm and operates with a nozzle temperature of up to 240 °C. The metal frame gives the unit additional stability. The Creator Pro 2 is available from as little as $589.00.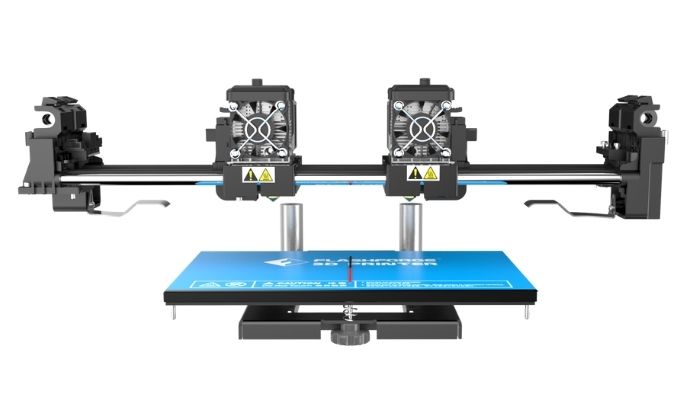 Creality CR-X from Creality
When it comes to affordable FDM machines, Creality is usually the name on everyone's lips. And fans of the popular, Chinese brand that are looking for a dual extrusion FDM printer are in luck with the CR-X 3D printer. For this machine, Creality notes especially the printer's capabilities for colors thanks to the dual extruders. The build volume of the printer is 300x300x400mm, a decent size for a desktop dual extrusion FDM printer. Furthermore, the printer boats a number of useful features, notably a filament monitor, and a carbololy silicon platform that has good adhesion and allows for easy removal of parts and a resume print function to reduce print failures. Starting at only $629.00 USD, the CR X is also available in a pro version for $799.00 USD.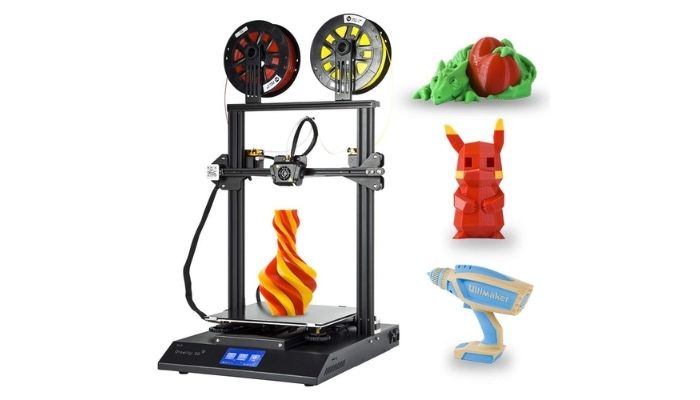 The Factory 2.0 NET From OMNI3D, an Industrial Dual Extruder 3D Printer
If you have not already heard of Polish manufacturer OMNI3D, you probably will soon. The company is known for its XXL, highly-precise industrial 3D printers, including its largest offering, the Factory 2.0 Net. The printer has a build size of 500×500×570mm and has been noted by the company to 'the perfect solution for customers demanding a high standard of print process and demanding materials.' Moreover, as you can expect it has a number of features that make it perfect for industrial 3D printing, including a closed chamber (going up to 70˚C) and a heated platform (with a maximum temperature of 150˚C). Furthermore, the printer includes OMNI3D Air Circulation & OMNI3D Cooling System which regulate the chamber and print bed, allowing for a constant temperature throughout printing.
And of course, it is also included in the ranking for its dual extruders, a common benefit for industrial printing as it allows for multiple materials including the use of specific support material. These dual extruders also have an additional feature, they are capable of lifting when inactive, thus reducing the chance of printing failures, something that is augmented by OMNI3D's Filament Flow Control™ which gives users full control over filament control, ensuring precision and dimensional accuracy. It is also possible to have an optional print head that goes up to 420˚C for printing even the most temperature resistant materials. The printer is available from €35,000. You can find out more HERE.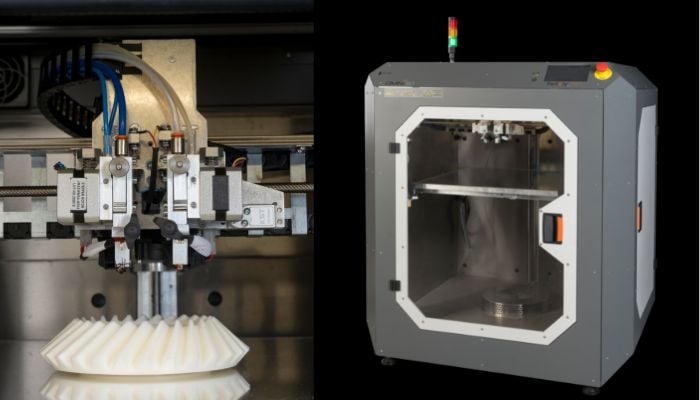 DOUBLE P255 from 3DGence
The DOUBLE P255 from Polish manufacturer 3DGence, is a professional desktop FDM 3D printer meant for professionals. The P255 is an upgraded version of the DOUBLE printer, it features an enclosure to ensure optimal 3D printing. Additionally, the manufacturer has integrated new hot-ends and an optimised cooling system. Its dual extrusion system enables users to print complex parts with water-soluble support material. The nozzles can reach up to 270°C in temperature and the heated print bed 160°C. Also allowing to print with two different colours and materials. The build size is of 190 x 255 x 195 mm. Finally some additional features include an end-filament sensor, automatic calibration when sensing surface irregularities and automatic print bed levelling. The DOUBLE P255 3D printer is priced around 3,000€.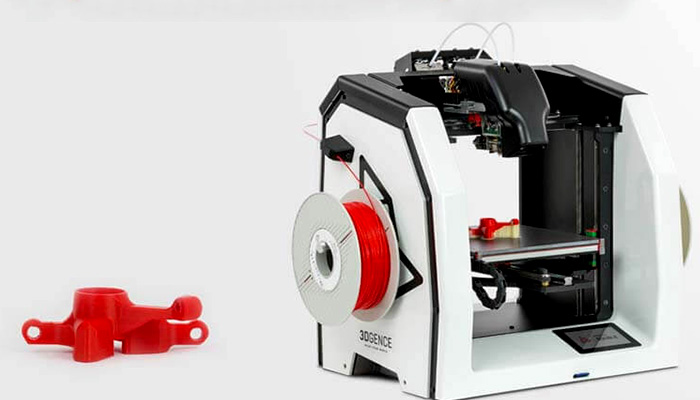 3DWOX 2X from Sindoh, 3D printer with voice guidance system
We add to our list of dual extruder 3D printers with the 3DWOX 2X from South Korean manufacturer Sindoh. It offers a maximum production volume of 228 x 200 x 300 mm with a layer thickness between 0.04 and 0.05 mm and includes a system of two interdependent extruders to combine several materials or colours simultaneously. Currently, PLA, ABS, Flexible and PVA filaments can be used for printing and the manufacturer is planning to include more. The 3DWOX 2X 3D printer also has several interesting features such as email notifications or a voice guidance system that tells you how to solve problems. Sindoh also advertises with a low operating volume of only 40 decibels on a powerful and robust machine. Currently you can buy the 3D Wox 2X at a price of about $3,368 (3000€).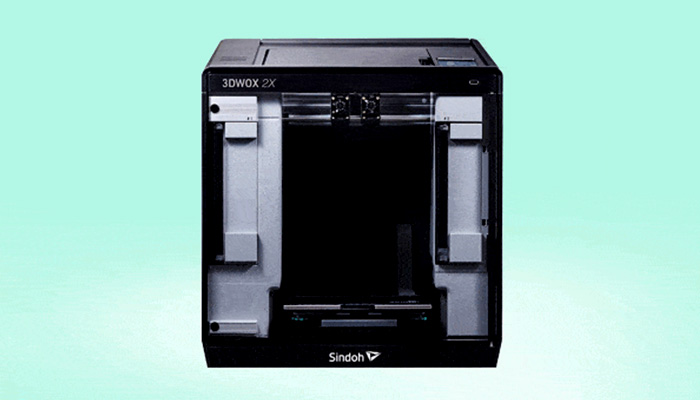 Sigmax D25 from BCN3D
The Sigma D25 3D printer, from BCN3D, is the new generation of the famous Sigmax R19. Like the rest of the Spanish manufacturer's machines, it is based on the IDEX (Independent Dual Extruder) system that allows different printing systems with both heads: mirror mode, duplication mode, etc. Launched in 2021, the machine offers a generous print volume of 420 x 300 x 200 mm and is compatible with more standard materials such as PLA, TPU and PETG, as well as engineering thermoplastics such as nylon or PC. In addition, the dual extrusion system allows the selection of two different filament types to create parts with supports, or to create two-color models.
Stream 30 Dual MK2 from Volumic
The Stream 30 Dual MK2 dual extruder 3D printer manufactured by the French company Volumic, is the evolution of the Volumic Stream 20 Dual MK2. With its aluminium chassis, it offers a printing volume of 260 x 200 x 300mm, a heating plate that can reach up to 300°C and a closed chamber. When looking at its performance, it offers an accuracy of up to 6 microns. The Stream 30 Dual  is capable of printing with up to 40 different materials and is compatible with all CAD software on the market, in addition to having a two-year warranty. It is available at a price of about $4370 (3890€).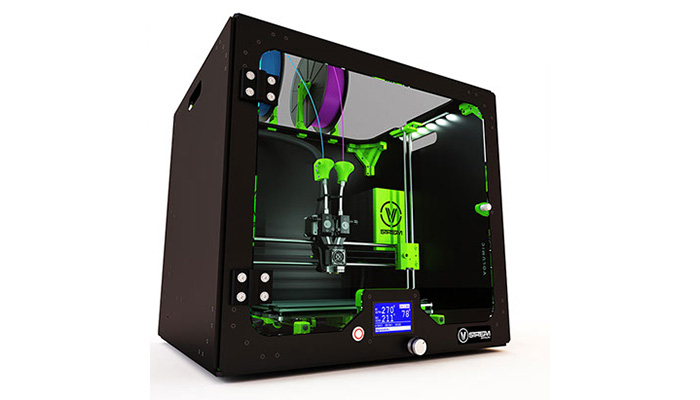 Zortrax M300 Dual from Zortrax
The Zortrax M300 also has a dual extruder, but can also be used in a single extrusion mode. Otherwise, the Dual-Extrusion LDP Plus technology is characterized by the fact that support and base material can be printed simultaneously. In a build space of 265x265x300 mm, even larger models with complex geometries can thus be created without difficulty. For the build platform, the manufacturer offers users the option of choosing between perforated, glass and other materials. The M300 is also compatible with third-party filaments, features a blackout system and has an integrated video streaming camera. With a price tag of around €4,360, the M300 Dual can be classified as a device for industrial purposes.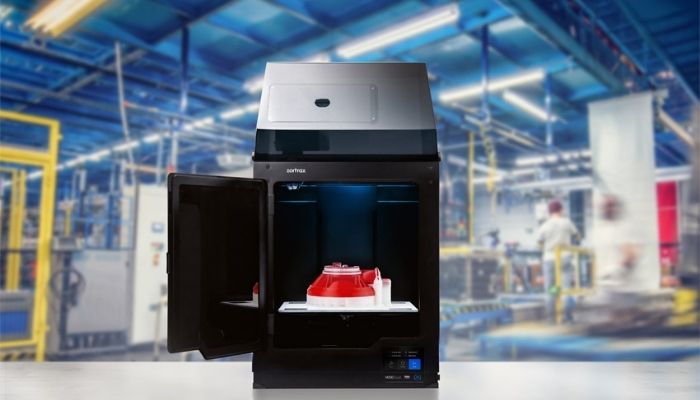 Pro3 from Raise3D
In September 2021, the American manufacturer unveiled its new line of FDM machines, the Raise Pro3 Series. Like its previous lines, this one incorporates the Pro3 and Pro3 Plus, which offer a print volume of 300 x 300 x 300 mm and 300 x 300 x 605 mm respectively. Both machines are dual extruder 3D printers, equipped with two interchangeable extruders with easily detachable nozzles depending on the material to be printed. Moreover, the manufacturer claims that its machines can extrude any thermoplastic up to 300°C. The official launch of this new line is scheduled for late 2021, but you can already pre-order the Pro3 for $5,249 and the Pro3 Plus for $7,249.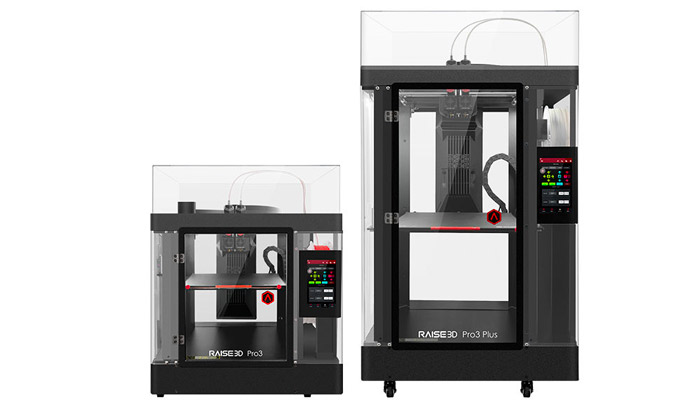 Zmorph i500 from ZMorph
Though previously in our list of dual extruder 3D printers we have highlighted the ZMorph VX, for this 2021 update we wanted to focus the Polish company's first professional FDM printer the Zmorph i500, which moves away from its all-in-one multi-tool machines. One of the few professional 3D printers on the list, the Zmorph i500's many features explain its starting price of $6,399. The printer is not only larger than many desktop FDM machines, with a printing volume of 500 x 460 x 300 mm but has a number of control and safety features such an ergonomic touch screen, the Filament Flow System, a filtration system and an automatically locking door.
Ultimaker S5 from Ultimaker
The Ultimaker S5 is the latest launch of the Dutch brand, with it reaffirms its commitment to 3D printing in the industry without leaving out the dual extruder. It offers a print volume of 330 x 240 x 300 mm and a print speed of up to 24 mm³/s. It is compatible with most types of filaments such as PLA, Nylon, AB, etc. and different soluble materials. For the first time, the 3D printer has a colour touch screen and a mobile application. It keeps its self-calibrating glass tray. This is the first time the brand has added a closed printing chamber to the machine.. It is available on the brand's website at a price of around $7,402 (6,594€).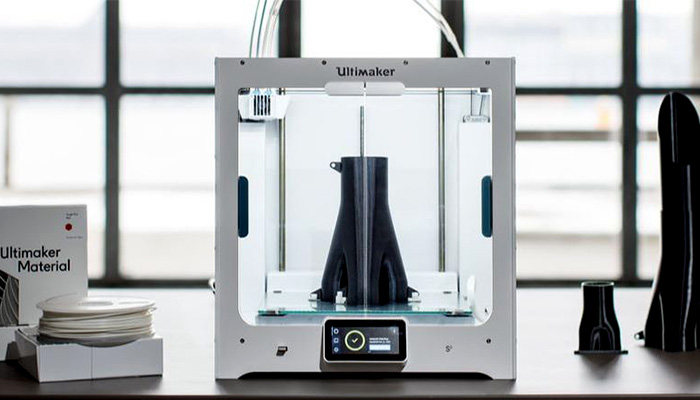 Which are the best dual extruder 3D printers in your opinion? Let us know in a comment below or on our Facebook and Twitter pages! Sign up for our free weekly Newsletter here, the latest 3D printing news straight to your inbox!