The Top Dual Extruder 3D Printers on the Market
Published on August 24, 2023 by
Jamie D.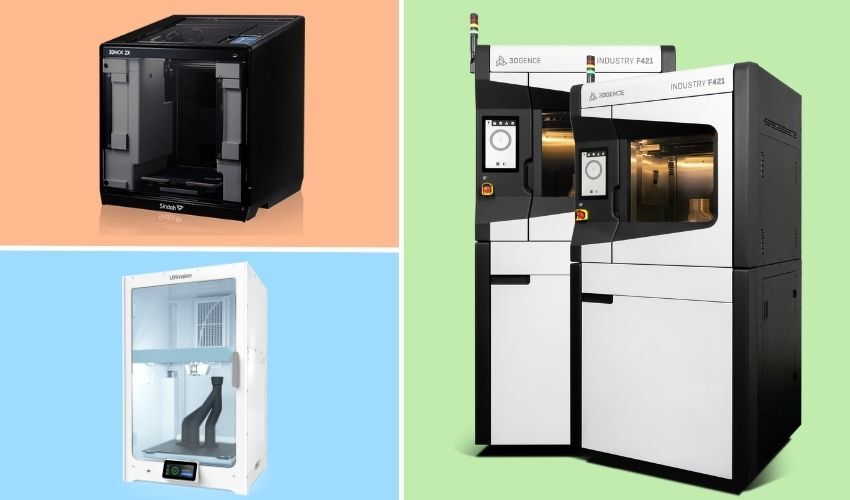 Often FDM 3D printers are associated with a single extrusion head, also called an extruder, which melts and then deposits the filament on the printing plate layer-by-layer. However, increasingly, it is possible to find FDM machines that come equipped with two extruders (or sometimes even more). This allows users the possibility to print with more than one material (especially important for those that wish to use support materials) or multiple colours. But how do you know which dual extruder FDM machine is right for you? For 2023, we have decided to update our list of some of the top dual extruder, desktop FDM 3D printers, sorted by price, to give you a better understanding of their characteristics and features.
The INDUSTRY F421 From 3DGence
The INDUSTRY F421 from 3DGence is a high-performance industrial 3D printer with two extrusion heads, a print volume of 380 x 380 x 420 mm and a print speed of up to 400 mm/s. It is compatible with a wide choice of engineering materials such as ULTEM 9085, PEEK, PEKK, VICTREX AM™ 200, PLA, ABS, ASA, PA, PC, LEXAN and soluble support materials. It can accommodate a 1.75 mm diameter filament and features a chamber heated to a maximum of 195°C. Moreoever, the plate heats to a maximum of 180°C and the extruders to 500°C. Specific printing modules are available and can be used to adapt to different applications and printing profiles. The 3D printer is compatible with 3DGence SLICER 4.0 and 3DGence CLOUD. Additional accessories include an advanced filter unit, an uninterruptible power supply unit and a signal mast. 3DGence's INDUSTRY F421 is suitable for both production and prototyping, though the final price is set somewhere near $50,000.
The Factory 2.0 NET From OMNI3D, an Industrial Dual Extruder 3D Printer
If you have not already heard of Polish manufacturer OMNI3D, you probably will soon. The company is known for its XXL, highly-precise industrial 3D printers, including its largest offering, the Factory 2.0 Net. The printer has a build size of 500×500×570mm and has been noted by the company to 'the perfect solution for customers demanding a high standard of print process and demanding materials.' Moreover, as you can expect it has a number of features that make it perfect for industrial 3D printing, including a closed chamber (going up to 70˚C) and a heated platform (with a maximum temperature of 150˚C). Furthermore, the printer includes OMNI3D Air Circulation & OMNI3D Cooling System which regulate the chamber and print bed, allowing for a constant temperature throughout printing.
And of course, it is also included in the ranking for its dual extruders, a common benefit for industrial printing as it allows for multiple materials including the use of specific support material. These dual extruders also have an additional feature, they are capable of lifting when inactive, thus reducing the chance of printing failures, something that is augmented by OMNI3D's Filament Flow Control™ which gives users full control over filament control, ensuring precision and dimensional accuracy. It is also possible to have an optional print head that goes up to 420˚C for printing even the most temperature resistant materials. The printer is available from €35,000. You can find out more HERE.
The IDEX Silicone 3D Printer From Lynxter
Silicone 3D printing though still difficult has been gaining in popularity in recent years with French manufacturer Lynxter establishing itself as one of the leaders in the sector. The company offers a number of extrusion printers that are capable of printing with medical and industrial grade silicones and polyurethanes including an IDEX solution, the S300X. Lynxter's mission is to democratize silicone 3D printing, allowing it to meet the needs of different industries. For the S300X in particular it has been designed to be compact, robust, precise and efficient with large capacity cartridges for the creation of both larger parts or several small ones in the filtered, heated and silent chamber. Moreover, the dual toolheads allow for the simultaneous printing of the part and water-soluble support as well as multi-material, multicolor 3D printing. The printer itself has a build volume of 300 x 250 x 200 mm and an xy-resolution of 12.5 µm and z-resolution of 1.0 µm. Of course, given its industrial nature, the Lynxter S300X 3D printer will not come cheap, it starts at around $32,000.
BCN3D EPSILON W50 SC
The BCN3D EPSILON W50 SC is a professional printer for large format parts. It has been optimized for printing that is both high quality and high resolution as evidenced by the parts produced, which are very strong, resilient, functional and have very good mechanical properties. The BCN3D EPSILON W50 SC also scores points for a few extra features and additional highlights. For example, it features a passive heating chamber and a humidity control function. In addition, the axis calibration of the XYZ axes can be done automatically. It is suitable for printing metal, plastic and composite materials. It is an IDEX printer as the second extruder is independent of the first. As a more industrial printer with numerous functions, the printer is also in a higher price range, at around $11,995 or €10,500.
FUNMAT PRO 310
One of the leaders in high-temperature and high-performance FDM 3D printing solutions is INTAMSYS. The Chinese manufacturer has a number of industrial 3D printers but in this ranking, we want to draw your attention to one in particular: the FUNMAT PRO 310. This machine is compatible with large-format printing, thanks to its build volume of 305 x 260 x 260 mm, and has been designed with the concept of bringing industrial performance to desktop 3D printing in order to respond to the growing demands of professional engineers. The FUNMAT PRO 310 has a number of interesting features, including of course its IDEX system. Moreover, it has been optimized for printing with engineering materials and thus integrates an active heating thermostatic chamber with uniform temperature distribution up to 100℃. This ensures lower internal stress and better interlayer bonding, enabling users to get the best tensile strength out of engineering materials. It also comes with an independent sealed drying filament box, ensuring long-term low humidity with no need to dry the filaments repeatedly.
Adding to this, the machine has a number of intriguing software features such as intelligent multi-point mesh automatic leveling, real-time compensation for motion accuracy and no manual calibration. It also includes a new process control software that is free of charge. According to INTAMSYS, this software is an all-in-one collaboration platform that combines model layout, automated model slicing, online monitoring, and exploratory printing process capability. In the future, it will also integrate online diagnosis and maintenance, MES programming, and Cloud service to enable business innovation. You can learn more about the FUNMAT PRO 310 3D printer on INTAMSYS' website HERE, it is available from $8,495/€7,999.
Ultimaker S7 From Ultimaker
The UltiMaker S7 is another dual-extruder 3D printer on our list and the successor to the S5. The S7 features a larger print volume of 330 x 240 x 300 mm and is compatible with over 280 materials, including PLA, ABS, nylon, TPU, PC and PP, according to the Dutch manufacturer. The printer features a PEI-coated flexible build plate for easy removal of the finished part and a 4.7-inch color touchscreen for user-friendly operation. With its integrated "air manager" and fully enclosed pressure chamber, the S7 creates a comfortable pressurized build atmosphere, ensuring the production of high-quality parts. The S7 may cost you between €7,200 and €7,700, it is necessary to contact UltiMaker for the most accurate pricing.
Pro3 From Raise3D
In September 2021, the American manufacturer unveiled its new line of FDM machines, the Raise Pro3 Series. Like its previous lines, this one incorporates the Pro3 and Pro3 Plus, which offer a print volume of 300 x 300 x 300 mm and 300 x 300 x 605 mm respectively. Both machines are dual extruder 3D printers, equipped with two interchangeable extruders with easily detachable nozzles depending on the material to be printed. Moreover, the manufacturer claims that its machines can extrude any thermoplastic up to 300°C. The official launch of this new line was late in 2021, with the Pro3 costing $5,249 and the Pro3 Plus $7,249.
The Fab 5-in-1 3D Printer From Zmorph
Polish manufacturer Zmorph is well-known for its multi-tool FFF 3D printer, the Zmorph Fab, which combines CNC with additive manufacturing for an all-in-one solution. Although it is available with only a single extruder, for this listing we want to draw your attention to the Fab 5-in-1 a solution that includes not just dual extrusion but also a CNC milling tool head, thick past extruder tool head and laser. Costing $5,999 (€5,599), the Zmorph Fab is certainly not the most expensive on our list but it stands out for its multiple functions through the SMART Toolheads and compatibility with both standard and engineering materials (including but not limited to PLA, ABS, PETG, Nylon, HIPS, TPE, PC, PS and composite materials). The machine has a build volume of 235 x 250 x 165 mm, a heated bed that can reach a maximum temperature of 100 °C, a maximum printing temperature of 250 °C and a layer resolution between 0.05 to 0.4 mm.
Zortrax M300 Dual From Zortrax
The Zortrax M300 also has a dual extruder, but can also be used in a single extrusion mode. Otherwise, the Dual-Extrusion LDP Plus technology is characterized by the fact that support and base material can be printed simultaneously. Thanks to a build volume of 265x265x300 mm, even larger models with complex geometries can be created without difficulty. For the build platform, the manufacturer offers users the option of choosing between basic, reinforced or specialized materials. The most exciting part? The M300 is also compatible with third-party filaments, features a blackout system and has an integrated video streaming camera. With a price tag of around €4,360, the M300 Dual is firmly within the category of industrial solutions.
The FLOW IDEX XL From CraftBot
CraftBot is a Hungarian 3D printer manufacturer based in Budapest. Founded in 2014, the company currently offers six FDM/FFF printers, including the FLOW IDEX XL dual-extruder printer. With a build volume of 425 x 250 x 500mm, it is one of the manufacturer's largest printers. Equipped with two extruders, the printer is capable of printing two objects simultaneously – either in mirror or parallel mode. In addition, two different materials or colors can be used, as well as components with PVA support structures. The integrated camera and a 5-inch color touch screen make the solution particularly user-friendly. Currently, the FLOW IDEX XL is available on Craftbot's online shop for €3,999 in gray and white.
3DWOX 2X From Sindoh, the Dual Extruder 3D printer With a Voice Guidance System
We add to our list of dual extruder 3D printers with the 3DWOX 2X from South Korean manufacturer Sindoh. It offers a maximum production volume of 228 x 200 x 300 mm with a layer thickness between 0.04 and 0.05 mm and includes a system of two interdependent extruders to combine several materials or colours simultaneously. Currently, PLA, ABS, Flexible and PVA filaments can be used for printing and the manufacturer is planning to include more. The 3DWOX 2X 3D printer also has several interesting features such as email notifications or a voice guidance system that tells you how to solve problems. Sindoh also advertises with a low operating volume of only 40 decibels on a powerful and robust machine. Currently you can buy the 3DWOX 2X at a price of about $3,368 (€3000).
The Creality Sermoon D3
Creality is possibly one of the most well-known out of China's 3D printer manufacturer, but it mostly focuses on single extrusion. For those in need of a dual extruder hower, there is also the Creality Sermoon D3 3D printer. The Sermoon D3 is designed for industrial use, producing finished parts and components, prototypes and fixtures. Additionally, it can also handle mass production of small components with complex shapes. With machine dimensions of 553 x 576 x 656 mm, it offers a print volume of 300 x 250 x 300 mm. It prints layers from 0.1 to 0.4 mm with a precision of 0.1 mm and a required filament diameter of 1.75 mm. It can print PLA at a maximum speed of 150 mm/s and 250 mm/s for ABS. For best printing, the nozzle temperature must not exceed 300°C or 110°C for the plate temperature. Altogether, the Sermoon D3 costs $2,499 or € 2,999.
The CreatBot DX
The CreatBot DX is a reliable desktop 3D printer known for its classic design and robust features. With an ultra-high temperature nozzle reaching 260°C, it holds a patent for versatile filament printing. The all-metal hotend ensures durability, while adjustable nozzle height and support for up to three hotends enable flexibility. It achieves high precision at 0.05 mm accuracy and 120 mm/s speed. The all-steel body offers stability and longevity, exemplified by 9-year, 30,000-hour printer lifespan. The DX offers 300x250x300 mm build size, while the DX Plus extends it to 300x250x520 mm. Other notable features include outage restoration, filament detection, a glass ceramic platform, and a user-friendly 4.3″ touch screen. Due to these features and capabilities, the printer is valued at around $1,799 USD. Overall, the CreatBot DX is decent value for money, as it offers precise 3D printing for a wide range of applications.
The Snapmaker J1
The Snapmaker J1 includes an independent dual extruder (IDEX system), offering a print volume of 300 x 200 x 200 mm. Featuing a vibration compensation system, It can print at speeds up to 350 mm/s while its nozzles heat to 300°C and the printing plate to 100°C. According to the manufacturer, extruder changeover is simple and easy. The Snapmaker J1 features an intuitive 5″ touch screen and fans to cool prints faster. The Snapmaker J1 is priced at $1,699, or around €1,565.
Bresser T-REX WIFI 3D Printer
The Bresser T-REX printer with twin extruders is aimed at all makers who like to experiment and be creative. It is therefore a desktop printer that caters to home use and enthusaiasts. The printer comes almost completely pre-assembled and the metal frame provides stability during printing. Printing is done in a maximum size of 227 x 148 x 150 mm. The turbo cooled housing ensures that the filament is already cooled down during extrusion from the nozzle. This promises an improved print result and better resolution. The Bresser T-REX prints at a maximum speed of 10 mm/s and at a layer thickness between 0.05 and 0.4 mm. Asking price for the Bresser T-Rex is around €850.
DAGOMA 3D DISCO ULTIMATE V2 TMC 3D Printer
The main concept behind the dual extruders on the 3D DISCO ULTIMATE V2 TMC is to reveal the potential of two-color printing. The 3D DISCO ULTIMATE V2 TMC differs from its predecessors by posessing a revised operating system, now using marlin V2, and the new backlit color screen which can be used to manually pause 3D printing at any time. The 3D DISCO ULTIMATE V2 TMC prints at a minimum layer thickness of 0.1mm and a speed of 30 to 150 mm/s. It is suitable for small to medium-sized prints, with a maximum print volume of 200 x 200 x 200 mm, or approximately 8 liters. In addition to the printer, the manufacturer offers an optional cover. This protects against wind, dust and negative influences from large temperature differences. The selling price is around €580 (~$630).
Creator Pro 2 from FlashForge
To increase productivity, FlashForge has decided to add a second extruder to the original Creator Pro with the Creator Pro 2. These two extruders can operate independently of each other, with the FDM printer incorporating what is known as anti-scrape design during printing. This means that the extruders alternate in the printing process. This prevents oozing and optimizes printing results. The Creator Pro 2 has a closed installation space of 200 x 148 x 150 mm and operates with a nozzle temperature of up to 240 °C. The metal frame gives the unit additional stability. The Creator Pro 2 is available from as little as $589.00.
Da Vinci 2.0A Duo from XYZPrinting
The Chinese printer manufacturer XYZPrinting not only offers the Da Vinci Color 3D printer, which combines FDM and inkjet technology, but also the Da Vinci 2.0A Duo, a dual extruder 3D printer. The latter Plug & Play printer also has a pressure-sensing device and an automatic nozzle cleaning, so maintenance is fairly simple. This FDM printer also has a small 2.6 inch display and can be controlled with a USB 2.0 port. With the Da Vinci 2.0A Duo, you print objects in countless colours, in ABS or PLA. The printer offers a production volume of 150 x 200 x 200 mm. You can print your ideas with the Cloud library, where you can download hundreds of models. This model is available starting at $630 (€560).
Bibo Dual Extruder 3D Printer
Bibo Automatic Equipment Co., Ltd is another leading 3D printer manufacturer from China offering an affordable option to our list of dual extruder 3D printers. Though the company currently only has two machines, both are regularly considered on lists of top dual extrusion 3D printers. The cheaper option, starting at $499.00 USD (a $300 discount from the original price of $799.00), is the Bibo 2 Maker E Dual Extruder 3D printer. The company notes a number of features, for example that the dual extruders on the machine are capable of printing two of the same object at the same time, allowing users to cut their printing time in half as well as color printing and support material. Though a little smaller than other offerings on our list at 8.4×7.3×6.3 in (214*186*160 mm), the machine has a number of features such as a removable glass heated bed, 2 nozzle fans and a removable enclosed cover for better ABS printing. For those willing to spend a little more, $649 USD down from the original $999 USD, the BIBO 2 Touch Dual Extruders 3D Printer also features filament run-out detection, wifi control and more.
X-Pro From QIDI Tech
Based in China, QIDI Tech has a wide range of products for the additive manufacturing sector. One of its most advanced solutions is the X-Pro, a dual extruder 3D printer that allows users to create parts with two different materials at the same time, including the support material. Launched in 2018, the machine has a limited maximum print volume, namely 230 x 150 x 150 mm. The layer thickness is 0.05 mm and it boasts an axis accuracy of 0.011mm. As expected, the printer is compatible with standard thermoplastics, such as PLA or ABS. It is very popular in the market thanks to its low cost, available at around $469.
SV04 IDEX 3D Printer From SOVOL
Founded in 2018, Chinese company Sovol3D has a number of low-cost, entry-level FFF 3D printers available. Out of these, we can count the SV04 IDEX 3D printer which, as the name suggests is Sovol's dual extrusion solution. As readers may know, IDEX stands for Independent Dual Extruders, meaning that not only does the solution have two extruders instead of one, but they are able to move independently of each other and have their own respective nozzles. The printer boasts a number of intriguing features including auto-leveling, four different printing modes, a flexible plate for easier part removal and filament run-out sensor, among others. Its build volume is 300 x 300 x 400 and the SV04 is available from an affordable $469.
Tronxy X5SA-2E Dual Extruder 2-in-1 3D Printer
Tronxy's X5SA-2E 3D printer features two filament spool slots, two extruders and a single nozzle. Its print volume is 330 x 330 x 400 mm, or 400 x 400 x 400 mm for Tronxy's X5SA-400-2E model. It features an automatic leveling system for the print plate, as well as an end-of-filament detection mechanism. One feature that could bring relief to its users is that it is capable of resuming printing after a power cut. The X5SA-2E also features a 3.5″ touch screen and the company highlights its ultra-quiet motherboard. This 3D printer retails for around $408 or €370.
Geeetech A10M, the 3D Printer for Makers
The Geeetech A10M is a 3D printer from Shenzhen Getech Technology Co., Ltd.,  a Chinese company specialising in the development of open source 3D printers. This 3D printer is the newest release from the manufacturer, and an upgraded version of the A20. What has made it especially popular is its ability to print in different colours, using the Color Mixer software, developed by the brand. This 3D printer has a printing volume of 220 x 220 x 260 mm and a structure very similar to the Creality R10. You will be able to print with multiple materials and the add the second extruder for only $299 (200€), hence why it has become very popular in the maker community.
JGMaker Artist-D
The JGMaker Artist-D, priced at $199 USD, is a versatile 3D printer with Independent Dual Extruder (IDEX) technology, offering a 300x300x340mm build volume and precise positioning accuracy. It supports various materials, and features 32-bit TMC2208 steppers for reduced motor noise, compatibility with water-soluble materials, a Magnetic Spring Steel Plate for better adhesion, and a Direct Drive Extruder for flexible filament printing. The Quick Hot End Replacement System aids in easy nozzle replacement, while auto-leveling BL touch technology simplifies the setup process. With industrial-grade parts like the X-axis linear rail, it ensures smoother performance. The printer also includes a Dual Clean Brush to prevent material drips and Filament Run-Out Detection for print reliability. It also comes with options for single or dual modes and offers straightforward assembly and application.
Which are the best dual extruder 3D printers in your opinion? Let us know in a comment below or on our Facebook and Twitter pages! Sign up for our free weekly Newsletter here, the latest 3D printing news straight to your inbox!