Uptis, airless and puncture-proof tire thanks to 3D printing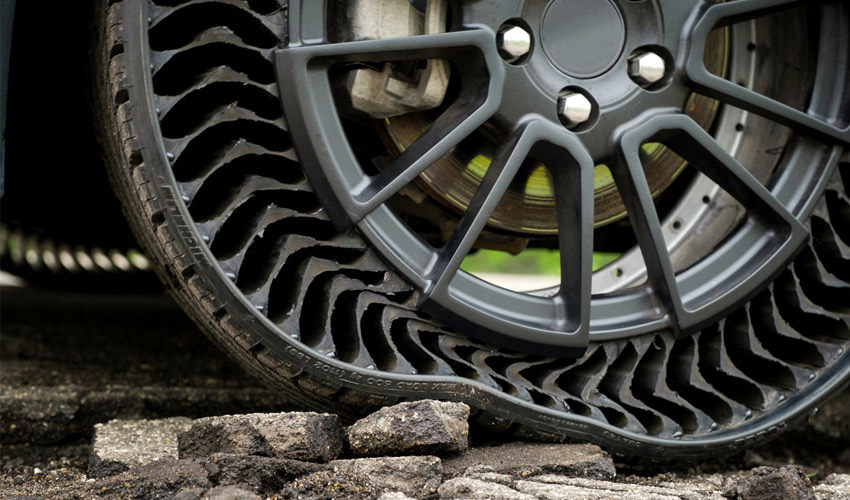 The French tire manufacturer Michelin presented its first prototype tire, supported by additive manufacturing technologies – it is called Uptis (Unique Puncture-proof Tire System) and it is a mounted assembly designed without air to avoid all punctures. The company worked with the American manufacturer General Motors, already a user of 3D printing, to present a 3D printed prototype at the "Movin'On" summit on sustainable mobility in Montreal. With this puncture-proof tire, they hope to reduce the number of tires thrown away due to punctures and ensure better safety for motorists.
In 2017, Michelin introduced its new tire concept, Vision, which was based on four main features: it is a connected, airless system with a 3D printed tread pattern, easily adjustable, and designed with bio-materials. Their new tire Uptis could well equip some cars by 2024. According to the company, about 20% of tires in the world are thrown away because of punctures, which corresponds to 200 million units! This is a striking observation that Michelin and General Motors want to tackle with an airless tire.
Uptis, a future tire possible thanks to 3D printing?
The two partners did not reveal any more information about how this tire was manufactured – it is not known whether it will incorporate a 3D printed tread. However, 3D technologies were used to create the prototype and we can say that Michelin is wanting to follow up on the Vision concept. They explained that they used composite materials for the production of Uptis – materials that are fully compatible with additive manufacturing. Éric Vinesse, Michelin Group Vice President of Research and Development, said: "The Uptis prototype demonstrates Michelin's capacity for innovation, both in the field of high-tech materials and in the development approach, in close collaboration with GM. This partnership further strengthens our innovation roadmap, based on our Vision concept."
This airless tire should considerably reduce the number of punctures, thus ensuring motorists a certain serenity but also better productivity for all professional operations. Finally, the ultimate objective of Uptis is above all to save materials, reduce waste and promote more sustainable mobility. Michelin and General Motors are conducting initial tests on cars like the Chevrolet Bolt EV in the United States later this year.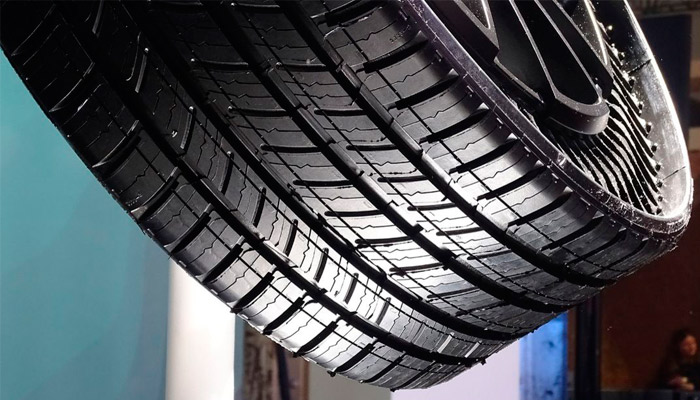 General Motors Managing Director Steve Kiefer concludes: "General Motors is excited about the opportunities offered by Uptis and the collaboration with Michelin on this breakthrough technology. Uptis is the ideal solution to propel the automotive industry into the future and perfectly illustrates how our customers benefit from the innovations developed with our OEM partners. "
You can find more details on Michelin's website HERE and in the video below:
What do you think of this prototype of a 3D printed tire? Let us know in a comment below or on our Facebook and Twitter pages! Don't forget to sign up for our free weekly Newsletter, with all the latest news in 3D printing delivered straight to your inbox!