TierTime X5, semi-continuous printing for professionals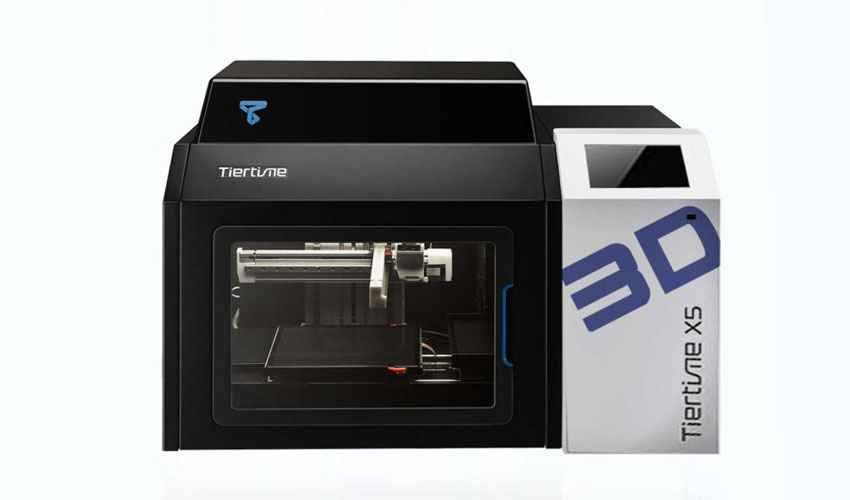 Chinese 3D printer manufacturer, TierTime, has expanded their range of machines with the announcement of three new printers, the Up Mini 2 ES, the UP300 and the TierTime X5. The latter is particularly innovative since it offers almost continuous production thanks to an automatic tray replacement system. A machine for industrialists that could speed up their manufacturing process.
It has been several years since the Chinese manufacturer moved into the 3D printing market, with a range of machines more focused on the general public; the Up! printers are relatively accessible and easy to use. This time, TierTime is joining companies that have already started to rely on FDM technology for industrialists such as Dutch manufacturer Ultimaker who revealed their S5 printer that has a larger printing volume that enables the production of small series. TierTime is taking this opportunity to announce their new solution, TierTime Print Queue, which is a queuing system for additive manufacturing.
TierTime X5, semi-continuous 3D printing
The TierTime X5 3D Printer features a semi-continuous 3D printing system with automatic change of print trays. It is able to automatically eject a completed print from its tray, load a new one and continue the next print directly. Users can remove the first tray with a side door and remove the model before replacing the tray in the machine. It is able to load 12 trays at a time, echoing the BlackBelt 3D printer, which also offers continuous printing thanks to its conveyor belt.
Joseph Guo, Sales and Marketing Director at TierTime explains,"Years ago we recognized the value of inexpensive 3D printing in a low-volume manufacturing environment. The X5 was designed from the ground up with this in mind. The machine fully realizes the potential of the Tiertime Print Queue and is intended to be a workhorse, grinding out print jobs one after another with as little hassle as possible."
In terms of the printers specs, it offers a print volume of 180 x 230 x 200 mm and a layer resolution of between 0.05 and 0.4 mm. Its 7-inch touch screen makes it easy for the user to print parts with any conventional plastic filament, such as PLA or ABS. The printer will be available in a price range of between €5,000 and €10,000.
You can find more information on TierTime's official website.
What do you think about the TierTime X5 3D printer? Let us know in a comment below or on our Facebook and Twitter pages! Don't forget to sign up for our free weekly Newsletter, with all the latest news in 3D printing delivered straight to your inbox!