Formnext 2022: Moving Towards a More Consolidated Additive Manufacturing Market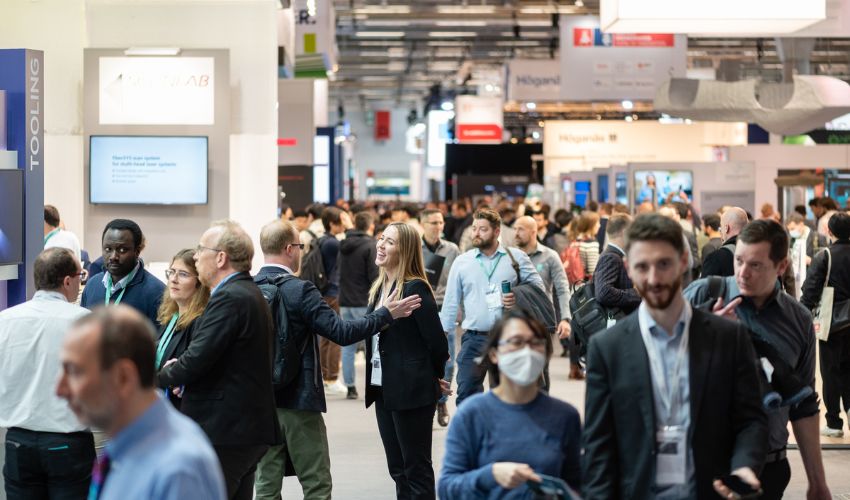 This is it, the long-awaited meeting place for additive manufacturing in Europe closed its doors last Friday evening. This new edition was full of successes, reaching new records and showing the return of the pre-COVID industry. This year, more than 800 exhibitors, thousands of visitors from all over the world and were innovations presented every day. In short, Formnext 2022 was a real breath of fresh air on a market that was in great need of being able to congregate and connect. And though most of the Asian countries were still missing, it is clear that the market has evolved and consolidated itself through numerous strategic partnerships and future collaborations. Let's look back together at the outcome of this Formnext 2022!
What particularly impressed us this year in Frankfurt was the number of robotic arms presented on the exhibitors' stands. Gaining in populairty, these solutions are notable as they are designed to give access to more impressive printing volumes with many different materials. CEAD, Caracol, MX3D, Fraunhofer, Weber Additive, VLM Robotics, Meltio and ALOtec Dresden were just a few of the exhibitors offering this type of machine at the show – a list that is obviously not exhaustive.
Robotic Arms on Display at Formnext 2022
Walking through the four halls of the show, it was impossible the numerous robotic arms extruding metals or polymers. These solutions were responsible most often for creating quite impressive parts, on XXL machines – for example through Italian manufacturers like Breton or CMS who presented solutions several meters long, attracting the curiosity of many visitors. It must be said that these machines often include different tool heads, which can be easily and quickly modified, thus expanding the range of possibilities in terms of manufacturing. While talking to the manufacturer CEAD, this was an observation that was shared – Emiel de Voogd, Robot Extruder Sales at CEAD explained to us, "And though this may be the case for many different 3D printing processes, robotic arms themselves have advantages. They are very flexible of course, you can change out the heads for 3D printing as well as processes like milling, but also lower cost. Robotic arms can be bought secondhand online for €6000 and then adapted with different heads for a user's needs. And I expect that we will continue to see growth in robotic arms for these reasons. We are addressing key trends especially for continuous printing of small and medium series."
We also stopped by the Italian company Caracol's booth – Violetta Nespolo, Marketing and Strategy Manager, told us: "First and foremost, the robotic arms allow for great printing flexibility. It allows to print very complex geometries easily. For example, our robotic arms can print at a 45° angle to create hollow structures. Another positive point is the use of pellets as printing material. This allows us to work with a wide variety of materials and experiment with new formulas. In addition, the use of granules promotes a circular economy: they can be obtained by shredding customers' own waste and garbage, or by purchasing materials from recycled sources."  So there is an advantage in terms of geometry, shape and size, but also a benefit on the materials side that is not negligible, where we again find the importance of sustainability and respect for our environment, a trend already widely observed at Formnext 2021.
And it is interesting to see that some of the startups present at Formnext 2022 have chosen robotic arms to develop their innovation, such as the startup Rivelin Robotics and its post-processing system or the manufacturer REV3RD. Moreover, its founder, Alessandro Torre, confided to us: "Why are more and more companies using robotic arms for 3D printing? First of all, the technology allows you to optimize the amount of material used, especially when it comes to large parts that require large amounts of material. In addition, you have a fairly wide selection of materials to choose from, allowing you to use the one that best suits your needs, as well as print intricate shapes and fine details. Last but not least… This is the technology of the future! There's still a lot to discover and invent, and that's what's most exciting!"
A Consolidating Market
The additive manufacturing industry is an ecosystem that must rely on collaborations along its value chain: chemists must work with machine manufacturers, OEMs with software vendors, and even OEMs with 3D solution developers. And while the market is steadily moving towards industrialization, it can only reach its full potential by forging strategic partnerships between players. And this has been going on for a few years now; however, there was a significant spike this year, with many announcements made at the show.
Indeed, there are strategic partnerships between 3D printer manufacturers and post-processing machine developers such as AMT and HP, or DyeMansion and Nexa3D, proof that the market is looking for end-to-end solutions. The idea is to be able to rely on machines that will achieve high levels of productivity. Kevin McAlea, explains, "It was only natural for us to sign this partnership with DyeMansion, the leader in automated post-processing solutions for powder sintering, so that our industrial customers can take advantage of end-to-end manufacturing capabilities and reduce their total cost of operation."
In terms of materials, collaborations between market players are becoming more and more frequent. More and more materials are certified on this or that 3D printer, which facilitates the manufacturing and certification processes. For example, some solutions from the giant Stratasys are now open to the use of materials developed by Kimya, Victrex or Covestro. And coming back to the idea of sustainability and materials that are more respectful of our planet, the collaboration between Thought3D, LEHVOSS Group, Ultimaker and Aquafil is particularly interesting. Together they have developed a PA6 made from renewable energy which is fully recyclable, capable of being transformed into raw material.
Towards the Industry of the Future
Finally, a key point of Formnext 2022 obviously revolves around this idea of industrialization of processes and their automation, the concept of Factory 4.0. Many exhibitors and participants have told us that they want to develop and find solutions that meet these expectations. The objective is to achieve even higher levels of productivity while reducing human intervention. It was enough to see the number of robots present at the show, capable of removing the tray of a 3D printer and placing another one so that the machine can run without interruption.
Obviously, there are still a few steps to go before we can fully automate additive manufacturing processes and we can't wait to see what the market will look like in 5 years. In the meantime, we look forward to seeing you at the 2023 edition of Formnext, which will take place from November 7th to 10th, again in Frankfurt.
What do you think of our Formnext 2022 trends? Let us know in a comment below or on our LinkedIn, Facebook, and Twitter pages! Don't forget to sign up for our free weekly Newsletter here, the latest 3D printing news straight to your inbox! You can also find all our videos on our YouTube channel.
*Cover Photo Credits : Mesago/Mathias Kutt