Why Choose Composite 3D Printing? Experts Give Their Advice!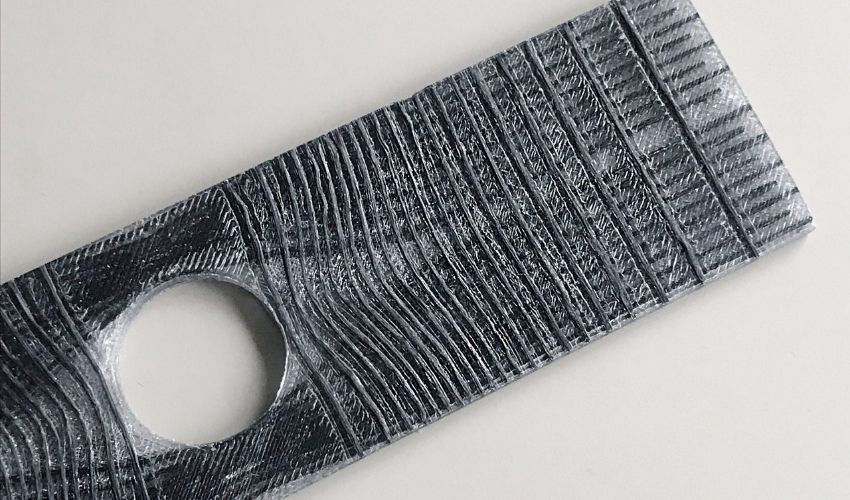 Today, there are many materials compatible with additive manufacturing, from thermoplastics to metals, ceramics and photosensitive resins. They offer a wide range of properties to meet the requirements of multiple sectors such as aerospace, automotive, or medical. Looking at the family of polymers, composites, or fiber-based reinforced materials, can also be found. Available in powder or filament form, these materials offer more interesting mechanical characteristics than traditional polymers, such as better rigidity, impact resistance, lightness, and more. As a result, more and more companies are starting to rely on composite materials in additive manufacturing. But how can you integrate composite 3D printing into your production chain? Which material should you choose? We met with 3 experts in the sector who answered our questions about composite 3D printing!
Our first expert is François Edy, technical manager of the Kimya Factory. This is the additive manufacturing service offered by the ARMOR group. Today, François ensures the quality of manufactured parts, production deadlines, and advises customers. Here we focus on his work with composite additive manufacturing using extrusion, and more specifically on composite filaments. The second expert is Fedor Antonov, the CEO and co-founder of Anisoprint, a leading manufacturer of continuous fiber 3D printing solutions. Last but not least, Farbod Nezami, one of CIKONI's managing directors, brings our panel of experts full circle. CIKONI is a specialized engineering service provider for lightweight design, focusing on the hybridization of additive manufacturing and load path reinforcements via fiber reinforcements. 
Composite materials in 3D printing
A composite material is a material reinforced by a fiber, which gives it additional mechanical properties. This base material is called a matrix and could be one of a wide range of polymers on the additive manufacturing market.This results in a mixture of materials with superior properties for example they are typically stronger and stiffer. The most popular composite materials include carbon fiber and glass fiber. Parts made from carbon fiber or CFRP (carbon fiber reinforced plastic) are strong yet lightweight. These properties make CFRP a popular material for a wide range of applications. For example, in the aerospace, automotive and sporting goods industries. Glass fiber reinforced plastics (GFRP) in contrast are not quite as robust as CFRP, but their chemical resistance and dielectric properties make them ideal for applications in the electrical industry. 
It is especially important to note that these fibers come in different sizes, strongly impacting the printing process and the final result. It is possible to have both short fibers and long or continuous fibers. Short fibers are mixed directly with the base polymer and the filament is then extruded by the machine. Continuous fibers are deposited at the same time as the matrix, which requires the use of a specific 3D printer. In order to understand which type of composite material is suitable for a particular application, it is important to know not only the type of fiber but also the difference between short and continuous fibers.
Compared to short-fiber-reinforced materials, which can be added to conventional thermoplastics, continuous-fiber composites are more costly to produce but achieve much higher stability. Composite components with continuous fibers are manufactured using a wide variety of methods, although in traditional processes the materials often have to be laid down manually layer by layer and require the use of expensive molds and curing equipment. 3D printing therefore offers the advantage that this process can be automated with the use of two nozzles. 
Criteria to consider when printing composites
Today, most FDM machines can print short fiber composites. François Edy stated, "Short fibers are more common in additive manufacturing and will print on any FDM machine. However, make sure you have a steel nozzle because composites are abrasive." Though Farbod Nezami did caution that the materials should be considered when selecting a machine. He noted that users should  understand that processing requirements are determined by both the selected fiber and the matrix materials. Considering that there is an extremely wide range of available materials for both, he mentioned that composites should be printed on adapted systems.
Additionally, it is much more difficult to print using FDM machines when it comes to continuous fiber. Fedor Antonov, for example, believes that while of course short fiber reinforced plastics can be printed using FDM printers, this type of machine is not suitable for printing with continuous fibers. In that case, it is necessary to invest in a machine capable of depositing the fiber on the plate and cutting it according to the user's needs, one that has been specifically developed for that purpose.
The position of the component in the installation space is very important as François Edy explained, "The orientation of your part is important: the carbon fibers are deposited in the direction of extrusion. The carbon fibers are deposited in the direction of extrusion, so you will have better mechanical resistance in the direction of the nozzle." Farbod Nezami agrees, noting that it is primarily the orientation of the fiber that determines the engineering-relevant characteristics: "From strength to thermal expansion, there is a large anisotropy – that is, a directional dependence of the properties." According to Nezami, when designing with fiber composites, it is therefore important first and foremost to know which properties are required in which direction in order to be able to define the structure of the composite. 
Fedor Antonov echoed this point, though he highlighted that it can be avoided when it comes to continuous fiber reinforced composites. He explained, "The main difference is that continuous fibers are always oriented, while short fibers are distributed randomly within the polymer. Orienting fibers allows the fiber properties to focus in one direction, while a random mixture dissolves the properties in every direction. That's why continuous fiber reinforced composites have extremely high properties in the direction of the fibers and short fiber reinforced polymers have fairly modest properties in all directions."
Feodor also notes the importance of considering design when it comes to parts made with composite materials as users need to use different design approaches compared to metals or plastic to truly benefit from their high properties. He explained, "The best results will be obtained for the parts or structures that have certain dominant force directions applied to them. There are also several other physical limitations such as relatively low operating temperatures (up to 150 ° C) and low surface hardness, which leads to severe wear in certain frictional applications." 
The advantages and limitations of composite 3D printing
Composite 3D printing offers the same advantages as "classic" 3D printing: shorter production times, less material used, the possibility of customizing parts, etc. However, it differs from "traditional" 3D printing in its ability to improve the properties of a part, whether in terms of mechanical resistance or temperature. What really sets it apart is its ability to improve the properties of a part, whether in terms of mechanical or temperature resistance. You can also choose the type of reinforcement, isotropic or concentric, depending on your needs. François Edy agrees, confirming that the use of carbon fiber greatly improves the rigidity of the part; other materials, such as wood, will provide unique aesthetic properties.
This is especially clear according to Fedor Antonov when it comes to printing with continuous fiber reinforced composites. He notes that it, "enables production of parts that are several times lighter than metal counterparts given the same operational conditions." According to him, saving this weight is especially important when it comes to high-performance applications such as in aerospace, robotics, sports and healthcare since lighter parts mean less energy consumption, less transportation costs and over better quality products.
In terms of future benefits, Farbod Nezami also mentions that the advancement of the technology is increasing. He is optimistic that there will be much development in the use of 3D-printed composites over the next few years in terms of size, productivity and mechanical performance. This projected growth is also reflected in a market analysis by SmarTech, which notes that the global market for composites will increase by 22.3% within the next five years. 
If we now look at the limitations in composite 3D printing, though using continuous fibers will add complexity to the manufacturing process compared to short fibers, they are also more complicated to use. For example,  François went on to explain that continuous fibers meet more restrictive rules and present need more technical considerations in terms of slicing and nozzle trajectory.It is for this reason, that design is so important. Or in the words of Fedor Antonov, "Obviously the right design is the key to unlocking the high properties of 3D printed composites. Such design approaches as fiber reinforced lattices, fiber steering, local reinforcements would give the best results.It is also important to distinguish which parts are fit for design with composites based on the shape and the loading conditions."
Overall, however, the experts seem to agree that the use of fiber-reinforced materials enables the production of strong, rigid yet lightweight parts, and that 3D printing also offers the advantage of being able to do this not only quickly but also cost-effectively. It can also be stated that although manufacturing with short fiber reinforced materials is more cost effective and offers greater technological flexibility for 3D printing due to the admixture in the polymer matrix, it cannot compete with continuous fiber composites in terms of performance. In addition, the type of fiber also determines the material properties of the component, which is why the choice of composite material ultimately depends on the specific application. 
A Few Last Words of Advice:
"I would advise you to test more traditional materials first. Then switch to FDM with short fibers because the printing process is similar. In fact, in some cases, composite 3D printing is even easier to implement, depending on your base matrix." -François Edy

"Think hybrid. Our requirements in the industrial environment are now so advanced that very few challenges can be slain by one material or one manufacturing process. I'm convinced that we're still in the very early stages of additive manufacturing hybridization." -Farbod Nezami

"Printing with composite materials is the newest big trend in AM and it might be  challenging, but the benefits you can get are impressive. Parts can be made easily 2-3 times lighter compared to metal-made at a fraction of a cost, but certain knowledge and expertise is required to succeed. Lightweighting helps to significantly save resources at every stage of the lifecycle – lighter structures means less resources for production, lower energy consumption during transportation, end-use end recycling." -Fedor Antonov
Do you use composite 3D printing? Let us know in a comment below or on our Linkedin, Facebook, and Twitter pages! Don't forget to sign up for our free weekly Newsletter here, the latest 3D printing news straight to your inbox! You can also find all our videos on our YouTube channel.