How to choose a 3D scanner: Experts give their advice!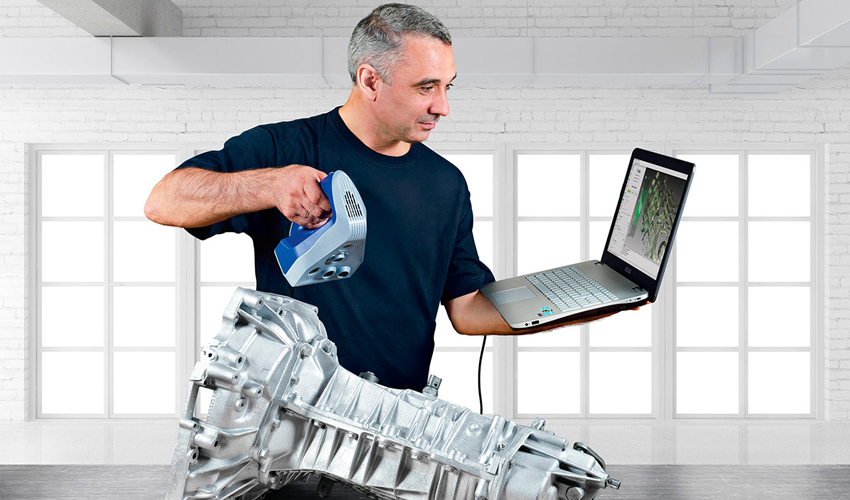 A few months ago, our experts gave you the keys to choose the right 3D printer and filament. Today, we come to you with an expert advice about 3D scanners: we asked three experts from Artec 3D, Thor3D and 3DChimera to advise you in the acquisition of a 3D scanner.
What 3D scanning technology should be used? What are the important criteria when acquiring a 3D scanner: accuracy, scan volume, measurement frequency, etc. ? Which model should be used? Below are some answers to help you understand!
We spoke to Andrei Vakulenko the Chief Business Development Officer at Artec 3D. Artec 3D is the well-known developer and manufacturer of 3D scanning hardware and software, headquartered in Luxembourg. Their products and services are used in a variety of industries and their scanners are established handheld devices. We also spoke to an expert at Thor3D, the company who just launched Calibry, a fast yet compact 3D scanner. The manufacturer is based in Russia and also produces handheld, wireless scanners for applications in arts, medical and reverse engineering industries. Last but not least, we got the chance to talk to 3DChimera's Co-Founder and CEO, Alex Hussain. They specialise in 3D scanning and 3D printing solutions. For the anecdote, the company recently worked with National Geographic to 3D scan a tortoise who had a severely damaged shell after getting run over by a car.  From the 3D scan data, they developed a prosthetic shell cover and then 3D printed it!
Firstly, what are the 3D scanning technologies you prefer and why?
Talking to Andrei Vakulenko from Artec 3D, he explains that all 3D scanning technologies are great and can be enjoyed for different purposes. What really matters when choosing a 3D scanner is choosing the appropriate scanner for the type of object you wish to scan and the result you wish to achieve. He adds, "When choosing a scanner there is no need at all to think about what technology the scanner is based on. This isn't relevant. For example, if you need to scan something very small, you need to choose a scanner that is able to capture the small details of the object in high resolution. If you need to scan something from a distance of 100m, you need to choose a long-range scanner." Using another analogy, he explains, "When you buy a TV, for example, you don't think about what is inside. You care how it works and the quality of the picture".
The expert at Thor3D explained that the company usually works with 'structured light' technology as it allows them to produce hand-held as opposed to tripod-mounted devices. "Structured light scanners also do well when scanning humans, because small movements of the subject, for example breathing, are not an obstacle for good results". This is the case of their newest product, the Calibry scanner, a hand-held scanner that is meant to digitise medium and large objects (from 10cm to 10m in length).
Alex Hussain, Co-founder and CEO of 3DChimera explains that his company primarily works with two of the most popular technologies on the market. That is, 'structured light' and 'laser scanning'. He adds, "We find that structured light systems are best for 3D scanning objects where color and texture data are important, in addition to the underlying 3D geometry. By contrast, our laser scanners tend to be faster and a better option when speed and details are the key criteria for a scan".
What criteria are important when choosing a 3D scanner?
When choosing a 3D scanner there is important criteria to consider, obvious things come to mind such as checking reviews, or reading up about the product. However, in a market full of options and regular new launches a few tips would be useful:
Alex Hussain told us, "At 3DChimera, we are very focused on finding the best solution to highly technical problems.  When considering a 3D scanner we look at the trade-off of accuracy, ease of use, and desired scan object size.  We like to think of each 3D scanning technology as a tool in the toolbox, each with its own strengths and weaknesses for any given application".
Andrei Vakulenko emphasises the importance of resolution, "Accuracy is very important, but it's hard to check this on the spot. But you can see the quality of the resolution with your eyes and so you can immediately compare the scans produced from different scanners".
Also, checking what sort of support the company you are buying from is of importance, "It's a good idea to read reviews and see what users are saying about the scanner and the company that makes it. And what kind of support the company provides. This is particularly important. A 3D scanner will last you around 10 years, so you need to know what support you will receive over this long period of time."
"Try to understand how easy it is to use the scanner. How long will you have to spend on training before you are able to get the best results from the scanner? And also how easy will the process be in general? Do you need to add markers to the object, or can the scanner keep good track of the object without them? The easier it is to scan, the faster your whole workflow will be".
Finally, Andrei Vakulenko mentions something an inexperienced user might forget, "The software is an integral part to 3D scanning. How good is the scanner's software and how often is it updated? If it's not updated regularly, then in five years' time, you are not going to be a very happy user".
Thor3D adds that the first question a user needs to ask is how big or small the objects to be scanned are. "A scanner meant for small items (like jewellery), will be extremely difficult to use to digitize a car and vice-versa. Once you determine the size of the objects, the next question is your budget. Granted, it's human nature to want to spend as little as possible, but your budget will determine the quality of your data. To scan an automobile, you can use a $200 scanner or a $200,000 scanner".
And, any advice for someone who buys their scanner for the first time?
The experts also gave their wise advice for novice users of the technology:
Thor3D: "Be patient. 3D scanning is not yet automated. There is not a single device on the market that can give you a finished product with a push of a button. In the first 2-4 weeks, expect to be frustrated during scanning itself and even more frustrated during post-processing sitting behind a PC. There is a definite learning curve. That being said, about 2-4 weeks after starting, you will begin to see good results and within several months, you will wonder how you ever lived without this technology".
3DChimera: "Start with your end application for the 3D scan data in mind and work backwards.  Often, we see customers jump into 3D scanning without fully understanding the entire workflow required to move from the 3D scanner to their ultimate goal – which may be reverse engineering, preparation for part reproduction via 3D printing, or even metrology-level inspection.  If you do not consider all of the potential tools – both hardware and software – required to complete the job, you may find yourself with an expensive 3D scanner that only partially solves your problem".
Artec 3D: "Bring a typical part that you will be scanning to an exhibition such as Formnext and take it to all the 3D scanning companies exhibiting there. Ask them to scan it for you, watch how they do it and check the final result. Compare the scanning workflow, the processing and the final model created by each scanner".
What scanner would you recommend?
Naturally, Artec 3D and Thor3D recommended their own scanners.
Alex Hussain told us, "It is hard to recommend a single scanner, as each technology, brand and even model have their own strengths and weakness for any given application.  With that said, the most versatile, and simultaneously most affordable, 3D scanner that we work with is the HP S3 3D scanner.  Unlike most 3D scanners, this system is modular and has an independently adjustable camera / projector which allow the system to be calibrated to scan a broad array of objects.  We often say that you can scan "anything from a coin to a couch" with the HP S3 3D scanner".
Check out our list of the best 3D scanners for beginners HERE. You can also visit Artec 3D, Thor3D and 3DChimera's websites for more information.
Was this article useful in helping you choose a 3D scanner? Let us know in a comment below or on our Facebook and Twitter pages! Sign up for our free weekly Newsletter, all the latest news in 3D printing straight to your inbox!