The Top Low Cost 3D Scanners on the Market in 2022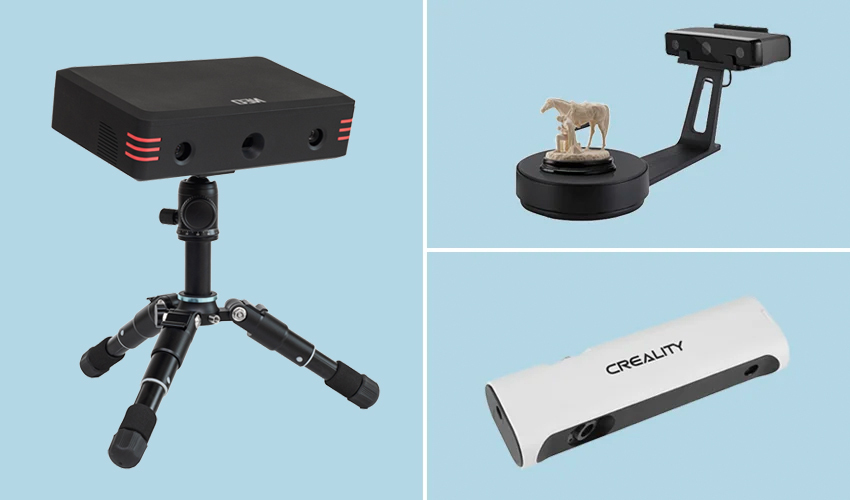 3D scanning is often used in the additive manufacturing (AM) sector to design a 3D model more easily than via modeling software. It captures data that is then transformed into a 3D model which can then be 3D printed. 3D scanners are based on two main technologies – laser triangulation and structured light – which will allow to obtain more or less precise details depending on the chosen device. Several affordable solutions, compared to professional scanners which are much more expensive, are available today to allow many users to bring their projects to life: whether you are a maker, a teacher or an industry leader, on of these low cost 3D scanners is bound to suit your needs! Easy to handle and transport, we have chosen some 3D scanners under $8,000 (€7,000), sorted by increasing price.
3D Scanner 2.0 from XYZprinting
Taiwanese manufacturer, XYZprinting, currently offers 5 scanners, though today we will focus on one of their more low-cost 3D scanners, the portable and high-resolution 3D Scanner 2.0. With a wider scanning range than its younger sibling the 1.0 A, the scanner can scan objects that are 5 x 5 x 5 ~ 100 x 100 x 200 cm using an Intel® RealSense™ Camera. The scan resolution is also superior to the 1.0A,  between 0.2 and 1.5 mm with an operating range ranging from 25 to 60 cm. The manufacturer also provides XYZScan Handy, a scanning and post-editing software to edit your models after scanning. The product is lightweight measuring 41 x 157 x 61 mm with a weight of 238 g. It is available from €199.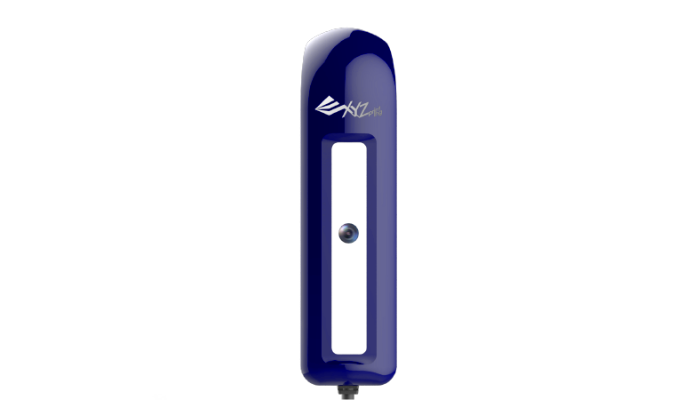 Structure Sensor from Occipital
The Structure Sensor solution adds precise 3D vision to your mobile device, enabling 3D scanning among other features. The only equipment you will need for this 3D scanner to work is an iPad, then once you have downloaded the app Skanect Pro, it will work instantly.
The new version of this device is smaller than the last, 109mm x 18mm x 24mm, and weighs about 65 g. It is recommended to use it on a 0.3 m to 5m scanning range. Some other features on this device include indoor mapping and virtual reality gaming! The Structure Sensor retails for $527, making it a low-cost scanner when compared to many other options.
POP 3D Scanner from Revopoint
The Revopoint POP is unique among 3D scanners as it has the distinction of being part of the highest crowdfunded campaign for a 3D scanner in Kickstarter, raising more than $2.28 million USD. It was developed by Revopoint, a company founded in 2014 by a group of young doctors and researchers from MIT, Kent University and other higher education institutions when they decided to focus on developing easy-to-use and cost-effective 3D scanners. It is safe to say that they certainly succeeded with their POP 3D scanner.
A binocular structured light 3D scanner that uses infrared as its light source, the Revopoint POP is a full-color scanner with an accuracy of up to 0.3mm, texture scan and an 8Fps scanning speed. It has a number of interesting features, including the fact that it is easy to use outdoors because of it's portable and can be powered by a power bank. With a cost of the scanner of only $549 in USA and about $599 in Europe, it is one of the most affordable options on our list, all while still being an effective, precise, high-resolution scanner. Not to mention, it can be used by a variety of users, as it supports four OS platforms – Windows, Android, Mac and iOS.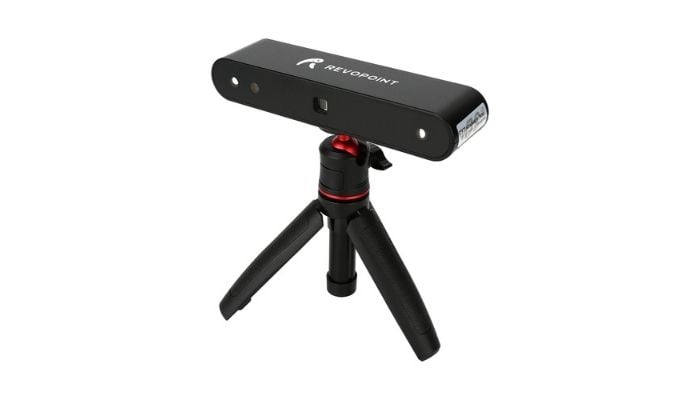 Creality CR-Scan 01
Known for its affordable desktop 3D printers, manufacturer Creality has also developed a low-cost 3D scanner, the CR-Scan 01.  Weighing only 1.91 kilos, this portable scanner is easy to handle and offers a scanning area of 536 x 378 mm. You will be able to scan your objects with an accuracy of up to 0.1 mm and export them in stl or obj format. Several scanning modes are offered, either manual or on a turntable.  It is currently available from 589 €.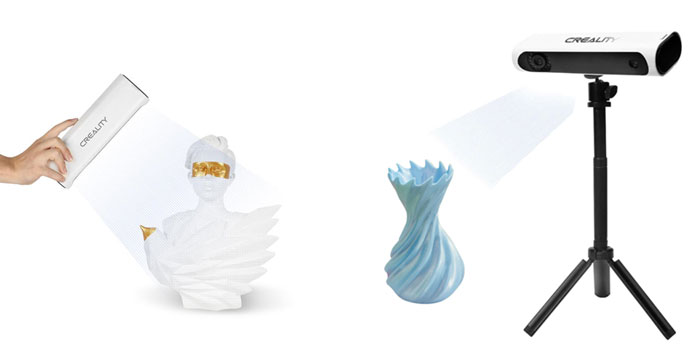 SOL 3D Scanner from Scan Dimension
This scanner was developed by Scan Dimension, based in Denmark, and is essentially a hybrid solution. It uses a combination of laser triangulation and white light technology to 3D scan real-life objects. The SOL 3D scanner can provide a resolution of up to 0.1 mm. The 3D scanning process is automated and you can choose between a near and far scanning mode. 
The SOL 3D scanner also includes software to simplify your entire workflow. In a few steps you will be sending your 3D model to your 3D printer. This is a solution meant for makers, hobbyists, educators and entrepreneurs who may not have the most experience with 3D scanners but still want to achieve great results with a relatively low cost. The SOL 3D scanner retails for $699.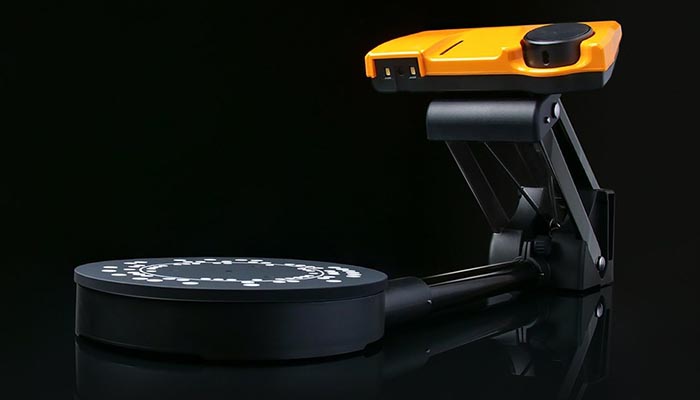 V2 from Matter & Form
The Matter and Form 3D Scanner V2 is a desktop 3D scanning solution manufactured by Matter & Form, a company founded in 2013. This company has made it its mission to develop and distribute affordable, high-resolution 3D scanners. With the V2, it has achieved that mission: the 3D scanner is available from $750 and is capable of producing high-quality scans with an accuracy of up to 0.1 mm. It weighs 1.71 kilograms (3.77 lbs) and has a height of 35.5 cm (13.5 in) and a width of 21 cm (8.25 in). The slim and foldable design allows the device to fit on small desks. The V2 allows scanning of objects with a maximum height of 25 cm (9.8 in) and a diameter of 18 cm (7.0 in). Windows and Mac scan files are supported, with multiple export options for 3D printing as well.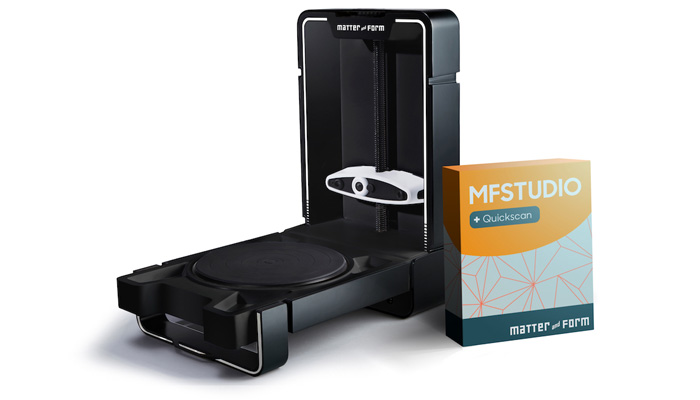 RangeVision NEO
The NEO 3D scanner from the manufacturer RangeVision is an entry-level device with two 2-megapixel cameras, which works using Structured Light Scanning (SLS) technology. With an automatic scan mode, the scanner is suitable for all those who have little experience in digitizing objects. The SLS-3D scanner can capture objects from 30mm to 1200mm with a precision of 0.05mm, with 3D scans created using RangeVision software. Also included is a turntable and tripod, which make scanning easier for the user. According to the manufacturer, the NEO's scans are suitable for reverse engineering, 3D modeling, historic preservation and, of course, 3D printing. The RangeVision NEO is available from around €2,190, making it one of the few low cost desktop 3D scanners available.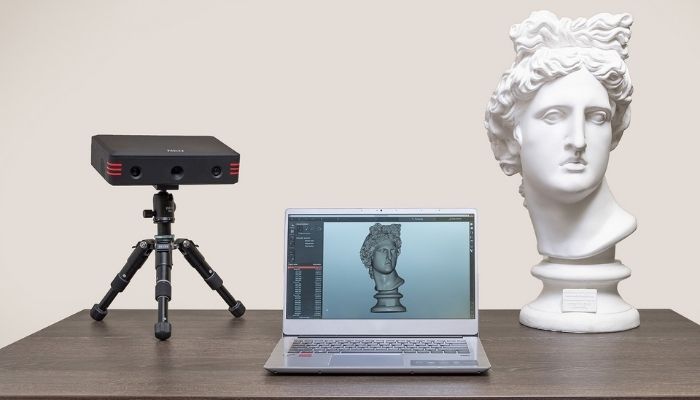 Calibry, the low-cost 3D scanner, from Thor3D
Thor3D is a Russian manufacturer that is behind the Calibry portable 3D scanner. Based on structured light technology, it integrates a touch screen so that the user can follow the points it captures in real time. It offers accuracy down to 0.1 mm and is capable of scanning objects from 30 cm to 10 meters long. Black and glossy surfaces can be easily scanned and exported in stl, obj, ply or WRML formats. Finally, the Calibry is fast and convenient, capable of scanning up to 3 million points per second and weighing only 900 grams. It is available from 4,990 euros.
EINSCAN H from Shining 3D
The EinScan H is one of the most advanced versions of portable 3D scanners developed by the Chinese manufacturer Shining3D. Based on the hybrid structure light technology of LED and invisible infrared light, the EinScan H is able to perform human face scans more comfortably and without emitting strong light. It also incorporates a full-color camera and a large field of view for a truly impressive final quality of the models, ready for processing in just a few minutes. Its high resolution of 0.25 mm and data accuracy down to 0.05 mm make this a good choice in the market considering the price/performance ratio. In addition, it stands out for its light weight of almost 700g and intuitive user interface. The base price of this model is $5000 and you can get more information on the manufacturer's website.
Eva Lite from Artec 3D
Artec 3D, based in Luxembourg, offers the Eva Lite as its cheapest option for 3D scanning. This professional scanner is specialized in the digitization of complex geometries, such as the human body, and is therefore increasingly used in the medical field. It works on the basis of structured light technology and, although it does not have the ability to capture colours and textures like most scanners of the brand, it has an accuracy of 0.5 mm.
This 3D scanner works with the software package Artec Studio. Artec Studio is a powerful tool for an optimized 3D scanning process. This software is able to perform, assemble and repair 3D scans. It is currently available at a price of $9,800. You can find more information HERE.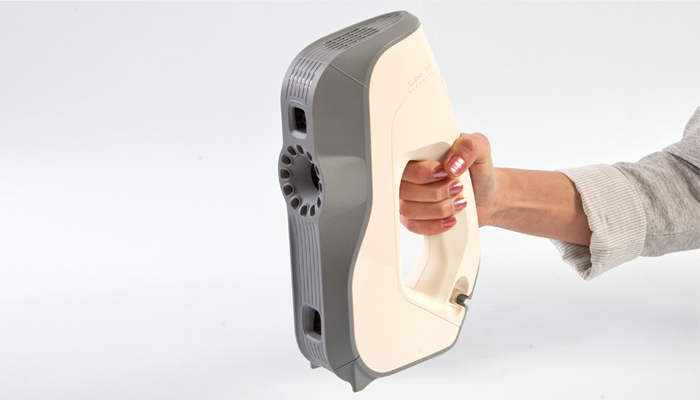 Any other low cost 3D printing scanners you think should be on this list? Let us know in a comment below or on our Facebook and Twitter pages! And remember to sign up for our free weekly Newsletter, to get all the latest news in 3D printing send straight to your inbox! For more 3Dnatives articles about 3D scanners, click HERE.