Top 10 Best Low Cost 3D Scanners (2018 Update)
Posted On November 30, 2017
---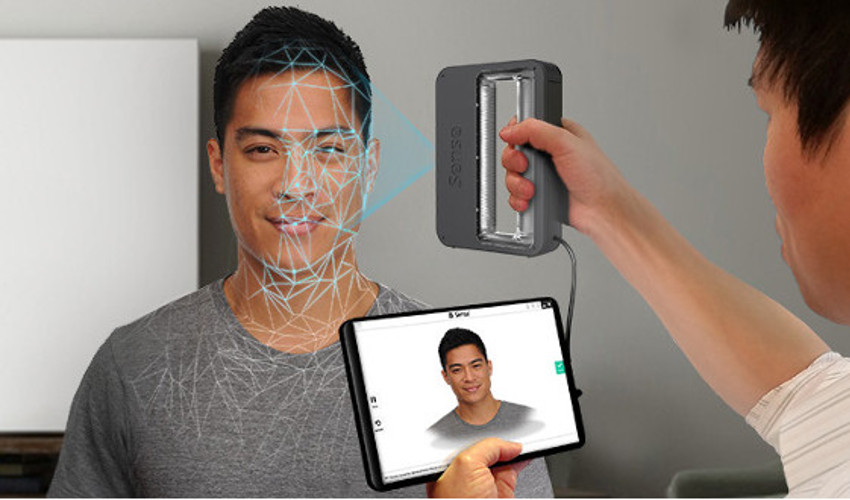 Appearing at the end of the 1970s, laser triangulation technology paved the way for new technology capable of 3D scanning objects. Usually reserved for industrialists, this tool has gradually evolved over time, allowing us easily find affordable 3D scanners to use for ourselves. These range from a 3D scanner created by Makerbot, to new scanners that can scan underwater.
The list: Best Cheap 3D Scanner 2018
We searched through various companies' 3D scanner offerings to create our list of the Top 10 3D scanners in our 2018 update. Most of these 3D scanners are under $1000, with some as low as $500. These range from scanners created by large US 3D printing companies to those created by small research teams. Check out our list below to find your ideal 3D scanner, and also check out our other rankings here.
10. Fuel3D – Scanify
This 3D scanner from Fuel3D was created by engineers at the University of Oxford and was originally intended for the medical sector. In order to fund their project, Fuel3D took part in a crowd funding campaign that raised more than $300,000.

The scanner itself has a dual laser and a pre-calibrated camera that can capture a 3D image in a tenth of a second. The Scanify 3D scanner can scan details up to 0.25 mm, making it an ideal tool for capturing a human face. The cost of this scanner begins at $1,490 (about £1,190).
9. Einscan-S from Shining 3D
The EinScan-S is the first 3D scanner from the Chinese company Shining 3D. Marketed as a result of a Kickstarter campaign that raised more than $120,000, it can be bought at prices beginning at $1,199 (about £960). A decent price when considering the price to quality ratio. With it's 1.3 megapixels resolution, it is based on a structured light technology and has two cameras and a rotating place to scan objects 360°.
This scanner, which we tested here in our 3Dnatives lab, offers two modes of scanning: automatic through means of a rotating plate, allowing the scanning of an object in less than 3 minutes or manual, for scanning of wider elements up to 70 x 70 x 70 cm. You can compare it in our Comparator here.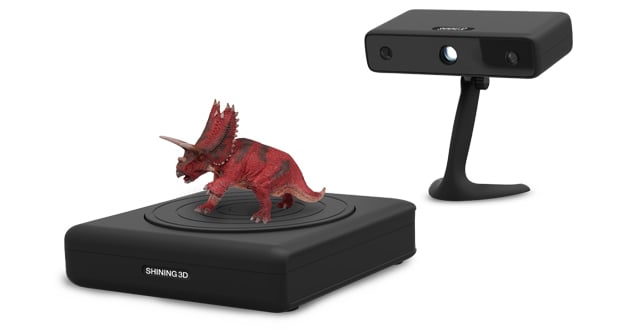 8. Digitizer from MakerBot
The Digitizer is one of the first 3D consumer scanners to emerge on the market. Designed by the MakerBot team, it is based on a laser triangulation process, which includes a 1.3 megapixel CMOS sensor.
This fixed scanner is equipped with a rotating platform that offers more precision in scanning in the order of 0.5 mm. The MakerWare software that is used with this machine has also undergone many improvements since its launch. The Digitizer 3D scanner starts at just $799 (about £640). You can compare its specs in our Comparator here.
7. David Starter Kit V2 by David Laserscanner
David Laserscanner is a German manufacturer who has created several models of 3D scanners. The Starter Kit V2 is their entry-level version, and is based on laser triangulation technology. The scanner comes with the David-4 software that merges the different faces of the object once it is scanned.
The kit offers accuracy up to 0.2 mm and requires manual sweeping of the object with the scanner. Starting at $680 (£540), it makes it an interesting option on the market of low-cost 3D scanners!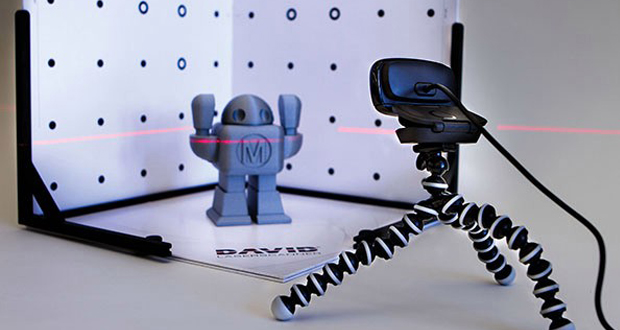 6. Matter and Form 3D scanner
This 3D scanner comes from the Canadian firm Matter and Form. With two lasers, it allows for the scanning of objects of a maximum height of 9.8 in (25cm) and a diameter of 7.0 in (18 cm). It features a high-definition CMOS sensor and is an alternative to the MakerBot Digitizer, with the scanner having the ability to capture details with an accuracy of 0.43 m.
The scanner is compatible with Windows 7+ as well as iOS 10.7+, and starts at $519 (£415). You can compare its specs in our Comparator here.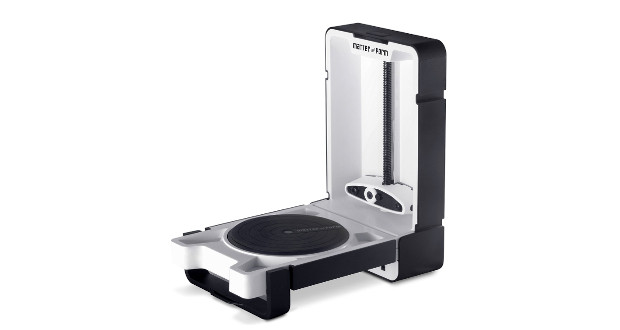 5. Cubify Sense from 3D Systems
3D Systems were the first company to enter the 3D printing market, creating stereolithography 3D printers in the late 1980s. In the present, they have released the Sense 3D scanner. This is one of the most popular low-cost scanners on the market today and can scan large columns ranging from 200 x 200 x 200mm to 2 cubic metres! It measures just 179 x 129 x 330 mm and has an accuracy of 0.90 mm.
Operating with structured light technology, it comes with 3D sense software that includes a simplified interface and interesting post-processing tools. The scanner retails at around $399 (about £320) and is compatible with both Windows 7+ and iOS 10.7+. You can compare its specs in our Comparator here.
4. The Structure Sensor
This scanner allows you to attach it directly to your tablet or Apple smartphone. After downloading the associated application, you will be able to scan 3D models autonomously for up to 4 hours.
With dimensions of 119.2x28x29 mm and a weight of .21 Ib (95 g), it's one of the world's smallest 3D scanners. Its precision can reach up to 0.5 mm and it is marketed at $399 (£320) or $519  (£415) for the complete bundle. You can compare its specs in our Comparator here.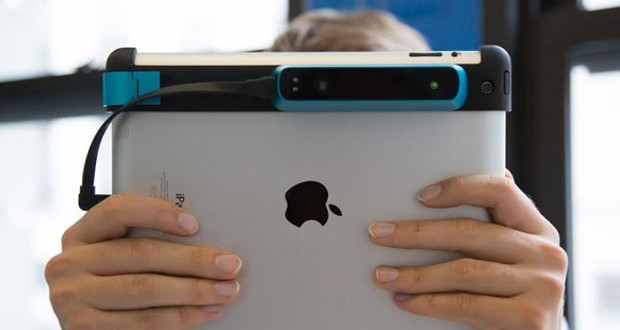 3. Ciclop 3D scanner by BQ
BQ's Ciclop scanner is the only Open Source 3D scanner in our ranking. It comes with the Horus software and all the information on its design, software and electronic components are free online.
The Ciclop, based on laser triangulation technology, can scan objects in under 8 minutes. It is available in a kit version for a price of less than $500 (less than £398) and it contains a step-by-step guide on how to mount the 3D scanner in less than an hour. You can compare its specs in our Comparator here.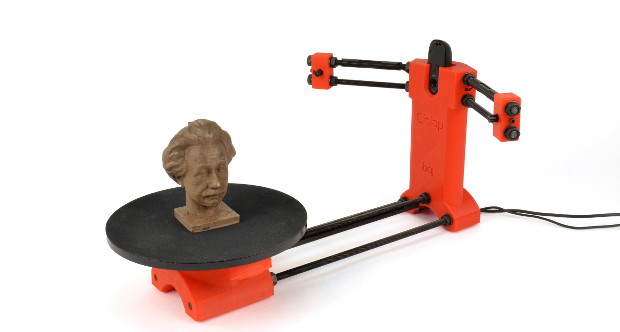 2. The XYZprinting Scanner
Taiwanese 3D printer manufacturer XYZprinting launched its first 3D scanner in 2015. XYZ and Intel collaborated to design the scanner using RealSense technology. The XYZprinting 3D scanner captures 3D models ranging in size from 3.93 inches to 27.55 inches (10-70 cm) for a price of only $199.95 (£160)! You can compare its specs in our Comparator here.
1. Microsoft Kinect
Initially dedicated to the Xbox console by Microsoft, this accessory was quickly adopted by makers to 3D scan full-color objects. It does this using its infrared sensor and its 640-resolution RGB camera with 480 pixels. With a price of only $99.99 (about £80), how could it get any more affordable than this?
To transform it into a real 3D scanner, several software programs have emerged such as Skanect, Shapify, ReconstructMe, and Volumental. Microsoft has since developed its own application called "3D Scan" and integrated it into its 3D building software.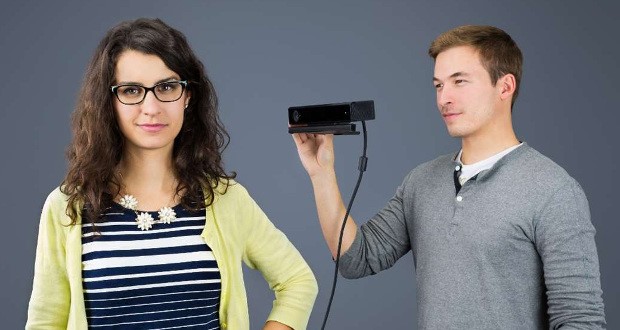 Bonus – 123D Catch Autodesk
As an added bonus, the free 123D Catch application allows you to create 3D scans directly from your smartphone. Developed by Autodesk, this application is free. Although the quality of the models remain limited, it offers an interesting introduction to the world of 3D scanning!
For more 3Dnatives articles about 3D scanners, click here. In addition, check out our Top 14 Cheap 3D Printers! To compare the full 3D scanner range in our Comparator, click here.
Did you find this article interesting? Let us know in a comment below or on our Facebook and Twitter pages! Sign up for our free weekly Newsletter here, the latest 3D printing news straight to your inbox!

---
You may also like