All You Need to Know About Wood 3D Printing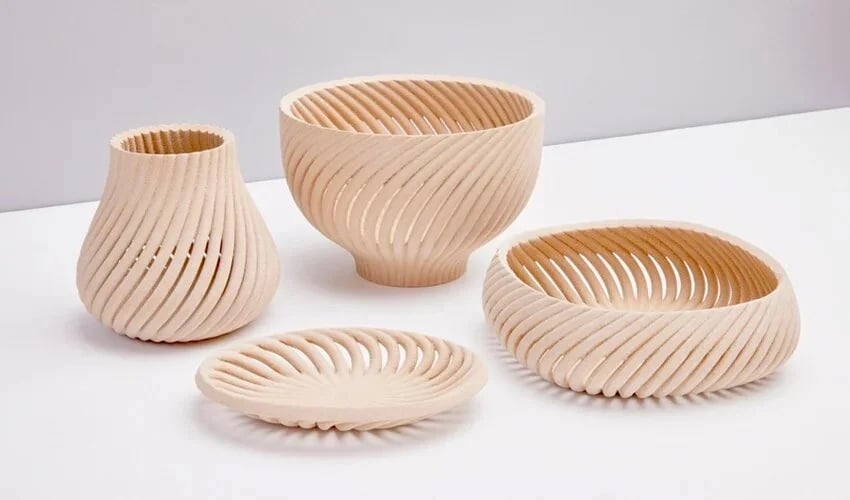 When we talk about additive manufacturing and materials, we often think of plastics or metals. However, the current offering has grown significantly over the years and we can now produce parts with a wide variety of materials, from ceramics to food to stem cell-laden hydrogels. Among these amazing materials is wood. Now compatible with processes such as filament extrusion or even powder bed methods, wood 3D printing is becoming increasingly popular.
According to a report published by the journal Nature, humans have already lost 54% of the total number of trees on our planet. Deforestation is a real threat today and it is crucial to rethink the way we consume wood. Additive manufacturing could be the key to more sustainable use of wood because it is a production technique that uses only the necessary material and can design objects from recycled materials. We could therefore 3D print parts that would be transformed back into raw material if they are no longer useful in order to start a new production cycle.
Extrusion Wood 3D Printing
One way to 3D print wood is to extrude filaments. It should be noted that these materials are not made of 100% wood. They actually contain 30-40% wood fiber and 60-70% polymer, which serves as a binder. An interesting aspect of the manufacturing process itself is that these filaments allow you to experiment with their temperature to generate different colors and finishes. In other words, if the extruder reaches high temperatures, the wood fibers burn, creating darker tones in the pieces. Keep in mind, however, that this material is highly flammable. If the nozzle is too hot and the filament is not extruded quickly enough, the print can be damaged or even catch fire.
The main advantage of wood filament is that it looks, feels and smells like real wood. In addition, the printed pieces can be easily painted, cut and sanded, giving them an even more realistic finish. However, one of the most notable drawbacks is that it is a more delicate material than standard thermoplastics. As a result, they can break more easily.
Generally, this material will not be used in industrial environments, but is geared towards the maker world where it is used as a hobby or for decorative objects. Thus, some of the most important applications of wood 3D printing are interior design, carpentry and joinery. Some of the major manufacturers of wood filament are Polymaker, Filamentum, Colorfabb or FormFutura, among others.
Using Wood in Powder Bed Processes
For the creation of wooden parts, it is also possible to use powder bed technologies. In these cases, a very fine brown powder composed of wood chips is used, which gives a sandy, granular surface appearance. One of the most relevant technologies in this area is binder jetting, of which Desktop Metal (DM) is the most prominent company. After partnering with Forust, they have opened the door to a world of possibilities for additive wood manufacturing. The "Shop System Forust Edition" makes Binder Jetting for wood 3D printing accessible to a much wider audience.
This system is capable of 3D printing functional, end-use wood parts created from recycled wood. The actual manufacturing technology uses sawdust particles and a binding agent in a computer-controlled process. Using a layer-by-layer manufacturing system, waste-free wood parts can be created in configurations that are difficult to achieve with conventional wood-based subtractive methods. Obviously, the price of this technology will be much higher than filament extrusion methods. However, it is worth considering because the end result will have a higher surface quality than the parts created by FFF.
In addition to being a model of wood manufacturing that is considered more sustainable, it can also solve a multitude of problems. This ranges from historical restorations to the creation of luxury products, to new products that have not yet been imagined with these natural materials. Since it is a digital process, users without woodworking skills can also enjoy the benefits of wood 3D printing.
What do you think of wood 3D printing? Do you use it? Let us know in a comment below or on our LinkedIn, Facebook, and Twitter pages! Don't forget to sign up for our free weekly Newsletter here, the latest 3D printing news straight to your inbox! You can also find all our videos on our YouTube channel.
*Cover Photo Credits: Forust