Wood 3D Printing Is Being Used for More Eco-Friendly Lights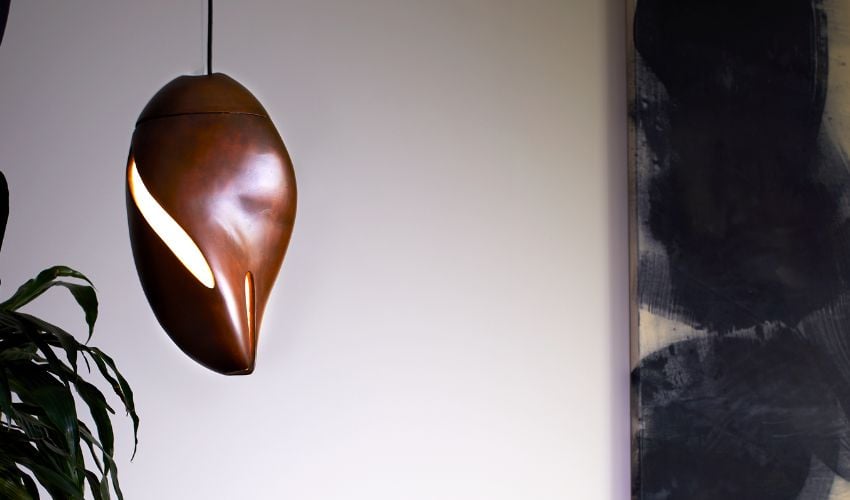 Though best known for polymers and metals, more than ever 3D printing is widening its horizons when it comes to material development. This is especially the case when it comes to more sustainable materials. And what could be more eco-friendly than wood itself? At least that is the thought process of Forust and Desktop Metal. With the release of the Shop System™ – Forust Edition, the companies are seeking to make high-volume, affordable wood 3D printing using binder jetting. The technology has already been adopted for a number of projects including the creation of 3D printed decorative pendant lights, called Cocoon, through a collaboration with the designers HagenHinderdael.
As mentioned, Cocoon is the brainchild of Forust and HagenHinderdael, an award-winning creative practice who wish to combine suitable design and innovative technology in their immersive installations. Helmed by Sofia Hagen and Lisa Hindardael, the company pursues an approach that explores the relationship between immersive art and biophilic design, a concept that in and of itself aims to increase the connection between people and nature within buildings. And this has been achieved through the creation of Cocoon, a 3D printed, sustainable, decorative pendant that transforms wood waste into an organic, technologically advanced light.
Using Wood 3D Printing to Create Cocoon
Cocoon is the culmination of a variety of different concepts. However, the ultimate goal was to create a light that not only was sustainable, but which also resembled an organic structure, speaking to the natural materials used. And this was certainly achieved. Thanks to the use of Forust and Desktop Metal's innovative wood 3D printing technology, Cocoon was developed using an innovative process that is able to reduce timber waste.  The final part is thus not only eco-friendly, but fully degradable.
The part was designed to look like an organic structure, notably taking a form reminiscent of cocoons in nature. It was designed using a binder jetting process wherein layers of powdered wood are bound together with lignin, a complex plant-derived polymer that is a key structural material in the support tissues of most plants. This process is thus not just a high-speed, wood 3D printing process which can create even end-use parts, but also non-destructive to the planet's ecology. In this particular case, the resulting part is a 250mm x 460 mm Cocoon, available in two typologies, which can be hand-stained and finished after printing, including finishing with a wide variety of wood species such as natural, oak, teak and walnut.
The shell is also a protective cover for the internal, integrated OLED light source. The OLED panel is made from a slimline technology that is "easy to the earth" and produced from 85% glass with a balance of organic materials and non-toxic metals. Not only that, but in the creation of the Cocoon, HagenHinderdael were able to use materials that would have otherwise been sent to the landfill. The aim of the light is to make people think beyond the tradition of product design to see how new technologies and processes can help create more sustainable initiatives for the lighting of the future.
A Closer Look at the Shop System ™ Forust Edition
Of course, the key to the success of this beautiful decorative light is the technology used. The Shop System™ Forust Edition is, as the name suggests, a version of the best-selling Shop System™ that has been adapted to print with unfinished sawdust byproduct from the wood milling industry. As previously mentioned, it uses binder jetting, a technology that is increasingly popular for its speed and production capabilities, allowing for the creation of complex wood designs without the need for supports. Moreover, the machine itself is capable of creating parts within a build box measuring 350 x 222 x 200 mm (13.8 x 8.7 x 7.9 in) at a print speed of up to 1,6000 cc/hr or about 21 mm in z-height per hour.
Commenting on the technology, William McDonough, an architect and author of Cradle to Cradle, noted "The on-demand 3D printing of wood using waste natural materials is a gamechanger. By allowing millions of trees to remain in place in their forests, Forust is launching a highly evolved technology for the circular technosphere. We have only begun to explore its beneficial potentials, but it is clear they are immense." And with Cocoon, we can certainly see the pertinence of this technology for a variety of applications including of course the creation of beautiful, functional wooden parts.
You can learn more about the Shop System™ Forust Edition along with other innovative binder jetting solutions from Desktop Metal in our exclusive video with the company from Formnext 2022 below. Additionally, you can find out more about Cocoon HERE.
What do you think of the use of wood 3D printing to create Cocoon? Let us know in a comment below or on our LinkedIn, Facebook, and  Twitter pages! Don't forget to sign up for our free weekly Newsletter here, the latest 3D printing news straight to your inbox! You can also find all our videos on our YouTube channel.
*Cover Photo Credits: Anders Gramer