With Forust, Desktop Metal Invests in Wood 3D Printing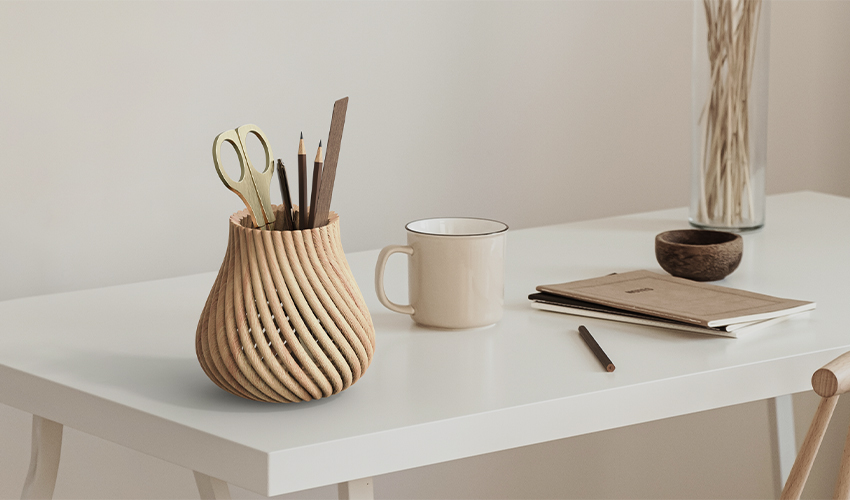 At the start of the year, Desktop Metal expressed its desire to tackle the resin additive manufacturing market with the acquisition of EnvisionTEC, one of the historical leaders in resin 3D printing. But the plans of the American giant do not stop there. Recently, Desktop Metal announced its association with Forust Corporation, a company which specializes in additive manufacturing from wood. Thanks to this partnership named Forust, the firm will be able to position itself for the 3D printing of functional wooden parts. To do this, Desktop Metal's new process will be based on binder jet technology and wood industry waste (sawdust and lignin). 
With Forust, Desktop Metal offers architects, manufacturers and designers a more durable but also aesthetic new production method. According to the manufacturer, it is impossible to distinguish whether the part was built using the Forust process or using conventional methods. Architect William McDonough, who seeks to revolutionize the use of waste in design, explains: "The Forust technology allows us to take something that was previously wood waste and re-materialize it into exquisitely beautiful and useful things. We are honoring the cellulose and lignin of the trees by rearticulating them into assets for present and future generations." Before concluding: "By allowing millions of trees to remain in place in their forests, Forust is launching a highly evolved technology for the circular technosphere that supports and celebrates stewardship of the natural, regenerative, and diverse biosphere, making it not only smart, but wise."
Recycle materials through additive manufacturing
From home furnishings and architectural applications to car interiors, Forust offers almost limitless design flexibility, according to the manufacturer. Depending on the size of the parts, Forust can make wood products using either the Shop SystemTM machine or the RAM 336TM. With a print volume of 1800 x 900 x 300 mm and equipped with a robotic arm, the latter is the new machine from Desktop Metal. However, since these two 3D printers are expensive, the American company also offers an online printing service. Above, it is possible to order samples or submit creations on a dedicated platform.
With this new project, Desktop Metal is showing that 3D printing can help the circular economy evolve. Thanks to sawdust, lignin and additive manufacturing, users of the technology are able to produce parts with complex shapes, but also reusable. Andrew Jeffery, CEO of Forust Corporation, concludes:  "We want to make it easy for designers to explore complex new geometries for a wide variety of products and applications using an age-old material. At the end of the wood product's life, we would like to see customers have two choices – dispose of it and it will biodegrade over time as any wood product would, or shred it and repurpose the material into future parts through Forust. Our vision is a true circular manufacturing process."
What do you think of the Forust project? Let us know in a comment below or on our Facebook, Twitter and LinkedIn pages! Sign up for our free weekly Newsletter here, the latest 3D printing news straight to your inbox!
Cover photo credits: Forust