Aerosint showcases dual metal 3D printing capabilities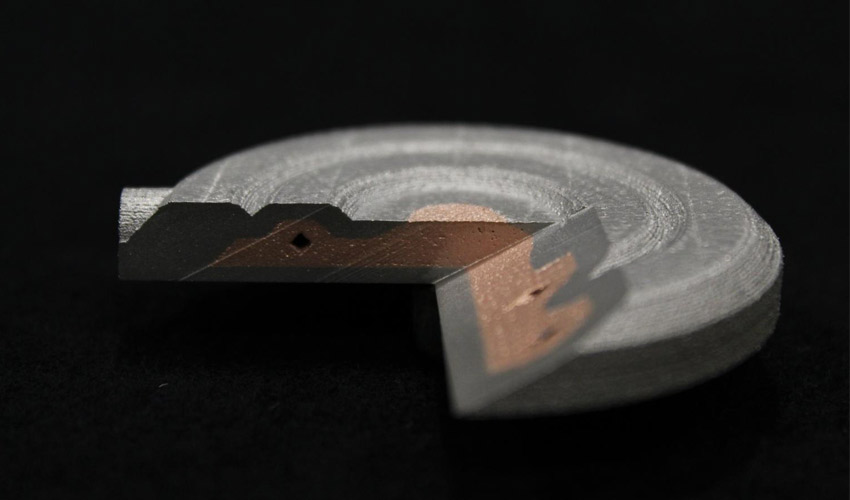 Belgian manufacturer Aerosint has just announced that it has successfully 3D printed a complex part and small cubes with two different metals, using a laser powder bed fusion process! The most complex part was with stainless steel and CuCrZr (ie Copper with Chromium and Zirconium). The cubes, on the other hand, were 3D printed from steel and a copper alloy. This is a first on the additive manufacturing market that could allow many industries to manufacture more mechanically efficient parts, displaying unprecedented properties.
Laser powder bed fusion is a widespread process in the metal 3D printing market, allowing a metal powder to be melted point by point until a final part is obtained. Until now, only one metal powder (or alloy) was used – already allowing to obtain prototypes, tools or even solid and durable end use parts. Each metal has a different melting point, implying higher or lower temperatures to fuse the powder. By combining several metals, temperature management becomes even more essential. Having a system that can work with multiple powders can open up new applications, for example allowing to combine the biocompatibility properties of steel with the lightness of aluminium.
A multi-metal additive manufacturing process
Aerosint demonstrated it has succeeded in 3D printing metal parts with several materials a LPBF machine. The Belgian manufacturer explains that it used a tailor-made machine developed by Aconity3D, with the recoater designed by Aerosint – it is the roller which allows the powder layer to be levelled. The company performed several tests: it first printed small cubes with steel and copper. Then, Aerosint designed a circular part 60 mm high and 55 mm wide, consisting of 174 layers of 316L steel and CuCrZr, 40 microns each. The printing process lasted 5 hours and 40 minutes.
Aerosint explains: "We are very proud of this achievement. No other technology is capable of producing such bimetallic parts today. Multi-metallic laser powder bed  fusion creates a range of new use cases and applications that we look forward to exploring with our partners in the future. "
In the future, the manufacturer wants to test other combinations of metals, including 316L stainless steel and Inconel 625 or 718. It also plans to test a titanium alloy with nitinol, and many more . He is currently looking to partner with other manufacturers to print test pieces and show the full potential of multi-metal additive manufacturing. You can find more information HERE.
What type of parts could be manufactured using such a technology? Let us know in a comment below or on our Facebook and Twitter pages! Sign up for our free weekly Newsletter to receive all the latest 3D printing news straight to your inbox!