Specialized on the benefits of 3D printing for bike saddle production
Published on August 13, 2020 by
Aysha M.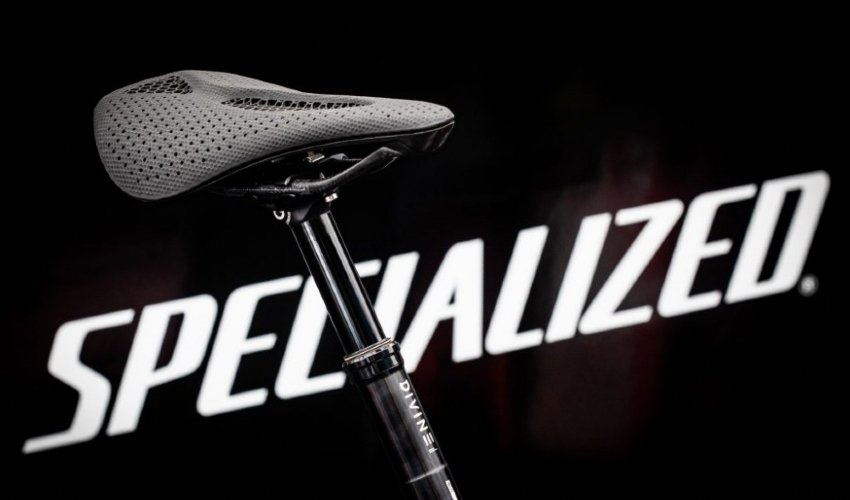 The saddle is one of the most important parts of a bicycle's body as it can play a key role in determining whether the ride was pleasant or not. For the manufacturers of bicycle components, the challenge is to design a saddle that can maximize rider performance while providing comfort and stability. Therefore, Specialized Bicycle Components Inc., commonly known as Specialized, partnered with Carbon to create the first 3D printed bike saddle. The California-based manufacturer announced commercial availability of the new product earlier this summer. Using  an intricate elastomeric lattice structure that overcomes limits of foam, the S-Works Power Saddle with Mirror Technology, improves performance, protection, and comfort for cyclists. We talked to Specialized Product Manager, Garrett Getter, and Associate Product Manager, Emma Boutcher, to learn more about the integration of 3D printing technologies into their production processes.
3DN: Can you introduce yourself and your relationship with 3D printing?

Garrett: Hello! I am the Product Manager for saddles at Specialized bicycle components. My relationship with 3D printing started with the development of the S-works Power Saddle with Mirror Technology. I was the product manager behind that saddle from the very beginning. I started with this project just a month or two after joining Specialized.

Emma: Hi, my name is Emma and I am Associate Product Manager at Specialized. I studied engineering, so even before joining Specialized I had all types of experience with 3D printing. I was brought in for a technical role and got to do some of the very first 3D printing of saddle prototypes. After acquiring that experience, I was able to start the preliminary printing for what has now become a Mirror Saddle.
3DN: Why did Specialized choose 3D printing technology to develop the saddles?
Emma: By the time Garrett joined the team, Specialized had already tried testing the theory of using elastomeric compounds from carbon to make a saddle that is ridable. What is now the 3D printed part of the saddle used to be, traditionally, foam on a saddle. It's true that there have been incremental steps of foam improvements with different materials, but they have hit a plateau in terms of what they can do and how specific and how targeted the shapes can be. So, as 3D printing has become more of a tool for mass production, not just for prototyping, we thought that this would be a really great option to first be able to prototype and understand if 3D printing is a viable replacement for foam, and then once we proved that we could do it, and once we had positive feedback from people who test-rode the saddles, we knew we had something that we could work with. Then there was a lot of ride-testing, fine-tuning, plenty of iterations of designs.
3DN: What are the main benefits of additive manufacturing for your particular applications?
Garrett: The real advantages of 3D printing technology for our applications start with the freedom of design and the speed of iteration. To manufacture great bike saddles, it's very important for us to have the ability to iterate quickly. Between these two opportunities that AM grants, it was a dream come true for me, who is doing a lot of ride-testing. One of the biggest challenges currently, with the traditional foams is the time that it takes to iterate. You know, you have a sample of products, you ask the rider to test-ride it, you get the feedback, and then you ask the factory to make a change, be it the foam density or shape; those two steps in the production process can take a long time. With 3D printing you can do it all so much quicker.  AM allows us to be very "in the moment", which is super good for product development, and in a way that we've never experienced before! That's powerful.
Another advantage is that even during the product-testing stage, we had the saddle that is already pretty close to the final, perfect version of it, way before we are actually launching the product. Traditionally, our prototyping process wasn't as accurate! Now, thanks to 3D printing, even when still prototyping, we already have a really accurate portrayal of the final product, we basically have a product that is ready for mass production!
Emma: With the Mirror Saddle we were able to think of a saddle in "zones", I mean traditionally it's not as clear-cut that way. Being able to design and manipulate a lattice structure at such a minute level of detail, we're able to get higher precision of zones and different densities, because in a saddle we're not looking for a uniform dead-state process across the length of the saddle, which is often what you get with a foam saddle. So, with 3D printing, within a single part we are able to create several different zones of varying densities and compliance to give the rider support exactly where they need it.
3DN: What challenges did your team face when designing the product?
Garrett: For us, it's a double-edged sword when you think of 3D printing in that this technology has unlimited opportunity and potential – you can do so much with it! But, with that, you can easily go down some rabbit holes of crazy ideas. So, trying to funnel a good product out of a lot of different ideas can have its challenges. We had done quite a few iterations in a short period of time, and the challenges with that are just keeping track of what you're changing and making sure that you're going in the right direction.
3DN: Can you tell us more about your collaboration with Carbon?
Emma: We chose to partner with Carbon to have access to high-tech materials and 3D printing processes. Plus, they already had a network that could help to scale out production. They also have great in-house design capabilities. Carbon was just as interested in creating a great product as we were. I love how invested they are in designing products utilizing their 3D printers and materials.
3DN: What is your vision of AM in saddle production business?
Garrett: We're constantly trying to find new ways to personalize the product. We were the first to correlate rider's seat bone to a width of a saddle. And that was the first step in the saddle production business to customize this particular product to someone's physique. We believe that a more progressive personalization will be the future of saddle ergonomics, and 3D printing will definitely play a key role in that.
3DN: Any last words for our readers?
Garrett: If we didn't believe that 3D printing technology was going to offer our riders great benefits, we wouldn't do it. But 3D printing really does make the riding experience better, more comfortable, and safer, according to numerous feedbacks we received on our 3D printed bike saddle, and that's why we believe in this technology. We created this product with a purpose to make seat bone pressure less of an issue , which is why we developed saddles with variable densities and anatomical parts of the saddle, and the result is people are happier riding their bikes, and that's all we can ask for.
What do you think about the 3D printed bike saddle developed by Specialized? Have you given it a try yet? Let us know in a comment below or on our Facebook and Twitter pages! Sign up for our free weekly Newsletter, all the latest news in 3D printing straight to your inbox!