XYZprinting, from desktop 3D printing to professional additive manufacturing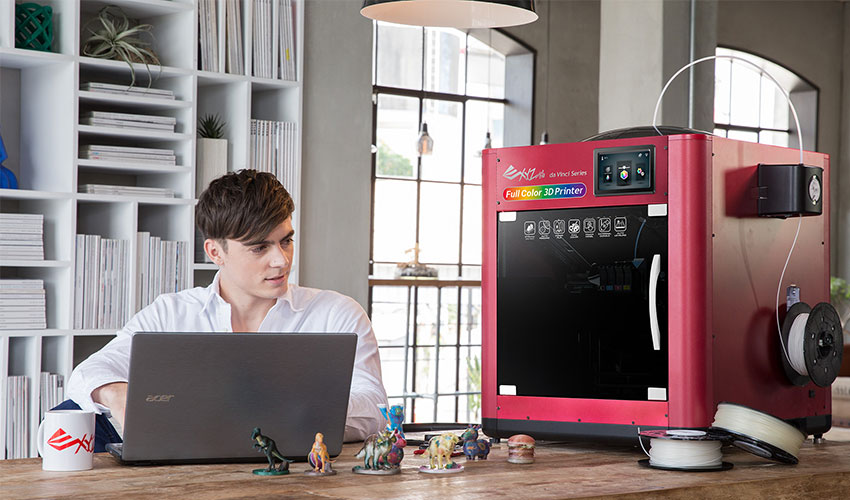 XYZprinting, is a company of Asian origin created in 2013. In just 5 years it has managed to position itself as one of the leaders in the manufacture of desktop 3D printers. With a range of more than 20 3D printers with different 3D technologies, the brand is committed to the development of educational, professional and additive manufacturing in home environments.
To better understand how the brand has evolved and positioned itself as the first desktop 3D printer manufacturer in the world (according to the CONTEXT research firm); We have spoken with Fernando Hernández, its Managing Director for Europe. He tells us in detail the origins of the company and the importance it has for our future.
3DN: Could you introduce yourself and tell us your relationship with 3D printing technologies?
I studied Computer Sciences because of my great passion for IT Technologies. I remember my days as kid playing with my 8bit microcomputer (an old Amstrad with rubber keys), just coding my own programs and games when I was just 10 years old. That was the beginning of the computer era and most of the kids that played with those computers created and shaped the world of today.
The first time I learned about 3Dprinting was in 2013, when I got approached by the tech giant New Kinpo. Looking back, I think that was a very good timing. I was ready for a new challenge as I had been working in the computer component industry for more than 10 years by then. When the opportunity to bring such an innovative technology as 3D printing closer to the consumers fell into my path, I was hooked. New Kinpo had a big ambition and I took the challenge because I really wanted to be part of it from the start. I realise it is a rare opportunity to be involved right from the start of a new innovative technology. I believe that bringing desktop 3D printers to the home could be the same as the success of the first home computers.
3DN: How did XYZprinting start and what were its first objectives?
When XYZprinting was founded in 2013, 3D printing as a technology had mainly only been applied to the industrial and engineering fields, and 3D printing hobbyists. The available printers on the market were expensive and rather complex to use.
XYZprinting was dedicated to designing plug-and-play 3D printers which are comprehensive, user-friendly and affordable for consumers. The da Vinci 1.0, our very first 3D printer, had reached worldwide attention launching for €599. It was the most affordable 3D printer on the market and was available to buy from more than 500 outlets all over Europe in 2014. The launch of more models in the da Vinci printer series followed soon after and has been disrupting the industry ever since. We made our first foot print and set the course for 3D printing. Now professionals, SMEs and retailers are incentivising the adoption of 3Dprinting into business and facilitating its use in classrooms, as a teaching tool for the next generation.
3DN: How did XYZprinting develop different additive manufacturing technologies?
Our success in the consumer market led us to the leading position we currently are as a brand. It has opened up a lot of opportunities and partnerships. We developed a worldwide network with the elites of 3D printing. Besides desktop 3D printing, Additive Manufacturing was another industry that we want to enrich and empower. I believe that XYZprinting and New Kinpo have the resources and experiences in-house to do this. From R&D to the factory and the whole supply chain, it was a matter of developing a strong strategy and long-term vision. Soon after the launch of the successful series of da Vinci printers, we were already inventing the next generation 3D printers. Last year, we launched the world's first full colour 3D printer. This year, at formnext 2018, we will showcase more 3D printing technologies and will expand into more markets and fields.
3DN: What are the key factors of your brand's success?
We provided what the market needed – a unique solution that was at the same time affordable, reliable, efficient and ready to ship. This last point is important as the market was always full of unfinished projects that the public rarely saw. Instead, a few weeks after our worldwide announcement, we placed the devices into the market with huge success.
In an industry as competitive as today, what makes a company unique?
I believe our success comes from a perfect balance of few key points: we keep innovating new technologies and solutions. We set the tempo in the industry, so the competition is always behind, and we do not only provide hardware but a full 3Dprinting solution. We make an ecosystem around the device with software, tutorials and a library of designs.
3DN: What are the main differences between the XYZprinting markets?
Europe is a very complicated market. It consists of a complex matrix of cultures, local regulations, languages, demographics and economies. For example, we noticed that the UK market is adopting more 3D printers through in the education sector. That's why XYZprinting has built a complete environment around the printer by designing a STEAM Curriculum.
France is a good example for retail and mass reach of 3Dprinting technology. Our products have been well received from our French clients. They have purchased a vast number of 3D printers, selling mostly to consumers.
Germany has a more specific target audience – we call them pro-sumers (engineers, designers, makers etc) and they generally to have a more advanced knowledge about 3D printing. Our German clients focus more on their products' safety and design possibilities. They tend to want to explore what they can print and how they can use different materials. We are selling more semi-professional 3D printers rather than the beginners printer models in the German market.
3DN: What are your plans for the future? Where do you see XYZprinting in 10 years?
We'll continue to strive towards our goal of making 3D printing more popular and widely adopted. We are still dedicated to democratising 3D printing – it is a technology that can be implemented at-home, in school and in businesses. Like computers and paper printers, 3D printers are devices that can assist us in our daily lives.
If we look 10 years ahead, full colour 3D printing will be much more widely adopted, since we have set that course already in motion. 3D printers will be more compact, faster, quieter and more reliable and user friendly than they are today. Besides the improved user experience, XYZprinting will continue to develop more professional and powerful equipment that delivers more precise, accurate, reliable and affordable solutions, with tools and services that are required by the market.
3DN: Do you have any last words for our readers?
We have changed and improved 3D printing considerably in the past 5 years since we first entered the market. The future is promising, and we will keep adapting and improving. And to all of us that are involved in 3D printing industry even as consumers, we should be proud and pleased to be part of a new technology that will take humanity to the next level.
A technology that is the future, not only because it will make our daily lives easier, richer, more personalised and unique, but also because it will raise the bar for human beings exponentially. If the generation that began to play with those archaic microcomputers have helped to develop the world of today, imagine what the generation of kids learning 3D modelling and 3D printing in schools today, will bring us in future.
What do you think about the developments of the company XYZprinting? Let us know in a comment below or on our Facebook and Twitter pages! And remember to sign up for our free weekly Newsletter, to get all the latest news in 3D printing send straight to your inbox!