Tractus3D offers solutions for large-scale high-temperature polymer production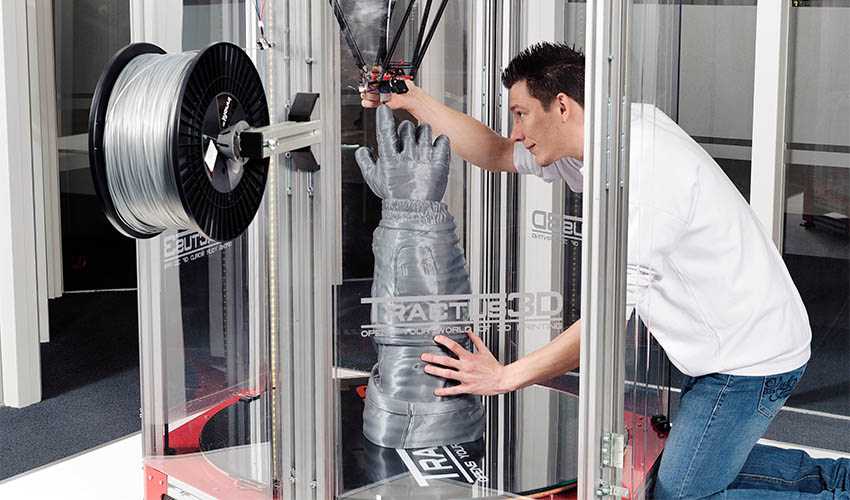 Demand for advanced thermoplastic polymers such as PEEK, PEKK or PEI, compatible with 3D printing has been growing for some time now. Tractus3D was one of the first companies to identify the need for a large-scale 3D printer that could work with these high-performance and high-temperature materials. In order to learn more about the range of 3D printers they offer today we spoke with Daniël van Mourik, the CTO and Founder of Tractus3D. He told us about the beginnings of the company and the key benefits of their solutions!
3DN: Could you introduce yourself and tell us about your relationship with 3D printing technologies?
I'm a lifetime inventor and entrepreneur, I was innovating long before I built my first 3D printer. My passion for tinkering and innovating goes all the way back to my childhood. I live by the phrase: 'No challenge is big enough', which is why I didn't doubt that we could  build one of the first high temperature 3D printers in the world. I first learned about 3D printing around my hobby, RC planes. I was looking for an option to produce a realistic dashboard of an airplane. That's when I heard about 3D printing from my brother in law and wanted to try it for myself. The first 3D printer I bought was not that good so I decided to make myself a better one. I needed bigger parts for the bigger RC planes, which meant I needed a larger 3D printer – this is how the dream for the larger 3D printer was born.
Six years ago I made my first Delta printer with a build volume of 370  x 600 mm which was very big at that time. In 2014, I built myself my first large volume printer as a fun project, nothing commercial yet. Following this I saw a new challenge,  high temperature 3D printers! I decided to take on this new challenge and start a new company! In March 2015, Tractus3D was born.
3DN: What's the story behind Tractus3D? How did you get started?
The company started as a special 3D printer company. Always had the mindset of B2B 3D printers, not consumer based printers as we didn't see a growing market there yet. The vision of Tractus3D is to stay ahead in service and stability. We want to outperform the competitors and with a high service level make the customers value our company.
We do the installations all over the world, give training or help any business introduce 3D printing to their workflows. We are honest enough to admit that 3D printing is an asset, and not always worth trying out, depending on the company. Honesty and high service levels make us a respected partner. With that vision we can bring stability and profit for customers. The choice of what 3D printer to manufacture was evident, it had to work with engineering materials (high-temperature, etc.) and boast a large volume. Of course, we want to support those who need an desktop version too, we deliver stable and high quality production with our DESK series.
3DN: Why did Tractus3D decide to focus on HPPs (High Performance Polymers)?
The company was focused on B2B and industrial applications, so it became our key focus naturally. As the 3D printing industry is growing quickly you see the demand for engineering materials (HPPs) grow. This was clear for us when we started the company. This road is an exciting road to walk, as well as seeing the way 3D printing is changing rapidly.
3DN: What applications are your printers mostly used for?
From the fashion industry for making mannequin molds, to car parts or even high-end tools for jet turbines. Our customers are in all branches and all parts of the world. One of our customers Trelleborg is using our high temperature machines to produce PEEK parts for molding and testing. Another company Excalto is using our machines to produce small production series of windshield wiper parts for high speed trains. But even in the retail industry we are very active. Some big brands are having mannequins in their stores (Nike, Tommy Hilfiger, Zara), the first molds are produced by our machines.
3DN: What are the key benefits of your high-performance polymer 3D printers?
The Heated Chamber
When printing with high performance polymers, there are a couple of things to keep in mind. Of course you need the right temperature, so our PRO series is capable of the best temperature settings. The nozzle goes up to 450°C and the build plate up to 175 °C. This is something most high temperature 3D printers can do, however our T850P also has a heated chamber. The temperature inside the T850P can easily be controlled and the thermal management helps to reduce warping because it diminishes premature cooling.
The Speed, Resolution and Volume
Our PRO series is capable of printing with a speed of up to 450 mm/s (depending on the complexity of the print and material) and with a resolution as sharp as 10 micron. This means high-resolution prints in high-performance polymers at a high speed. Combined with the build volume you can build small and big complex high-performance 3D prints in no time.
Heated Filament Chamber
At Formnext we'll release the new upgrade for our T850P, a heated filament chamber, named Mohawk. To ensure the best quality for the high-performance polymer prints, dry filament is necessary. The new filament chamber will be heated up to 65 degrees and ensure that the filament stays dry and heated before and during the print. Ensuring the best result.
3DN: How do you see the AM industry changing in the future? Any technologies, materials that you think will stand out?
The engineering materials will be printed in more professionals ways with annealing in place or done in the process of production. 3D printing will be another tool in your workshop like a screw driver and a hammer. It's not replacing anything but just making your workshop more complete! FDM will remain the first 3D printing step for a while because of its price tag. Next steps will be done in material development and software development. The printers will be more and more user friendly.
3DN: Do you have any last words for our readers?
We will be at Formnext 2019 in Frankfurt and love to meet everybody, and welcome everyone to come to our stand (we are giving away a T1250 3D printer in our raffle) and in 2020 will be on FESPA in Madrid!
Find out more information HERE.
What do you think of Tractus3D's solutions? Let us know in a comment below or on our Facebook and Twitter page! Don't forget to sign up for our free weekly Newsletter, with all the latest news in 3D printing delivered straight to your inbox!