#3DStartup: Think3DDD on Using AM to Make Orthotics for Animals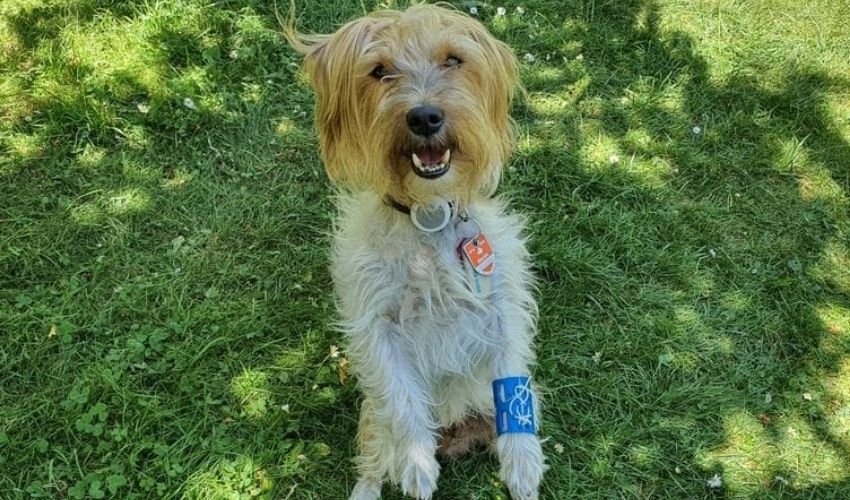 3D printing is increasingly finding its way into the medical field with an ever-increasing focus on orthotic and prosthetic manufacturing. This is notably because additive manufacturing allows each one to be fully adapted to the morphology of an individual patient – including our animal friends. This brings about great benefits: an immense simplification of the individual steps in the manufacturing process as well as the adaptation to individual medical needs. The Berlin-based start-up Think3DDD has also recognized these benefits and since 2018 has been involved, among other things, in the production of 3D printed orthotics for animals – sustainable, cost-effective and individualized. We sat down with Tino Jacobi, founder and CEO of Think3DDD, to talk about his connection to additive manufacturing, the 3D printing process as well as future plans with his company.
3DN: Could you introduce yourself and Think3DD?
I have been interested in new technologies and their interdisciplinary applications for a very long time. I first came into contact with 3D printing during my A-levels with a focus on computer science and chemistry. I used it to construct several spare parts and teaching models for the Lise Meitner Secondary School. This was followed by several youth research projects.
What particularly excites me about 3D technologies is their versatility, high material selection, material-saving manufacturing, and flexible customization options. If the 3D scanning method is cleverly combined with intelligent automated software and innovative materials, then groundbreaking and unique products can be created. Because I am fascinated by the almost endless possibilities of 3D technologies, I have turned my hobby into my profession.
Together with Leonardo Lauer, I founded Think3DDD as a 3D printing service provider. Our focus is mainly on spare parts that are no longer manufactured, such as for classic cars, very small series and models for research facilities. As a result, we always gain exciting insights into a wide variety of research and development. In doing so, we do not always just take on the production, but also the model design and material consulting. Think3DD has also increasingly developed its own products. We now offer custom 3D printed healing cuffs for humans and animals, masks and antimicrobial door handles in addition to 3D services. Our product range continues to grow, with the most important thing for us being to develop our products in a user-friendly and environmentally conscious way.
3DN: How was the idea of Think3DD born? Can you specifically cater to your animal customers?
The idea of individual healing sleeves for animals was born directly from a dog patient. Murphy, the dog of our then cooperation partner for 3D printing materials, had broken his leg by biting his hind leg. He received a bandage from the vet. Unfortunately, this did not provide sufficient support and quickly led to skin irritation and inflammation. We could clearly see how Murphy was struggling with the bandage. The risk of surgery could not be taken, besides the simple fracture could heal on its own. Therefore, our first VET orthi (the part) was born.
What was particularly fascinating for us was that Murphy suddenly walked with our orthosis as if he had no fracture. The inflammation went down and the fracture healed relatively quickly on its own. Based on this experience, we have been looking for more and more suitable technologies and materials for our orthoses. So far we have mainly treated dogs and cats. Occasionally there have been other requests from the animal and human sectors. Animals are usually treated by us on the front or hind leg. The typical clinical pictures that can be treated are similar to those in humans such as bone fractures, strains, arthrosis and chronic walking problems. In particularly difficult cases such as joint fractures, torn ligaments or severe bone fractures, our orthosis can also be used as a support after surgery. In addition, we have also made individual prostheses.
3DN: What is the process to create the VET orthi?
The entire process of this customized splint can be divided into 3 steps. First, the body part to be treated is scanned. For this purpose, the body part is wrapped with patterned adhesive bandages. Using any smartphone, the vet or pet owner takes a 360-degree video of the body part. From the video, our software automatically calculates the digital three-dimensional image. In the second step, we adapt the VET orthi to the image using a semi-automatic CAD program we developed ourselves.
Among other things, we take into account the veterinarian's specifications regarding the type of support required. For example, should the orthosis be very stable or rather somewhat flexible and where should swelling be protected. In addition, all of our models are optimized for the simplest 3D printing process. For example, no support structures are needed and material and production time are saved.
Finally, the digital model is produced with a semi-flexible recyclable or compostable material in the 3D printer. After any minor post-processing, the VET orthi can be worn directly by the animal patient. The advantage over conventional orthoses is mainly the very good ventilation of the coat and skin, which helps prevent skin irritation and inflammation. The weight of the orthoses is also very low and cleaning is easy. Most of our animal patients accept our support measure very quickly due to these and other advantages. And if a VET orthi should ever get bitten, it can easily be reproduced again in the 3D printer.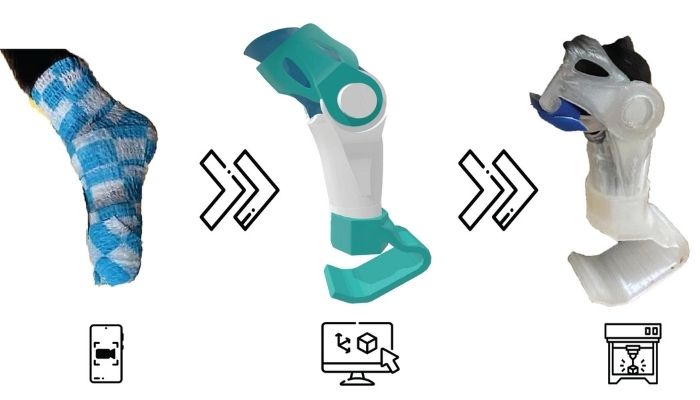 3DN: What are the future plans of Think3DD?
On the one hand, we are expanding our product range, especially in veterinary medicine. This means that our VET orthi sleeves are becoming increasingly complex with flexible and freely movable joints. This means we can also treat animals with more complex cases.
We are also continuing to work on automation in order to manufacture our veterinary products even faster and more independently of location. In addition, an online accessible system is in the works that will make 3D printing services affordable for small orders with standard materials. Through targeted automation, pure 3D printing orders from private individuals, for example, can then also be made possible at low cost.
However, our biggest project at the moment is the spin-off of 3D-Medico. Here, we are developing a coordinated and intuitive fitting and production system for orthopedic and rehabilitation technicians. Its later expansion to other medical professionals is also conceivable. This will make it possible to digitally fit and manufacture our individual orthoses, prostheses, and insoles on site in each specialist company in a way that conforms to medical standards. For this purpose, we offer 3D scanning via smartphone video, fitting via intuitive 3D CAD software, as well as manufacturing with the simplest 3D printing process and recyclable materials. As a final product, we have already developed here the so-called Orthimale as an orthosis for the hand area. The vision of this project is to be able to offer everyone a treatment suitable for everyday use with individual orthoses in a sustainable way!
3DN: Any last words for our readers?
As an interdisciplinary, young and international team, we are always looking for further collaborations and team members. So if you are a user of orthetic tools or a (junior) researcher interested in an exchange, just contact us or follow us on LinkedIn. If you are looking for an internship, a bachelor/master thesis or a job, our doors are open for you. Feel free to check our job page (only available in German) for suitable openings or apply on your own initiative at any time. We offer our interns a team integration at eye level and a lot of practical experience with the option of a longer cooperation. Finally, a tip on the side: If you have the chance to turn your hobby into your profession, take it! You will not regret it!
What do you think of Think3DDD? Let us know in a comment below or on our Linkedin, Facebook, and Twitter pages! Don't forget to sign up for our free weekly Newsletter here, the latest 3D printing news straight to your inbox! You can also find all our videos on our YouTube channel.
*Cover Photo Credits: Think3DDD