3D printing bone, a way to treat fractures?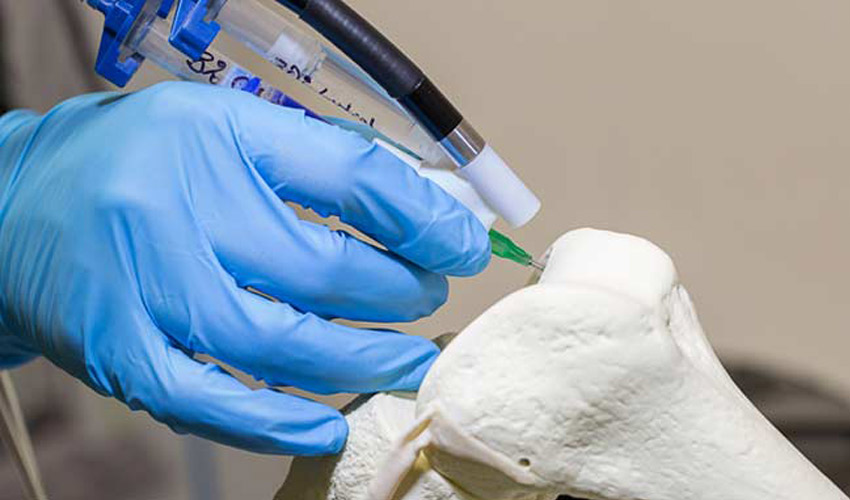 At the University of Arizona, a team of scientists is working on a 3D printing process to more effectively treat fractures, especially those of the US military. Dr. Szivek, a biomedical engineer and professor of orthopedic surgery in charge of the study, has just received a $ 2 million grant from the Department of Defense to accelerate his research and propose a quick fix to consolidate a fractured bone. In short, creating a way to be 3D printing bone.
The medical additive manufacturing is growing and the examples in terms of applications possibilities: 3D printed implants, bio-printed human tissue or manufacture of functional components, the list is large. It must be said that 3D technologies evolve rapidly and offer treatments that are much more adapted to each patient, allowing the medical sector to develop further. Dr. Szivek wants to combine 3D printing with adult stem cells to fully treat fractures.
The professor explains; "Imagine an impact that causes half of a long bone to shatter so that it can't be put back together—no current surgical treatment can ensure that kind of injury will heal," He continues:  "This is a really big problem for the military, where explosions or combat injuries can cause big bone defects." Professor Szivek will therefore work with clinical partners in the UA Department of Orthopaedic Surgery throughout the process. This to 3D print biomimetic scaffolds, capable of replacing long bone segments, whether broken or even missing. They should be filled with calcium particles and adult stem cells, two agents that allow for much faster healing and bone growth. Once implanted, scaffolding would serve as a model for bone growth.
What are the next steps?
For the moment, the pilot studies show good results. Dr. Szivek says they have "achieved complete bone formation, covering a large bone defect in about three months. Now we want to make that healing process even faster." Researchers will now explore whether exercise early in the healing process can work to accelerate recovery. In order to test this theory, they explain that the 3D printed bone scaffolds will have tiny sensors capable of transmitting the physical activity of the patient. They will analyze the load or weight applied to the scaffolding and for how long.
If the tests prove conclusive, the team should be able to use the information to put together guidelines for post-surgical physical therapy to improve bone regeneration in the military. Dr. Szivek states that "Patients often re-break the damaged bone area after surgeons try to repair it and the limb will eventually be amputated," The human body tries to push back the missing or damaged bone for a few months after an injury, but it will eventually give up on the process and scar tissue will fill the defect instead of bone. He further explains: "That's why we need to develop a way to grow bone as quickly as possible – to help the body while it is still able to grow and replace the bone," 3D printing bone should give results quickly. Results that could have a real impact on the medical sector. You can find more information about the research and 3D printing bone HERE.
What do you think of the application of 3D printing bone in the medical sector? Let us know what you think in a comment below or on our Facebook and Twitter pages! Don't forget to sign up for our free weekly Newsletter, with all the latest news in 3D printing delivered straight to your inbox!