The latest developments in 3D printed meat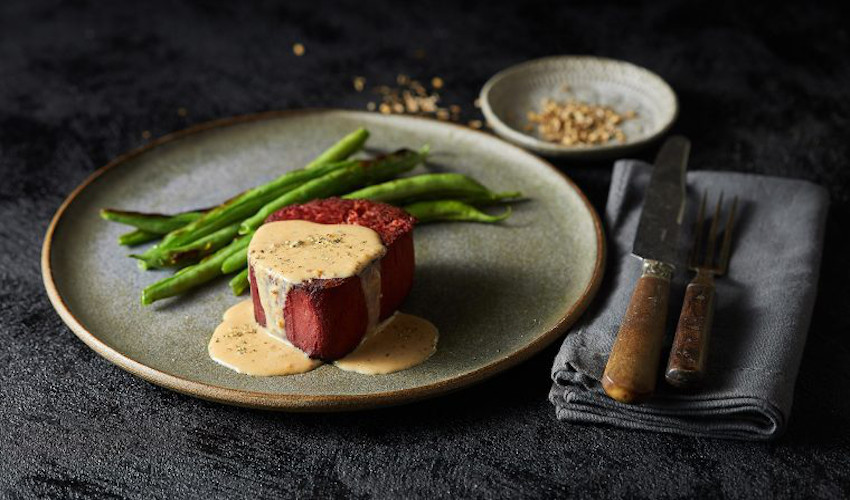 It is not an exaggeration to say that in the last two years the world has seen some extraordinary advances in alternative production methods of meat. If a decade ago phrases like "3D printed vegan meat" or "meat 3D printed in Space" sounded like a futuristic fiction, today it's not only imaginable but it is actually happening. As the world is facing an environmental crisis and natural resources are depleting fast, sustainability is not just a selling point anymore but a vital business strategy. Therefore, the last couple of years a growing number of companies have started to invest in the development of 3D printed meat alternatives. With Redefine Meat unveiling the world's first Alt-Steak a few days ago, let's review the latest advances in 3D printed meat by taking a look at the hottest developments of the sector.
Redefine Meat: selling printers, not steaks
On June 30, 2020 Redefine Meat unveiled the world's first plant-based Alt-Steak and announced that market testing at select high-end restaurants will start later this year. Created using Redefine Meat's patent-pending 3D meat printing technology, the company's Alt-Steak products have the texture, flavor and appearance of beef steak and can be produced at the right cost to enable large-scale production.
After consulting with leading butchers, chefs, food technologists and taste experts, Redefine Meat was able to digitally map more than 70 sensorial parameters into its Alt-Steak products, including premium beef cuts' texture, juiciness, fat distribution and even mouthfeel. Layer by layer, the company's proprietary industrial-scale 3D food printers create the Alt-Steak products using Redefine Meat's Alt-Muscle, Alt-Fat, and Alt-Blood plant-based formulations. By printing with multiple materials, Redefine Meat can create sustainable, high-protein, no-cholesterol steaks that look, cook, and taste like beef.
Eshchar Ben-Shitrit, CEO and Co-Founder of Redefine Meat explains: "Today's announcement marks the start of a new era in alternative meat – the Alt-Steak era – driven by production processes that will accelerate the development of a wide range of alt-meat products and create a sustainable alternative to raising and eating animals. The importance of using 3D printing technology to achieve texture, color and flavor cannot be overstated. By using separate formulations for muscle, fat and blood, we can focus on each individual aspect of creating the perfect Alt-Steak product."
Redefine Meat's Alt-Steak products will be put to the test at a limited number of leading chef restaurants later this year. Incorporating feedback from high-level chefs and butchers, the company will then ramp up production of its 3D meat printers and alt-meat formulations ahead of market distribution in 2021. It's worth emphasizing that the company only plans to sell the technology and materials rather than the actual meat products.
Aleph Farms: cell-based 3D printed meat
When it comes to selling the actual 3D printed meat, there is another Israeli startup that is planning on it – Aleph Farms, which is one of the leading companies in this sphere. After all, not every company can boast 3D printing meat in Space…
Aleph Farms has recently developed a method that mimics the natural process of muscle-regeneration occurring inside the cow's body, but under controlled conditions. Different from the plant-based 3D printed meat, this technique uses bovine cells to replicate the taste, texture and look of meat. Their innovative method involves mixing cells – fat cells, muscle fibers, blood vessel cells, and others – from which they generate a bio ink to use in the 3D bioprinting process.
NOVAMEAT: vegan and sustainable
This Spanish firm is famous for 3D printing vegan meat. Essentially, NOVAMEAT's technology manages to reorganize the nanofibers from vegetables' proteins to make them seem like animal proteins. Typically, their "materials" for 3D printing include peas, seaweed, and rice. Not long ago, the Barcelona-based startup presented its 3D printed pork, which they called pork skewer 2.0. To develop it, the company used a composition containing pea isolate, rice isolate, extra-virgin olive oil, brown seaweed extract, beet juice concentrate and natural aroma.
NOVAMEAT seeks to support a more humane and sustainable global food system through its technology. According to its CEO and co-founder, Guiseppe Scionti, the company is "testing alternative ingredients (proteins, fibers and oils) to tune the flavorings and improve sustainability. Demonstrating that our technology works with a variety of ingredients is aimed at supporting biodiversity, to fight unsustainable monocultures and deforestation practices."
MeaTech: mass production
Meanwhile, MeaTech is one of the newest entrants in the race for the best 3D printed meat. This Israeli startup is focused on 3D printing meat at scale, their focus is the industrial market. According to Sharon Fima, CEO and co-founder, the company's aim is to produce quickly, creating one unit every few seconds. He says, "Our goal is to show that 3D printing meat can be done in an industrial capacity."
With companies promising revolution in the production and consumption of meat, you might wonder when will their products leave the labs and "enter" your kitchen. According to some industry players, such as MeaTech, 3D printing meat is still in its development stage and will be available for mass consumption no sooner than in 2-3 years. So, don't expect to be able to buy 3D printed meat in your local supermarket just yet. But as Redefine Meat announced their Alt-Steak distribution to several European restaurants later this year, stay tuned for more news and reviews!
What do you think about these developments in 3D printed meat sector? Are you eager to try the Alt-Steak? Let us know in a comment below or on our Facebook and Twitter pages! And remember to sign up for our free weekly Newsletter, to get all the latest news on progress, research and more entrepreneurs in 3D printing send straight to your inbox!