Researchers use PEKK implants to accelerate bone regeneration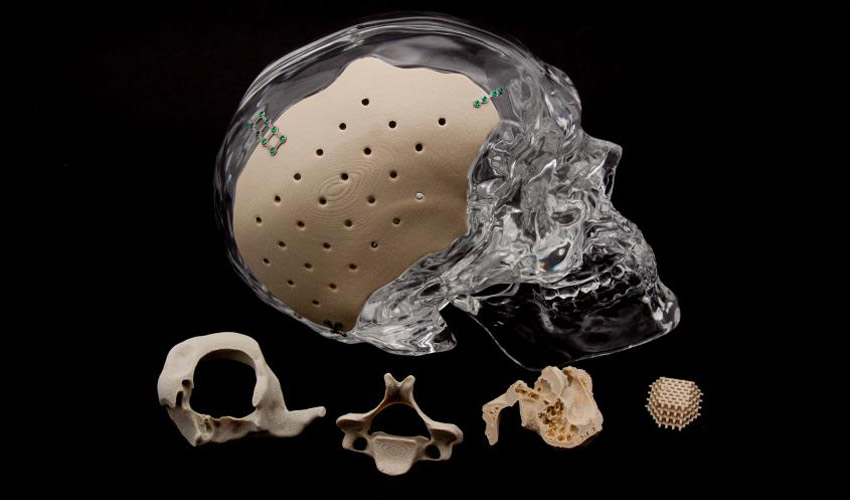 We have often reported on the advantages of high-performance materials such as PEEK, ULTEM or PEKK. Particularly in the medical field, some of these materials offer many benefits due to their biocompatibility. A while ago we reported on the first clavicle 3D printed with PEEK in China. American researchers have now also shown that 3D printed PEKK implants can accelerate bone regeneration.
The researchers at Oxford Performance Materials (OPM) in Connecticut and McGill University, Canada, published their study in the scientific journal Nature. They explain that the 3D printed implants were combined with human synovial fluid (synovial fluid) and mesenchymal stem cells (hSF-MSC), which enable cartilage regeneration and strongly indicate new bone growth. In people with severe bone defects, OPM's OsteoFab PEKK implants could reduce more complex procedures such as bone transplants.
Bone transplants replace missing bone by removing a part of the bone from another part of the body to replace and heal the affected area. According to the study, up to 2.2 million of these operations are performed worldwide, including orthopedic but also for dental procedures. As with any transplantation, negative effects can occur, such as prolonged regeneration time or complications with the removal of autologous (endogenous) bone. According to the scientists, bone regeneration using stem cells is the best approach to prevent these limitations.
The researchers investigated different cell types and biomimetic scaffolds for bone regeneration. They used this technology to heal part of a rabbit's skull bone using the EOSINT P800 SLS printer from the German manufacturer EOS.
The PEKK implants were especially biocompatible and did not lead to any rejection from the body or inflammation. Cells grew very well due to the rough surface and the open micropores. The researchers came to the conclusion that the PEKK implants with hSF-MSCs are a very promising approach for the regeneration of large bone defects. The PEKK material used, OXPEKK®, is manufactured by OPM and processed into an implant with its OsteoFab® technology.
*Cover Photo Credits: Oxford Performance Materials
What do you think of this new research? Let us know in a comment below or on our Facebook and Twitter pages! And remember to sign up for our free weekly Newsletter, to get all the latest news in 3D printing send straight to your inbox!