Behind the scenes with professional 3D printer manufacturer dddrop
---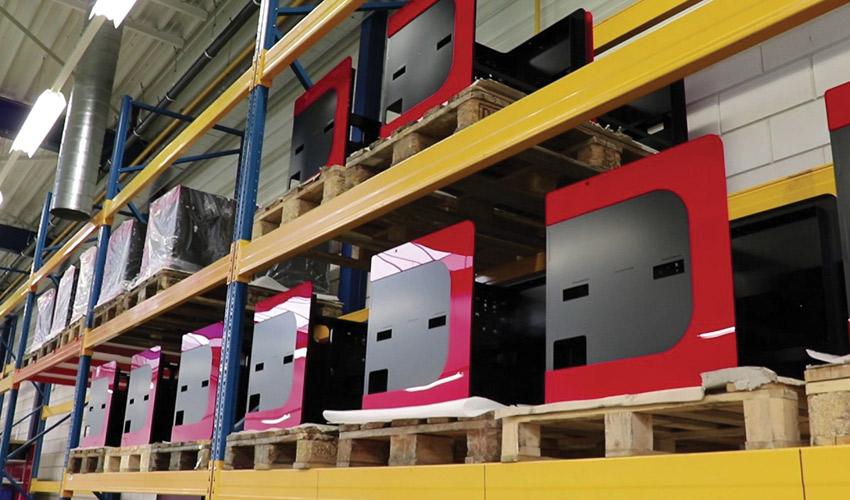 The Netherlands is undoubtedly a dominant force within the European 3D printing industry. Companies such as Ultimaker, 3D Hubs, and ColorFabb have expanded worldwide, showing the power of Dutch entrepreneurialism. However, during this Dutch 3D printing golden era one company has stayed under the radar, FDM 3D printer manufacturer dddrop. Their Leader TWIN and Leader PRO 3D printers have wowed businesses and consumers alike, so we decided to find out more about some of the companies that have used dddrop printers in their workplace.
Industry parts rapid prototyping: Ejair Engineering
Ejair Engineering, works in rapid prototyping of machine parts. This is an area 3D printing is perfect for, as custom pieces can be created to scale very quickly to be tested for effectiveness.
Erik-Jan Roosen is an engineer, and founder of Ejair Engineering. Most of his time at work is spent making scale models and prototypes created from technical designs for clients. These are often custom parts created on-demand for industrial machine manufacturers.

When a professional 3D printer is needed
This kind of prototyping required a 3D printer. As a hobbyist, Erik-Jan already owned a 3D printer, a Vertex he built himself. However, for professional work he needed something more well-equipped, so he purchased a dddrop 3D printer. As an experienced engineer he incorporated 3D printing and a machining post-process to make parts perfectly suited to industrial applications.
Erik-Jan's business means he mostly prints with Polycarbonate filament. This is because of its strong mechanical properties and because it works well with turning and milling. Many 3D printers are limited to materials such as PLA, limiting options. The dddrop's versatility however means it can print in Polycarbonate as well as PLA, ABS, PET-G, FLEX, HIPS, PVA, and many more.
This enables Ejair Engineering to create usable end-products to a high standard. Moreover, since Erik-Jan can draw the technical drawings and then 3D print the finished parts, he is able to produce everything in-house. This is a huge boost to a small company that used to have to outsource parts of the process. Erik-Jan's dddrop 3D printer simplified his production process, allowed him to keep everything in-house, and quickened production times.
3D Printing for WB – Automation
Secondly, there is WB Automation, a company that creates everything that doesn't exist yet. They build for both food and non-food industries, they have special machines of an infinite range. They utilise both Robotics and Pick & Place for their processes.
Westerveld & Nederlof collaborated with WB – Automation to reduce their manual labour time by three to four times, this is crucially where they can save their times mostly. WB did this by creating a robot system, which glues stone strips to walls, with the aid of dddrop 3D printer. During this project they found out that the glue supplier couldn't deliver the glue in barrels, but instead in tubes.
Reinvention of the Model
Due to this issue, they had to turn the whole design around so it will enable the machine to empty those tubes easily. For this to be possible they had to develop two things; create a tunnel, which closed in the glue, however it has to be possible to fill them from the outside too. This was a long process as they printed two different models of the tube to see which size fits perfectly and the best way to create them. They finally made a part which made the final cut.
Other uses of dddrop Printer
WB-Automation doesn't only use dddrop to print parts that fits their purpose, but also utilise them in their own machines. They have developed an exceptional suction cup, as the dimensions are not standard, for the bricks they have to glue. The suctions cups sizes are important as you can't use a suction cup that is bigger than the brick itself, but the suppliers only had suction cups that are either small or bigger than the brick something in between wasn't available. They used dddrop to design the perfect suction cup for their bricks.
WB-Automation use dddrop 3D printer for their prototypes, to create parts and to see if the parts fits well with the products of the customers. The advantage of the dddrop 3D printer for them are their two nozzles and the drive of the filament is close to the nozzles. As a result of this advantage WB-Automation can use this printer with flexible materials as well. Dddrop's close case is useful when it is printing with ABS and other similar materials. The printer is equipped with a smart module, so you can remotely turn the printer on and off, this allows it to be monitored closely. An automated email is triggered and sent to the responsible person once the printing is done.
A few words with the CEO
Alfred Uytdewilligen is not just CEO of dddrop 3D printers, but also presides over CAD2M, a major Solidworks distributor. Alfred felt compelled to create his own 3D printers as there was nothing in the market that could solve his production issues. We therefore asked him about what to expect from dddrop in the next few years and new features.
3DN: Why did you start dddrop, and start manufacturing professional 3D printers?
I started developing dddrop 3D printers back in 2014. After many years selling another major brand we searched for a new professional 3D printer, but could not find one in our price/performance range. There were only open, less professional machines, and expensive, closed-material printer brands.
We studied the marketplace and surveyed design and printer shops in order to build and deliver the first 35 dddrop prototypes back in 2015. Then in 2016 we sold hundreds of machines in the Benelux and expanded to the rest of Europe, Asia, Brazil, Africa, and the USA by the second half of 2017. All dddrop 3D printers are designed, built and tested in the Netherlands.
3DN: What do you want to achieve with dddrop 3D printers?
We [CAD2M] have a history of over 25 years in 3D CAD/CAM software as one of the Benelux's leading companies. We know what our users need for their designs and 3D printers, and how to support them.
dddrop wants to deliver 100% customer-driven 3D printers. We develop our printers based on user demands, such as with open filament systems with the ability to run 10,000 printing hours of high-tech plastics such as Carbon fills and PC, PA, PP, and PETG.
We want to become the leading professional 3D printer brand for the €4000-15000 price range, with the best customer support and 100% print warranty. With our printers' SMART control you can check and control you printer from anywhere in the world. Printers also include predictive maintenance, cloud slicing, and live assistance via this smart control. No special IT skills are needed as you can connect your printers automatically. We also update our SMART control frequently to add more features.
3DN: Which industries do you think dddrop 3D printers are best suited for, and why?
3D printing is for designers, artists, architects, production and prototyping, we serve all industries. We focus on supporting product developers and toolmakers in their goals. We know the market and understand their needs, and react to this. dddrop 3D printers can produce production parts in series and as one-offs, delivering quality, reliability, and repeatability for our customers. We serve clients in the aerospace, automotive, military, shipbuilding, consumer products, and medical industries.
3DN: What are dddrop's goals for the future in 3D printing?
After launching the dddrop SMART printing app and platform we will focus on producing at your customer. This means that you can have a printer in Japan and operate printing from France using your tablet, smartphone, or PC. This method of 'beaming' parts around the world to print at another location means there are no shipping costs or time delays. The dddrop SMART printer app has all these features, with planned improvements for the unmanned printing remote control.
What do you think of dddrop products ? Did you get the chance to test their 3D printers ? Let us know in a comment below or on our Facebook and Twitter pages! Don't forget to sign up for our free weekly Newsletter, with all the latest news in 3D printing delivered straight to your inbox!
---
You may also like