Top 5 Videos: Apis Cor, 3D Systems & more!
Posted On January 7, 2018
---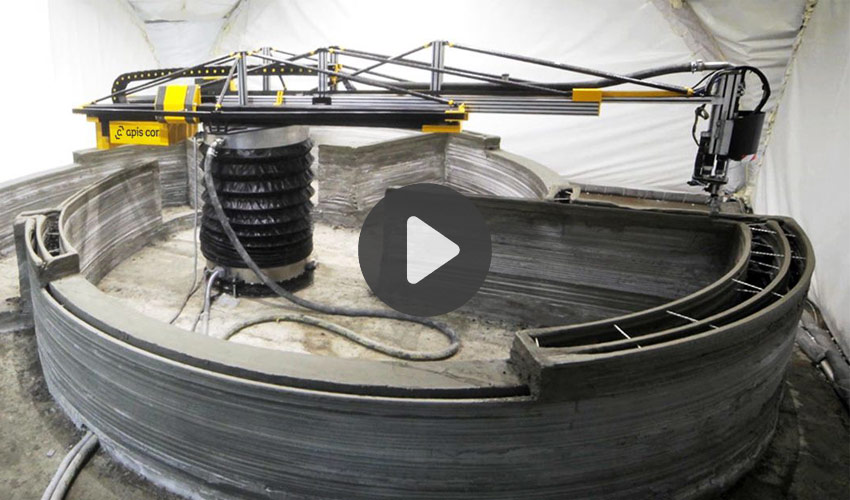 This week's Top 5 Videos include a number of large business' videos, in addition to some projects made by individuals. 3D printing giants such as Apis Cor and 3D Systems are in this list for announcing new projects and intentions. In addition, videos showing 3D printing in major brands is also here. A new Top 5 Videos is posted every Sunday, so don't miss out on next week's listing!
1. Apis Cor
This video shows Apis Cor CEO, Nikita Chen-iun-tai, discussing how his company intends to change the future through 3D printing. Apis Cor have huge 3D printer robotic arms which 3D print buildings with concrete and have caused a sensation on the internet. They explain the limitations to what they do, and what Apis Cor intend to do in the future.

2. 3D printing in big brand advertising
This interesting video shows how 3D printing is being used by several big brands to enhance their advertising campaigns. These campaigns include promotional activity for the recent Angry Bird Movie where 3D printing was used to print the bird characters and words so they stuck out more in public.
3. 3D Systems Figure 4 System
This new video from 3D Systems describing their new Figure 4 production system means that the world of stereolithography will be changed forever. This is because the Figure 4 System can 3D print with SLA 15x faster than previously, and contains many different printers in one production system to be more easily scalable. It includes a robotic arm which removes 3D models when they are finished printing.
4. Girl gets 3D Printed Arm for Christmas
This video tells the story of Charlie, who was born with only one arm. Charlie struggled to get a prosthetic on the NHS (National Health Service) in the UK for a variety of reasons, including that she would outgrow it quickly. However, with 3D printing this arm can be printed far more easily and quickly, whilst being tailored to Charlie's size.
5. 3D Printed Tyrannosaurus Rex
This video shows how a 3D printer can create this huge 3D printed Tyrannosaurus Rex dinosaur, and the assembling stage of this post-print. The very intricate parts such as brittle bones on the dinosaur's ribcage were printed in fine details, resulting in a high-quality 3D print.
What do you think of this week's Top 5 Videos? Let us know in a comment below or on our Facebook and Twitter pages! Sign up for our free weekly Newsletter, all the latest news in 3D printing straight to your inbox!

---
You may also like