A Closer Look at 3D Printing Materials: Ceramics and Organic Material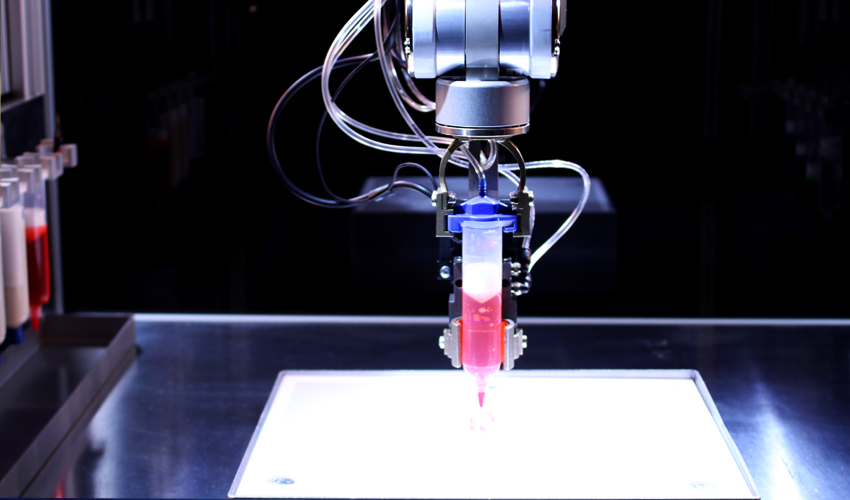 One material that has been gaining in popularity in the additive manufacturing (AM) industry is ceramics, along with other organic materials. Though initially avoided because of the difficulties involved with printing, increasingly ceramic materials are being used in a variety of industry as manufacturers are finding ways to use them with AM processes. Currently, you can find ceramic solutions using binder jetting, SLS, SLA, DLP and even FDM, making it increasingly accesible to the market. This means that it is also being used in more industries, though it is most often mentioned in conjunction with sectors like aerospace or jewlery.
Of course, other organic materials for example wood, concrete, sand and more are also becoming more prominent in 3D printing. Though perhaps not common just yet, except maybe sand which is regularly used by manufacturers like ExOne, there has been a move in the past few years to make many "unusual" organic materials more accessible to the AM sector. For example, concrete 3D printing has been gaining in recognition notably in the housing market as companies like ICON, COBOD, 9trees and more use them for 3D printed buildings using extrusion based methods. Learn more about ceramics and other organic materials in 3D printing below.
Ceramics
Throughout history, ceramics have been used in a variety of industries including medical, sanitary or even industrial application. Though of course often associated with products like tableware (kitchen and decoration), the material is increasingly used in 3D printing. This is especially evident in sectors like aersopace wherein ceramics provide the necessary strength and heat resistance to make parts for rockets and more.
Ceramic objects can be printed using a variety of 3D technologies, including with Selective Laser Sintering (SLS) from a previously compressed dry powder, or through solidification of the material in a liquid state. For example, you can see the process below which resembles FDM processes just with a modified print head.
However ceramic 3D printing does not stop there. Thanks to significant advancements in material science, ceramic 3D printing can be done using pretty much all 3D printing techniques. With actors like Nanoe, users can print with ceramic filament, enabling them to use FDM processes. Additionallly, Formlabs has its own ceramic resin for SLA. Currently, ceramics are also often used with binder jetting, which even allows for colors in the final part. One of the main players in this field is again ExOne
Sand
Sand is used mainly for the manufacturing of foundry molds, but it can also be very useful in the field of architecture when combined with other materials (as we'll see later). This material was first printed in 1999 by ExOne, which today offers the largest sand printer on the market, the S-Max, which can print part sup to 1800 x 1000 x 700mm.
ExOne can certainly be considered the forerunner when it comes to sand printing technology, using their binder jetting technology with sand to create cores and molds for tooling among other applications. Though more of an indirect process, as compared to say metal additive manufacturing, it is an important tool for many manufacturers.
Another machine that was developed by a group of researchers from the Institute for Advanced Architecture of Catalonia (IAAC) was the Stone Spray Project, which works with both solar energy and beach sand that is mixed with a binder. Though not exactly the same thing, a similar material to sand that has been used recently in 3D printing is soil. WASP, a leading Italian 3D printing company known for their Crane WASP 3D printer which uses an extrusion-based process. They recently completed their TECLA 3D printed eco-habitat which was made entirely out of local soil, helping pave the way to more sustainable houses.
Concrete
Using the same printing principle for ceramics can be used to print concrete or any other composite material that is made from a wet paste. The MIT Media Lab has developed a 3D printing machine made of large polyurethane parts where the concrete is cast, allowing the manufacturing of doors, windows, building walls, etc. Concrete 3D printing has been gaining in popularity in recent years thanks to the popularity of extrusion based concrete printing being used for buildings. For example, in just 2021, concrete 3D printing was used by COBOD and ICON for 3D-printed houses, the first 3D-printed neighborhood, and even for a
Another technology for printing whole buildings is artificial concrete, which was developed in Italy by Enrico Dini, founder of D-Shape. This machine was inspired by the technique of Stereolithography (SLA), but this time it uses sand. By replacing the UV with an inorganic binder, it gives the material the properties of marble.
Marble
Thanks to the company MarbleEcoDesign, marble has finally been added to the list of 3D printing materials that can be used.
Wood and stone
Designed to be used with 3D printers that work using FDM, these materials are available as filaments. The wood (LayWood) is composed of recycled wood and a polymer-based inorganic binder. Stone filament (LayBrick) is composed of minerals that resemble chalk powder. But, the most innovation lies in the fact that the objects have the look (with different effects) and the smell of wood. And in the case of stone, one can obtain both surfaces as rough and varied depending on the temperature.
Organic materials
Today 3D printing has evolved to allow us to 3D print human tissue that is made from a gel structure, in which living cells are injected to begin the construction of the biological tissue. The limit to this technology is the constant supply of blood needed that allows the cells to remain alive during the printing.
The company that is pioneering this technology is Organovo with the NovoGen MMX BioPrinter, but there are also other companies such as envisionTEC and different universities that have machine models to meet this new trend. Overall, a very important trend for the future of transplants and for the pharmaceutical industry in general.
Waxes
Mainly used for foundry casting for mechanical parts, art pieces and odontology (for the manufacturing of jewelry), there are several types of waxes that are currently available on the market. The first is 3D Systems who offer the VisiJet Prowax, the VisiJet Hi-Cast and the VisiJet Dentcast Dental wax-up (for the ProJet 3500 and Project 5000 3D printers that operate on MultiJet technology). On the other hand we have Stratasys who markets the 3Z Model, the 3Z Lab Cast, the More Cast and the Indura Cast. For printing using the 3Z (Max, Lab, Studio, Pro) line of printers they use a technique that is similar to that of MultiJet. In addition, you can find machines and materials at EnvisionTec and at Objet (PolyJet technology).
A video to help you better understand the 3D Systems MultiJet process:
Edible materials
A recent trend in 3D printing, the new favorites are in the creation of chocolate, cheese and frosting foodstuffs that can be printed. The printing principle is based on FDM, with a syringe instead of a conventional extrusion head. Foods are not synthesized during printing and the machines are only used for the creation of complex decorations.