Top 12 Best 3D Software For Beginners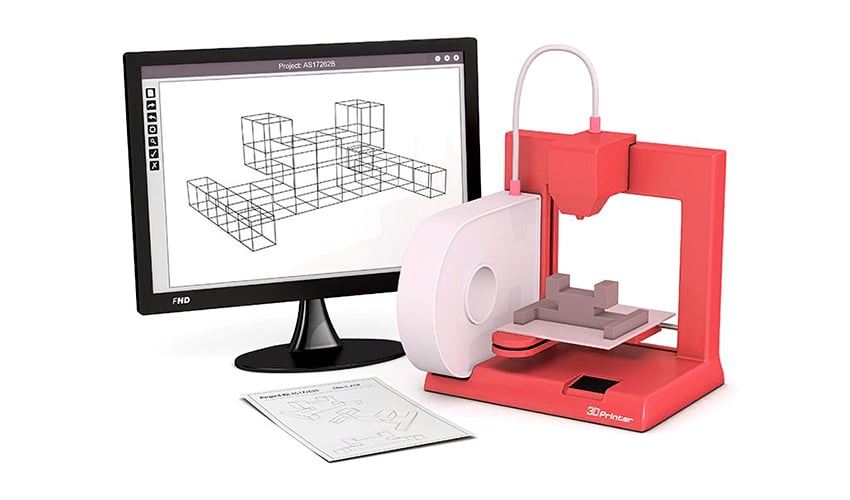 3D modeling is a key step in the 3D printing value chain, a step that allows the user to imagine the geometry of the part and its functionality. But when you are a beginner, it is difficult to find your way through the many software solutions available today. Which tool should you choose when starting out in 3D printing? There is 3D software for beginners, designed to be easy to use but also very accessible – most of them are free or include a version available directly online, without the need to download a complex program requiring an advanced computer. These softwares will allow you to give life to all your ideas and then export them in the right format to be able to print them in 3D! Discover our selection of solutions, listed in alphabetical order.
3D Slash, the 3D Software Inspired by Minecraft
If you are a beginner interested in using 3D software, it is important that it has aspects such as a simple user interface. 3D Slash software, with its content, is aimed precisely at those new users who want to design their first experiments in 3D. The software works on the principle of building blocks that can be arranged according to preference. 3D Slash offers a number of different tools as well as the possibility to see the model in a virtual reality view, as well as the projection of images or text on the model is with the current version 3.1.0. In addition to basic features, the software also has advanced features. Here, for example, the user can round off his shapes, make reflections or even size changes. The team function in particular is ideal for schools or other educational institutions, as the teacher can view the files created by their students in real time.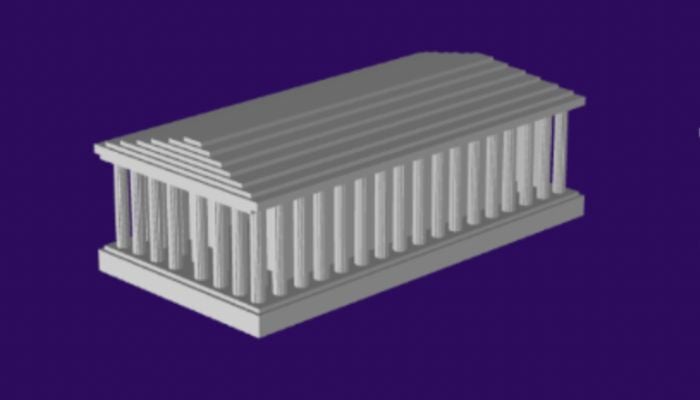 BlocksCAD, One of the Original Beginner Software
The 3D software BlocksCAD is mainly aimed at beginners in the 3D world and is available in several languages, such as German, English, Spanish, French and Italian, among others. There is no need to download the software; you can start your adventure via the website. A whole range of functions awaits you: from 3D and 2D shapes to texts and loops. Modeling, in this case, works like a construction kit with Lego bricks that can be placed in the appropriate place using the mouse click or drag-and-drop function. If, despite the ease of this application, you need help, BlocksCAD offers learning videos as well as online courses and introductory tutorials, so that you can then start directly with your 3D models. Once you have created it, you can save the model to your computer.
Leopoly, a Cloud Based 3D Modeling Software
Leopoly is a cloud-based 3D modeling software. Easy to use, it was designed to address the 3D printing market, but also virtual reality and augmented reality. Like many other software, Leopoly allows you to design a 3D model and visualize it easily on a 3D platform. To facilitate its use, there is the LeoShape function. This solution allows the user to model, by voxel (pixels in 3D) and vertex (points in 3D space), his idea from an existing file or from scratch. It is capable of automatically generating custom designs, but also tools for sculpting, 3D texturing, cutting and engraving. The user can then analyze the part to verify its dimensions and structure in space. He can then send it to the 3D printer, in several formats such as STL and OBJ. Finally, Leopoly detects potential errors that could occur before printing. Note that the software is accessible for companies as well as for beginners.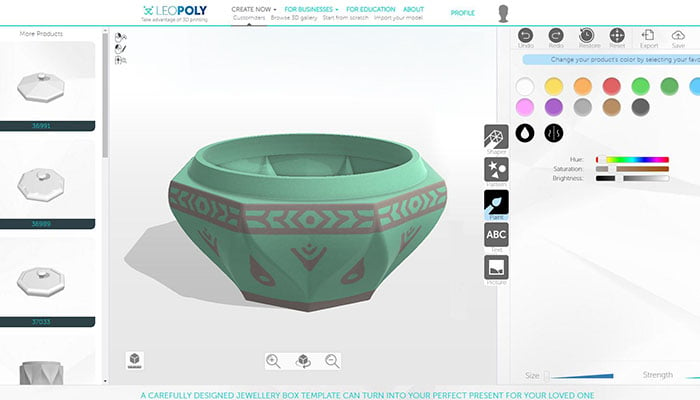 Makers Empire's 3D Design App
Makers Empire is an Australian company founded with the goal of boosting learning in STEM disciplines for elementary, middle and high school students. To do this, the company has come up with simple, fun and intuitive 3D design software for students and teachers designed specifically for educational purposes. In detail, Maker Empire offers a free design app that already allows pre-schoolers (5 years old) to draw outlines, shapes and build models in 3D on a PC, tablet or cell phone. Students can use the software at school, or at home, and send the completed design to the teacher, via the same app. Teachers can download their students' 3D designs as .STL files and print them with a 3D printer or send them to a printing service. The application is available for iOS, Android and Windows operating systems and is used in more than 50 countries. Along with the app, Makers Empire also offers a paid training and support plan to direct teachers to use the software.
Moment of Inspiration (MoI), an Intuitive Software
Moment of Inspiration (MoI) is a software available for both Windows and Mac. It is especially useful because the user interface has been designed to be very intuitive. Therefore, it is a suitable 3D modeling software for beginners or for those who are overwhelmed with the complexity of the existing CAD tools. Most users are either designers or artists, however the advanced Boolean functions, i.e. True/False data, allow the creation of mechanical models. The license costs $295, and if you has purchased the software in the past, you can pay $100 to upgrade to the latest version, MoI v4. New features of the update include 64-bit builds for both Mac and Windows and an overall increase in speed.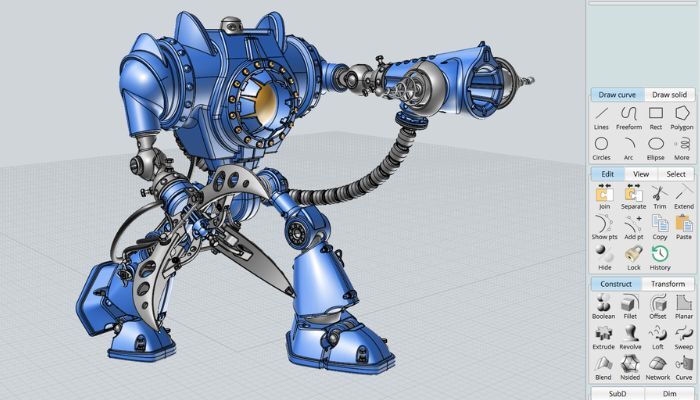 Morphi, Using Drawing to Create 3D Models
Morphi is a beginners 3D modeling app from New York City-based Inventery. Morphi can be used on three different platforms: iPad, Mac, and Windows, on- or offline (a mobile option is currently in alpha testing). Morphi allows you to create 3D models using 3D drawing, and can also transfer 2D drawings into 3D models. When used on iPad, the app can also offer Augmented Reality using Apple's ARKit, so the user can add 2D or 3D elements to the view from the camera – as if the product was really in the room! Morphi can be trialed for free on Mac and Windows, and is free on iPad with one purchase. In terms of the usage of designs, two things stand out. First, you can animate designs using their preset animations or  keyframes. Secondly, you can export finished files to the Metaverse and use them  to make videos, gifs, or pictures to share on social media, so you can use the software not only for 3D printing.  While the application itself is free, you will have to pay to open specific 3D models and application tools. If you are interested in using this version in schools, there exists another version just for this, the Morphi Edu, which is priced at $4.99 for 20 downloads.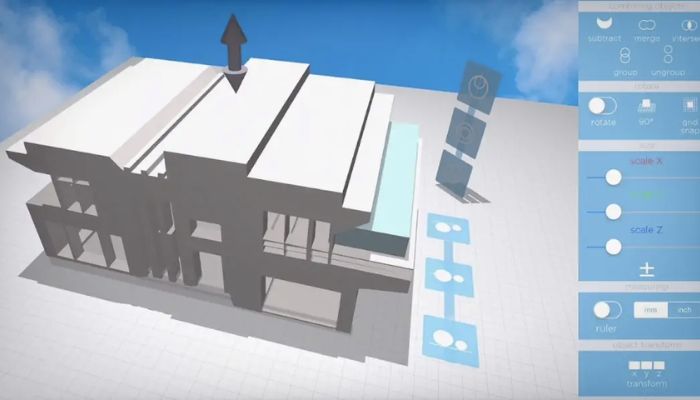 SculptGL, an Online Beginner's 3D Software
Next up on the list is SculptGL, a free 3D sculpting CAD program that was created by Stephane Ginier, a University of Montreal exchange student. Apart from being free, which of course is always a benefit especially for new users of 3D technologies, the software is very convenient because it is actually entirely online. Completely browser-based, it does not make users create accounts and could be very useful especially for devices with limited storage space or memory. Moreover, the interface itself is extremely user-friendly and easy to work with, making it especially ideal for those working on learning 3D sculpting. Essentially, users have the option to start with a sphere, cube or cylinder which they can then adapt using the available tools. However, it is important to note that it does not actually have hollowing or cutting functions right now, which could be a disadvantage when it comes to 3D printing, though you could always pair it with a second software to get optimal results.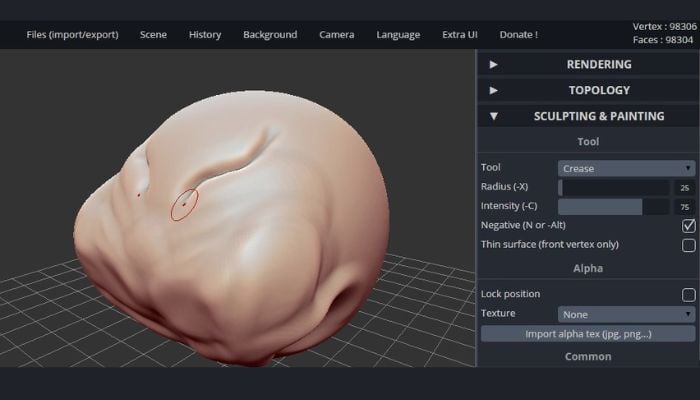 Sculptris, Digital Sculpting for a 3D Model
Sculptris uses a type of "digital sculpting" as the basis for creating a 3D model. In other words, models are created similar to molding an object out of clay using various tools. First, one starts with a sphere, which the user can then model as desired by stretching, digging, smoothing, etc. This makes it an ideal tool for creating animated characters or video games. Sculptris is free and belongs to Pixologic, the creator of Zbrush. Although the software is no longer in development, you can still download it on Windows PCs. However, it may not be compatible with new operating systems. Sculptris is particularly suitable for beginners, since a 3D model is produced rather intuitively. Besides, the final 3D model is saved in OBJ format. Sculptris is HERE.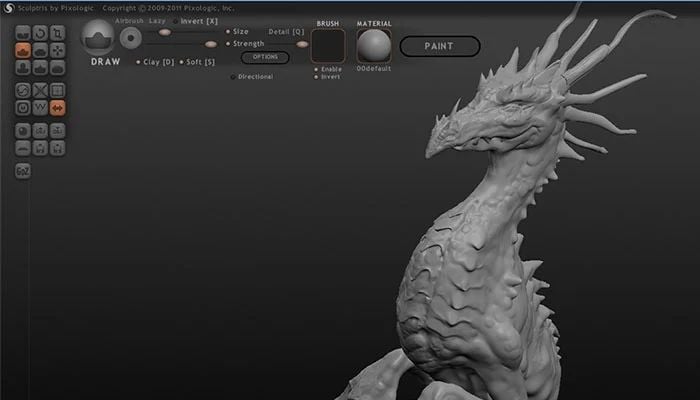 SelfCAD, a 3D Design Software for Beginners
Launched in 2016, SelfCAD is an online computer-aided design (CAD) software that allows the creation of three-dimensional models for subsequent additive manufacturing. It is an ideal choice for users who are just getting started in the world of 3D modeling as it has been created specifically for students to make the design task easy, intuitive and simple to learn. Although it is not limited to professional engineers and mathematicians, it is worth noting that it has advanced tools for modeling, sculpting and preparation in order to achieve the best 3D printing results. In addition to being a cloud-based program, SelfCAD allows you to design with a polygon mesh system. In this way, beginners will be able to acquire the basic knowledge to later make the leap to higher-level engineering design programs.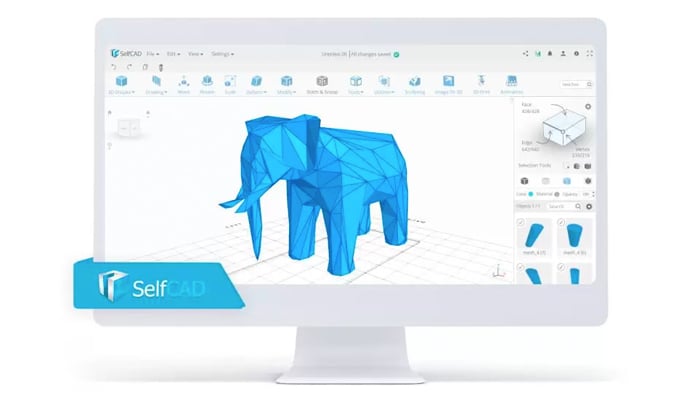 Sketchup Make, a Versatile Choice for Beginners
Sketchup Make was created in 2000 by LastSoftware for use in architectural design and is now owned by Trimble Navigation LLC. The Sketchup program is easy to use, free and offers simple tools for working with surfaces for a wide range of users. Before starting your creation, you can select a template that will guide you through the entire modeling process. One of the main strengths of SketchUp is the large online database of 3D models called 3D Warehouse that contains thousands of 3D models of vehicles, buildings or objects that give greater realism to projects. For greater efficiency, SketchUp also offers a free online cloud storage space called Trimble Connect, which allows importing projects in SKP, JPG and PNG formats and exporting each file in SKP, PNG, STL formats. In short, it is a very versatile 3D software, which maintains a good balance between usability and functionality, certainly a good choice for beginners who are serious about learning CAD. You can find more information here and also choose whether you prefer the free or pro option depending on the features you need. SketchUp Make is HERE.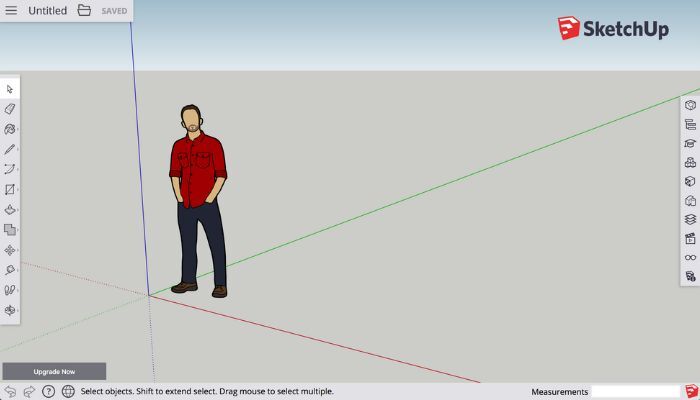 TinkerCAD, a Free Online CAD Software
TinkerCAD launched in 2011 and has been used by more than 35 million people worldwide. It is a free online 3D modeling software offered by Autodesk, and its simple block-building concept means it is aimed at complete beginners. The software is also available as an iPad app for designing on the go, and the website offers extensive resources for teachers who wish to incorporate TinkerCAD into their classrooms. In terms of the scope of the design options, users have the option to add electronics using the 'Circuits' section of the software, allowing them to design and edit virtual circuits for electronic products. Aside from the software, the website is well-equipped: if you need some inspiration, TinkerCAD also offers a gallery of free-to-use files from the community which you can download to 3D print. While simplistic, TinkerCAD is an intuitive and free software which can introduce users to 3D design in an accessible and enjoyable way.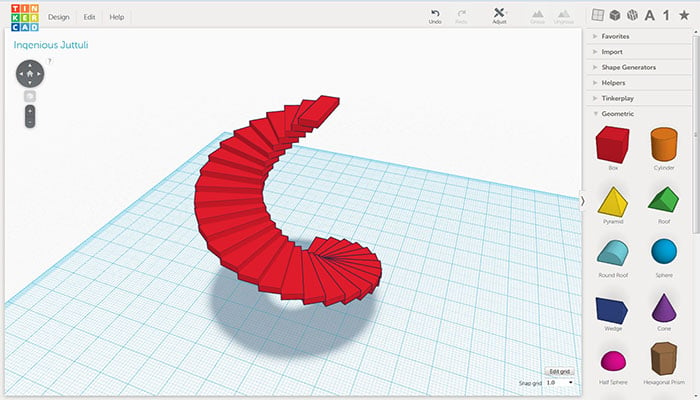 Vectary, Design Based on Mathematical Functions
Vectary allows the 3D design of parts based on mathematical functions. The software was designed to provide better designs for printed products. The software is accessible to everyone as it was designed in part for 3D printing enthusiasts. Free and easy to use, it offers free access to a large library of 3D models. The design of 3D objects is done by adding shapes, materials and textures to the initial image. The user has the possibility to customize his part as he wishes! According to the Slovakian company behind Vectary, the software could be used by a child as well as a professional. It facilitates the work by creating complex shapes on demand, thus avoiding the need to model the whole piece from A to Z. For those who are interested, a paid version exists to get more features.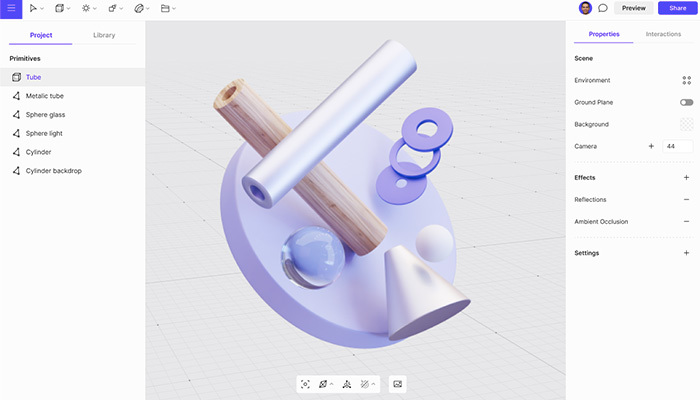 Do you know which 3D software for beginners you would choose? Let us know in a comment below or on our LinkedIn, Facebook, and Twitter pages! Don't forget to sign up for our free weekly Newsletter here, the latest 3D printing news straight to your inbox! You can also find all our videos on our YouTube channel.