#TALK3D: Interview With Terry Wohlers, the Emblematic Figure Behind the Wohlers Report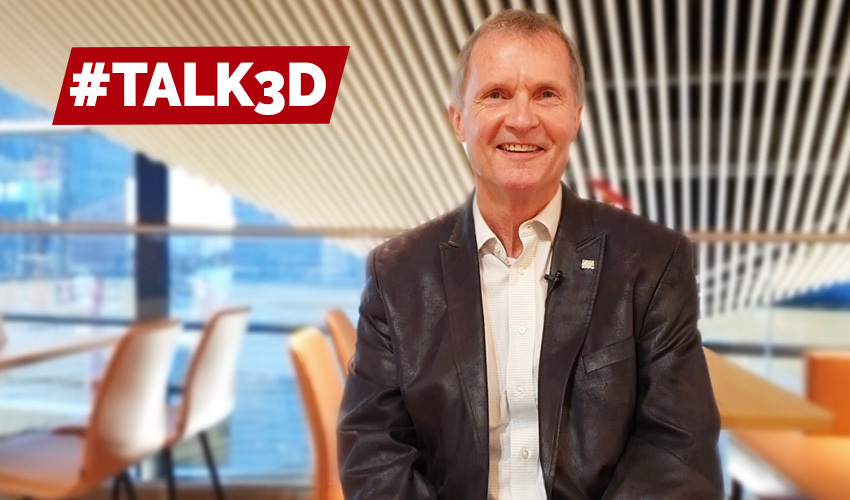 If you follow additive manufacturing news, you have undoubtedly already heard of the Wohlers Report, a study published annually by Wohlers Associates, which has been part of ASTM International since November this year. The report is a benchmark for the market and provides a clear picture of the trends in additive manufacturing and the main applications in the sector. We had the chance to meet Terry Wohlers, Head of Market Intelligence in Additive Manufacturing at Wohlers Associates and lead author of this annual study. He gave us his vision of the market and his predictions for the future. In honor of International Printing Day, we invite you to watch our latest TALK3D video!
Wohlers Associates was founded by Terry Wohlers in 1986, and for years it has endeavored to portray the additive manufacturing market through a comprehensive annual analysis. This gives industry players a comprehensive view of the 3D printing industry. Including, but not limited to, which processes are most popular, which materials are most used, what challenges remain, etc. The study shares concrete application cases, across all verticals, and is a crucial support for many in the industry when it comes to obtaining numerical data. The 2021 edition is the 26th edition of the Wohlers Report, which this year highlighted a weakened growth of 3D technologies due to the health crisis. So this year, we met with the emblematic figure of this study to learn more about the market. One memorable take-away from the interview was Terry's comment "What we know about 3D printing is exciting, but what we don't know is even more exciting," clear proof that the additive manufacturing industry still has a very bright future ahead of it.
According to Terry Wohlers, the healthcare, aerospace and consumer goods sectors will be the most impacted by additive manufacturing in the future. This is probably related to the customization capabilities offered by the technology. According to him, it will be difficult in the future to buy a product that does not include 3D printing in one of its development stages. This is great news for the market! In any case, Terry Wohlers is more than optimistic when it comes to talking about the future of the technology. For him, the new generation will be even more creative and will use additive manufacturing even more in the development of ideas, so much so that he would like to live another 100 years to follow this promising evolution!
There are still a few challenges that need to be addressed, such as the cost of machines or materials, automation of post-processing solutions, or the ability to design for additive manufacturing. In an interview Terry gave us in 2019, he explained that some players were devoting some resources to solving these challenges but it will still take some patience before they are fully addressed.
What do you think of the latest TALK3D with Terry Wohlers? Let us know in a comment below or on our Linkedin, Facebook, and Twitter pages! Don't forget to sign up for our free weekly Newsletter here, the latest 3D printing news straight to your inbox! You can also find all our videos on our YouTube channel.