Follow All the Formnext 2022 News on 3Dnatives!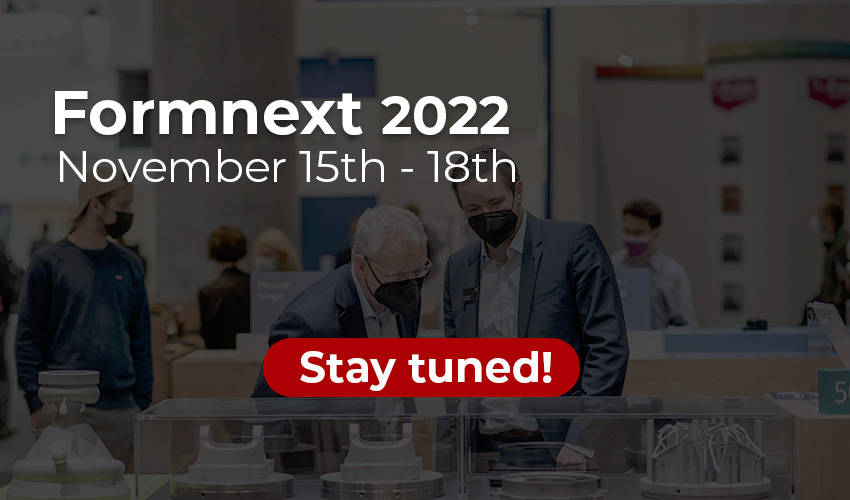 Formnext, the international trade fair for additive manufacturing, is returning to Frankfurt from November 15th to 18th for its seventh year. This time around promises to be even richer in innovations and novelties! While the 2021 event brought together more than 600 exhibitors and 17,800 visitors on a space of 38,000 square meters, this year will see more than 730 exhibitors on 50,000 square meters; proof that the market is booming. To make sure you don't miss any announcements within this international ecosystem, 3Dnatives offers a special Formnext 2022 feature that will allow you to follow all the news of the show in one click!
On 3Dnatives' dedicated page you will find the latest news from the show, exclusive interviews with key players in the industry, photos from the event, and dynamic videos to update you on the latest launches. For example, a live feed will allow you to follow live announcements from 3D printing professionals, while the program will be available for you to organize your days around conferences and workshops. You will also be able to follow our Daily Show each day and meet the trade show exhibitors live with us, as if you were there!
Formnext 2022 Newsletter: All the News In Real Time
Every year at Formnext, 3Dnatives prepares a special newsletter dedicated to the event to keep you updated with the latest news from the fair! Our team will be out and about each day among booths, exhibitors, and conferences to take the best from them and offer it to our readers. What can you expect  find in this special Formnext 2022 newsletter? Our Daily shows shot in the corridors of the fair, videos shot directly from the exhibitors' booths, exclusive images from the event, and all the latest news in real time! Follow along with us on the launch of innovative new products and materials, videos on solutions presented for the very first time, and much more!
You can also subscribe to our free event newsletter in order to receive a daily summary of all the news from the international additive manufacturing exhibition, whether you are on site, at home or at the office. This will allow you to follow along with new product launches, discover innovative materials, watch videos presenting ingenious solutions and lots more.
Register for the Formnext newsletter and through November 25th, be sure to take advantage of our Formnext 2022 page on 3Dnatives to fully enjoy Formnext, the international event dedicated to additive manufacturing. A must-attend event for all market players!