HOUSTEX 2019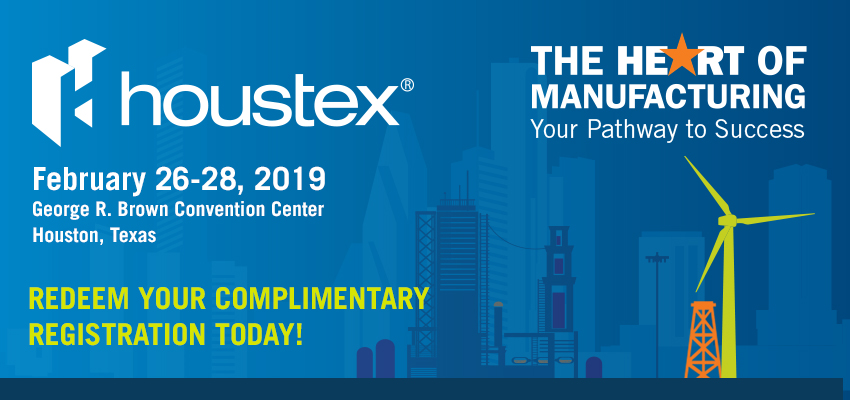 HOUSTEX is the leading Southwest trade show for the industry. The 2019 event will take place in February the 26th to the 28th in Houston, Texas.
The HOUSTEX 2019 event is an interactive experience, that is dedicated to showcasing advanced technologies and processes to help manufacturers both innovate and create industry transformation. There will be more than 61,000 square feet of exhibit space. Here HOUSTEX will feature hundreds of exhibits. It will highlight the latest products and services that has been designed to help manufacturers develop their pathway to success.
Everything from additive manufacturing to robotics, machining centers to welding, and dozens of technologies in between will be showcased. You can get to be a part of it with your own product or simply by exploring the best in manufacturing at HOUSTEX 2019. A chance to experience Southwest manufacturing and get started on your pathway to success in the industry at HOUSTEX!
Explore the Possibilities
The HOUSTEX 2019 gives you the opportunity to discover the latest manufacturing trends. Along with meeting face-to-face and get hands-on demonstrations with industry experts, to gather insights that will help you boost your business during numerous informational chances. The place to hear about the hot topics and best practices to use in your own business strategy.
Spend the time exploring the over 200 exhibitors making up the many aisles of the latest manufacturing products, software and services. Simply immerse yourself in the ever-present buzz of equipment and conversations to gain new knowledge and contacts. It could lead to critical connections with today's manufacturing leaders.
And as an exhibitor you would gain the opportunity to meet face-to-face with over 4,600 attendees. Out of these 76% have a role in purchasing decisions with 31% having manufacturing equipment budgets of more than $200,000 available to spend on. You will get a chance to expand and make an impact on the industry.
The HOUSTEX 2019 is the 26th to 28th of February in the heart of manufacturing—Houston, Texas, produced by SME and AMT.
Register you or your company HERE.