Zortrax Endureal: high-temperature 3D printer for industrial manufacturing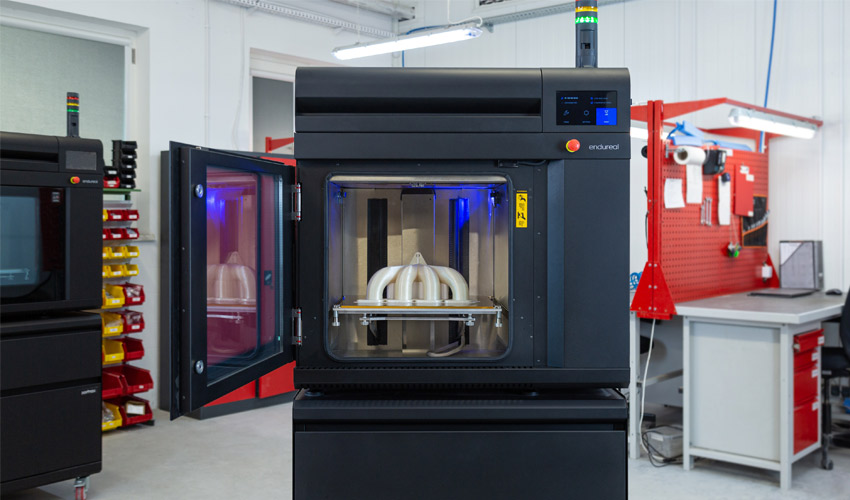 Last year, the Polish manufacturer Zortrax announced the arrival of a new industrial 3D printer with dual extrusion: Zortrax Endureal. This machine is capable of printing high-performance materials such as PEI or PEEK, thanks in particular to its controlled temperature management feature. After several months of tests, including a key partnership with the European Space Agency (ESA), the manufacturer now announced the immediate commercialisation of the machine.
Designed for demanding sectors such as the aerospace industry, the Zortrax Endureal integrates numerous sensors to enable the user to monitor printouts in real time and minimise the risk of errors. It has a generous print volume of 400 x 300 x 300 mm, a maximum accuracy of 100 µm on the Z-axis and is compatible with a wide range of thermoplastics. The machine offers a maximum extrusion temperature of 480°C, combined with an aluminium build plate capable of heating up to 220°C and an enclosed chamber capable of up to 200°C.
On the material side, Zortrax offers its own range of materials including Z-PEEK, wear and abrasion resistant; Z-PEI 9085 for aerospace, Z-ESD, or Z-ULTRAT Plus. The manufacturer also offers soluble carrier materials. The filaments are stored in a dedicated heated compartment to ensure optimum storage and print quality.
Zortrax has been working with the European Space Agency on aerospace applications for more than a year. The objective is to design durable composite parts from a combination of two PEEK polymers, one standard and one conductive. ESA has reportedly succeeded in printing components on the Zortrax Endureal, specifically models with data and electrical power transmission paths. Thanks to additive manufacturing, the organisation was notably able to reduce the total weight of the parts, a key element to improve part performance in the aerospace sector.
Atome3D, distributor and integrator of 3D printers, is to date the only distributor of the Zortrax Endureal in France. The 3D printer is present in their showroom located in Toulouse (31). Benoît Michaut, founder of Atome3D, states: "By adding the Endureal model to our range of industrial products, we are continuing our policy of providing our customers with the best additive manufacturing solutions in high-temperature materials" . More information can be found on the distributor's website and in the video below:
What do you think of the Zortrax Endureal? Let us know in a comment below or on our Facebook and Twitter page! Don't forget to sign up for our free weekly Newsletter, with all the latest news in 3D printing delivered straight to your inbox!