Ziflex : a flexible printing platform for 3D printers on kickstarter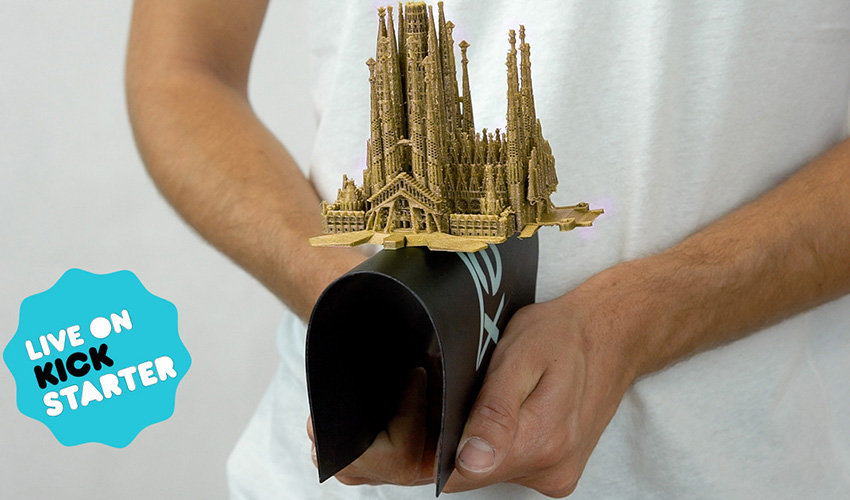 French startup Zimple is launching a new Kickstarter campaign for its Ziflex solution, a magnetic and flexible building platform for FDM 3D printers to facilitate the removal of 3D printed parts. This new equipment is compatible with most office machines – Zimple makes different shapes and sizes to measure.
The French Zimple innovates again with Ziflex
Last year, we introduced you to Zimpure, a filtration system for 3D printers designed to reduce toxic gas emissions during the printing process. This time, the startup is interested in another challenge of additive manufacturing namely the detachment of the printers parts from the printing plate. A step that can be tricky with the risk of cutting, breaking the glass tray, damaging the print surface or the part directly. Antoine and Nicolas, the co-founders of Zimple, have therefore devised a magnetic and flexible solution to circumvent these risks while offering an affordable price.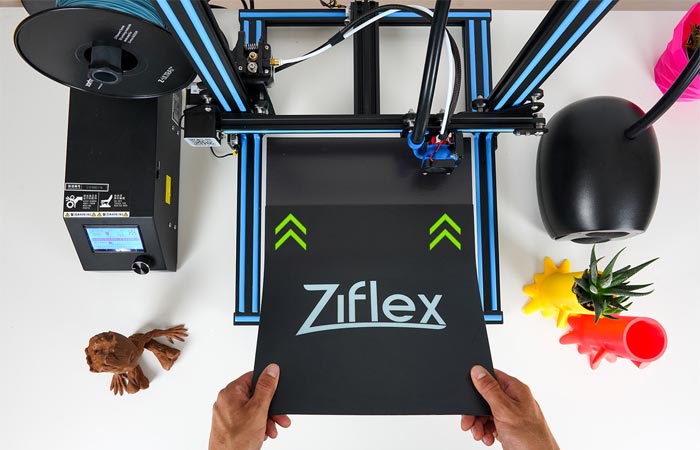 Ziflex comes as a removable tray to be placed on the printer bed which, instead of using magnets and solid sheet metal, is composed of directional magnetic sheets on both sides. The startup explains that this makes it easy to remove and reposition the tray in seconds while ensuring proper alignment with the printer and a very strong magnetic grip. The printing surface is made to optimise the adhesion of parts during printing, similar to a BuildTak. Its flexibility makes it possible to remove the 3D printed parts much more quickly – in principle, there's no more need for a spatula and it is time saving! Nicolas says: "If you have trouble removing your prints or they don't stick well to the tray, Ziflex is the solution for you. With Zimple, we want to bring solutions that address the problems and needs of 3D printer users "
A specially designed tray for easy 3D printing
On the technical specifications side, the Ziflex complete system is a 1.7 mm thick plate that is made of a coating specially designed for 3D printing, two magnetic sheets and a 3M adhesive. It can withstand temperatures up to 90°C and would be fully customisable in shape and size. Zimple offers different basic sizes – from 10 square cm to 1 full square meter – in rectangular or round shapes, the idea being to adjust the solution to any printing surface but also to cartesian or delta 3D printers.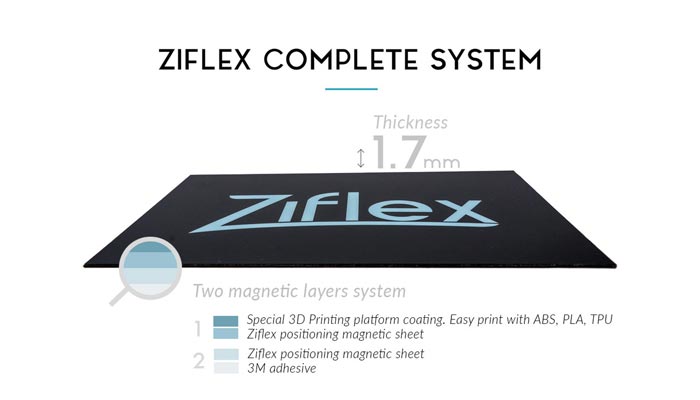 The startup is in the process of launching a Discord to identify the needs of each user to propose a suitable Ziflex. The price of Ziflex will depend on its size but remains globally very accessible – Zimple offers 30% discount for the duration of its Kickstarter campaign. Here are the prices proposed for the duration of the campaign: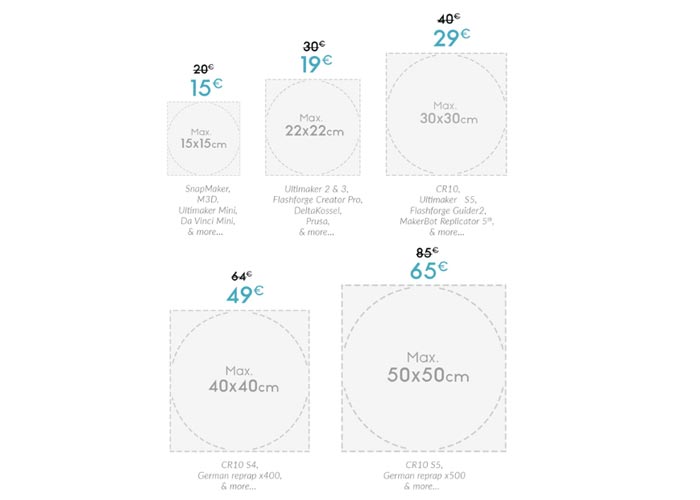 The Kickstarter campaign will end on July 30th. Production should begin in August, with delivery scheduled for next October. To get your hands on Ziflex, you can back the project on Kickstarter here.
What do you think of the Ziflex solution? Let us know in a comment below or on our Facebook and Twitter pages! And remember to sign up for our free weekly Newsletter, to get all the latest news in 3D printing send straight to your inbox!