Curtiss' Zeus 8 electric motorcycle combines 3D printing and machining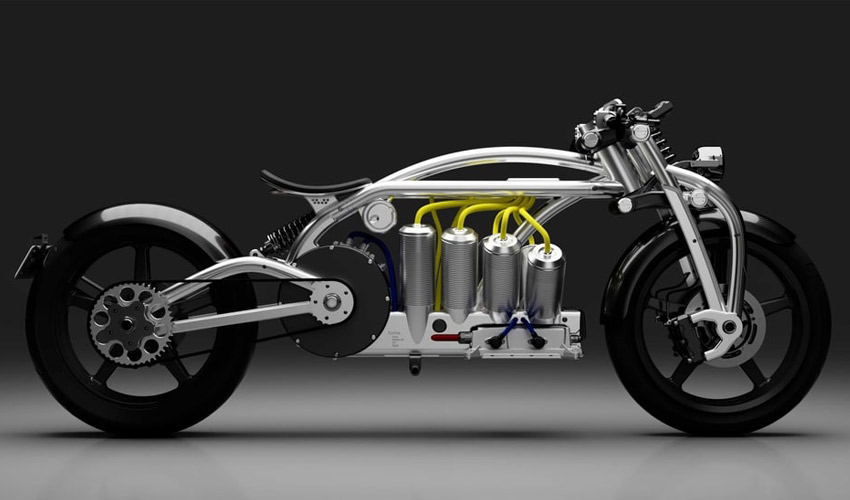 Curtiss Motorcycle Company is an American startup specialised in the development of electric motorcycles and focused on more sustainable vehicles. The startup recently worked with the Fast Radius 3D printing department to make about sixty prototype parts of their new motorcycle, the Zeus 8. The motorcycle will also include many components created by subtractive manufacturing, illustrating the complementarity between these two methods. Curtiss' Zeus 8 is expected to hit the market in 2020. 
The American manufacturer joins the few players who have turned to additive manufacturing to develop their motorcycles, whether electric or not. Recently, we presented the Polish project Falectra, a prototype of an electric motorcycle that was created thanks to 3D printing. It is a method that accelerates the time to market for certain products, bringing ideas to life more quickly. Moreover, additive manufacturing is increasingly used for final production, proof that manufacturers have greater confidence in the technology.
So far, Curtiss has developed two motorcycle models, Zeus and Hades, which have a rather original and open design. This Zeus includes a battery that recalls the v8 engines where the 8 cylinders are placed in a "V" shape. Curtiss designer Jordan Cornille explains: "With the battery cells packaged inside eight cylindrical towers configured in a flaring radial 'V' pattern, we're not only able to tap into Glenn's iconic V8 form language, but we're also able to achieve maximum battery cooling efficiency. In this case, there exists no compromise between form and function."
3D printing part of the Zeus 8 manufacturing process
Curtiss Motorcycle Co. was participating in the Quail Motorsports Gathering show in California and wanted to present a first prototype of Zeus 8, therefore the manufacturer turned to additive manufacturing to have a prototype on time. They worked with Fast Radius which allowed the 3D printing of 60 parts. The entire manufacturing process took only 12 days. Fast Radius explains that it has opted for 5-axis CNC milling for the largest components of the motorcycle while 3D printing has been favoured for the smaller parts. We do not know what technology was used – the printing service now covers a wide range, from Fused Deposition Modeling to Multi Jet Fusion, SLA and Selective Laser Sintering. 
One thing is certain, the two partners have started the production of 100 Zeus 8 motorcycles. Curtiss is even considering 3D printing other functional parts of the vehicle such as the handles. Brian Simms, Vice President of Sales at Fast Radius, concludes: "Our partnership with Curtiss is ideal because it allows them to do what they do best – design great bikes – while doing what we do best: match the project to the right technology and get quality parts manufactured quickly. We look forward to innovating with Curtiss as they develop their brand." 
It is necessary to count $750,000 for this electric motorcycle which should be available in early 2020. You can find more information about the Zeus 8 from Curtiss HERE.
What do you think of the Zeus 8 prototype? Let us know in a comment below or on our Facebook and Twitter pages! Don't forget to sign up for our free weekly Newsletter, with all the latest news in 3D printing delivered straight to your inbox!