How do Laboratories and Research Centers Benefit from Ceramic 3D Printing?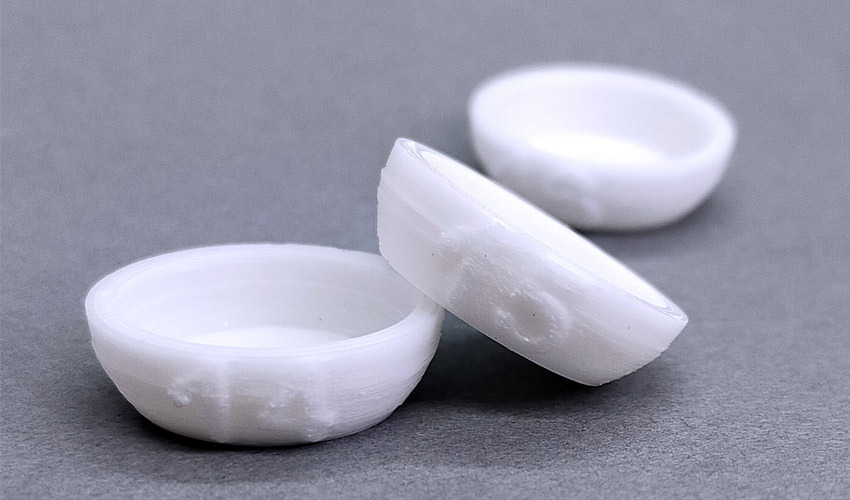 In 2018, French company Nanoe launched its additive manufacturing material offering. Called Zetamix, it offers ceramic and metal filaments for extrusion processes (FFF). It facilitates the creation of customized ceramic and metal parts for professionals and manufacturers. Today, many research laboratories use these ceramic materials for a variety of applications,. For example, to design sample holders, gas blower components or crucibles. Ceramic 3D printing offers them more freedom in terms of design while maintaining the necessary thermal and chemical properties.
We met with three research centers to understand the added value of ceramic additive manufacturing and Zetamix filaments: shorter production times, lower costs, customized design, the benefits are many. The Ceramic Processes and Associated Processes Laboratory (LMPCA) studies technical ceramics for biomedical, electrical and electronic applications, from their development to their characterization. Zetamix materials are part of this study and are also used to manufacture various tools. The second laboratory is the ESFR, an international research center that focuses on the structure of materials with atomic resolution. Finally, the materials center at Mines ParisTech is trying to understand the influence of manufacturing processes on the properties of materials.
The creation of custom-made technical ceramic pieces
The experiments carried out in research centers require various equipment and tools that most often meet very specific needs. Custom-made parts must be manufactured to ensure that the experiment runs smoothly. Most of the time, these specialized laboratories need sample holders and other tools that are heat resistant or have very specific chemical properties.
At ESRF, for example, scientists work with a synchrotron, an electromagnetic instrument that accelerates elementary particles to high energy. Research teams come from all over Europe to analyze samples using this equipment. This work requires parts that are mechanically resistant and able to withstand extreme temperatures, but above all parts that are tailored to the different samples and conditions required by each research team. Indeed, the use of the synchrotron is very regulated, the beam time being precious. Some scientists prepare their experiments a year in advance and cannot afford to waste time with faulty equipment. This is where 3D printing has a role to play – its speed and multiple iterations offered make it an ideal manufacturing method in such situations. Teams are now able to design, print, sinter and test custom parts in as little as 32 hours. While some parts are 3D printed with plastic on a Prusa or machined from metal, others need to be more heat resistant. Many experiments are conducted with varying temperatures, from -270°C to 1200°C (-454 to 2192°F), and Zetamix filaments are an ideal solution.
Indeed, Zetamix ceramic materials are compatible with conventional FFF 3D printers, making the manufacturing process much easier. After the debinding and sintering steps, the result is a custom engineered part that offers good thermal insulation, temperature resistance up to 1600°C, and high density, all at a reduced cost. This allows laboratories to multiply iterations and experiments and to imagine more complex designs.
Improving the quality of experiments thanks to Zetamix
The materials center of Mines ParisTech has invested for some time in 3D printers and a sintering furnace in order to multiply the possible experiments and improve their quality internally. It conducts various studies to understand the impact of manufacturing methods on the properties of materials. Many tests are then carried out (traction, heat resistance, etc.) which require specific sample holders. Using FDM 3D printing, researchers are designing more technical ceramic parts – for example, they have 3D printed an alumina support to anneal metal specimens made by laser fusion or powder bonding. This support allows annealing of tensile specimens before mechanical testing. Zetamix is the only solution that provides a temperature-resistant alumina support and a circular design that is essential for a better distribution of the parts in the furnace, thus improving annealing quality.
At ESRF, they have also found that additive manufacturing, especially with Zetamix materials, facilitates the creation of novel designs at relatively low cost. Carlos Cosculuella and Yves Watier of ESRF stated, "We are currently working on much more complex designs for total environmental control using Zetamix. For example, we are planning to produce a water-cooled microfurnace with internal channels for cooling, reagents and temperature measurement. This type of part is not yet ready, but when it is, it will greatly improve the quality of the analysis for specific experiments. And of course, this could not be done with any other technology."
Better supply chain management
Using ceramic additive manufacturing also allows laboratories to better manage their inventory and supply chain. Using the Zetamix solution, the LMPCA 3D prints crucibles for thermogravimetric analysis. Thermogravimetric analysis measures the mass loss of a material continuously during sintering. This material is usually placed in a crucible, a small part that is expensive to produce because it is made of alumina (aluminum oxide) in order to resist high temperatures. These crucibles are generally single-use because they are contaminated by the studied material. The laboratory must therefore manage its stocks precisely to avoid interruptions in testing. This is why it 3D prints them: thanks to 3D printing, the lab can reduce manufacturing costs all while producing the necessary quantities at the moment when they need them .
Finally, the LMPCA relies on Zetamix filaments to produce consumables used on its dilatometers. These devices measure the sintering temperature of ceramics; thanks to a contact probe, they can calculate the shrinkage of a part in real time. However, during the sintering cycle, this probe as well as the sample holder are likely to be deformed or even broken, risking to distort the measurements. The laboratory therefore relied on ceramic 3D printing to manufacture these parts in-house, which allows them to better manage flows and stocks, but also to design custom parts for very specific needs.
Ceramic additive manufacturing therefore offers more flexibility and agility to specialized laboratories and research centers. Zetamix materials fit into this logic while offering the right mechanical and chemical characteristics. You can find out more on Zetamix's website HERE.
What do you think about Zetamix and using ceramic 3D printing for research? Let us know in a comment below or on our Facebook and Twitter pages. And don't forget to sign up for our free weekly newsletter, with all the latest news in 3D printing delivered straight to your inbox!