TOP 10 XXL FDM 3D printers
Posted On January 16, 2018
---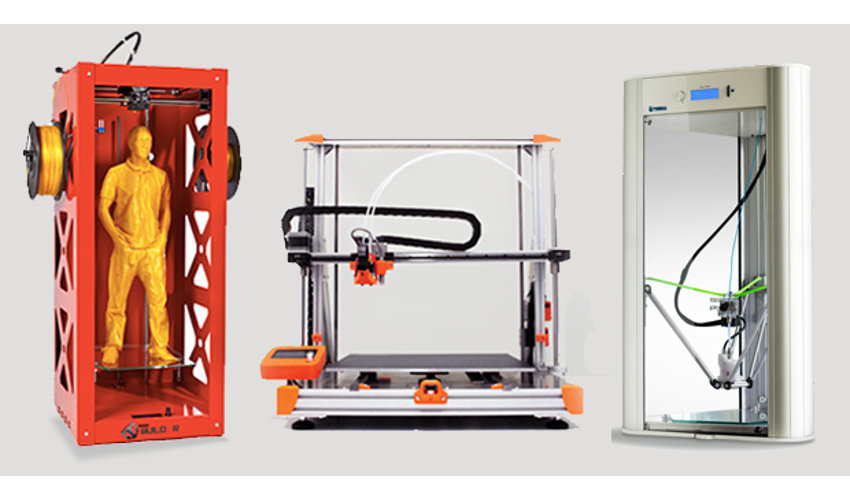 Often it is believed that personal FDM 3D printers are limited to only making smaller models, although companies are innovating towards offering machines that are larger than before. From the Duplicator 5S to Wanhao, discover our list of the TOP 10 largest FDM 3D printers that offer the largest print volume.
The best XXL 3D Printer: Our Top 10 FDM 3D Printers
We analysed a variety of different fused deposition modeling 3D printers by many different brands to narrow it down. Since most FDM 3D printers have smaller print volumes there wasn't as much variety as with 3D printer kits however. We came to an agreement over the 10 best XXL 3D printer and kits however to present to you today.
1. Ultimaker 2 Extended+
The Ultimaker 2 Extended+ was developed by the Dutch company Ultimaker and has the largest volume out of their models. With a maximum volume of 223 x 223 x 305 mm, it is marketed at a price of $2,999 USD (about £2,390) and works with PLA, ABS and Nylon. For more proof of its quality, Apple has integrated the brand Ultimaker within their online store. Compare the Ultimaker 2 Extended + in our Comparator here.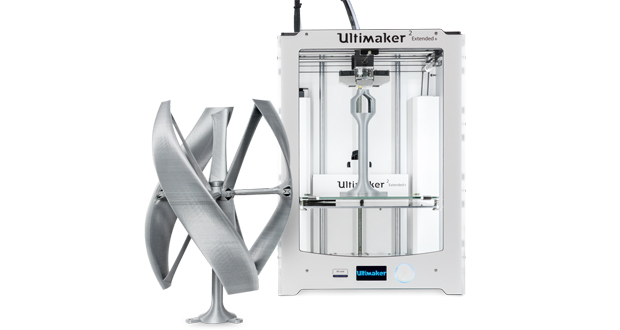 2. Wasp Delta 20 40
This 3D printer was developed by the Italian manufacturer WASP. The Delta 20 40 has a volume of : 40 cm (15.8 in) high with a diameter of 20 cm (7.9 in). Its stretched design (typical of delta printers) and its structure combining aluminum and Plexiglas, gives it an elegant look. It is equipped with an LCD screen that controls the impressions, has a heating plate, and is capable of reaching a layer of thickness of 50 microns. Overall, this is an efficient machine that is available for around €2,370 (about $2,980).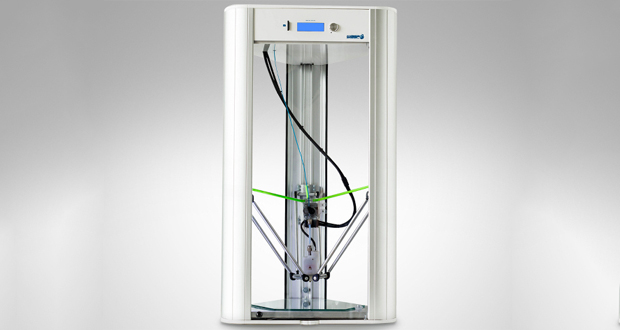 3. Lulzbot Taz 6
Lulzbot, an American brand based in Colorado, designed this 3D printer with a print volume large enough to allow you to print objects such as a basketball: 280mm x 280mm x 250mm. It is equipped with an automatic calibration system and even comes with a proprietary software called Wanhao maker. You can purchase this printer for a price of $2,500 (about £1,990), excluding shipping costs. Compare the Lulzbot Taz 6 in our Comparator tool here.
 
4. Rostock Max
This model was developed by the American brand SeeMeCNC. It is a Delta 3D printer, which means that it is a machine that relies on polar coordinates (instead of Cartesian coordinates) to move its extruder with three articulated arms. With a speed movement of the extruder of 300 mm/s, it also has a special shape that allows it to make pieces at maximum dimensions of 275 x 275 x 400 mm. It is currently marketed at a price of $1,899 (£1,530), excluding the transport costs. Compare the Rostock Max in our Comparator here.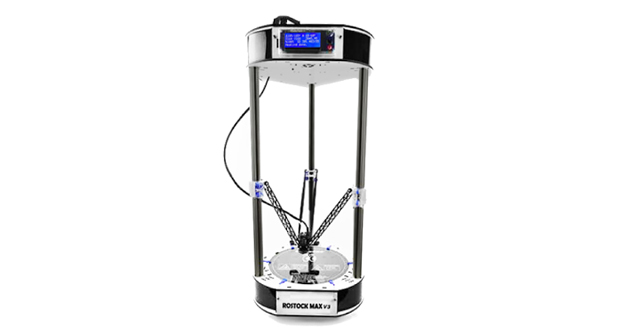 5. MakeMendel MegaBot
This MegaBot is a printer that is sold by the website MakeMendel and is supplied in kit form. This machine has a horizontal print volume of 700 x 220 x 185 mm and while it remains relatively limited in height, it does have an LCD screen, SD card reader, and it is automatically calibrated. So how much does it cost? Only $1,299 (£1,035), excluding transport costs.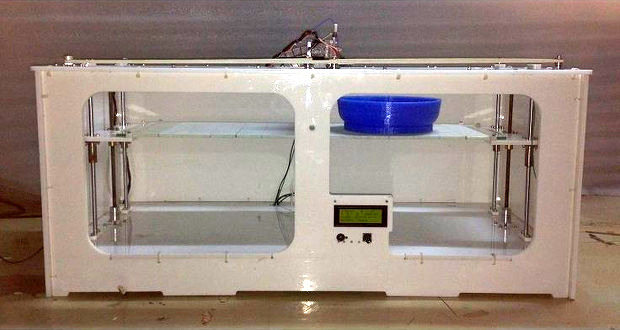 6. Big Builder
This machine comes to us from the Dutch manufacturer 'Builder and works' with two filament coils for a single extruder! This makes it possible (among other things) to print in two different colors or materials, thanks to a process called DualFeed (combined with the ColorMixing software). Another advantage with this machine is that the BigBuilder has (as its name suggests) a high manufacturing volume of 220 x 210 x 665 mm. This machine is available for around $1,999 (£1,590). Compare the Big Builder in our Comparator here.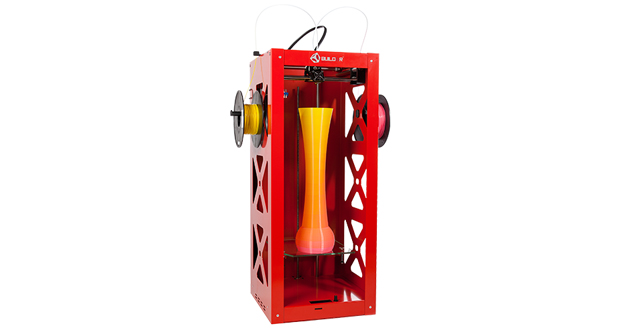 7. Wanhao Duplicator 5S
The manufacturers at Wanhao have brought us the Duplicator 5S which happens to be the highest 3D FDM printer within our Top 10, standing at 860 mm (34 in) high! With these large dimensions, it offers very nice volume for your printing needs at 305 x 205 x 575 mm. You can also buy this printer for almost $1659 (£1,320), excluding shipping costs. Equipped with a single extruder and capable of printing in PLA, the Duplicator 5S allows for a printing speed capable of reaching 300mm/s.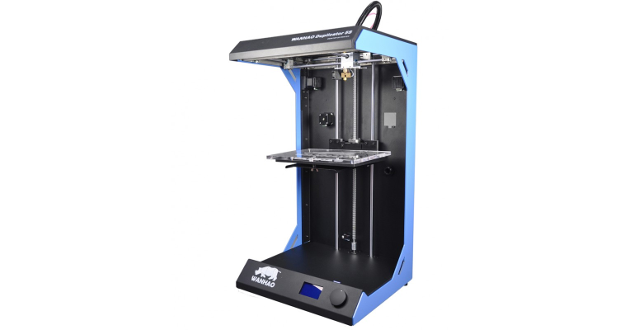 8. CoLiDo X3045 Duo
Although this brand is primarily aimed for professionals, the X3045 Duo is an affordable 3D FDM printer with a print volume of 300 x 300 x 450 mm. Marketed by the Chinese manufacturer CoLiDo at a price of $2,999 (£2,390), it is one of the newer XXL models that is equipped with a double extruder as well as a heated room for a higher quality impression.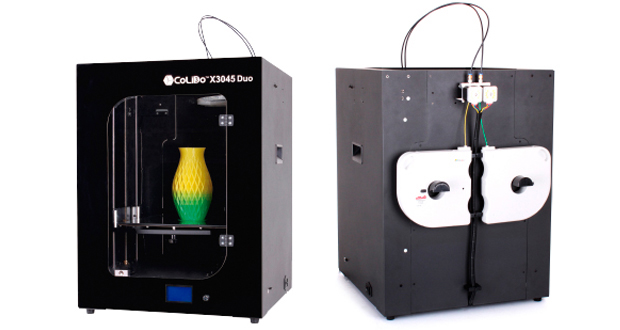 9. Dagoma Explorer 350
Best known for their low cost 3D printer the DiscoEasy 200 (Formally known as the Discovery200), the Roubais startup Dagoma also offers within its catalog a large format called the Explorer 350. The firm, after starting a 3 million euro fundraiser, has developed a machine with a fairly generous production volume of 350 x 350 x 350 mm. This includes a layer of thickness of 100 microns at a price of around €2,390 (around $2,579).
10. 3D Modular Systems Scalar XL 
Coming in at number one we have a company that is not very well known to the general public, but goes by the name of 3D Modular Systems. This company is a French manufacturer that is specialized in modular and scalable 3D printers. The brand offers two models, with each having a large volume for 3D printing. With its aluminum chassis, the Scalar XL is able to manufacture parts in a structure that has a maximum volume of 400 x 300 x 400 mm, the largest capacity in our selection! With a price of only €899.50 ($970), the Scalar XL is equipped with a heated tray, an automatic tray calibration system, an LCD screen, and an SD card reader.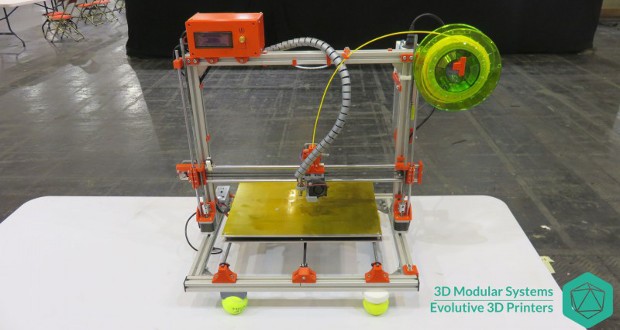 Did this list of the best XXL 3D printers help? Let us know in a comment below or on our Facebook and Twitter pages! Don't forget to sign up for our free weekly Newsletter, with all the latest news in 3D printing delivered straight to your inbox!
---
You may also like