The XXL FDM 3D Printers Under $5,000
3D printing of large parts is now possible in several different ways: since the machines are limited by the size of their build plates, it is possible, for example, to design several parts and then assemble them. This solution obviously adds a step to the production process. It is in this sense that some manufacturers have imagined larger build platforms, allowing for more generous printing volumes and the creation of large parts in one go. The XXL 3D printers currently available are numerous, with technologies and prices that vary according to the needs. Today we will focus on Plug&Play FDM machines that offer a print volume of at least 25 liters, all for less than 5,000€. They are listed below in ascending order, according to their printing volume.
The Duplicator 5S from Wanhao
Aimed at professionals, the Duplicator 5S was launched by U.S. manufacturer Wanhao in 2014 and is the first of the XXL 3D printers on our list. With a print volume of 290 x 190 x 590 mm, the machine incorporates a Bowden extruder, which is lighter than most extruders and increases the print speed to 300 mm/s. In addition, the Duplicator 5S is equipped with a cooling fan to avoid distortion problems. Fully assembled and ready to print, the 3D printer is capable of supporting PLA, nylon 645, PVA and ABS. Regarding the software required for printing, the manufacturer explains that it has updated its Wanhao Maker program, and confides that it is now accessible to all. For those who would like to buy the 3D printer, the Duplicator 5S is available on the Wanhao website from €1,210.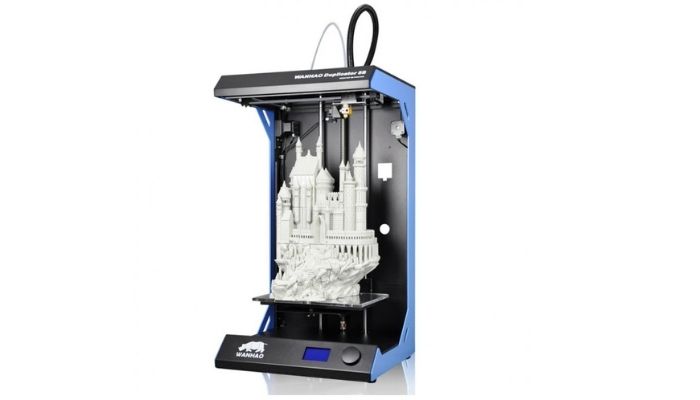 The Sigma D25 from BCN3D
The Spanish manufacturer BCN3D has a wide range of desktop FDM 3D printers. Among them, we can find its Sigma line and in this particular case, we want to highlight the Sigma D25. This machine has a 3D printing volume of 420 x 300 x 200 mm, which translates into a total of 25.2 Liters, hence its name. With this generous manufacturing capacity, the Sigma D25 integrates the Barcelona-based company's IDEX technology, which consists of double extrusion of material depending on the type of printing mode: Duplication, Mirror, Soluble Supports and Multimaterial. Among other features, this XXL machine has automatic calibration, aluminum frame, control screen, end-of-filament detector and integrates the BCN3D Stratos laminator. The Sigma D25 is available for a starting price of €3495.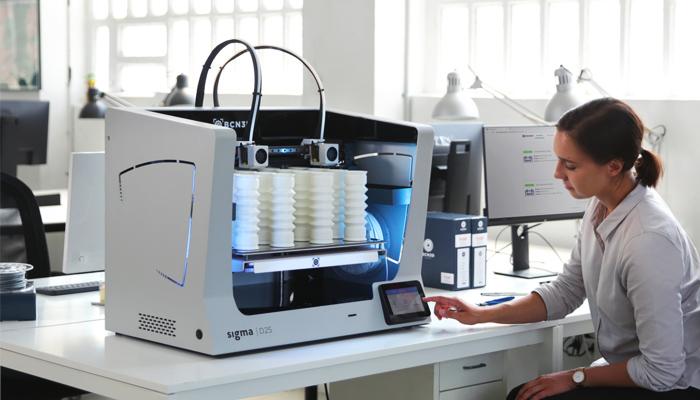 The M300 Plus from Zortrax
The Zortrax M300 Plus is a high performance machine with a large build volume (300 x 300 x 300 mm), ideal for printing large parts at once. With it you get an accuracy of up to 90 microns and it is very easy to use. In addition, it is equipped with a touch screen, a control camera, an end-of-material detector and WiFi connection, all new features that, together with the Z-Suite software, allow remote management. This remote control will allow you to manage, start and monitor your 3D prints from your computer. If, after reading this, you are interested in getting your hands on it, you should know that its price is around €3,300.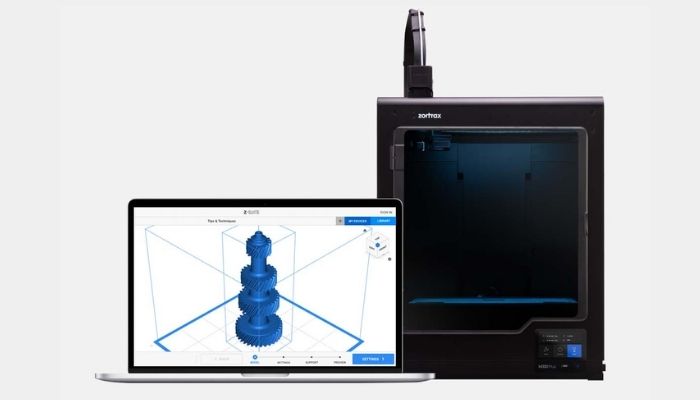 The Pro2 from Raise3D
The Pro2 is the base model from Raise3D's award-winning Pro2 series. This dual extruder XXL 3D printer has a large build volume of (12×12×11.8 inch / 305×305×300 mm) or 27.9L and has been created for professional 3D printing applications, including manufacturing and rapid-prototyping. Thanks to this, it has a number of interesting features including a metal build plate for even heat distribution, a 7-inch touch screen for efficient monitoring and a HEPA air filter for safer printing. It is also both ISO 9001 and ISO 14001 certified and capable of printing filaments up to 300C including but not limited to PLA, ABS, HIPS, PC, TPU, TPE, PETG, Nylon and PP. The Pro2 is available from a base price of $3,999.00 (€3,499.00) which also includes a 1-year limited warranty.
The X3045 from CoLiDo
Surpassing the stability and reliability of the original, the CoLiDo X3045 Duo uses a dual-feed print head to create large multi-color, multi-material 3D prints, which brings numerous possibilities to your printing and makes 3D printing with this printer go beyond limitations. Its incredible construction volume of 300 x 300 x 450 mm allows you to make industrial type prints. You can purchase the incredible Colido printer for approximately €2300.
The F410 from Fusion3
The American manufacturer Fusion3 offers several FDM 3D printers; among them is the F410, a machine that offers a printing volume of 36.9 liters. It offers a printing speed of 250 mm / s, a heating plate of 140 ° C and a closed chamber that can reach 45 ° C. It is compatible with a wide range of thermoplastics, from PLA to the most flexible materials through ABS and PETG. Three different printheads are available to meet the requirements and needs of users. The machine is available from €4,540 which makes it the most expensive solution of our selection.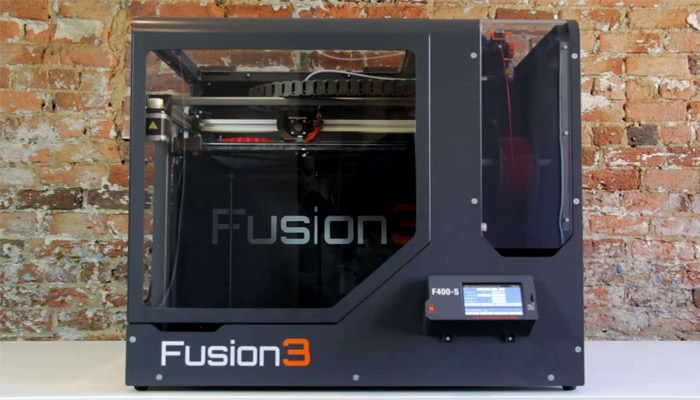 The Z3 from Zaxe
Launched just last year, the professional XXL FDM 3D printer Z3 marked Turkish company Zaxe's move to the international stage after great success in its home country. The Z3 has a build volume of 400x300x350mm, or 42L, and is the largest printer currently offered by Zaxe. Due to the fact that it is a professional FDM printer, it also has a number of useful features of users including fully automatic print calibration, a more flexible printing surface and a HEPA filter. It is compatible will all standard 3D printing filaments and has a max printing speed of 300 mm/sec. The Z3 is available from a starting price of €2,790.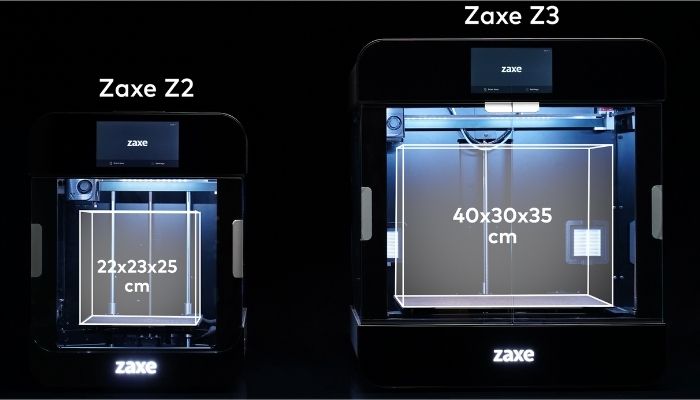 The Original Prusa XL
Developed by Prusa Research, a 3D printer manufacturer located in the Czech Republic, the Original Prusa XL has a print volume of 360 x 360 x 360 mm. This extrusion machine was released in 2021 and is capable of handling standard thermoplastics as well as engineering-grade materials. The Original Prusa XL has a CoreXY structure to eliminate stresses such as vibration and incorporates a next-generation extruder called the Nextruder. Finally, the machine is equipped with an optional tool changer with 5 independent heads and an automatic calibration of the first layer. On the manufacturer's website, the 3D printer is sold at a price of €2,099.
The Big 60 V2 from Modix
If we're talking about XXL 3D printers, then of course the Big-60 V3 from Modix can't be missing from our list! Launched in 2017, this 3D printer is already in its third version and offers an optimal competitive mix between large build volumes, high-quality components and an affordable price. Unlike its previous versions, the Big-60 V3 3D printer features quite a few improvements and specifications: the kit, delivered for self-assembly, has a print volume of 600 x 600 x 600 mm with a machine size of 906 x 1060 x 1,356 mm. In addition to a 12-month warranty and lifetime support, using Modix's Big-60 V3 also benefits from the closed chamber, which keeps heat around the 3D-printed part and improves rigidity. Print failures are also reduced with this version.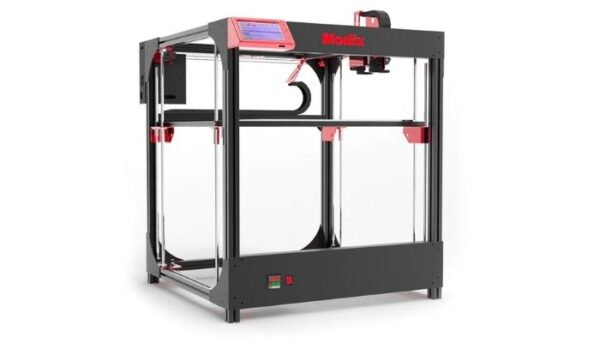 Did this list of the best XXL 3D printers help? Let us know in a comment below or on our Facebook and Twitter pages! Don't forget to sign up for our free weekly Newsletter, with all the latest news in 3D printing delivered straight to your inbox!