XtreeE prints concrete 3D printed benches with complex patterns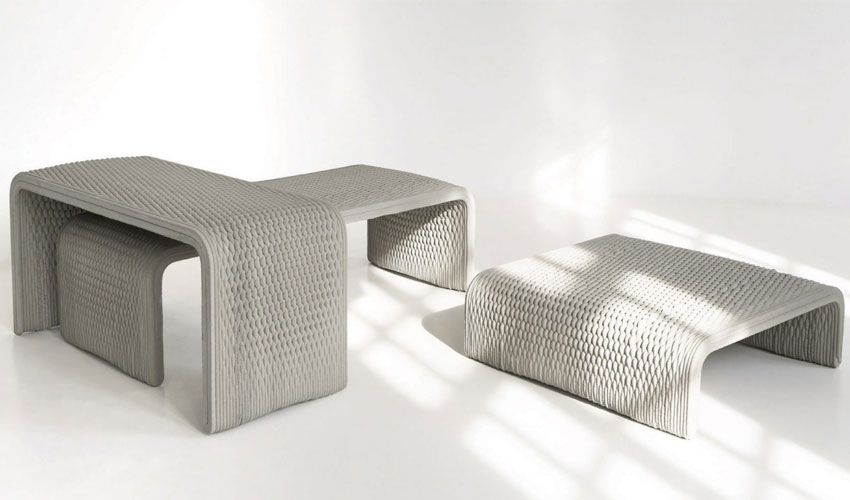 The French Startup XtreeE – 3D Concrete Printing Specialist – is presenting one of his latest works in collaboration with Studio 7.5, a German design firm. Together, they created three 3D printed concrete benches, all with the same woven pattern. The 3D printed benches will be part of Studio 7.5's bespoke street furniture collection.
These 3D printed benches meet the many application cases of 3D concrete printing. Whether houses designed using 3D technologies such as in Nantes or furniture, there is no doubt that it has the potential to upset the construction market. Many manufacturers have embarked on this niche, such as the French startup XtreeE, which has developed a 6-axis robot capable of extruding its own concrete mix.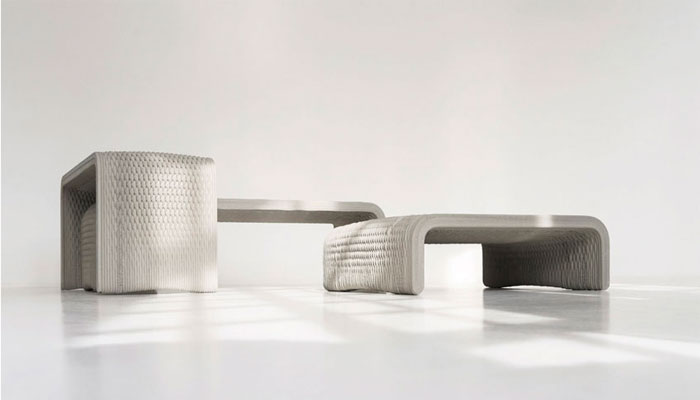 3D concrete printing offers more opportunities for the construction sector
The 6-axis robot is the machine used to create these three concrete benches. It comes down to deposit layers of material, moving in a defined movement. This movement is what is behind the creation of the woven pattern. According to the designers of Studio 7.5, it is a very complex motive to obtain with a classic mold, which would have been expensive to realise. Concrete additive manufacturing offers them more freedom. This in terms of geometric complexity but also a significant profitability.
The benches was built using a minimal amount of concrete compared to that required with molds. Thus reducing the carbon emissions created during concrete production. In addition, the team explains that they are lighter than those traditionally made and very original in their aesthetics. This is where they make us think of 3D printed street furniture in Amsterdam. Even if the material used is completely different, the shape of the benches is unprecedented and could not have been conceived other than by 3D printing.
The three benches will be part of the Studio 7.5 collection, expanding its range of 3D printed objects. They had worked with Herman Miller on the Metaform Portfolio project. This project was a collection of 3D printed office accessories made from plastic materials. You can find more information on the official website of the German cabinet.
What do you think of these three concrete 3D printed benches? Let us know in a comment below or on our Facebook and Twitter pages! And remember to sign up for our free weekly Newsletter, to get all the latest news on progress, research and more entrepreneurs in 3D printing send straight to your inbox!