XJet opens its metal and ceramic additive manufacturing center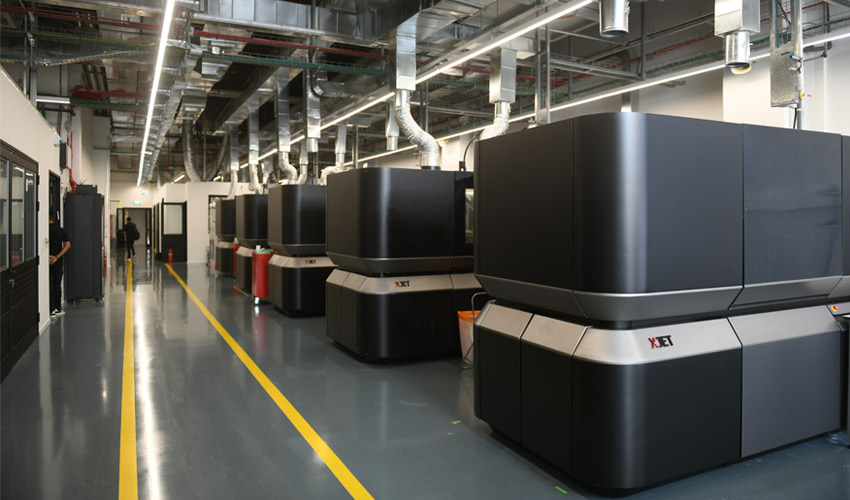 Last Monday in Rehovot, Israel, the XJet manufacturer opened its new additive manufacturing center, one of the largest in the market. With its 9 3D metal and ceramic printers, the Israeli actor intends to accelerate its research and offer a complete solution for the industry. 3Dnatives was present for the inauguration and was able to meet some members of the XJet team. A team that is now made up of 110 employees, but also clients and investors.
In 2016, XJet closed a $ 25 million investment to develop its technology called NanoParticle Jetting. In contrast to additive manufacturing methods that merge powder, the Israeli has developed a technology based on liquid droplets. These contain nanoparticles of metal or ceramic. The drops evaporate in a few seconds on the printing plate to leave room for the nanoparticles and thus form the desired part. XJet has designed two models of 3D printers, the Carmel 1400 and Carmel 700, which are distinguished by their size; the 1400 offers a print volume of 1,400 cm2, hence its name.
An additive manufacturing center to evolve technology
XJet has invested $ 10 million in its new additive manufacturing center in which it runs 9 machines. Dror Danai, CBO of the company explains that each is composed of 24 print heads that have 512 nozzles. They therefore have more than 12,000 nozzles working at the same time, each capable of projecting 20,000 drops per second. XJet hopes to add 3 more machines by the beginning of 2019. Hanan Gothait, CEO of XJet, said: " We will use our Additive Manufacturing Center to develop and demonstrate specialized applications, print test pieces for our customers. worldwide and test new ceramic and metallic materials." The idea would not be to produce finished parts for marketing purposes but to evolve its technology and go further in the available materials. Whether for the final structure or for the print media.
One of the advantages of NanoParticle Jetting technology would be post-processing and continuity in production. One of XJet's engineers explained that the print tray, once removed, could simply be immersed in water to remove the media; the workpiece is then placed in a sintering furnace. During these post-processing steps, the user of the machine can put a new tray, thus ensuring continuous production.
The visit of the center will also have made it possible to know more about the final quality of the 3D printed parts. The machines are capable of achieving a layer resolution of 9 to 10 microns and offer a high level of detail. An advantage that could not have been achieved by the use of conventional powders. XJet claims that the deposited layers are 10 times thinner than current market solutions.
XJet continues to expand internationally
The Israeli manufacturer took advantage of the event to announce a new fundraising in order to expand its activities in international markets. It has already seduced local companies but also from Switzerland, Italy, Germany, Russia and the United States. Among their first clients are Oerlikon, Syqe Medical and AB Universal. Finally, XJet introduced its first XJ3D distributor from the Carfulan Group in England. Dror Danai said, "  This is very exciting news for XJet as the designation of the world's largest distributor marks an important step in our company's strategy to build a world-leading distribution network..." He further confided to us that the technology is expected to arrive in France very soon as well. In the meantime, find more information about the technology on the official website of XJet.
What do you think of this new additive manufacturing center? Let us know what you think in a comment below or on our Facebook and Twitter pages! Don't forget to sign up for our free weekly Newsletter, with all the latest news in 3D printing delivered straight to your inbox!