ExOne launches new metal X1 160PRO 3D printer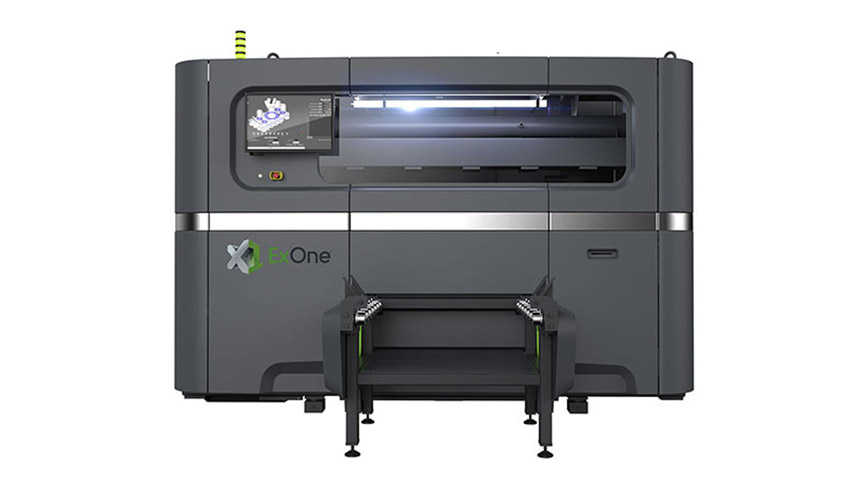 ExOne, the manufacturer of sand and metal binder jetting 3D printers, just announced it has launched a new metal 3D printer, the X1 160PRO. This new system is meant for high-volume production of quality parts, and is actually the tenth and largest metal 3D printer launched by the company. The machine is based on ExOne's technology, Triple Advanced Compaction Technology (ACT) which enables 3D printing with 6 qualified materials, including popular stainless steels, as well as some ceramics. 
It offers build dimensions of 800 x 500 x 400 mm, delivering 160 liters of total build volume. This build volume is large enough to produce investment cast parts used in the automotive, aerospace, and defense industries.  John Hartner, ExOne CEO explains: "The X1 160PRO was designed in response to growing demand from automotive, defense and aerospace customers. We're incredibly proud of what this model means for the future of metal 3D printing and sustainable production of large metal parts without design limitations."
ExOne currently offers the Innovent +, an entry level metal 3D printing solution, mainly used for research, design and small part production. The X1 25PRO was the last model released by ExOne, it will be shown for the first time at Formnext, in Germany. 
Features on the X1 160PRO
The X1 25PRO was designed for throughput, the manufacturer says that it offers more than 2.5 times the build volume of competing systems for sale today. According to ExOne, the advanced new system for dispensing, spreading and compacting ultra-fine powders delivers industry-leading density and repeatability. In terms of printing speeds, it can reach print speeds up to 10,000 cm3/hour. It features Industry 4.0 cloud connectivity and process-linking capabilities enabled by Siemens MindSphere.
As previously stated, the Triple Advanced Compaction Technology is based on metal binder jetting. This 3D printing method works with an inkjet, which prints a binding fluid onto a fine layer of powder, building a part, one layer at a time. ExOne Triple ACT focuses on overcoming one of the biggest challenges of binder jetting metal powders to perfection: dispensing, spreading and uniformly compacting ultra-fine powders with an average particle size of 9 microns. These powders' cohesiveness makes them prone to caking and difficult to dispense. 
You can find more information HERE.
What do you think of the X1 160PRO? Let us know what you think in a comment below or on our Facebook and Twitter pages! Don't forget to sign up for our free weekly Newsletter, with all the latest news in 3D printing delivered straight to your inbox!