World's first 3D printed community project is officially underway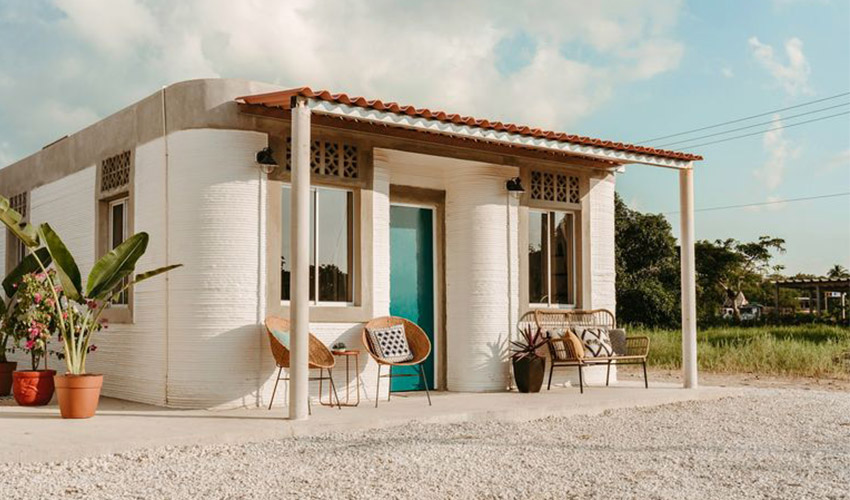 We previously told you about New Story and ICON's mission to create the world's first 3D printed community as a means to combat homelessness. At the time, the exact location of the project had not been revealed. The project is now officially underway in Tabasco, Mexico. The two players have been joined by ÉCHALE, New Story's partner in Mexico. The homes will be granted to local families currently living in extreme poverty and unsafe shelters.
Behind this project are three players, each bringing their expertise to see it through. ICON is a construction technologies company that has developed 3D printing solutions to revolutionize home building methods. The company also develops new technologies in robotics, software, and advanced materials that push the boundaries of home building capabilities. In the industry, the company is well known for its Vulcan II solution – its first commercially available construction printer – capable of producing resilient single-story buildings faster. As for New Story, the non-profit group is a pioneer of solutions to end homelessness.
After 18 months in planning, New Story and ICON have completed the first two printed homes in a remote part of Mexico. The Vulcan II was able to work under the constraints that are common in rural locations, however the company explained that the journey was not easy. Power can be unpredictable and local rainfall has often flooded access roads to the construction site. This printer, designed to tackle housing shortages for vulnerable populations, is the first of its kind. The 500 sq ft homes were each 3D printed in around 24 hours of print time across several days.
The 3D printed homes feature two bedrooms, a living room, kitchen and bath. Co-designed with feedback from the families who will live in them, the homes have been created to meet the specific needs of the community. Resting within a seismic zone, the community and its homes were engineered above the standard safety requirements including robust foundations to ensure the homes will last for a very long time.
Ending homelessness around the world
New Story is a non profit serving families in need of shelter around the world. They have been around for 5 years now and in that time have built more than 2,700 homes, for over 15,000 people, achieving this with the use of traditional construction methods. However, in the last two years the group has delved into more disruptive methods, investing millions of dollars to develop innovative solutions and R&D to help build homes better and faster for the global social housing sector. The partnership with ICON and the use of 3D printing has enabled New Story to impact more families faster, as demonstrated by this project in Mexico.
The families who will live in this community have been preselected and will move in upon community completion. New Story has partnered with local government officials to survey over 500 families in the area. The families selected for this community are the 50 families with the greatest financial and physical need. The families will have access to green spaces, parks, community amenities, and basic utilities through this master plan provided by the local government.
You can find more information HERE.
What do you think of this project? Let us know in a comment below or on our Facebook and Twitter page! Don't forget to sign up for our free weekly Newsletter, with all the latest news in 3D printing delivered straight to your inbox!