#Working3D: Six Questions for a Pre-Sales Engineer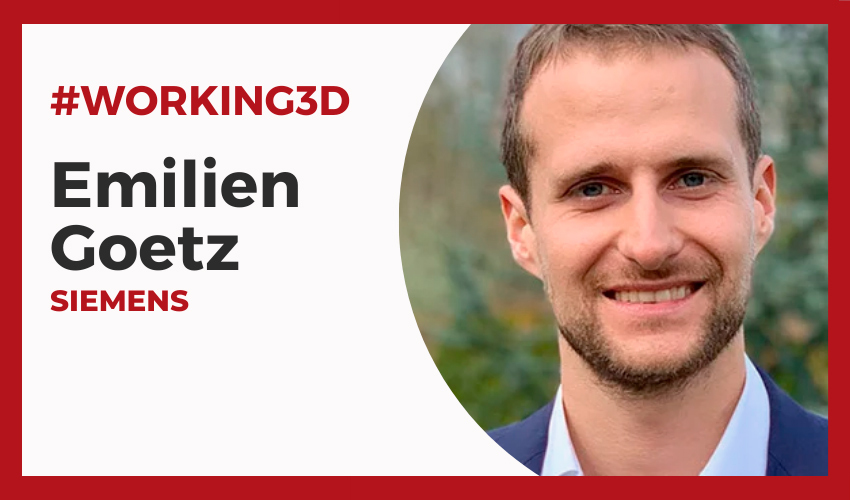 In the additive manufacturing market, the jobs and profiles are varied: CAD designers, 3D printing technicians, sales representatives, after-sales managers, etc. The 3D printing value chain includes many different links and each one requires specific skills and knowledge. That's why we wanted to start a series of articles introducing you to different jobs in additive manufacturing. Through interview, we'll meet experts in the market to understand what their job is, what their daily life is like and give some advice to future talents in the market. And to start, we met with Emilien Goetz, a pre-sales engineer at Siemens. It's a key role in the company as he is the link between customers and development teams to adapt solutions to their needs.
3DN : Could you introduce yourself?
Hello, my name is Emilien Goetz and I am a pre-sales engineer at Siemens Digital Industries Software which is the software branch of the Siemens group.
Siemens is an industrial group, leader in the railway, energy and building management sectors. Digital industries is the branch that groups together the hardware (automatons and controllers) that control production lines and machine tools, and the software that accompanies our customers from product design to manufacturing.
3DN: How did you discover additive manufacturing?
I studied mechanical engineering at ENIM, the national engineering school in Metz, France. It is a general school where additive manufacturing was not part of the curriculum. After graduating in 2010, I started working at Altair Engineering, a company specialized in digital simulation tools. It was as an application engineer specialized in topological optimization that I was brought in 2015 to work on a project to optimize an aeronautical part for 3D printing. That's how I discovered additive manufacturing. I immediately found the technology exciting, as we were finally able to manufacture the organic shapes suggested by the topological optimization without having to degrade the performance of the part due to the constraints of traditional manufacturing methods. Then I quickly specialized in the technology because we had more and more requests for it. I then joined Siemens as a pre-sales engineer, specialized in 3D printing. I have been in this position for 4 years now.
3DN: What is your current role at Siemens? What is a typical day like for you?
Let me start by explaining what a pre-sales engineer is. Siemens Digital Industries Software markets design, manufacturing and production management software as well as PLM solutions. I am part of the branch that includes design, simulation and programming tools for production. As a pre-sales engineer, I support our customers in evaluating our solutions on the NX platform that can help them develop and improve their 3D printing activities. Our customers are very diverse – from automotive to aerospace to medical to energy.
My typical day consists of creating demonstrations for our tools that can meet the challenges of our customers; participating in the main trade shows and conferences on 3D printing; and of course keeping an eye on the latest news in the 3D printing sector because our customers challenge us every day on new technologies or methodologies that emerge.
I also spend time speaking to developers: being in direct contact with users of 3D printing technology allows me to share my field experience with our teams so that they can develop solutions adapted to real needs. I travel a lot, though a little less since COVID to be quite honest, because it is essential in my job to meet our customers to understand their working methods and how they use additive manufacturing.
3DN: What are the required qualifications to be a pre-sales engineer?
In terms of training, I recommend an engineering school, with a mechanical orientation. Fortunately, nowadays many schools have integrated 3D printing technologies into their curricula.
3D printing technologies are evolving very quickly, so you have to be curious: find out what's new on the market, but also what our competitors are doing. You have to be open-minded, because you can't be afraid to explore new areas. In general, I would say that 3D printing pushes the digital chain – and therefore 3D software – to its limits. We are therefore led to discover unexplored things, to test them and to propose new ways of doing things.
In terms of soft skills, even if a pre-sales engineer is not a salesman, we are still in sales. You have to be at ease with people and have a social side, which is important.
3DN: What are the biggest challenges in being a pre-sales engineer?
The biggest challenge is adaptability because you have to be able to understand and analyze needs that can be very different depending on the industry. When you talk to car manufacturers, their challenges are completely different from those of the aeronautics industry, for example. This diversity of situations is a challenge and at the same time it is very stimulating.
3DN: What advice would you give to someone who wants to work in the 3D printing industry?
I think it is essential to remain curious and to always want to learn, because 3D printing is an exciting field that is constantly evolving. And for people like me who didn't have the chance to learn about additive manufacturing during their studies, there are some very good training courses in France that cover the design, simulation and manufacturing aspects of additive manufacturing.
Did you know the job of a 3D printing pre-sales engineer? Let us know in a comment below or on our LinkedIn, Facebook, and Twitter pages! Don't forget to sign up for our free weekly Newsletter here, the latest 3D printing news straight to your inbox! You can also find all our videos on our YouTube channel.