#Working3D: Six Questions for a Manufacturing Engineer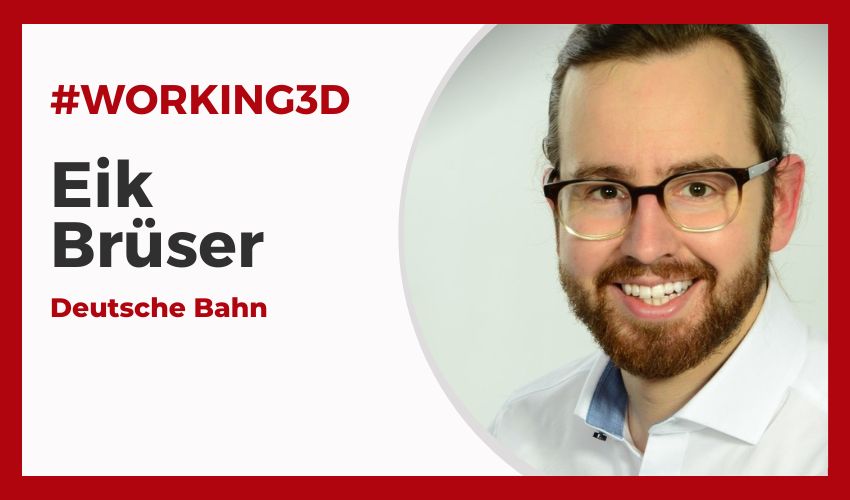 Additive manufacturing has become an important part of the manufacturing industry. With its numerous applications, 3D printing encompasses a wide range of disciplines and therefore also has given rise to a variety of different professions. Indeed, in our Working 3D series, we want to delve into different jobs in 3D printing, how they work and the qualifications. We have already learned about what it takes to be a pre-sales engineer, an R&D engineer and a human resources management specialist. Now we would like to give you an insight into another profession in the 3D printing market through an interview with Eik Brüser, a manufacturing engineer specializing in additive manufacturing at Deutsche Bahn.
3DN: Could you briefly introduce yourself?
Hello, my name is Eik Brüser, I am 32 years old and I work as a manufacturing engineer working in 3D printing at Deutsche Bahn (the German national rail service) in Nuremberg.
3DN: How did you discover additive manufacturing?
Parallel to my master's degree in mechanical engineering at the TU Berlin, I worked as a student trainee at a large German technology company. The head of the R&D department at the time advised me to focus on a broad range of disciplines in the future rather than specializing even further as a calculation engineer. So, in addition to taking a course in rail vehicle technology, I also took a course in additive manufacturing at my university and was immediately hooked on 3D printing. Later, when the pandemic broke out and the lockdown closed the university and its workshops and labs to students, I bought a cheap 3D printer, dug deeper into the subject and built myself a reliable and larger 3D printer to make prototypes for my studies at home.
3DN: What is your current role at Deutsche Bahn? What is a typical day like for you?
I am the technical manager of the 3D printing department at the Nuremberg plant (heavy vehicle maintenance) and a member of the core team of the Deutsche Bahn Group 3D printing project. Within Deutsche Bahn, there are several locations that deal with the topic of 3D printing and are managed via the group project. In total, more than 500 use cases with over 100,000 printed parts have already been realized at DB through 3D printing.
Our workshop in Nuremberg is the 3D printing tooling competence center within the Group. We develop and print plastic production aids using material extrusion (FFF) – even in large format with a maximum possible component size of 1 m³. These production aids increase the quality of my colleagues' work, ensure reproducible results, make work easier and, above all, save valuable production time. In this way, we are doing our part to get the trains back on the tracks faster! Colleagues at other sites in the Group and, if necessary, rail-certified service providers take care of the issue of 3D-printed final components.
My tasks are varied. Since our department is still under construction, it doesn't get boring. In day-to-day business, I take care of the preliminary costing of quotations, assessing the feasibility of tooling requests, am responsible for customer communication, identify new use cases together with my colleagues, create CAD designs using 3D scanning and subsequent reverse engineering, among other things, and also take care of machine operation as well as rework. We are a small team in Nuremberg, so when bottlenecks occur, I support my colleagues in all areas to ensure that our customers, whether at our plant or in other units within the DB Group, are always satisfied. In addition to the day-to-day business, I mainly take care of the strategy and direction of the department, keep myself informed about new 3D printers and 3D printing technologies on the market, and represent our department at conferences and trade fairs.
3DN: What are the required qualifications to be a manufacturing engineer?
3D printing generally requires a wide range of knowledge: Starting with the selection of the appropriate 3D printing process, knowledge of materials science for the right choice of materials, stress, design for additive manufacturing as well as economic or entrepreneurial thinking. In addition, a certain amount of knowledge and experience in the areas of IT and software, strength and durability of components, as well as a good basic technical understanding of the mechanics and electrics of 3D printers can't hurt. In my case, I also need to know the guidelines, regulations and standards of the "railroad cosmos" as well as technical expertise in rail vehicles. A certain resilience when something doesn't work as it should and soft skills for working in a team and with customers round off the whole thing.
3DN: What are the biggest challenges in being a manufacturing engineer?
One of the biggest challenges is to integrate the "new" technology of 3D printing into the larger corporation – but fortunately I have the active support of my colleagues from the corporate project and it works very well! In addition, many non-specialist colleagues have to be persuaded to rethink, since 3D printing allows geometries that are designed differently than those made through traditional methods. The various 3D printing processes simply provide more degrees of freedom in terms of design. In the tooling area, we can fortunately use these additional design degrees of freedom without any problems and thus manufacture tools that would have been difficult or impossible to produce using conventional manufacturing processes.
Another challenge is to develop an understanding among our colleagues that 3D printing, while great, is not always the best or only solution. 3D printing also takes time and costs money!
3DN: What advice would you give to someone who wants to work in the 3D printing industry?
Just because you can 3D print something (at home) doesn't mean you can print it in an industrial environment! Find out about hurdles such as guidelines, standards and required certifications. When it comes to production tools, at least get the occupational safety specialist on board. The safety of your colleagues always comes first!
From the idea to the 3D-printed object, a lot of communication with different departments is necessary. You will often encounter resistance and antiquated ways of thinking. Don't let this discourage you and convince them with your technical expertise! You can find out more about Deutsche Bahn's work in 3D printing on the website HERE.
What do you think about being a manufacturing engineer in additive manufacturing? Let us know in a comment below or on our LinkedIn, Facebook, and Twitter pages! Don't forget to sign up for our free weekly Newsletter here, the latest 3D printing news straight to your inbox! You can also find all our videos on our YouTube channel.