#Working3D: Six Questions for a Head of People & Talent Management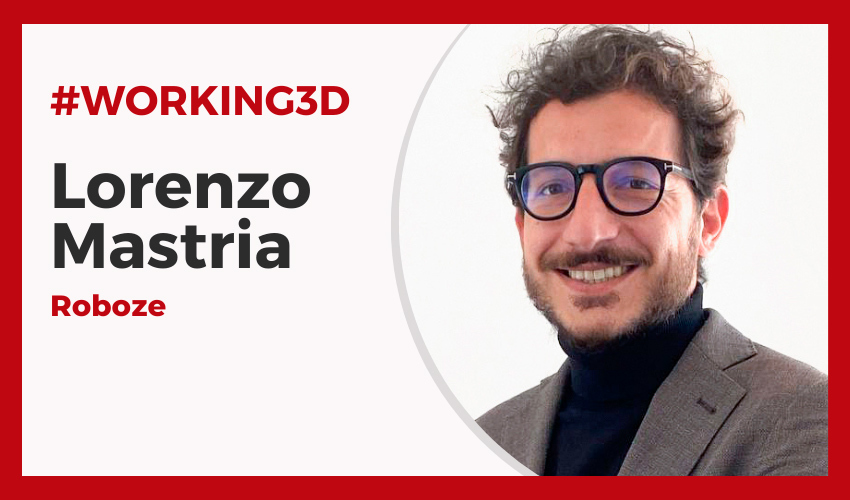 In the additive manufacturing market, there is a huge variety of jobs and profiles: CAD designers, 3D printing technicians, sales representatives, after-sales managers, etc. The 3D printing value chain includes many different links, and each of them requires specific skills and knowledge. For this reason, through a series of articles, we want to introduce our readers to the different jobs that exist in the sector. To do so, we met with experts in the market and asked them to tell us what they do, how their daily work is structured, and to give some advice to those who are about to jump into the world of Additive Manufacturing work. After meeting Emilien Goetz, presales engineer at Siemens, this time we interviewed Lorenzo Mastria, Head of People & Talent Management at Roboze.
3DN: Could you introduce yourself?
Hi everyone, I am Lorenzo Mastria and I am Head of People & Talent Management at Roboze. Together with my team, I deal with everything related to People Management & Development on a daily basis. Roboze is a leading Italian-American company in the field of 3D printing of super polymers and composites for the manufacturing industry. My mission is to make Roboze the company of the future, to create a smart, exciting and stimulating environment where you can express yourself at your best and where the brightest, futuristic, persistent and talented minds can coexist.
3DN: Why did you choose to work in the 3D printing world? As a recruiter, what is your perspective on the AM market?
My entry into the world of 3D printing was a real eye-opener! After graduating in Economics & Management and completing a Master's Degree in HR Management & Digital Skills, I worked for years for a recruiting agency specializing in engineering profiles.  During my professional journey I was lucky enough to meet Roboze and Alessio Lorusso, the CEO of the company. At that time Roboze did not have a structured HR department, and after some insights into the project and the company vision, I immediately understood what my path, my mission, was. And here I am, writing together with my fantastic colleagues, a beautiful page in the history of Italian and Apulian manufacturing.
AM is an innovative, very fast-paced and complex market where very specialized tech and digital skills are increasingly needed in-house. We are talking about different combinations of engineering, scientific and soft skills such as boldness, versatility and innovative mindset.
3DN: What is your role at Roboze? How is a typical workday structured for you?
As Head of People & Talent Management, I am in charge of the People Management process for the EMEA (Europe Middle East & Africa) region. Activities range from talent acquisition to performance management, from onboarding processes to the development and implementation of HR initiatives and strategies. I am also involved in Employer Branding and Corporate Security. My activities are diverse and no two days are the same, thankfully!
3DN: What qualifications are required to be a Head of People & Talent Management? What training would you recommend?
I believe there is no real outlined path to joining HR and becoming an HR manager, as this role and its definition have changed over the years. The HR function has often been associated over the years with internal resource management (attendance management, litigation, training, development, etc.) and compensation systems. Today, the future of HR is transforming and the profession is evolving.
Professionals in the field are now asked to contribute directly and proactively to the value generation of the company and thus the business, to play an active role in cultural and digital transformation processes, to promote the brand and its underlying values, and to facilitate people's involvement regardless of where and how they work. Everyone's training path must first and foremost follow the groove of personal aptitudes and passions. There are several educational paths that can lead to such a professional career, and there is no perfect HR Manager for every company; in fact, skills ranging from economics to law, as well as to skills more specialized in humanities, are required.
3DN: What are the biggest challenges in your work?
As mentioned earlier, the job market is increasingly specialized and focused on highly qualified skills and abilities and, therefore, difficult to track down. This is certainly a very important challenge, where brand reputation and attractiveness, from a technological and marketing perspective, play a crucial role in finding the best talent. Another challenge is related to the broad nature of the industry: the market is extremely dynamic, with a wide range of different types of professionals and often varied backgrounds. A deep understanding of the talent market in Additive Manufacturing is therefore critical to know the benchmark salaries, work motivations, and other aspects related to the lives of those working in AM.
In addition, challenges likely unique to different sectors are related to the consequences of the COVID-19 pandemic. Many employees now prefer to work remotely, and the importance placed on the work environment, corporate and work culture has increased. Not least, we have witnessed a profound digital transformation, which is now the basis of all people management processes.
3DN: What advice would you give to people who want to become a Head of People & Talent Management in the 3D printing sector?
To those who want to pursue my profession in Additive Manufacturing, I recommend first and foremost to be curious and to continuously study the markets and new trends. This is an up-and-coming field and one that looks at the world of work from often unconventional points of view, so I also recommend having a dynamic mindset and being open to the changes that technology and the market propose. Finally, I recommend being passionate about the technology, its mastery and the world of 3D printing in general, which is always full of new challenges and discoveries. Indeed, I believe that passion, courage and continuous professional training are the perfect ingredients to achieve ambitious goals and overcome any kind of obstacle.
What do you think of the role of Head of People & Talent Management? Let us know in a comment below or on our LinkedIn, Facebook, and Twitter pages! Don't forget to sign up for our free weekly Newsletter here, the latest 3D printing news straight to your inbox! You can also find all our videos on our YouTube channel.