Why are there so few Women in 3D printing, and can we change that?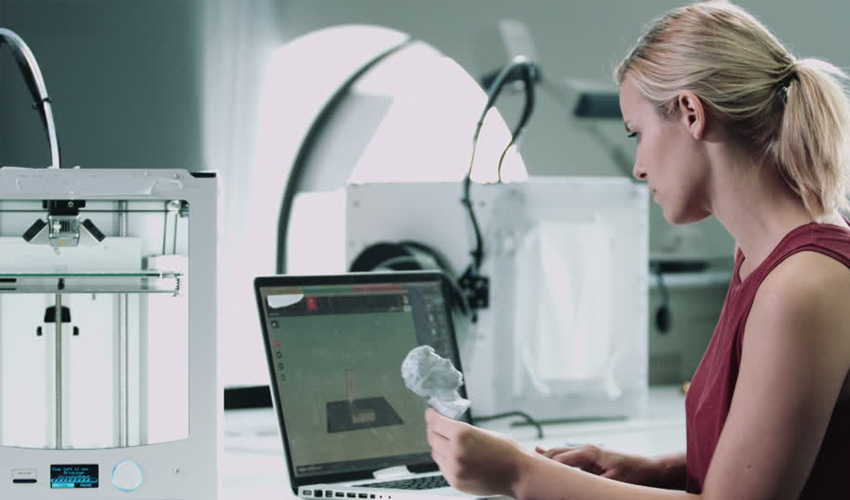 3D printing is an innovative, fast-growing market which is predicted to grow exponentially in the next 10 years. However, it is also a male dominated industry, with only approximately 13% of workers being women. Why is 3D printing such a male-dominated industry, and how can more women be encouraged to get involved in additive manufacturing? To find out, we spoke to several prominent women in the 3D printing industry about how they got involved in the industry, the challenges they faced as a women in the industry, and what advice they would give to women who want to get involved.
The women we spoke to are Nina Hoff – CEO at byFlow, Sylvia Heisel – CEO at Heisel, Monica Smith – Application Development Consultant at EOS, and Amy Karle – bioartist and creator at amykarle.com.
3DN: How did you first get involved in 3D printing?
Based on the answers, we can conclude that some great ways to get involved in 3D printing include internships, going to events such as Maker Faires, and education in the area. This is shown as for Sylvia Heisel, "the first 3D printer I saw in real life was at MakerFaire in 2011. At that time desktop FDM printers were only available as kits and the materials were very limited but it was one of those light-bulb moments when you see the potential of a technology."
Monica Smith was introduced to 3D printing "through an internship and subsequent co-op at Pratt & Whitney while I was at the University of Connecticut, creating build files and changing over builds in our metal AM machines 3 times a week. I was drawn to understanding how the machines work, analyzing the effects of the process on the mechanical properties of the material."
This shows the power of getting involved in community events and applying for interesting internship positions as they become available. Amy Karle's route into 3D printing was different however, having been trained as a sculptor. She said "the next step was to realize the designs into tangible form. My first 3D print was powder printed in gypsum and plaster, materials I was extremely comfortable working with by hand. The process took about a week of full-time work to design, 8 hours to print and 8 hours to clean by hand. From this initial experience, I was hooked – I could glimpse the promise and potentials of adding these digital tools to my traditional toolset."
Finally, Nina Hoff came into the industry through a more traditional business route. She said "in 2015…my brother Floris had developed the world's first portable, multi-material 3D printer. I decided to join them and together we created byFlow, now selling and developing 3D food printing technology."
3DN: What are your thoughts on the current state of 3D printing, and what are you most excited for in the future of 3D printing?
There is undoubtedly a lot to get excited about for the future of 3D printing. As the women we interviewed come from such diverse 3D printing backgrounds, we heard a variety of exciting and innovative 3D projects.
Firstly, Amy Karle stated "We are at a very exciting time in history. 3D printing offers opportunities to create in new ways, for healing, enhancing and augmenting the body in ways we've never been able to before. I'm most excited about applying additive manufacturing with other technologies to medical uses… to heal and enhance our bodies, minds and beings. I get really excited about bioprinting because it holds the promise of being able to create organs and replacement parts out of a patient's own genetic material, lowering the risk of rejection. Bioprinting has great promise to affect humanity because as it could be used for life extension."
For Nina Hoff, the future is about collaborating with her customers at byFlow with her food 3D printer. She stated "I think that 3D printing, due to increasing possibilities for applications, is getting more and more specialized. Every day, our customers amaze us with new ideas for applications of the 3D Food Printing technology so for the future I'm mostly excited to see what they will come up with."
Sylvia Heisel was excited about 3D printing's developments for businesses, stating "It's still very early in the technology but advances are coming very quickly. I'm most excited about the prospect of scalable production with additive manufacturing. The fashion industry has been very slow to see the potential of 3D printing but it's starting to happen and we're getting a lot of interest from designers and students with an interest in using it for sustainable fashion manufacturing."
3DN: Were there any challenges you faced as a woman in the 3D printing industry?
There were an interesting variety in the responses we received here. All answers at least acknowledged a difference in treatment based on gender to varying degrees. Monica Smith stated that "The challenges of being a woman in STEM and in the workplace in general apply also to the field of 3D printing. I recently read the 2017 McKinsey Women in the Workplace study and I would encourage those trying to understand the issues facing women to also read this study."
Amy Karle further expanded on some biases that affect women in 3D printing, technology, and the arts. She stated "According to the National Museum of Women in the Arts, women make up 51% of visual artists but the numbers in exhibitions and galleries are much lower, especially when we look at the high end where female artists often make up a single digit percentile in major museum collections. According to 2017 stats, women hold only 25% of computing jobs, and just 5% of startups. All this is compounded by a low acceptance of using tech in art. I'm either fighting an uphill battle or I'm doing it against all odds – maybe both" (Amy is both an artist & owner of her own company).
Not everybody has felt such strong reactions to being a women in the 3D printing industry however. Though they acknowledged a difference, Sylvia & Nina have used it as motivation to achieve bigger things. Sylvia Heisel stated "Nothing that was obvious discrimination but people make a lot of assumptions based on your appearance. Being a woman means you have to work a lot harder to prove yourself and build trust in male-dominated businesses."
Nina Hoff agreed, stating "I faced a lot of challenges, but as a CEO of a quickly growing company selling an innovative product – not necessarily as a woman…I was lucky to cooperate with people for whom it was no difference whether I'm a woman or a man. I believe that a lot of challenges and obstacles are the ones just in our heads, so my solution is – just do it."
3DN: What advice would you give to women who would like to work in 3D printing?
All the women we interviewed were very encouraging about getting more women involved in 3D printing. Sylvia Heisel answered, "Go for it and find your niche. Additive manufacturing is a very broad field and you need to find your place within it. There are great opportunities in hardware, software, materials and product design as well as applications for specific industries. Focus on 3D printing for a single industry, or a single aspect of the printing process."
Monica Smith echoed her encouragement, stating, "Get involved! If you are still studying, start a 3D printing club. Attend conferences; visit the booths at trade shows. Find someone whose career you admire and reach out to them. Ask them questions about their job and their company. There are many different ways to get involved in the industry and with the rapid expansion, plenty of job openings across different areas of the business."
Finally, Nina Hoff stated, "Don't try to be like men – it's not a solution! Take all the advantages we have as women and show everyone how valuable they can be in the world of technology."
How do you think more women could be encouraged to get involved in the 3D printing industry? Let us know in a comment below or on our Facebook and Twitter pages! Sign up for our free weekly Newsletter, all the latest news in 3D printing straight to your inbox!