Worldwide spending on final part production by AM increases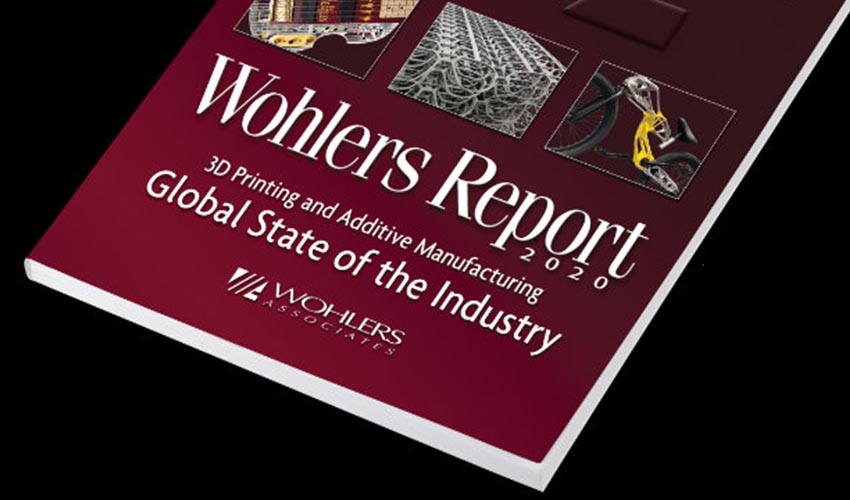 Every year, the American firm, Wohlers Associates, Inc. unveils its industry-leading report on additive manufacturing. The Wohlers Report 2020 is therefore its 25th edition and contains wide-ranging data on the latest developments and trends in the AM market. The 380-page report includes a wealth of information on AM industry growth, including more than 250 examples of AM applications in production or development.
Last year, the Wohlers Report 2019 focused on the strong growth of 3D printing materials, particularly metals. For example, it reported that the revenue from metals had increased by 41.9% – the most common process being Laser Powder Bed Fusion (LPBF). Additionally, the technology is being increasingly employed for industrial scale production, and beyond rapid prototyping applications. In fact, desktop 3D printers experienced a significant decrease in their annual growth.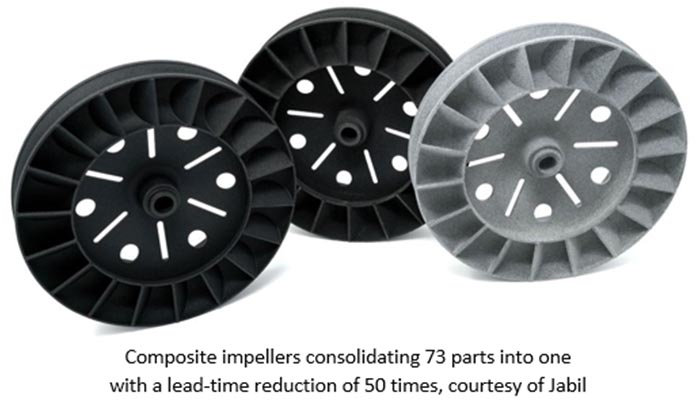 Other reports over the course of 2019 have also pointed to this change. More and more manufacturers are interested in using 3D printing technologies for full scale production as they believe they can benefit from mass customization, lower costs, and shorter lead times. Wohlers Report 2020 gives the case of Jabil, the American worldwide manufacturing services company, which redesigned an impeller for manufacture by additive manufacturing. Instead of 73 metal parts assembled by hand, the impeller is made of fiber-reinforced polymer composite in a single part. Fifty impellers can be produced in the time it previously took to make one.
Moreover, a growing number of users are producing end-use parts. The report details and analyses the maturing and emerging applications of AM for series production. For example, it was announced last year that HP was working with Volkswagen to 3D print parts at scale. The car manufacturer installed 90 HP 3D printers in its factories and produced 10,000 parts in just a few weeks. Volkswagen's goal is to print 50,000 to 100,000 functional parts the size of a football per year.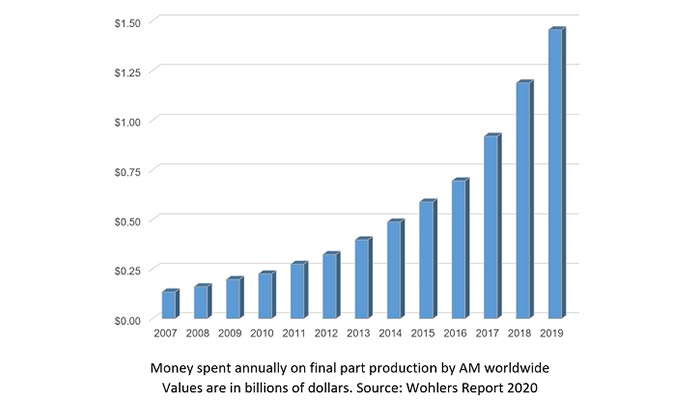 The report delves deeper into the patents, startups, investment, R&D of the global AM industry. Wohlers Report 2020 builds upon input from a record ensemble of 129 service providers, 114 manufacturers of industrial AM systems, and 40 producers of third-party materials and desktop 3D printers. The report documents government-sponsored research and development, collaborations and consortia, and the activities of 139 academic and research institutes around the world. Seventy-nine co-authors and contributors in 33 countries provided expert views and opinions in the report. You can find more information HERE.
What do you think of the Wohlers Report 2020? Let us know in a comment below or on our Facebook and Twitter pages! Don't forget to sign up for our free weekly Newsletter, with all the latest news in 3D printing delivered straight to your inbox!