Who Are the Winners of the Formnext Start-Up Challenge 2022?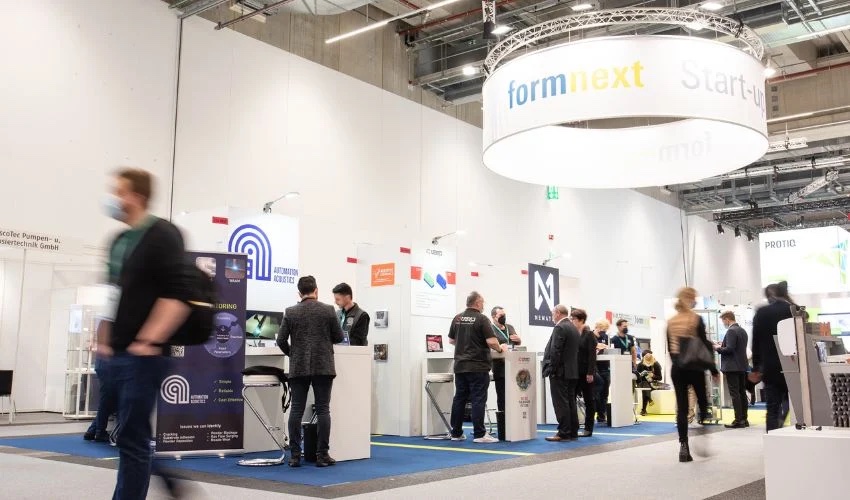 Formnext 2022 is just around the corner, taking place in Frankfurt in less than two weeks, Nov. 15-18. Industry players are excited about the return of the trade fair in attendance, which is expected to go back to near pre-pandemic levels of attendance after welcoming more than 17,800 visitors in 2021. While waiting for a closer look at exhibitors, news, and conferences with the latest updates from the industry, we want to focus today on the five start-ups that won the Formnext Start-Up Challenge 2022. They are innovators Spherecube (Italy), Rivelin Robotics (UK), Alpha Powders (Poland), Photosynthetic (Netherlands) and Lattice Medical (France). The latter also won the AM Ventures Impact Award.
Formnext's Start-up Challenge supports the most promising start-ups by offering competition winners free participation in the fair with their own booth and a comprehensive marketing package. Thanks to this initiative, in recent years, many start-ups have been able to put themselves in the spotlight and make important contacts with investors, established companies, the press and other stakeholders. In addition, the winners also have the opportunity to make themselves known to fair attendees during a pitch event, Pitchnext, which will be held this year on November 15, 2022 at 2 p.m. in the AM4U area in Hall 11.0, D72.
The Winners of the Formnext Start-Up Challenge 2022
As was already apparent from last year's edition of Formnext, sustainability is playing an increasingly important role in Additive Manufacturing and beyond. It is no coincidence that the winning start-ups share a commitment to environmental stewardship. Moreover, Formnext's official press release states that "the innovations of these start-ups were selected for both the high level of creativity demonstrated in product development and the feasibility of the business models." But let's take a closer look at who the winning start-ups of the 2022 edition are!
Sphere Cube (Booth 12.0-B81A)
The Italian start-up presents a 3D printing technology capable of making composite material parts fully automatically, without any geometric limitations, without the use of molds and with a lower environmental impact. SphereCube's patented system is Thermal Laser Curing. Through the interaction of laser sources with the raw materials involved in the process, this system is able to make composite parts with continuous fiber reinforcement and thermoset matrix. According to the company, what differentiates their technology from competing companies is the heat source curing system designed to improve the wetting and bonding of the fiber reinforcements, the matrix, and even between the different 3D printed layers.
Rivelin Robotics (Booth 12.0-B41)
The British startup will present its solution dedicated to automated, fast and reliable post-processing of metal AM parts and components at Formnext 2022. To reduce the costs associated with post-processing (more than 30 percent to the unit cost of the part), Rivelin has developed NetShape robots that handle support removal and finishing. The robots are guided by NetShape control software. The result is an automated solution for media removal and finishing that reduces costs from poor quality by 90% and reduces human risk and variability.
Robert Bush, CEO of Rivelin Robotics, commented on the recognition, "It is both thrilling and encouraging to have the work of the Rivelin Robotics team recognized in this way. We have been working tirelessly to develop and demonstrably prove our solution for automated post processing of metal parts. We are now in a position where we can do just that and we can't wait to show visitors at Formnext how far we have come and the solutions that we can offer them for their metal AM production applications."
Alpha Powders (Booth 12.0-B81G)
The Polish start-up has developed and patented a technology to modify polymer powders on-demand. Their SpheroNANO solution makes it possible to improve the sphericity and roundness of a wide range of polymeric inputs, including post-industrial powders. The higher the sphericity and roundness of the polymer powder, the better the material flow properties, which are critical for high-quality 3D printing.
The company is currently focused on developing a compact device for R&D labs working on new SLS powders. "We at Alpha Powders are on a mission to revolutionize the powder printing industry by introducing scalable technologies that will lower the cost of existing materials for the consumer and enable the rapid development of new functional and sustainable products," added Dominik Zdybal, Co-founder and CEO of the company.
Photosynthetic (Booth 12.0-B81H)
Photosynthetic offers a fast and cost-effective 3D microprinting solution that differs from common 3D microprints, which are generally produced by conventional methods such as two-photon lithography (TPL), stereolithography (SLA) and optical grayscale lithography (OGL). In contrast, the technology patented by the Dutch start-up uses an optical system, resins based on single-photon polymerization, and computer algorithms to control printing. All of this allows them to overcome the limitations of traditional methods in terms of speed, design freedom, cost or resolution. Their micro 3D printer enables fast microprinting (50 mm3 /hour) in high resolution mode (<1 micron). Photosynthetic's goal is to create ultrafast, cost-effective machines for mass production and/or prototyping of microsystems, with the ultimate goal of seeing other technologies created and brought to market as a result of their solutions.
LATTICE MEDICAL (Booth 12.0-B81B)
Lattice Medical is a French start-up that has developed, in collaboration with CHU in Lille-France, a patented 3D technology that enables the printing of breast implants with a resorbable biopolymer that can regenerate breast tissue in three to six months. The Mat(t)isse bioprosthesis is adapted to a person's individual morphology: the innovation is that breasts regenerate entirely from fat tissue, without the need to introduce foreign bodies. A solution that represents a huge step forward in breast implant procedures and in the healing process of patients.
Lattice Medical also won the AM Ventures Impact Award 2022. The award is given to the startup judged to be most committed to issues such as sustainability and social issues, and highlights the great potential offered by additive manufacturing to address major global challenges.
Sascha F. Wenzler, vice president of Formnext commented on the Formnext Start-Up Challenge 2022, stating, "Every year, the start-ups in the AM industry take technology and application innovations to the next level and continue to impress with the rising quality of their developments and business planning. Once again, these companies have showcased the great potential of this industry, highlighting the fact that the sector produces significant developments that, in the future, will influence our industry, medicine, and other areas of life."
What do you think of the winning start-ups in the Formnext Start-Up Challenge 2022? Let us know in a comment below or on our LinkedIn, Facebook, and Twitter pages! Don't forget to sign up for our free weekly Newsletter here, the latest 3D printing news straight to your inbox! You can also find all our videos on our YouTube channel!
*Cover Photo Credits: Mesago Messe Frankfurt GmbH/Mathias Kutt