Why Is Automated Powder Removal So Important in 3D Printing?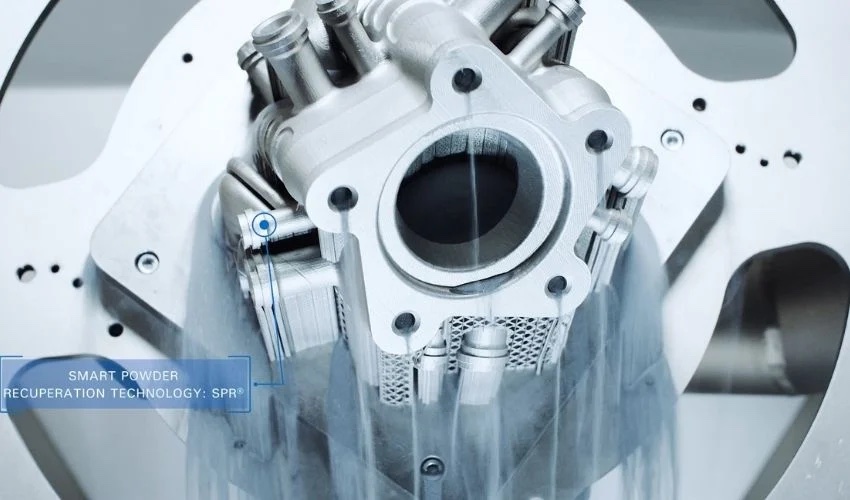 Additive manufacturing has enjoyed increasing popularity and acceptance within various industries in recent years. The investment of companies in 3D printing has increased rapidly and the number of 3D printed parts has also continued to grow. Additionally, various CAD softwares have been developed alongside the technology and the range of possible 3D printing materials is still expanding. Already we have seen plastic, metal, ceramics or even chocolate, ash and sugar – the list is extensive and getting longer. As numerous as the additive manufacturing processes are, so are the steps for post-processing: these include, for example, the removal of support structures, surface finishing, polishing or even the removing of excess material. Notably, as additive manufacturing continues to industrialize, powder removal is gaining importance.
When using powder-based metal 3D printing, in order to be able to start to finalize the object and move to other post-processing steps, a significant amount of powder must be removed. This powder is located in channels and cavities of the part. Nowadays, the powder still adhering to the component after printing is often removed manually. However, it must be removed with great care and precision, otherwise there is a risk of damaging the component in the cleaning process or of causing problems in the next steps. This is because the part must be free of any powder before additional processing can continue, such as heat treatment. However, manual depowdering of additively manufactured components entails some disadvantages and risks.
AM Experts See Challenges with Manual Powder Removal
The company Solukon Maschinenbau, which specializes in systems for powder removal from  components made using metal or polymer laser powder bed fusion processes, surveyed experts from the AM industry about the limitations of manual powder removal. The results showed that health risks are perceived as the biggest concern with manual powder removal. This is because manual powder removal inevitably brings users into direct contact with the fine dust powder, which is a health hazard. The risk of explosions was also mentioned by the respondents.
74% of the AM experts surveyed also see it as difficult to achieve repeatable cleaning results when it comes to manual work in the depowdering process. The cleaning results are highly dependent on the skill of the respective user and, based on experience, can only be repeated in extremely rare cases. This means that a consistent cleaning quality can never be given 100%.
Considering the size and complexity of 3D printed parts (especially as parts with a height of up to one meter are now printed), the depowdering of correspondingly large and heavy parts must also function smoothly. This is where manual depowdering quickly reaches its limits. The need for an automated solution was therefore clear, as Andreas Hartmann, CEO and founder of Solukon, also confirms: "We became aware of the need for automated depowdering in cooperation with a customer. In 2014, a southern German automotive manufacturer approached us and inquired about a way to automatically remove powder from components. In just one year, we developed the SFM-01 – the world's first automated powder removal system. A year later, Dominik Schmid and I founded Solukon Maschinenbau GmbH, which is dedicated entirely to depowdering." Solukon's customers include leading 3D printer manufacturers such as EOS, SLM Solutions and AddUp, institutes such as NASA, and several well-known American rocket building companies.
Automated Powder Removal Brings Enormous Added Value to 3D Printing
Since the launch of the world's first fully automated powder removal system in 2015, Solukon has played a pioneering role in the field of automated powder removal. With the help of Solukon's SPR® technology, even complex parts can be freed from powder quickly, easily and fully automatically. The part is completely freed from powder in a protected atmosphere by automated swiveling through two-axis rotation and targeted vibration. Automating the depowdering process step saves time, and recycling the uncontaminated powder brings greater cost efficiency to AM production. With automated depowdering, the entire process of powder removal after 3D printing can not only be accelerated, but precise and repeatable cleaning results can be achieved, unlike with manual processes.
Anyone working in the field of additive manufacturing knows that it is important to link the individual process steps as closely as possible. Solukon's Digital Factory Tool makes an important contribution to the complete automation and networking of additive manufacturing. This tool enables the smooth integration of automated depowdering into the digital AM process. A sensor and interface concept ensures continuous monitoring and logging of the entire depowdering process. This is especially important for demanding industries such as aerospace and medical, which place particularly high demands on transparency in the AM process.
The fact that automated depowdering has long been proven in practice is demonstrated by countless application examples from Solukon, which has more than 180 depowdering systems in the field. AddUp, a French manufacturer of Additive Manufacturing systems (PBF & DED) is using the Solukon SFM-AT800-S to completely remove powder from complex parts. "Powder removal is a critical step right after the printing as the powder can be cohesive, i.e. it can get stuck in internal channels of the part. By integrating the Solukon SFM-AT800-S we've found the ideal depowdering system for our production plant," stated Medhi Offroy, Post-Processing Methods Engineer at AddUp. For more information on powder removal in 3D printing and how Solukon has revolutionized the market with SPR® technology, click HERE.
What is your opinion on automated powder removal in 3D printing? Let us know in a comment below or on our Linkedin, Facebook, and Twitter pages! Don't forget to sign up for our free weekly Newsletter here, the latest 3D printing news straight to your inbox! You can also find all our videos on our YouTube channel.