Why Are Manufacturers Betting on Ceramic FFF 3D Printing?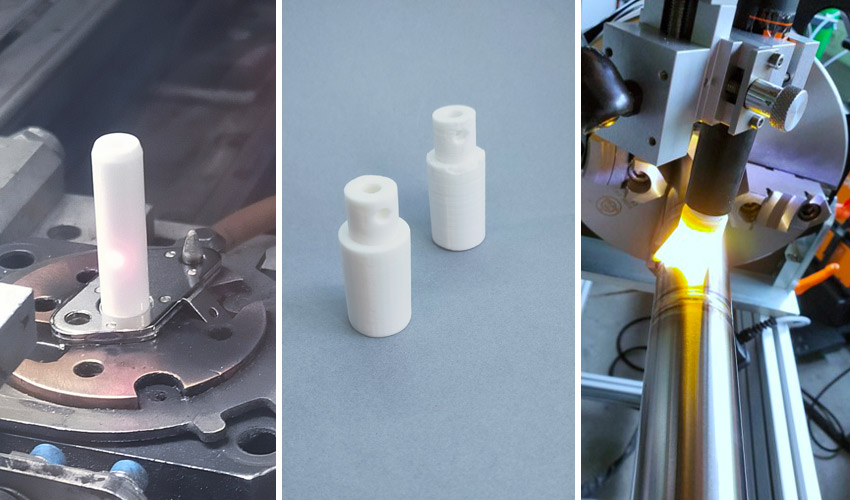 Since its arrival on the additive manufacturing market in 2018, Nanoe has been working to democratize the use of ceramic and metal FFF 3D printing with an accessible and easy-to-implement process. While its filaments have made their way into laboratories and research centers in France and internationally, they are gaining more and more ground among manufacturers who are banking on integrating additive manufacturing in-house. The French manufacturer's ceramic materials offer several interesting thermal, chemical and mechanical properties for demanding activities such as orbital welding, the production of parts for boilers or the manufacture of turned parts. Thanks to Zetamix filaments, several international manufacturers have been able to increase their agility by reducing production lead times and machine downtime, as well as reducing costs.
Among the users of Zetamix ceramic additive manufacturing solutions are three manufacturers: MGB, SAPCO and Orbital Service. 3D technologies have offered them many advantages and notably all three have been seduced by the thermal capabilities of ceramic filaments, including zirconia and alumina. These three manufacturers had very specific problems that were difficult to solve via subtractive manufacturing, or at least at much higher costs and times.
Alumina, a 3D printing material resistant to high temperatures
MGB is a French company created in 1956, specialized in the manufacture of turned parts for the connector industry. It works mainly with players in the medical, aerospace and electronics industries, players who need custom-made screws. These screws have different levels of hardness, with generally the bottom of the screw being less resistant than the top. To produce this type of custom screw, MGB has developed a specific machine that anneals the top part via induction to provide the necessary hardness.
It is in this machine that MGB has integrated a 3D printed part made from alumina. It is a custom-made holder punched at the end into which the French manufacturer places the screw in question. It is then heated while a heat sensor monitors the temperature. It was therefore necessary to imagine a guide that could resist such a temperature, perfectly fit to the shape of the screw in question and which would support the presence of the electrical detector. It was a challenge that could not have been met so quickly without the integration of additive manufacturing. MGB says the process of designing and manufacturing a new screw holder takes less than a week. That's a time frame that would have been unimaginable if the company had used subtractive manufacturing or a service provider.
Improving orbital welding processes with Zetamix filaments
Orbital Service is a German company specializing in orbital welding that has also relied on Zetamix to produce custom parts. In its business, TIG (tungsten inert gas) welding operations pose many challenges, especially in avoiding oxidation and air contamination. In order to overcome this, the company must create an electric arc and spray an inert shielding gas around the area to be welded. However, in orbital welding, the tubes to be welded are very large and the TIG welding nozzles are not suitable. This favors oxidation and post-treatment of the parts. The output is considerably slowed down and the process is unreliable.
This is where additive manufacturing has a card to play. Orbital Service used FFF technology and Zetamix ceramic filaments – specifically alumina – to design custom TIG nozzles. These nozzles now have a concave shape, more adapted to the volume of the tubes to be welded. This reduces welding defects and the consumption of inert gas. The German company chose alumina for its temperature resistance and claims that the entire design and manufacturing process takes only one week.
Choosing Zetamix to reduce maintenance time
SAPCO manufactures ceramic ignition and ionization electrodes, which are integrated into industrial boilers and burners. In order to do so, the company has developed automated production processes using custom-made machines, particularly for the assembly stage. However, this remains complex: during the welding of the electrode, 2 metal edges are placed around the part, edges that are installed via plastic welding pins. These are damaged very quickly due to the high temperature, causing the machine to stop at least once a day. This downtime affects SAPCO's entire production process, forcing them to find another way to produce these pins.
The use of ceramic injection was first considered by the company, but quickly proved to be impractical, expensive and difficult to implement. SAPCO therefore turned to additive manufacturing and opted for ceramics rather than polymers. They opted for zirconia, which can withstand temperatures of up to 800°C. The Zetamix solution was ideal because it was easy to deploy and use. In 5 days, the teams were able to design and produce optimized welding pins. They need to be changed once a month, which significantly reduces machine maintenance and downtime.
An answer to internal tooling issues
When it comes to producing internal tooling, manufacturers can therefore rely on ceramic FFF 3D printing to gain agility and increase their productivity. The choice of ceramics allows sectors such as aeronautics, automotive, foundry and jewelry to resist extremely high temperatures and other chemical and mechanical constraints.
Finally, opting for Nanoe's solutions will allow the user to deploy a low-cost offer compared to other ceramic printing processes. Beyond the price, it is also a question of ease of use. The FFF process is easy to use and to integrate into production lines. This is particularly true when it comes to internal tooling: the choice of the Zetamix solution will be more appropriate than other processes such as photopolymerization, which will be preferred for the manufacture of very precise parts in the biomedical sector for example. You can visit the the manufacturer's website to learn more about its range of filaments.
What do you think about the integration of ceramic FFF 3D printing in industry? Let us know in a comment below or on our Linkedin, Facebook, and Twitter pages! And don't forget to sign up for our free weekly Newsletter here, the latest 3D printing news straight to your inbox! You can also find all our videos on our YouTube channel.