Why adopt PEEK 3D printing in your company? Experts give their advice!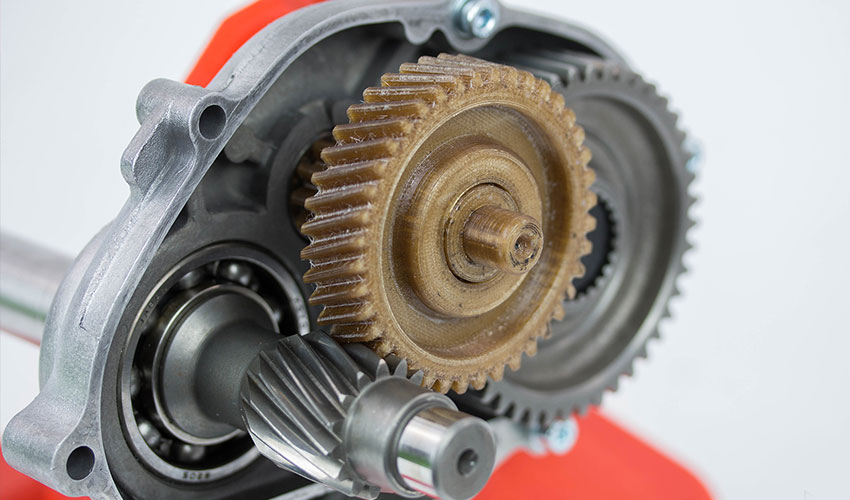 The rapid evolution of additive manufacturing brings with it the development of multiple materials. In the last two years alone, material suppliers have doubled according to the latest Wohlers Report. Although material growth is still leading in metals, in second place are polymers, including high performance polymers (HPPs). Among which PEEK (polyetheretherketone) stands out for offering great properties for sectors such as aerospace, medical or automotive, which is why it is one of the most recognized in the 3D printing plastics industry. This material is highly resistant to heat, chemicals and wear, and can replace certain metals thanks to its strength to weight ratio. Despite its great advantages, some companies are still unaware of the real benefits of 3D printing with PEEK, and of the opportunities that are enabled within different production lines. To solve your doubts and learn more, we approached three experts in advanced additive manufacturing thermoplastics.
Mateusz Sidorowicz
Thomas Collet
Charles Han
Charles Han, CEO of INTAMSYS, began his career in 3D printing with the founding of the company more than six years ago when a group of engineers decided to create high-speed, high-precision equipment. At his side is Thomas Collet, Director of 3D Printing Materials and Marketing within the Customized Polymer Materials Business Unit at LEHVOSS Group. This German-based global company is one of the leading manufacturers of polymer materials since 1983 and with 8 years of experience in the development of materials for the 3D printing industry. Finally, Mateusz Sidorowicz, Marketing Director at 3DGence has more than 6 years of experience working in additive manufacturing. 3DGence is a Polish company focused on advanced materials AM technology with interchangeable modules.
What are the main properties of PEEK 3D printing?
In order to adopt PEEK 3D printing in the industry, it is important to know the characteristics and specifications of the material. Like most advanced thermoplastics, PEEK is a demanding material to use in 3D printing. It is necessary to have an extruder that reaches temperatures of up to 400ºC, in addition it is recommended to use 3D machines with heated chambers so that the part achieves the desired mechanical properties. Dedicated materials, as developed by LEHVOSS Group, can be printed also in non-heated chambers. Annealing of printed parts may be applied. Though PEEK is mostly found in filament form for the Fused Filament Fabrication (FFF) process, it is slowly becoming available in powder form for the SLS process.
More precisely, this semi-crystalline polymer has: "a melting point of about 343°C, while the temperature of continuous use is about 260°C. Because PEEK has excellent integral properties, it can replace traditional materials such as metals and ceramics in many applications. High temperature resistance, self-lubrication, wear resistance and fatigue resistance make PEEK one of the most popular high-performance engineering plastics today," explains Charles Han from INTAMSYS. In addition, Mateusz from 3DGence comments: "PEEK is also one of the few materials that does not emit any gases when placed in a high vacuum. The low coefficient of friction and excellent creep resistance make it one of the best for demanding applications."
Although this piece focuses on PEEK, there is another high performance material that is also becoming increasingly prominent in the additive manufacturing and can often cause some confusion: PEKK. It also belongs to the PAEK family, just like PEEK. Its main difference lies in the ether/ketone ratio. "PEKK is a copolymer that allows greater control over crystallinity. Depending on the type, PEKK provides higher melting temperatures and glass transition. Parts can be produced completely amorphous or semi-crystalline without warpage issues using the respective PEKK material. PEKK is more expensive than standard PEEK," explains Thomas Collet from LEHVOSS. On the relationship between PEEK and PEKK, Mateusz adds: "There are similarities in their processing conditions and even in the range of applications. Printing with PEKK is a little easier as the material is less prone to deformation."
What are the recommended applications with this material?
One of the most valued properties of PEEK is its mechanical capabilities and heat resistance. That's why industries that need strong parts have begun to adopt the AM technologies suited for PEEK more quickly. "It can replace traditional materials such as metals and ceramics in industries such as aerospace, automotive, electronics, and within medical equipment," says Charles Han.
Based on the specific characteristics of PEEK, the applications recommended by the 3DGence team are: "Spare parts for high volume production lines are ideal candidates. PEEK also has a very low coefficient of friction, which is very necessary in such applications. Laboratories and universities conducting research related to high vacuum can produce parts needed for their equipment. This is the material of choice for the oil & gas and aerospace industries."
PEEK vs Metal, which one should I adopt in my company?
The high strength of materials such as PEEK has enabled many companies to replace metal parts with parts created with PEEK 3D printers. But is it really cost-effective to replace a metal part with one made of a polymer material? This is the big question for many companies when thinking about adopting PEEK 3D printing. Thomas Collet comments: "PEEK is a typical metal replacement material due to its performance. Like all polymers it provides a huge weight saving potential to metals and as one more benefit offers outstanding tribological properties."
Charles Han gave us a concrete example of 3D printing with PEEK versus the use of metal materials: "In the field of medical implants, the elastic module of PEEK is close to the elastic module of the cortical bone, which leads to osseointegration between the implant and the bone tissue, ensuring the long-term stability of PEEK implants." In fact, a few months ago we were already talking about the biocompatibility of PEEK implants compared to metal implants, which represents a huge benefit to the medical sector particularly.
The last few years have shown that the number of AM applications using this material have kept growing, and we expect this trend to continue as sectors realize the benefits and potential of this material. "What we see is that many of our customers are looking at all this and seriously considering 3D printing with PEEK to replace traditional manufacturing methods," Thomas concludes.
Are you interested in adopting PEEK 3D printing? Let us know your thoughts in the comments below or on our Facebook and Twitter pages! Sign up for our free weekly Newsletter to receive all the latest news in 3D printing straight to your inbox!