Who Are the American Metal 3D Printer Manufacturers?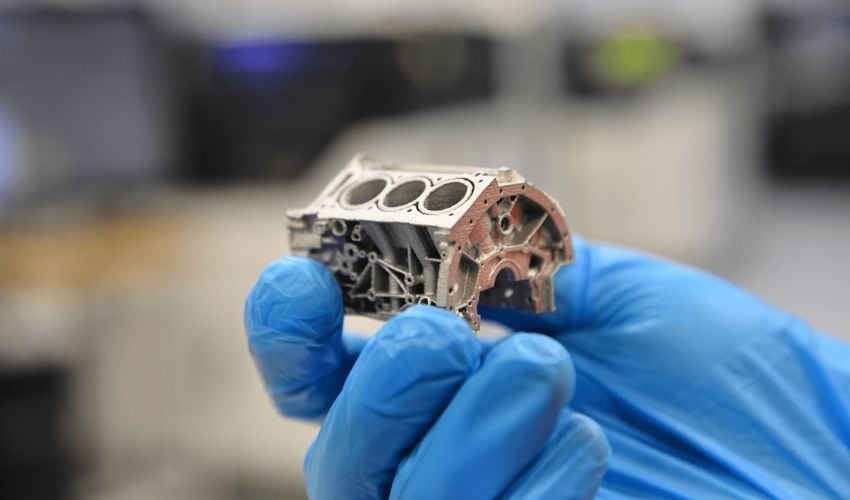 Additive manufacturing is spreading quickly all over the globe, but nowhere as much as where it all started, the United States. From 1987 when stereolithography was first introduced by Chuck Hull to the advent of the first metal AM technologies in the 1990, AM has only continued to grow over the years in the USA, a country which consistently tops the lists for largest installed base of 3D printers in the world. However, it can be difficult to know exactly how many companies are actually making 3D printers in the region. In this latest series, 3Dnatives will be taking a look at the AM manufacturers located in the US to give our readers a better idea of the sector. For the first article, we will be focusing on American metal 3D printer manufacturers, listing them in alphabetical order. Stay tuned for the next in the series, part I of polymer 3D printer manufacturers in the country.
3D Systems
3D Systems was one of, if not the, first 3D printer manufacturers in the world and as you can imagine they also have metal AM solutions. Currently, the company offers the DMP Factory 500 Solution, DMP Flex 350 and DMP Flex 350 Dual, DMP Flex 200 and the entry-level metal printer, DMP Flex 100 all of which use Direct Metal Laser Sintering (DMLS). Though one of the major differences between the printers is of course size, the largest has a build volume of 500 x 500 x 500 mm while the smallest's is just 100 x 100 x90mm, features also differ between the machines. Notably, in the factory systems, 3D systems offers integrated powder management, high throughput and high repeatability and a consistent low O2 environment for better quality parts.  All of the machines uses 3D Systems' own 3DXpert software which is an all-in-one system that streamlines workflow from design to printing.
Desktop Metal
If you have been in the additive manufacturing world for a while, you have almost certainly heard of Desktop Metal. Founded in 2015 with the mission to make metal 3D printing more accessible, the company quickly rose from a start-up to one of the leading companies in the industry. Currently, the manufacturer offers four distinct machines of its own: Fiber, the Studio System, the Shop System and the Production System. While the Studio, Shop and Production systems are all designed for metal 3D printing, the Fiber, as it names suggests, is an FDM machine that is suited to composite printing, namely continuous carbon fiber and fiberglass tape. The Studio System is also an extrusion machine and was one of the first of DM's printers to go to market. It is a two-part system that integrates both printing and sintering, using bound metal rods. It was put forth as a metal, desktop printer that is safe for office use.
The company also offers two machines that are not extrusion based, the Shop and Production Systems use metal binder jetting. The Shop System is designed to bring binder jetting to machine shops whereas the Production System is designed to 3D print metal parts at scale. As can be expected with binder jetting, the two machines boast high-quality, precise parts that are able to be printed cheaply and quickly. Of course we would also be remiss if we did not mention that though technically, Desktop Metal only sells these four machines, it actually has a much larger portfolio. That is because last year it acquired a number of 3D printing companies with access to different technologies. For example, its acquisition of EnvisionTEC, the original inventor of DLP 3D printing, which has allowed it to move into the polymer market. DM also made waves when it announced its acquisition of its competitor, ExOne, strengthening its position in the binder jetting market.
ExOne
Another American company that works with metal 3D printing, more specifically binder jetting, is ExOne. Though, as mentioned above, it was acquired last year by its major competitor, Desktop Metal, the company is still selling its own metal and sand binder jetting printers. Currently, ExOne offers five printers which are able to transform more than 10 single-alloy metals into high-density metal parts. Sizes vary, the smallest, the Innovent+, has a build box of 6.3 x 2.5 x 2.5 in (160 x 65 x 65mm) meanwhile the largest, the X1 160Pro, goes to 31.5 x 19.7 x 15.8 in (800 x 500 x 400 mm). The other three available machines, the X1 25Pro, InnoventPro 3L and M-Flex, have build boxes in between these two, with two averaging at 15.75 x 9.84 x 9.84 in (400 x 250 x 250 mm). As can be expected for a company working in binder jetting for more than 20 years, these machines are popular with those who are experienced with binder jetting.
FormAlloy
The next American metal 3D printer manufacturer on our list is California-based FormAlloy which specializes in Directed Energy Deposition (DED) printers. The company has two distinct series of DED printers, the X & L Series. Both feature closed-loop control, variable wavelength lasers and FormAlloy PF and ADF powder feeders for gradient or bi-metallic structures. Each machine also has the FormAlloy AX metal deposition head which enables build volumes with up to 5-axes of motion and has proven high powder efficiency and built in quick-release features. In terms of build volume, various sizes are available including 200x200x200mm, 500x500x500mm, 1x1x1m and custom sizes.
GE Additive
GE Additive, the AM spin-off of the well-known American multinational conglomerate General Electric (GE), portrays itself as a world leader in metal 3D design and manufacturing. It is made up of the two additive brands, Concept Laser and Arcam EBM, along with additive powder supplier AP&C. And as you might guess, the company focuses on powder-based metal additive manufacturing technologies. Through Arcam EBM, GE Additive provides five EBM machines, Q10plus, Spectra H, Spectra L, Q20plus and A2X. Certain have been created for specific industries, for example the Q10plus in particular has been optimized for the serial production of orthopedic implants while the Q20plus is designed for cost-efficient production of aerospace components. The company notes that all five are able to create dimensionally accurate parts quickly and efficiently.
Through Concept Laser, GE Additive also offers 3D printers using Direct Metal Laser Melting (DMLM), a technology based on laser powder bed fusion. Currently, the companies have the M2 Series 5, the M Line, X Line 2000R and Mlab family which offer different build envelopes, even within one machine, and allow for the production of complex parts quickly and efficiently. Thanks to a superior part quality as well as machine usability and repeatability, the machines can even be used for highly regulated industries such as aerospace and medical.
HP
This next manufacturer is a little different because it is not technically yet available. The manufacturer, HP is most well-known for their patented Multi-Jet Fusion technology, but currently they also have a metal process in the works, HP Metal Jet. Already it is possible to order metal parts from HP and the company claims that their binder jetting process allows users to be up to 50x more productive, producing high volume of parts and large parts thanks to a build size of 430 x 320 x 200 mm (16.9 x 12.6 x 7.9 in) And as is common when speaking about metal binder jetting, it is lower cost while still maintaining high precision. HP announced late last year that the printer will be commercially available in 2022 and it is possible to reserve one already on HP's website.
Markforged
Founded in 2013, Markforged is probably best known for their composite 3D printers, including continuous fiber. But the company also has a metal additive manufacturing solution, the aptly-named Metal X System. The Metal X is a Metal FFF system which uses bound powder filament, compatible materials include 17-4 PH Stainless Steel, Copper, H13 Tool Steel, Inconel 625 and A2 and D2 tool Steel. The choice of using extrusion is no surprise either, the manufacturer prides itself for safe to use, accessible machines and using FFF rather than other metal technologies can severely reduce costs. The Metal X has a build volume of 300 x 220 x 180 mm (11.8 x 8.7 x 7.1 in) and features a closed, heated chamber and a heated, vacuum-sealed print bed with auto-leveling for better conditions for metal materials. Additionally, there are two nozzles allowing for a metal material and a release material.
Optomec
Another American metal 3D printer manufacturer is New Mexico-based Optomec. Originally founded in 1997, the company has released products in markets as vast as electronics, energy, life sciences, aerospace and defense and more. Nowadays, they claim that their AM solutions enable high-volume additive manufacturing thanks to their solutions. Optomec's metal printers' uses LENS Directed Energy Deposition (DED), a process that uses a high power laser (400W to 3kW) to fuse powdered metals into fully dense parts. According to the company, this process taken place in a hermetically-sealed chamber which is purged with argon so that the oxygen and moisture levels stay below 10 parts per million, prevening oxidation. Precision, speed and less environmental impact are some of the major benefits of the technology and Optomec notes that it is possible to print 10x faster and 5x cheaper using LENS. Currently, a number of metal AM solutions of different sizes are available, the CS 250, CS 600, CS 800, CS 1500, MTS 500, MTS 860 and LPE.
Sciaky
Have you already heard of Sciaky? This Chicago-based company is one of the oldest on our list as they were founded in 1939 as a provider of advanced welding systems. In fact, they are so well-established, they were a key supplier of resistance welding systems used to make warplanes for the U.S. military during World War II. And since 2009, they have also offered metal additive manufacturing solutions. Namely, their originally named Electron Beam Direct Manufacturing process was launched in 2009 before becoming the currently named Electron Beam Additive Manufacturing. The company has worked with some of the leaders in defense and aerospace thanks to their metal parts and solutions including the Department of Defense, Lockheed Martin, Defense Advanced Research Projects Agency, Airbus and more.
The company notes that their Electron Beam Additive Manufacturing (EBAM) is a one-of-a-kind metal 3D printing which allows users to produce high-quality, large-scale metal structures with very little material waste. The company offers 5 machines, the EBAM 300, EBAM 200, EBAM 140, EBAM 110 and EBAM 40. And at least with the EBAM 110 Industrial Metal 3D printer, users can create parts of up to 19′ in length faster and cheaper than many traditional metal processes. In terms of the technology used, EBAM is similar to DED in that an electron beam gun deposits metal via wire fedstock in successlayers in the system's vacuum chamber. Sciaky claims that the process can reduce lead times and material costs by up to 80% and is the fastest metal 3D printing process in the world.
Velo3D
When Benny Buller founded Velo3D, he sought to address what he saw as a fundamental flaw that was limiting the speed of AM adoption. That was that he noted that before being able to integrate the technology, engineers  not only had to learn a new manufacturing process but also an entirely new design process, Design of Additive Manufacturing or more commonly DfAM. Buller decided to instead create a company that "enabled design to inform manufacturing not the other way around." This was done by hardware (Sapphire®) and software on the front end and back end (Flow™ and Assure™), making it easier to adopt AM while still benefiting from its many advantages.
The American company has three metal 3D printers, Sapphire® Printer (for low volume and & development, 315mm Ø x 400mm z), Sapphire® 1Mz Printer (for large parts, 315mm Ø x 1000mm z) and Sapphire® XC Printer (for large volume and production scale parts, 600mm Ø x 550mm z). All of the printers are equipped with an end-to-end manufacturing solution to allow engineers to build even critical parts. All three machines use the same software, run the same process and use the same materials to ensure repeatable consistency. The printers use a metal powder bed fusion process with a non-contact recoater, per layer mapping and more to ensure powder bed uniformity. Part quality and performance certainly benefit the Intelligent Fusion underlying manufacturing process among other features. The printers have applications in a number of sectors including aerospace and oil&gas, among others.
Xact Metal
Based in State College, Pennsylvania and operating out of Penn State's Innovation Park, Xact Metal is determined to offer the benefits of high-quality metal 3D printing at the best possible price. In fact, its even in their motto, "Don't be held back by traditionally expensive technology." Though their machines used the powder bed process which is not always known to be the most affordable metal 3D printing technology, the company is committed to combining the essentials of powder bed fusion with innovative new technology to decrease the price and make it accessible to more people. Indeed, on its website the company states, "We're dedicated to supporting the next generation of innovative manufacturing solutions powered by metal 3D printing" showing their commitment to both metal and innovation. Currently, the manufacturer offers the XM200G Series, XM200C and XM300C. The printers have different applications with the XM200G series designed to meet high-performance use cases in manufacturing and research & development while the XM200C is suited for universities, labs and small-to-medium businesses and the XM300C is for applications that need prototyping, tooling capabilities, or low volume casting alternatives. All three use DMLS and are noted to be able to produce highly complex, high-quality parts.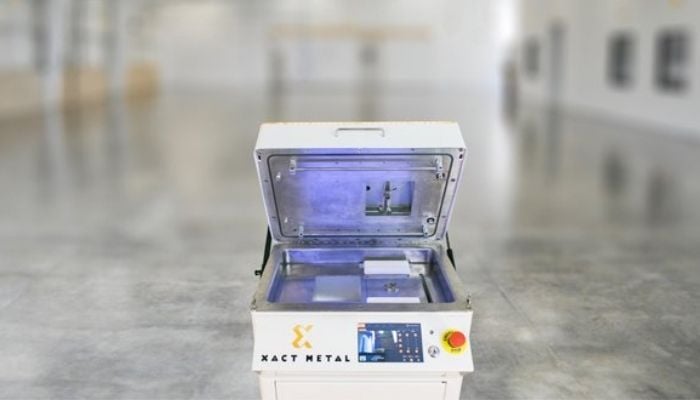 Xerox
Everyone has heard of Xerox, the printer and scanning solution provider has been a mainstay of many people's lives across the globe. But did you know that the American company also produces a metal 3D printer? After acquiring startup Vader Systems in 2020, in 2021 they launched their very first 3D printer, the ElemX. This system is a little different than many others on our list because it actually uses a proprietary liquid metal printing technology. Essentially, rather than the powders used in many metal 3D processes, Xerox's system uses metal wire which is fed into a tank and heated to over 800°C. Once the material is melted, the machine projects droplets using a magnetic field, similar in idea to material jetting. The company points to the fact that users can avoid potentially hazardous and toxic powders as one of the main benefits of using their process. The system has already made waves as it has been adopted by the Naval Postgraduate School in California to help develop 3D printing applications for the U.S. Navy.
What do you think of our list of American metal 3D printer manufacturers? Are there any that are missing from our list? Let us know in a comment below or on our Linkedin, Facebook, and Twitter pages! Don't forget to sign up for our free weekly Newsletter here, the latest 3D printing news straight to your inbox! You can also find all our videos on our YouTube channel.
*Cover Photo Credits: ExOne