What were the 3D printing trends of 2020?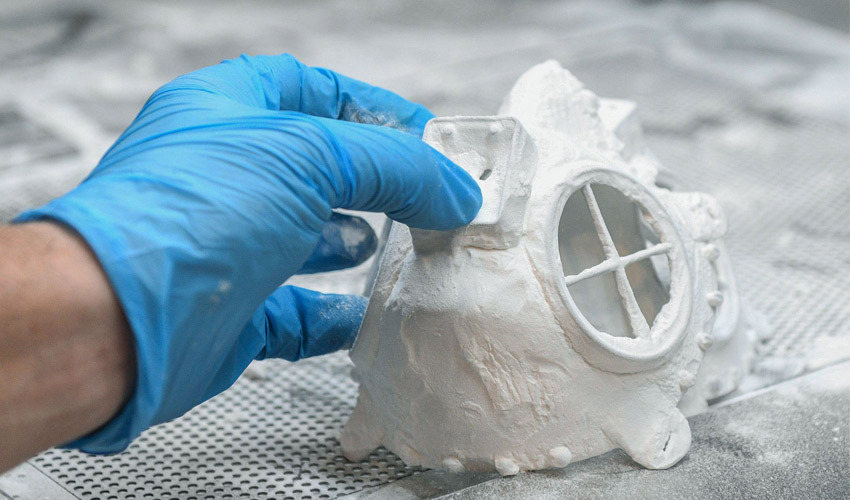 What were the 3D printing trends of 2020? How is the additive manufacturing industry changing? Today, we look back on the 3D printing trends that shaped the industry during 2020. Despite COVID-19, the industry developed healthily and some exciting developments happened. We identified 5 key trends which we present to you below.
The COVID-19 pandemic shakes the 3D printing industry
In 2020, the COVID-19 pandemic had repercussions on nearly all sectors of activity. One of the most vulnerable sectors during the first few months of the pandemic was the medical sector, which suddenly found itself short of equipment to face the consequences of the virus spread. Additive manufacturing technologies were quickly employed to manufacture emergency equipment for medical staff and patients from all over the world. In a matter of days, actors from the 3D printing industry managed to produce critical devices for the healthcare sector such as face shields or ventilators, and later, COVID-19 test swabs. Hospitals implemented solutions in-house to support this production, universities also landed their equipment, and manufacturers quickly became service providers to the healthcare sector.
At the end of the day, 3D printing was able to act much more quickly than other manufacturing technologies, adding agility to the production process. It didn't rely on complex supply chains that couldn't operate because production and supplies were blocked in China and Southeast Asia. We spoke to Sumeet Jain, Managing Director of 3D Printing Solutions by Arkema when discussing the impact of the pandemic on the AM sector; he told us: "The COVID crisis was an opportunity for 3D printing to demonstrate its value proposition around digital manufacturing and its ability to meet on-demand production needs. Additionally, 3D printing's ability to iterate hundreds of designs in the short term is a key differentiation to develop viable solutions that can meet unforeseen demand."
In more global terms, the market was affected by the pandemic but picked up quicker than expected. The market study firm CONTEXT, which evaluated the impact on the 3D printer industry, noted: "The demands made of printers in all price ranges increased as they were used to create pandemic-related items ranging from PPE to nasopharyngeal swabs. While this could not fully compensate for lost demand from closed markets (such as consumer products, education and the dental and automotive industries), it clearly demonstrated the flexibility of the technology, showing how it can be leveraged to help overcome supply-chain disruptions and could, in future, be so used across many industries." Indeed, many industries became aware of the fact that 3D printing technologies could strengthen weak supply chains, and would be a wise investment for the future.
For the AM community, the COVID-19 pandemic meant the cancellation of almost all events. The industry had to find new ways to meet, thus digital events became very popular throughout the year. Formnext, the leading event in the additive manufacturing industry also turned its event into a digital show. In fact, in some cases, the digital format gave companies the opportunity to reach more people for a fraction of the cost of participating in a physical event.
3D printing continues to develop into a production technology
As we reported on last year, 3D printing technologies have showcased time and time again that they are not only a prototyping technology. They can be used for high-volume and end-use part production. In Sculpteo's latest State of 3D Printing report, 50% of those surveyed confirmed that they had been using the technology for end-use part production, additionally the share of rapid prototyping applications was down for the first time in 5 years.
For high-volume production, scalability and repeatability are key. Therefore, over the last few years, the entire AM workflow has been industrialising to create the right conditions to meet these challenges. Huge progress has been made in terms of hardware, but we are also seeing this shift in software and post-processing hardware. For example, PostProcess Technologies raised $20M to accelerate the development of its post-processing solutions at the end of 2019. DyeMansion, creator of finishing systems for additive manufacturing – packaged in a three-step "print-to-product" process – also raised $14M in 2020. The Dutch company AM-Flow, which provides post-processing and automation solutions raised $4M too. But the post-processing stage is only part of the equation and much of the development happened to revolve around software in 2020.
3D printing software becomes imperative
As Greg Kress, CEO of Shapeways states: "Scaling doesn't mean just doing more, it means doing 3D printing efficiently and consistently." Software is essential for many of the steps in 3D printing: nesting, build plate preparation, file fixing, but also for production planning. In 2020, companies like AMFG, MakerOS or 3YOURMIND have become important providers of MES solutions. For example, MakerOS provides a cloud-based platform to centralize all tools to scale a 3D printing or fabrication service. Similarly, 3YOURMIND provides software to organize tomorrow's smart factories for service providers but also for companies that have integrated the technology in-house. Tracking the AM process, from the initial order of the part through to its production and delivery is becoming a key factory to automate production. 3YOURMIND raised $5.5M in a series A+ funding at the start of September 2020.
In addition to the growing number of workflow solutions, integrated CAD tools are also developing. For example, Netfabb is a CAM software that supports the optimization of production processes, the reduction of production times and the minimization of manufacturing costs for 3D printing. It provides the tools necessary to streamline workflows and reduce build errors before fabrication. Autodesk added new functionalities with the new release of Netfabb at the end of November 2020. Moreover, software startups like Shapeshift 3D or PrintSyst.ai are also showing the industry that some steps of the AM workflow can be optimized further. For example, Shapeshift 3D encourages customization through its automated custom fit process.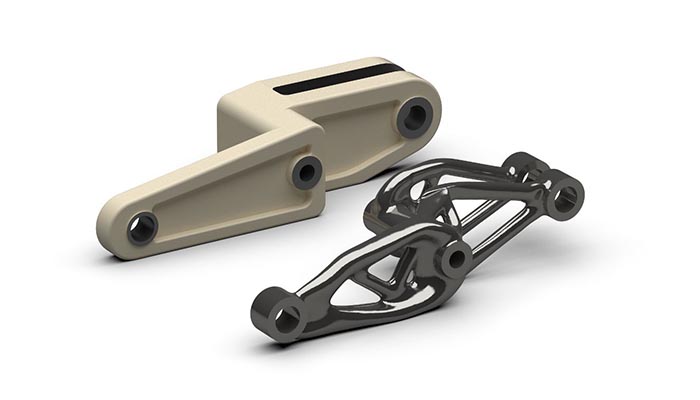 Lastly, DfAM (Design for Additive Manufacturing) is still growing. As we told you last year, an increasing number of applications showcase the use of generative design or topology optimization to optimize the functional performance, cost and reliability of parts with additive manufacturing. A new comer to this market is TOffeeAM, which raised $1M+ during the summer. Its software is an intelligent design solution for additive manufacturing, based on generative design. The TOffeeAM team told us: "When there is a new manufacturing technology, people tend to use old design methods with the new manufacturing process. In addition to optimising 3D printed parts, TOffee can optimise whole systems by reducing the total number of parts and increasing resilience. Using AM with standard design methods is limiting the flexibility of this technology. Our goal is to enable the full potential of AM."
Materials are key to unlocking new applications
Materials have been at the centre of many advancements again this year, counting twice more suppliers than two years ago. In the thermoplastics market, high-performance polymers such as PEEK, PEKK and ULTEM are being adopted for their unique properties. Additionally, polypropylene, one of the most widely used plastics in the world has been made more widely compatible with powder 3D printing technologies this year. Polypropylene is great for high-cycle, low-strength applications due to its fatigue resistance, semi-flexible and lightweight characteristics. BASF Forward AM developed industrial-grade polypropylene for HP's Jet Fusion 5200 series this year.
The composites segment has also been growing; AREVO, which aims to transform composites production through digitalization and automation, raised another $25M in funding this summer. Additionally, the startup Arris Composites is developing its technology to enable mass production of high-strength and low-weight composite parts with additive manufacturing. The startup actually secured $48.5M in funding at the end of August 2020. Even though composites are typically based on carbon-fiber reinforced thermoplastics, Fortify's composites are based on other additives which are added to photopolymers. Additionally, Additive Composite and Add North worked to develop nylon filaments reinforced with boron carbide, one of the hardest materials on the market after diamond. Overall, we've noticed many developments in this segment in 2020.
Last but not least, metal AM is still a growing market, estimated at $1 billion in 2020, and predicted to grow over 27% per year for the next several years. Given the unique requirements of AM powders, the AM-specific marketplace for powders and their resultant supply chains is evolving. Indeed, the powder production process is still quite niche and expensive for the AM process, however it is essential for the industrialisation of metal 3D printing and the manufacturing of certified parts. AM powders need to meet specific requirements around morphology, purity and particle size distribution. Additionally, the environmental impact of metal additive manufacturing is estimated to be considerably greater than conventional production methods, therefore organisations and manufacturers will need to plan responsible strategies around this technology in the coming years if they want to achieve a sustainable future for this material.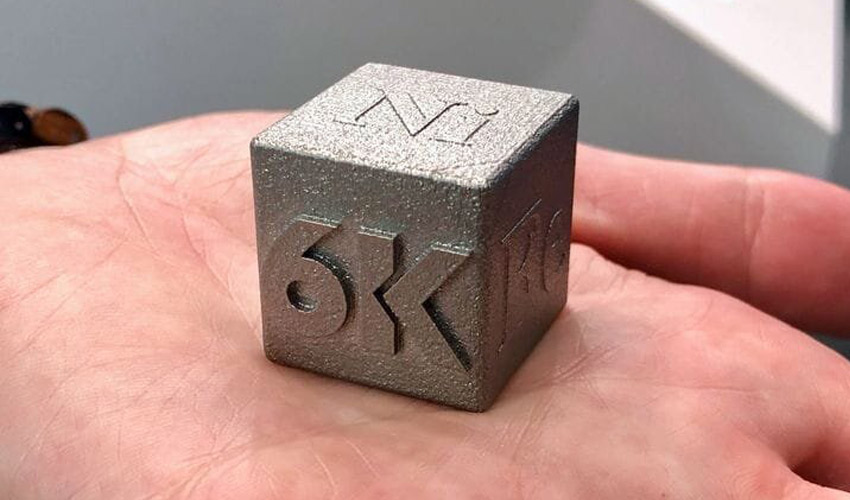 In this space, the startup 6K, initially a research project at MIT, is focusing on developing high-performance metal powders. They are creating alloy powders that are truly spherical, void of porosity and satellites, and that offer better flowability. These powders will find applications in many industrial sectors such aerospace, Oil & Gas, turbine blades, etc. Additionally, Sandvik's titanium powders have been certified for use in medical devices, and the demand for aluminium powder in the AM market is growing considerably. According to a report sponsored by Equispheres, this demand will grow to over $695 million in 2023, this represents a CAGR of 36.5%. Lastly, an interesting development is Aerosint's multimaterial process to print complex parts with two different metals. The most complex part they created was made with stainless steel and a copper alloy.
Sectors' adoption of the technology is changing
The trends in the adoption of the technology have been very exciting in 2020. In sectors like Medical, Aerospace and even Automotive, applications have been flourishing for some years now, and have been covered at length on 3Dnatives. However, sectors like Oil & Gas, Construction and Electronics have experienced a slower integration of AM. In 2020, the latter three industries saw new applications flourish.
Following the introduction of robotic 3D printers, activity in the construction industry accelerated this year. Danish manufacturer COBOD presented a three-story residential building project with 3D printed walls in Wallhausen, Germany. With a surface area of 380 square meters, this building will become the world's first commercial apartment. On the other hand, ICON has developed a gantry-style construction 3D printer for its Lavacrete proprietary material. Additionally, in its most recent project with NASA, the company believes its solution is well-suited for Moon and off-world construction. The company secured $35M in funding this year. Speaking of space exploration, Relativity Space, which has developed an entirely 3D printed engine rocket, also secured $500M. This latest funding round also shows that 3D printing technologies have a future in the conquest of space. Relativity's long-term vision is to upgrade humanity's industrial base on Earth and build one on Mars. For now, it plans to launch its first rocket to orbit at the start of 2021.
A growing number of applications in Oil & Gas have emerged. In fact, at the Oak Ridge National Laboratory, researchers are building the first 3D printed nuclear reactor. The laboratory hopes to commission the first nuclear reactor of this type in 2023, which would allow the nuclear sector to produce more advanced and sustainable energy systems. Finally, the electronics industry is also changing thanks to micro and nanoscale additive manufacturing methods. Startups like Voltera are demonstrating the benefits of 3D printing to design smaller, finer and more precise components than conventional production methods!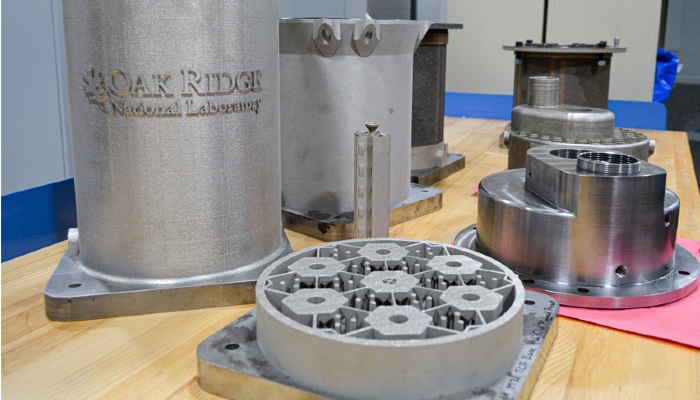 Which 3D printing trends impressed you the most in 2020? Any predictions for 2021? Let us know in a comment below or on our Facebook and Twitter pages! Sign up for our free weekly Newsletter, all the latest news in 3D printing straight to your inbox!
*Thumbnail Image Credits: Michal Kamaryt / CTK / Alamy