What Were Some of the Key Takeaways from RAPID + TCT 2022?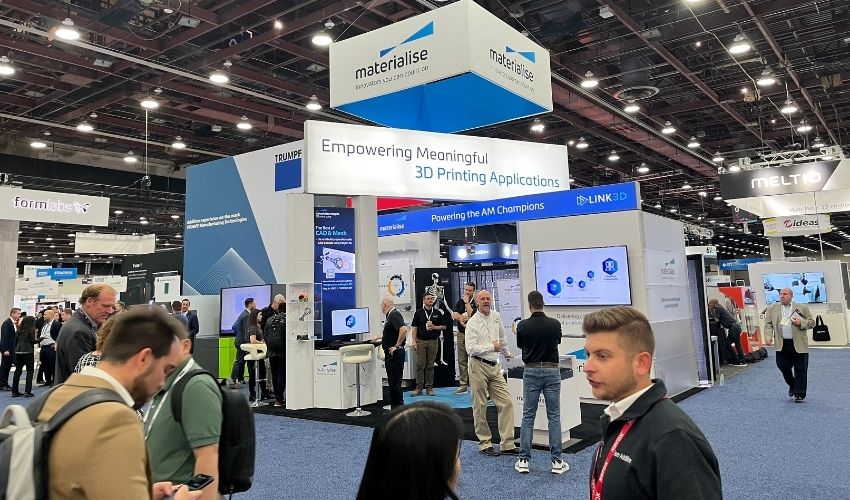 Last Thursday, RAPID + TCT 2022 closed its doors after three days of conferences, networking, announcements and of course innovations. For the 30th anniversary of the conference, SME noted that they had over 400 exhibitors as well as more than 150 leading experts and more than 25 keynote and panel presentations. What has always been especially notable about RAPID is that as it has built on its base of manufacturing, the event often welcomes many from OEMs and major names in the industry. This year, attendees were able to meet representatives from Airbus, Boeing, the Mayo Clinic, General Motors, Ford, Disney, the US Armed Forces, Wilson Sporting Goods and more who were both on the exhibitor floor and speakers at the event. 
Additionally, though events have been going on for some time now, this truly marked for many the official proof that the AM industry is back after COVID. The air at the show was almost jubilant as people were once again even meeting face to face, even without masks, and international guests were able to attend. Angie Szerlong, Industry Manager – Additive Manufacturing at SME, noted that for her it felt like, "The industry is back. It's the first event where we are fully back. We're not out of COVID but it felt like the industry was together and you could feel the momentum and the excitement. You just felt an energy that was here." After being able to attend the event, 3Dnatives is breaking down for you some of what we saw to be the key takeaways from the event including an increased focus on diversity, a move towards great automation and the changing face of FDM.
The Industry Puts a Spotlight on Diversity
Diversity was one of the key themes that we saw at RAPID + TCT 2022 this year. It started off of course with the announcement of the strategic partnership between Women in 3D Printing and SME. This means that the two will be collaborating on four major projects for 2022 and 2023. Namely, SME will be helping to produce and power the TIPE 2023 Conference (keeping the all-women format for which it is known), launching the Wi3DP Showcase at RAPID + TCT 2023, Implementing the NextGen Mentorship Pilot to expand Wi3DP's existing program and co-authoring the Diversity for Additive Manufacturing 2023 Annual Report. 
Talking about SME's decision to focus on diversity through this partnership and other means, Angie Szerlong commented, "On Tuesday on the MainStage we announced our partnership with Women in 3D Printing. It's something that I've personally seen the growth of: From seeing zero females to growing to where it is today, though it is stil not where it needs to be. And this is not just even just for gender equality, but for DEI as a whole. In this technology, we all think in different ways. And if you have just one ethnicity or one gender designing products then it will only be done with one lens. You will get a better outcome when we have people with different backgrounds and it is important as a whole for the world."
But it did not stop there. Reflecting an industry that is increasingly trying to have these difficult conversations, RAPID + TCT 2022 put a focus where diversity was the focus in conferences throughout the four days as well as a Women in 3D Printing event that took place after the show's second day. On the last day especially, in the solutions track there were three different talks centered around the concept of Diversity, Equity and Inclusion or DEI and its importance in AM. This included talks from Women in 3D Printing, Nexa 3D, Siemens and Xometry. This culminated in a panel "Creating a DE&I Framework in the Additive Manufacturing Industry" wherein Michael Jones from Xometry, SJ Jones (no relation) from Velo3D, Sarah Goehrke and Kristin Mulherin from Nexa 3D and Jeannine Kunz from SME discussed the importance of considering DEI in additive manufacturing and how exactly companies can start to implement it.
In his own talk, Michael Jones Jr, Director of Talent Acquisition and Diversity, Equity and Inclusion at Xometry, expanded on this, stating, "We need to make sure that we are looking for people with diverse mindsets. This might mean making someone who does not agree with you and your perspectives. 9 times out of 10 we will naturally hire someone we are comfortable with and who is like us. So get comfortable with being uncomfortable and accept that achieving diversity is not easy. Having accountability for change is also important because having that is what will spur on inclusivity and transformation within companies."
Of course, that is not to say that the work is done. Though the conversations are increasing, many focus on the need to convince companies to invest and commit to DEI, which unfortunately is not yet the case. Discussing the overall response from the AM community, Goehrke noted that "There is a great deal of outward but then in private there remains the question of 'is this actually something that we need.' Clearly there is still work to be done, but for example Alexander Daniels Global is now building DEI into their reports, which is a direct response from the community. It's a mixed response of course and it's learning together but there will always be critics of everything but there is a beautiful and heartwarming amount of support across the industry and a need for this to continue."
A Move Towards Automation
It is certainly no secret that 3D printing is moving rapidly towards industrialization. But with this comes a need to also invest in tools that are able to ensure high quality parts at lower costs and faster. As a result, we are increasingly seeing a movement toward automation throughout the industry and this was certainly clear at RAPID + TCT 2022. Notably, there was a much greater focus on software development and post-processing at the event both of which are critical for end-use parts.
Lisa Hannon, the Marketing Manager at InkBit and an industry veteran, explained "There is a lot more post-processing choices than there has been in the past. I remember when post-processing technologies started there were not many at all and now there are many more." She attributes this growth as well as that of materials and software with customer demand which is clearly pushing innovation in the sector. Certainly, companies like AMT, PostProcess Technologies and Solukon were front and center at the event as more attendees were interested in learning more about how they can post-process their parts. Post-processing and post-machining were also key topics in the conference talks.
Software also played a large role in the show. Shortly before RAPID started, Stratasys announced that GrabCAD would be integrated into all machines. David Yang, a Healthcare Solutions Engineer at Stratasys, discussed the importance of this explaining "Customers come to us and say we have the Stratasys machine and we want to do this application. What's really nice is that all our machines are within the same network, the same software so it's easier for the different machines and technologies to see them all. They all use GrabCAD so you can see what they are running, costs, etc all at once."
Indeed, is part of a growing trend we are seeing in AM for integrated software to make it easier to make the parts you want using 3D printing. Materialise took a similar route, announcing their CO-AM open software platform to manager the AM production process more efficiently just prior to RAPID + TCT 2022. We can certainly expect to hear of even more innovations and partnerships in software both from dedicated software companies and from AM manufacturers in the coming months as well as at RAPID + TCT 2023.
The Changing Face of FDM
Though it was difficult to choose, our final trend that we thought was present at RAPID + TCT 2022 was the clearly changing face of FDM. Though often thought of in the wider community as a "cheaper" technology, with companies able to sell machines for under $300 all over the world, it seems a greater segregation is happening among FDM machines. Though on one hand, many desktop FDM machines are getting even cheaper, on the other more and more manufacturers, especially those in the US, are creating more expensive, but more industrial machines.
This could be seen as well at RAPID + TCT 2022 as manufacturers of low-cost FDM 3D printers were not really present while manufacturers of the more industrial machines were showing their various innovations. We can point for example to the new "composite-ready" printer from Stratasys which as the name suggest is designed only to print with composite materials, making it more suitable for stronger parts. Additionally, AON3D announced, and showcased, their high-performance duplication mode on their FFF machines. This latest software update is a first in the industry as high-performance materials, though critical for industries like aerospace, are difficult to print with. This innovation is expected to help users to get parts faster thanks to the ability to print simultaneously. In any case, the show certainly showed us that innovation is alive and well in the community, both through people and technology.
What do you think of the key trends from RAPID + TCT 2022? Can you think of any others? Let us know in a comment below or on our Linkedin, Facebook, and Twitter pages! Don't forget to sign up for our free weekly Newsletter here, the latest 3D printing news straight to your inbox! You can also find all our videos on our YouTube channel.
*Cover Photo Credits: 3Dnatives